Last updated on June 27th, 2023
Whether you are a newbie or a pro for more than 5 years in the Airbnb industry, there's no denying that Airbnb tools play a huge role in the overall success of your business. Not only will these tools help you save time and energy, but they will also help you get better reviews and earn more revenue! 
How do these tools work? Why are they important? And which are the most recommended Airbnb hosting tools for you? – Find out more about the useful information that was carefully categorized & featured in this article!
What are the categories of Airbnb hosting tools?
Airbnb Property Management tools

are systems that help speed up your efficiency of running an Airbnb by automating the key areas of your daily operations.

Airbnb tools for Message Automation

are designed to send personalized (automated) messages to your guests regarding their inquiries, booking confirmations, check-in instructions, and the like. 

Airbnb Market Research software

are helpful tools that provide analytical data for your target market & profitable areas for Airbnb.
What are the advantages of utilizing Airbnb tools?
While the sole purpose of creating tools for Airbnb hosts is to make your life as a host to be more organized and easier, here are the advantages:

As we are currently in the digital era, manually checking on everything as an Airbnb host might be a real challenge. Particularly if you are handling more than one listing, using an Airbnb host software will extremely help you save valuable time!
Boost your Return Of Investment
Using the appropriate sets of Airbnb host tools will help your achieve an increased ROI by accurately setting the best price in the market. For instance, an Airbnb dynamic pricing tool will help you set prices in order to maximize profit!
High-Quality Guest Experience
From the moment your guests inquire about your listings, to checking-in and out, using an automated messaging system will truly make them feel that they are cared for & leave you positive feedbacks! After all, this is why the majority of people prefer to book on Airbnb instead of hotels – the personal connection is there.
Tools for Airbnb Market Research  
To begin with, managing your Airbnb listings alone can already be a difficult task especially if you don't have much time to focus your attention on the properties that you're handling all at the same time. 
However, it's still highly recommended to use a market research tool for those who want to instantly stand out among their competitors! Here are the following useful market research tools & a comparison chart for each: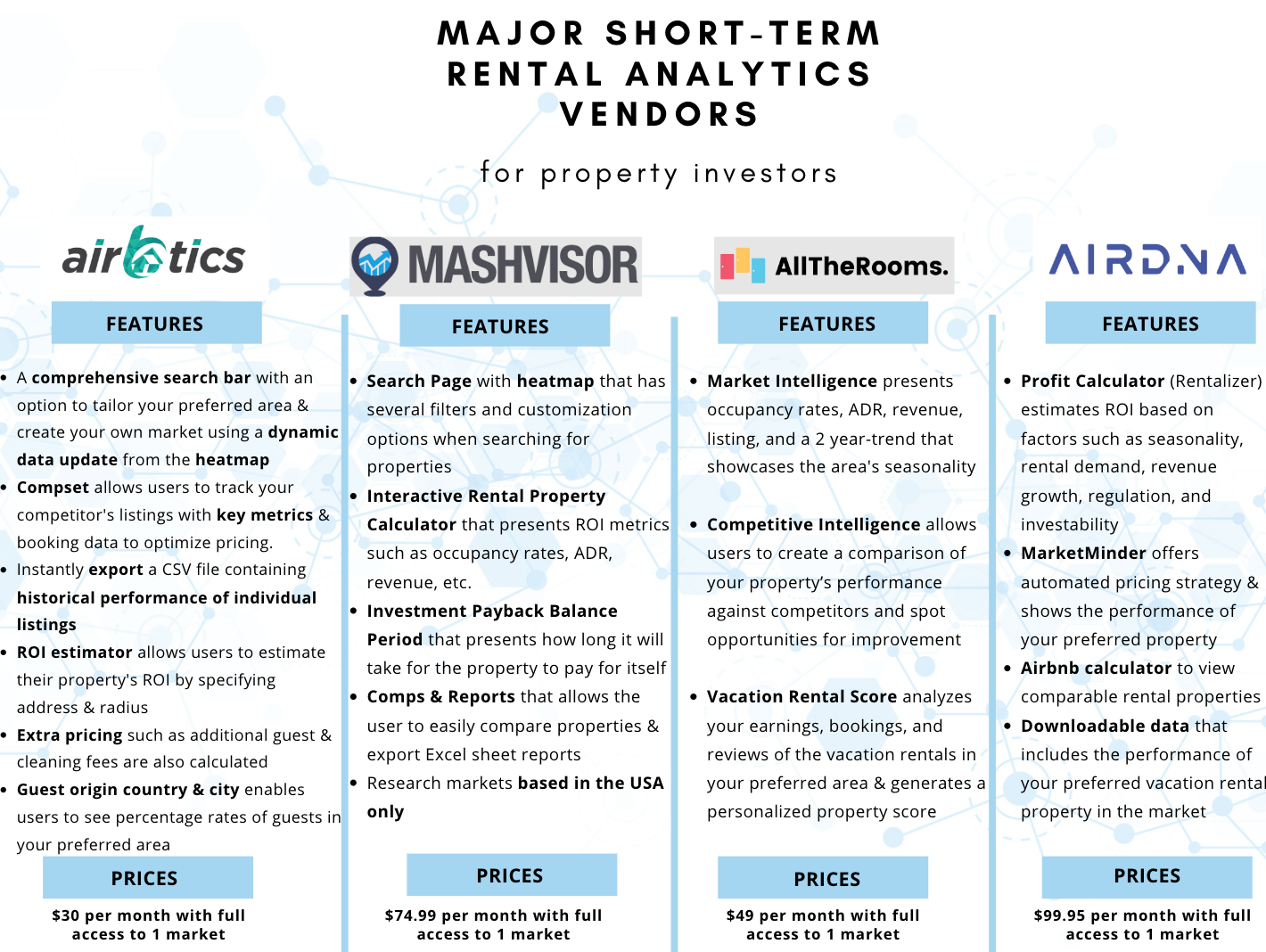 Being the market leader in the vacation & short-term rental market research platform, Airbtics accurately presents complete data in order for hosts like you to create a strategic analysis for your Airbnb market research. 
With its various useful features, you can easily tailor your preferred area on the comprehensive search bar & create a personalized market using a dynamic data update from the heatmap. 
Undoubtedly, this market research tool can instantly provide precise data at a very affordable price – $30 per month with full access to 1 market!
Let's take a look at Airbtics' Reviews: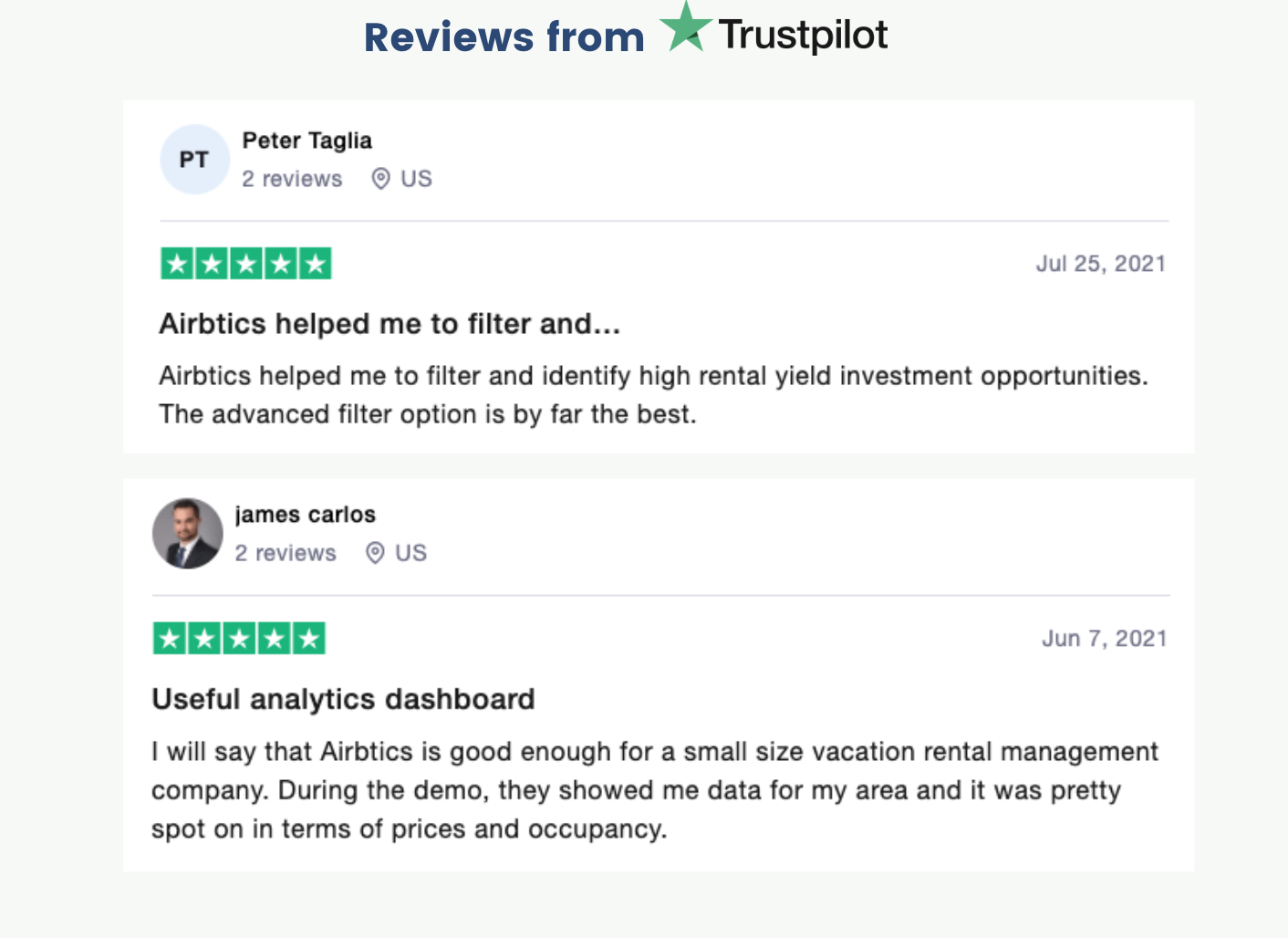 This market research tool is popular for its features including the market minder which is ​​​​based on the analysis of over 4 million short-term rentals around the world. AirDNA may be a well-known market research tool, however, users have been complaining about inaccurate data. 
With the current AirDNA alternatives available in the market, out there and people are starting to look for alternatives so they can make better investment decisions. 
AirDNA's pricing is $99.95 per month with full access to 1 market.
Check out the AirDNA reviews: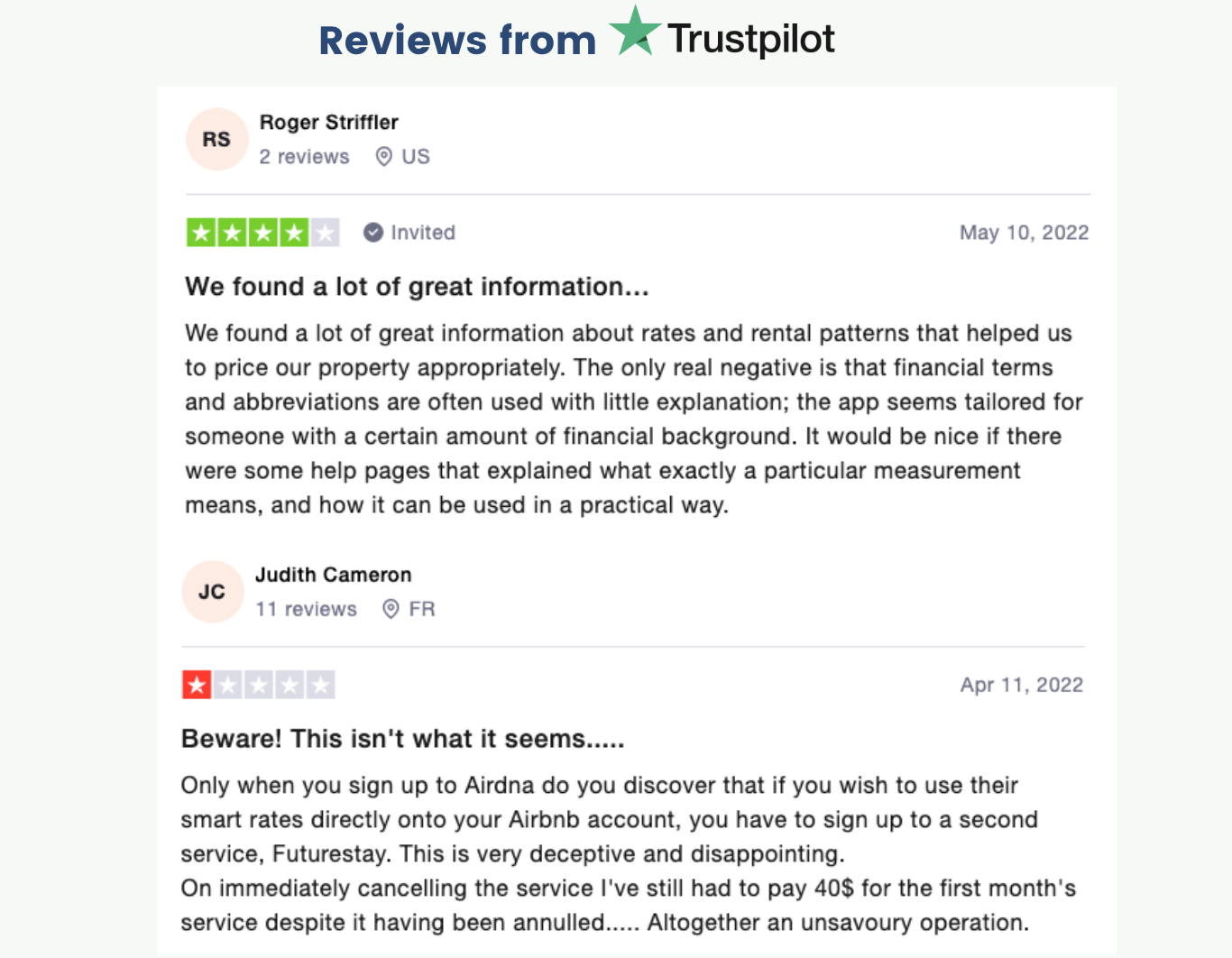 Mashvisor has a few tools in its lineups for different purposes, but this tool is mainly focused on property investors and the traditional rental market. This platform generally provides a simpler overview of real estate data and projections.
Unfortunately, Mashvisor does not provide details for important metrics like booking lead time, property level future pricing data, and extra guest fees – which are all necessary for gauging short-term rental success.
Mashvisor's pricing is $74.99 per month with full access to 1 market. 
Let's take a look at Mashvisor's reviews: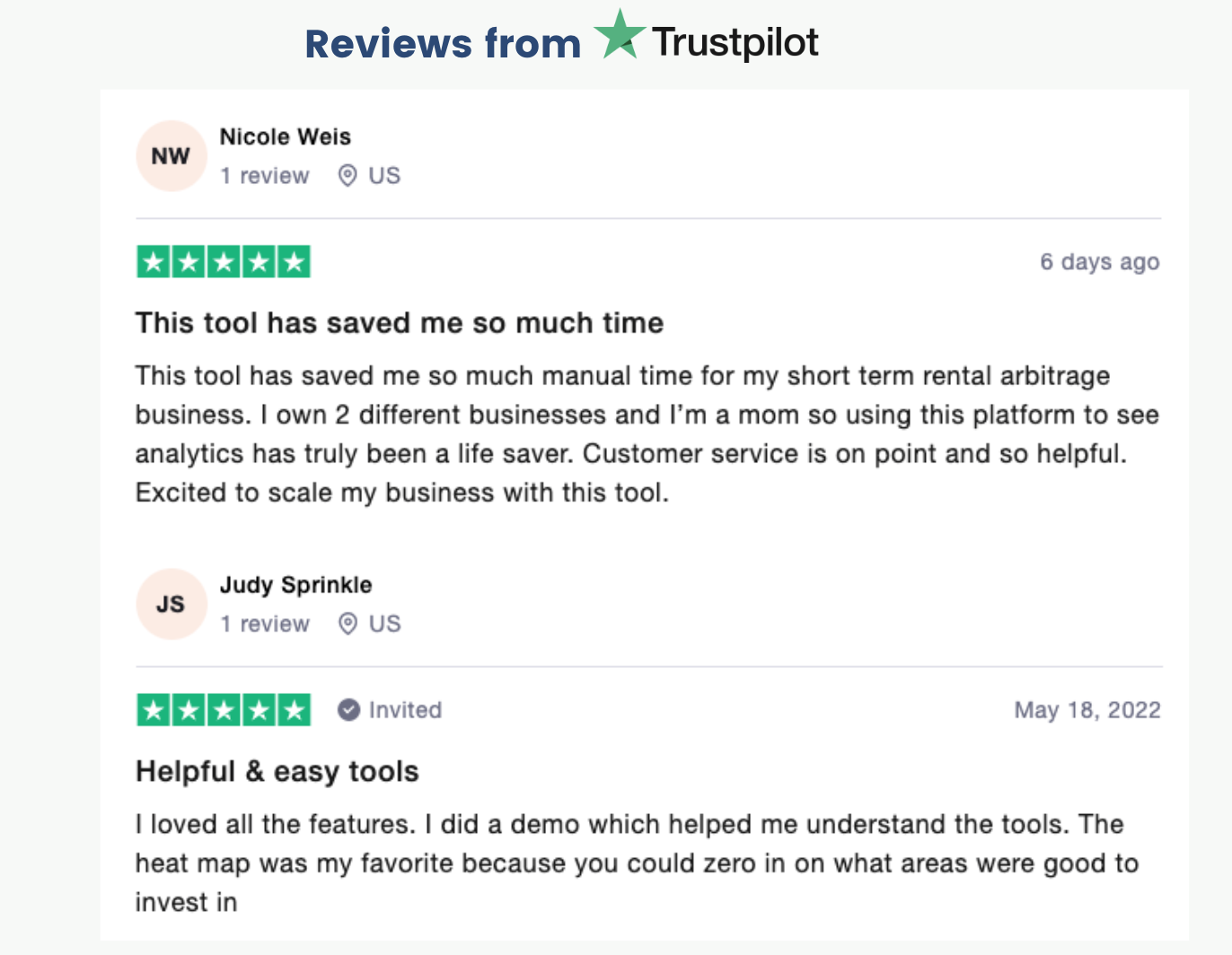 This market research tool allows you to analyze short-term rental markets and monitor your short-term rental competition with the help of their features such as supply, booking lead time, and future booking data at the market level. 
We've made a comparison review between AirDNA vs AllTheRooms and presented that this platform is an easy-to-use service and extremely reliable. 
However, they're missing out on an important feature that Airbtics has: individual property performance data. This feature enables you to get detailed insights into the market performance of different property types and is very helpful in creating effective strategies for investment.
AllTheRooms' pricing is $49 per month with full access to 1 market. 
Let's take a look at AllTheRooms' reviews: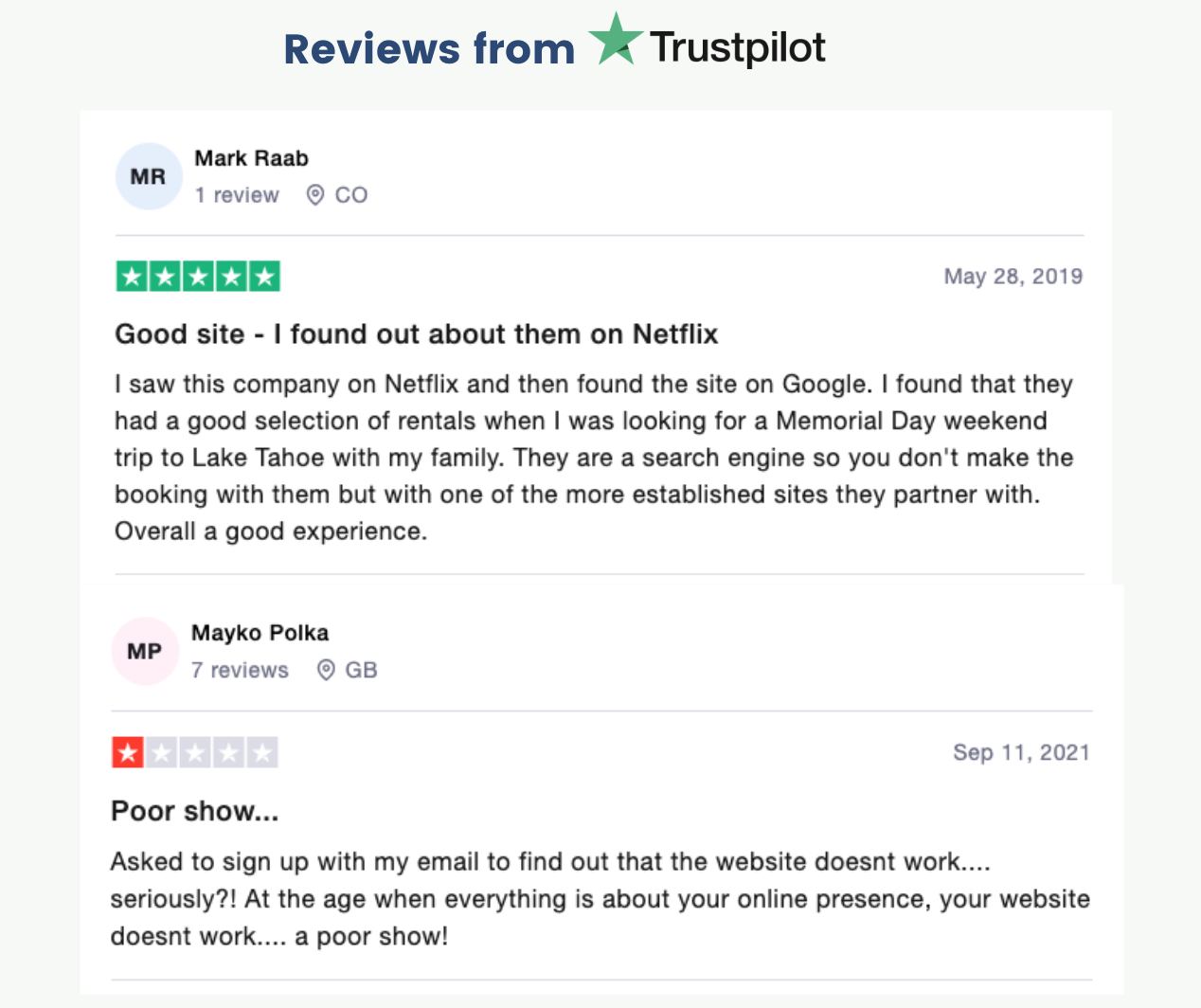 Airbnb Tools for Message Automation
Automated messaging apps not only save you enormous time, but they also increase your rank by fast response time which is beneficial to improving your listings!
By connecting your Airbnb listings to your preferred messaging app, you can send the best Airbnb message templates to your guests. Here are some of the most recommended automated messaging tools that you can take advantage of:
Host Tools is a simple automation tool for Airbnb and Vrbo rental hosts. For as low as $8 per month, you can already access multi-channels and it offers flexible pricing packages to match your unique needs.
Here are some of the reviews for Host Tools: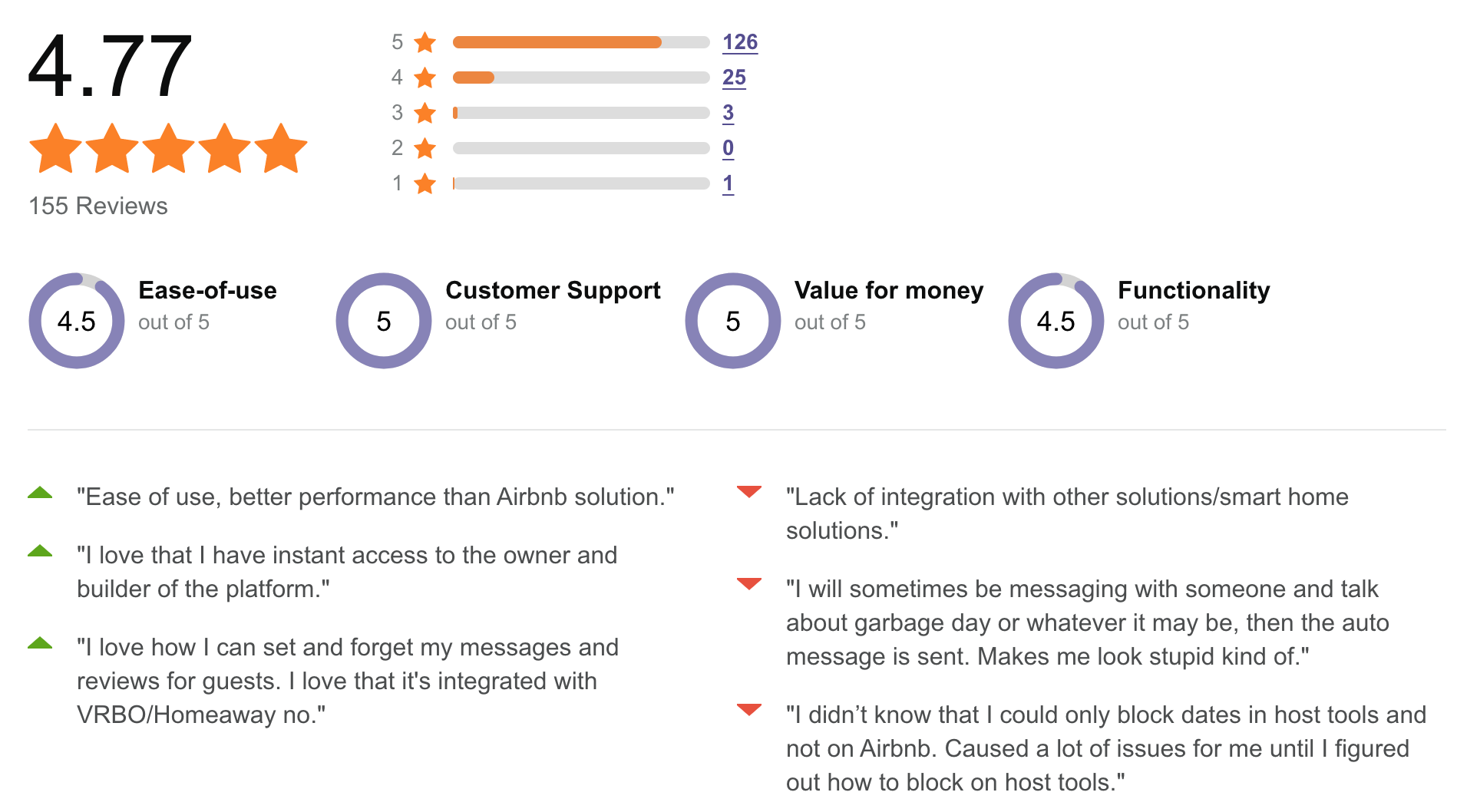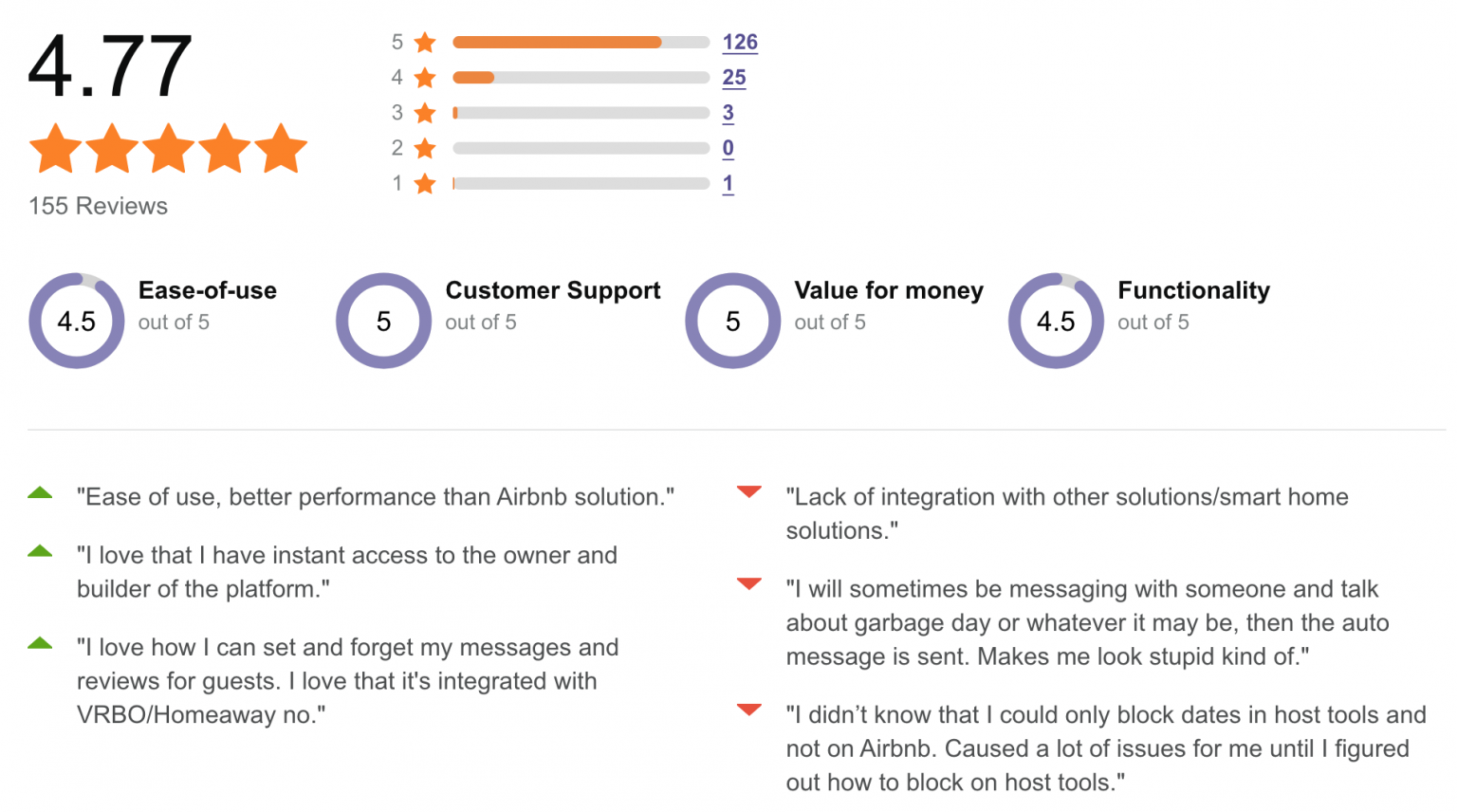 Hospitable is an automated messaging app with artificial intelligence. 
The app recognizes keywords in a guest's message including "parking" and "wifi" and will respond with a message that covers that topic. Hospitable's pricing starts at $15 a month for 1 listing. 
Here are some of the reviews for Hospitable: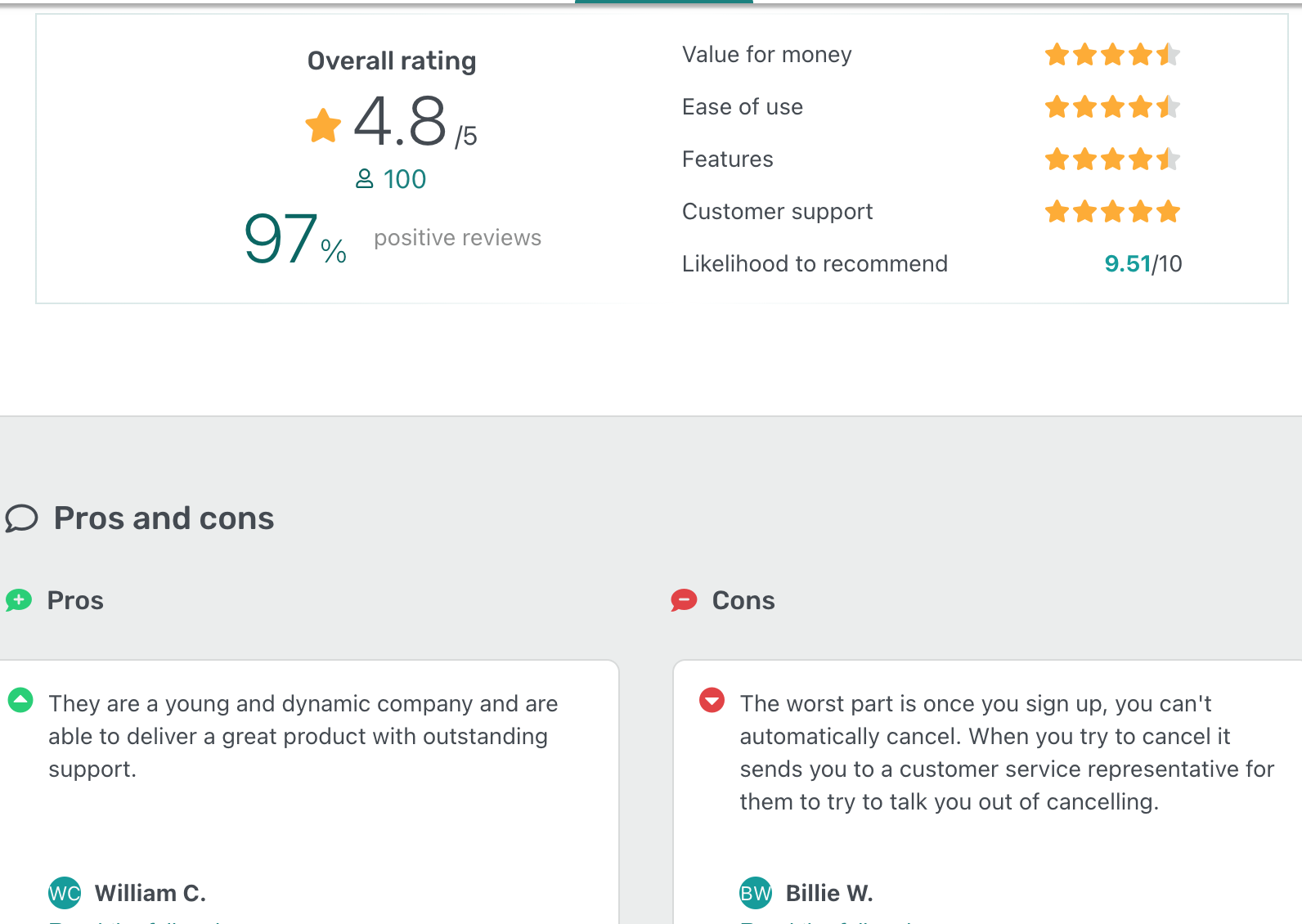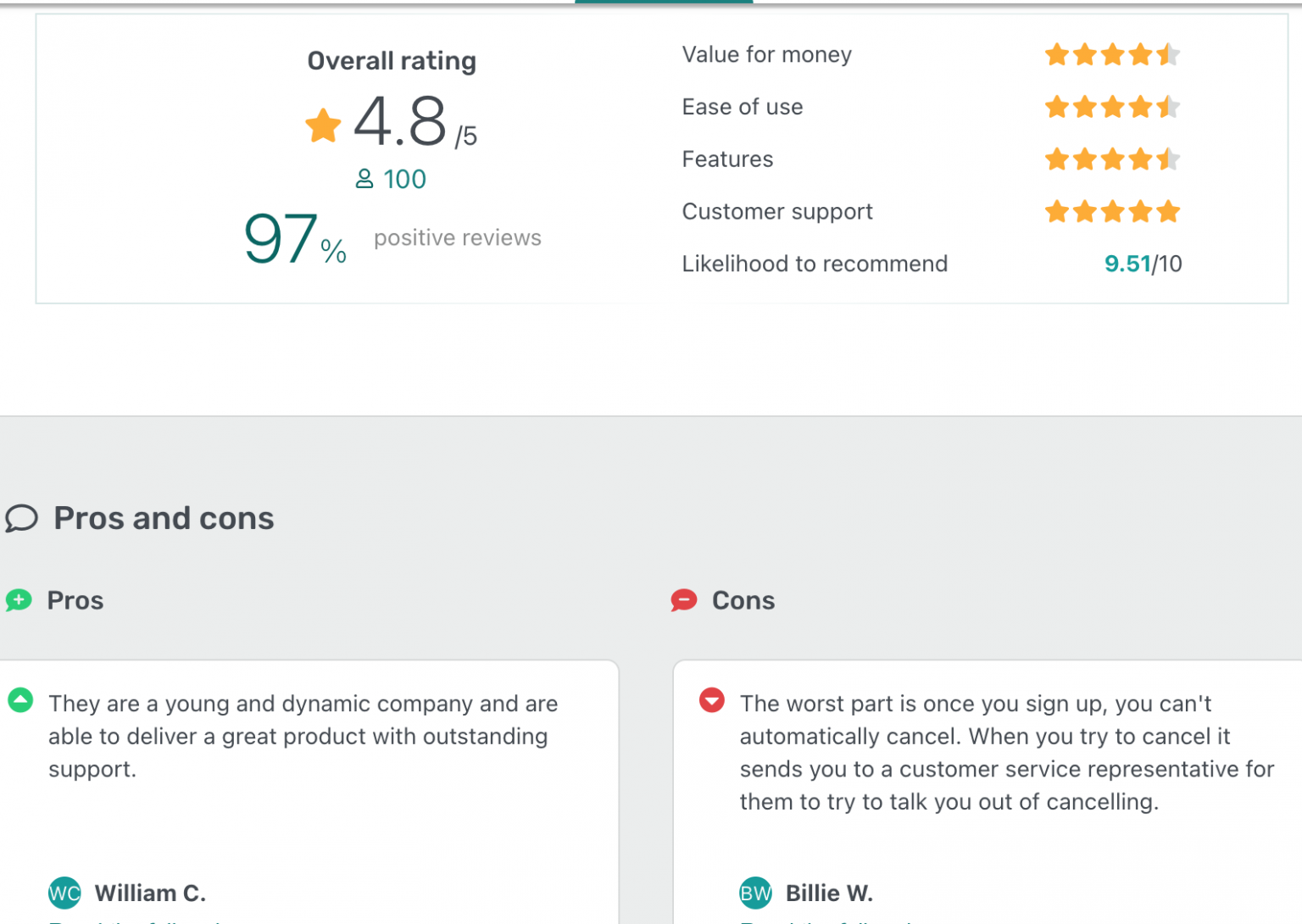 Hostaway is the only platform in the vacation rental industry with a complete set of tools for property managers and it also includes a channel manager.  
Hostaway's pricing is highly customizable according to your budget.
 Here are some of the reviews of this app: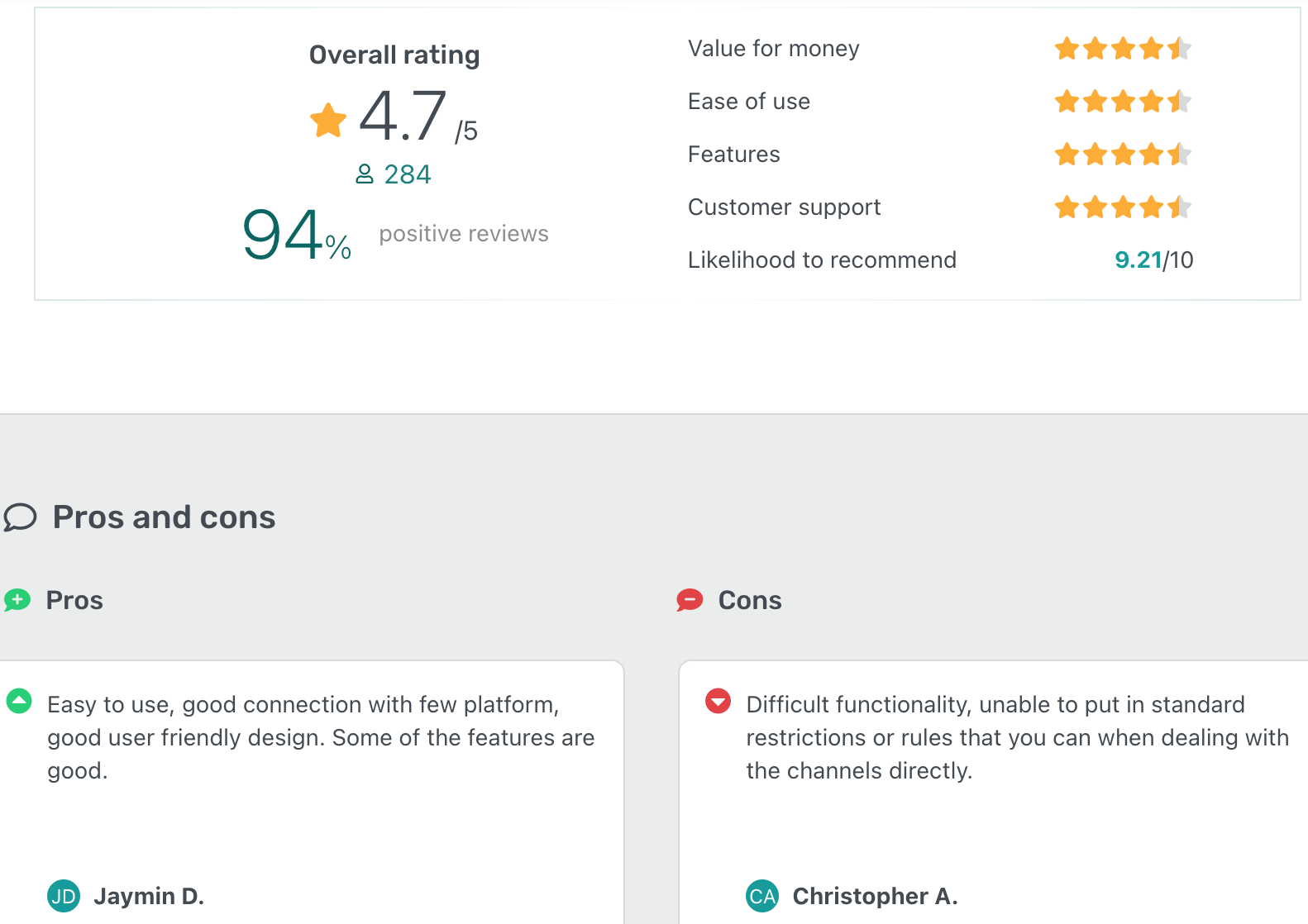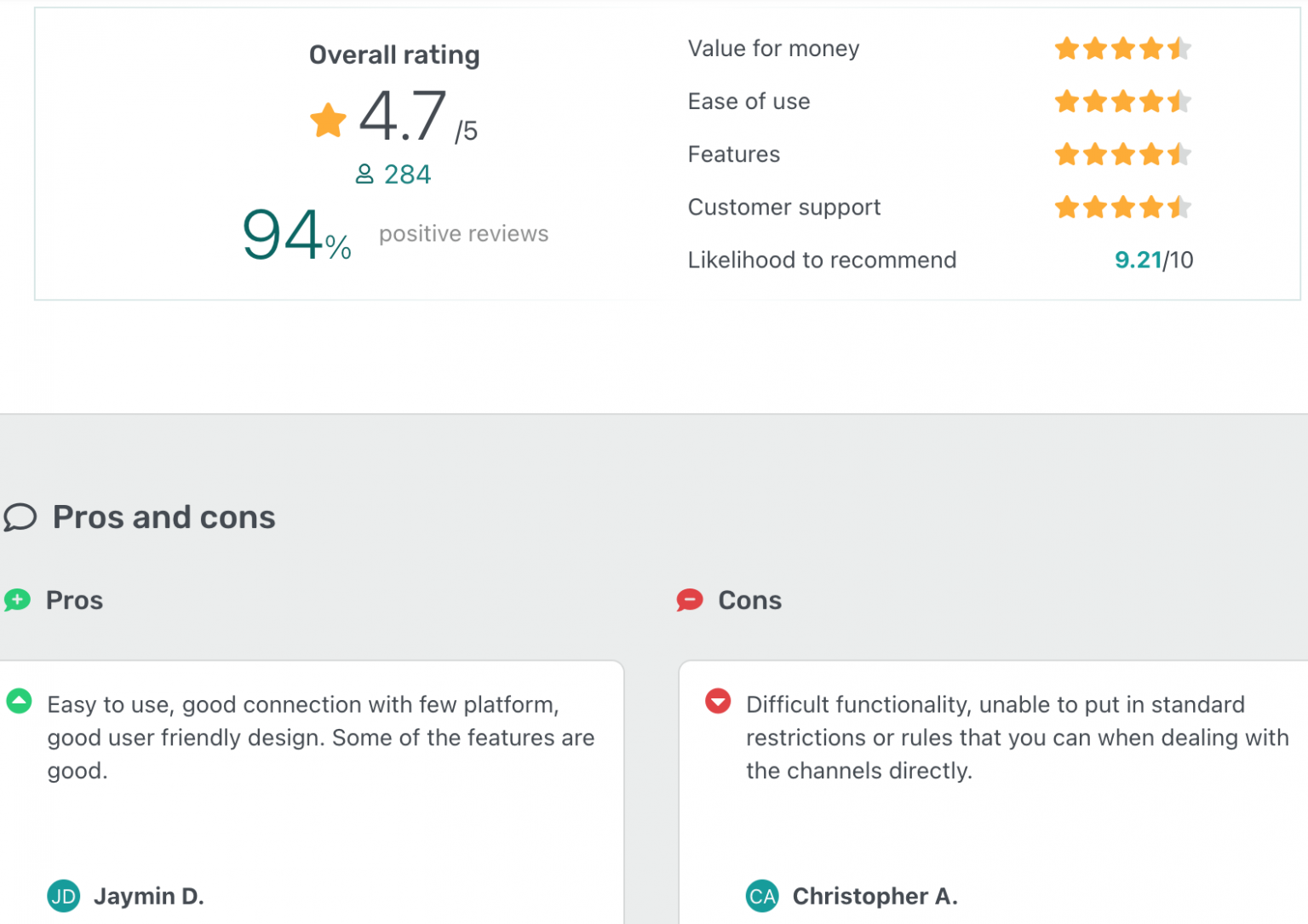 Tools for Online Vacation Rental Management
Here are other useful tools for vacation rental managers – to make your life easier! 
Vacation rental management tools are designed to help short-term rental owners manage their businesses through a variety of features including the automation of many routine tasks through a property management system (PMS) and the ability to manage all their listings and bookings on the same centralized platform.
Here are some of the most recommended tools for online vacation rental management:
Here are some of the reviews for this tool:

Aside from this tool being an automated messaging app, it also allows you to link Airbnb or other accounts with Beyond Pricing and further manage pricing recommendations, calendars, and the like. 
Let's take a look at Beyond Pricing's reviews online:

Another automated messaging app is iGMS. This tool features messaging templates that you can use to send standard messages including check-in instructions to your guests instantly. It also features task scheduling and review management.
Here are some of the reviews of iGMS:

Hosthub is a tool that helps hosts to list and synchronize their short-term rentals on multiple channels, and is also rated as the top channel manager in the world!