Airbnb data is important to make the best investment decisions and achieve successful business results. Are you looking for ways to get free Airbnb data? Look no further! 
In this article, we'll feature paid and free solutions to get Airbnb data, its benefits, and a three-step guide on how to get it. Stoked to learn about this? Continue reading!
What is Airbnb Data?
Airbnb data consists of numbers and ratios from properties' information such as their pricing, location, and availability. These are commonly extracted using web scraping techniques from websites, particularly Airbnb.
Analyzing Airbnb data is important to help property investors understand the critical numbers and ratios. Primarily, if you want to start your own Airbnb business, it also answers some of the major questions:
Is your Airbnb property profitable? How can you properly strategize to increase your return on investment?
Benefits of Airbnb Data 
Check out some of the perks that you can take advantage of using Airbnb data:
1. Make An Informed Decision Based on Numbers
Not all short-term rental analytics tools have complete and accurate Airbnb data. An Airbnb analytics platform should provide sufficient data to make an informed decision. Airbtics provides Worldwide STR Data Coverage for the following:
Occupancy rates

Daily rates

Annual revenue

Seasonality

Average length of stay (ALOS)

Top-performing listings

Booking patterns 
The best part is that Airbtics' dashboard displays data in a very comprehensive way.
The interactive revenue heatmap presents existing Airbnbs in the area and even has dynamic data insights. This data source is extremely important to make a wise investment decision. 
⭐ Bonus: You can spy and compare your competitors' performance in the area, too!
2. Discover High Return Properties
Still unsure which area is best for Airbnb investment? You can close the door to fruitless properties and filter ONLY the best ones! Profitless markets can be easily identified by looking at historical performance data. 
You can search for your preferred city and identify multiple neighborhoods with the highest returns. And you don't need to waste precious time doing manual online research.
⭐ PLUS: You have the power to discover the best property types for a good return!
3. Forecast your Income
It's highly recommended to run the numbers if you are planning to start your Airbnb business. Don't get me wrong, this is vastly applicable to those who have existing properties too! 
For instance, you can do this if you want to try operating a different property type. Let's imagine that you currently own a 1-bedroom apartment, but you would like to expand it to 3 bedrooms. 
Once you identify which property type is best according to your location, the next step is to identify the costs & revenue.
There's no denying that operating an Airbnb business can be costly. But the good news is that you can manage the finances and anticipate revenue using an Airbnb income calculator. You can easily simulate the return on investment (ROI) of a property that you're considering purchasing!
How to Get Airbnb Data: Free and Paid Solutions
Getting data from Airbnb is a lot more complicated than you might think as this requires data science experts and machine-learning algorithms. Here's how you can get Airbnb data:
There are several Airbnb data scraping tools available such as Apify, Puppeteer, and Scrapy. These tools will allow you to scrape the Airbnb rental listings in a particular place. However, the only disadvantage is that you'll get limited data and still require data analysis and research.
For instance, unlike using paid Airbnb data tools, you can easily go through various locations and predict your revenue accurately. 
Airbnb data analytics tool does the heavy lifting for you. Not only does it present accurate figures, but it also helps boost your rental revenue for any specific global market.
In comparison to free and traditional ways of getting Airbnb data, using an Airbnb data analytics tool like Airbtics helps you save time, strategize, and earn more revenue. An accurate data source is very important for the Airbnb business and is not a risk that you want to take when it comes to numbers.
Here are some of the leading Airbnb data tools in the market: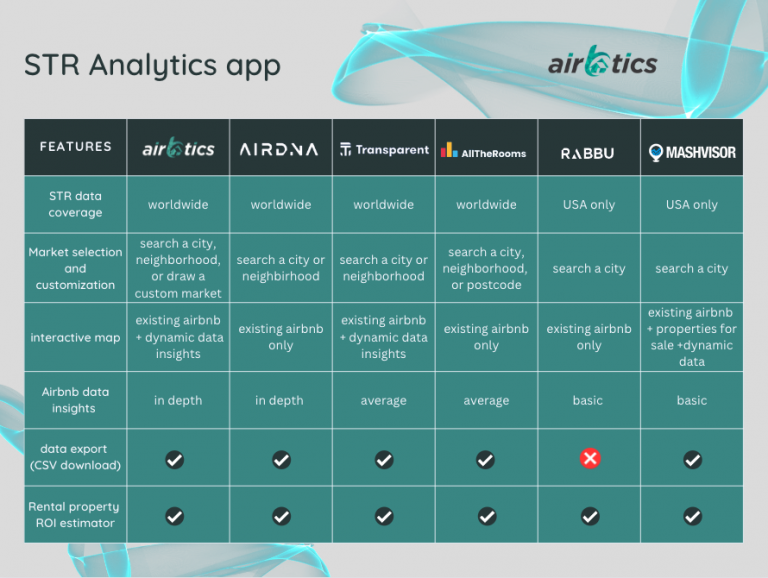 Getting Airbnb data the Traditional Way
You can get Airbnb data the traditional way by conducting Airbnb market research and analysis of each area that you want to target. To make a comparison for each market, you need to gather historical data from metrics such as average daily rates, monthly income, and occupancy rate, and consider other expenses.
Once you have all the data, you also need to look at each review and rating that impact overall performance. If you want to analyze several properties in different markets, this is certainly time-consuming and it could generate inaccurate results if not done correctly.
How to Get Airbnb Data with Airbtics: 3 Easy Steps
Airbnb data analysis is made easier and well-ordered. With the help of STR analytics tools like Airbtics, you can get Airbnb data! If you already have a specific market in mind, here are the 3 easy steps that you can follow to get Airbnb data:
Step #1: Evaluate the Neighborhood
Under the 'Insights' tab, you can conduct a thorough analysis to get a better understanding of your preferred market. You can look at multiple markets, compare the best property sizes and types, and even get inspiration from local hosts within the area.
For instance, here's how you can evaluate the neighborhood in Long Beach, California.
When are the peak and off-seasons?
Airbtics' data shows that the seasonality in Long Beach is 32%. An Airbnb host can expect the highest revenue of $5,673 in July, and the lowest revenue of $3,362 in November.
Given this data, you can set a proper Airbnb pricing strategy by adjusting your daily rates when needed. Bonus tip: You can even do seasonal discounts to get more bookings during off-seasons!
What are the common existing property size and types?
The supply distribution states that 28% of listings in Long Beach are 1-bedroom properties. The majority of the listings (65%) also consist of Entire Home properties. However, you can also look at other property types to compare:

Bedroom

Number of Listings

Occupancy Rate

Annual Revenue

Studio-type

424

83%

$42,163

1-bedroom

1,302

84%

$46,833

2-bedroom

1,247

81%

$72,150

3-bedroom

977

77%

$105,660

4-bedroom

417

77%

$135,708
Given this data, you can properly decide which property type is best for Airbnb in Long Beach. Although there are several 1-bedroom properties, you may have tight competition.
For easy access to multiple data in one city, you can just click on 'MARKET OVERVIEW'. It will download a CSV file containing various bedroom types and accurate numbers!
Step #2: Calculate Potential Airbnb Profit
The 'Estimator' tab will ask you to input your address, number of bedrooms, and baths. You can zoom in and out of the map and go through the actual location of your property. 
Since you already have an overview of your property's price and downpayment, all you have to do is input the numbers! As mentioned before, you can also take advantage of the Advanced Options button to input actual operating expenses and startup costs.
For operating expenses, it covers management fees, property tax, HOA, mortgage, and insurance among others. On the other hand, startup costs consider home furnishings and closing costs.
By calculating your potential Airbnb profit, you'll be able to move forward with the final stage. This is where you make the decision: To invest or not?
Step #3: Comparison of Airbnb Analysis
Ready and set? Or not yet? 
If you're finally convinced that the numbers are correct, we'd still recommend for you double-check the numbers. However, if you want to explore other areas or cities, you can certainly do so!
For each city that you'll search for on the Estimator tab, you can save them and they will reflect on the "My Analysis" tab. This will give you a brief overview and comparison of multiple cities. This includes Gross Rental Yield, Net Rental Yield, Net Profit Before Tax, and Downpayment.
Once you're all set, there's no doubt that you're making the right decision!
Conclusion
In summary, Airbnb investment can be risky if market research is not done as the first step. This is where a smart & reliable tool like Airbtics is truly needed! This STR tool offers free Airbnb data that you can take advantage of. 
It's bad enough to waste money and energy on a property that won't meet your financial expectations. But what's worse is not taking advantage of resources to avoid losses.
Here's our final recommendation! Once you set your eyes on a particular city, it's best to analyze and compare each property's prices and returns. Conducting market research using STR analytics tools like Airbtics will help you make a wise decision that you won't regret.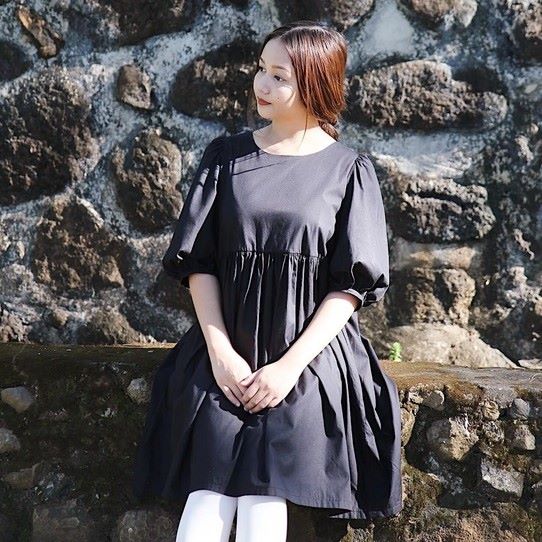 Robyn is a passionate content writer about short-term rentals and is dedicated to research & sharing property investment strategies and analysis worldwide. She is a graduate of Alliance Française de Manille, a songwriter, an animal advocate, and an avid fan of The Beatles since birth.