This post is only relevant if you are currently based in the US – if not, feel free to check out our article on various short-term rental analytics. Fact: Mashvisor only supports US-based clients.
Since Airbnb's launch in 2008, it has attracted many ambitious entrepreneurs in the short-term rental industry. Some of those built 7 figure businesses from nothing in a year or two. 
They achieved such numbers by 1. investing in vacation homes, 2. conducting Airbnb arbitrage, or co-hosting.
The key point here is that they increased the number of units they manage FAST. And like every investment, what allowed them to move fast is accurate due to diligence powered by their experience and data. 
When it comes to data-driven Airbnb due diligence, they have two options in mind: AirDNA and Mashvisor. To make your decision-making easier, here is a comparison between Airdna & Mashvisor. Let's see which one is best for you!
If you are looking to invest in a property exclusively for renting it on Airbnb, then you need accurate and reliable data that you can study in order to make the right decisions.
Having a good knowledge of certain considerations such as the right neighborhoods, occupancy rates, and monthly revenue of an area will help you estimate the ROI and how much should you initially be investing in a property. Having the right tool will not only save you time but money as well! 
Quick Pros and Cons
AirDNA Pros
It has more short-term rental data points, such as forward-looking data, guest demographics, booking lead time, and so on

It has a monthly plan

 
Mashvisor Pros
It has traditional rental data

It shows properties for sale in the market

You gain access to the entire US market

 
What is Mashvisor?
Mashvisor is a US property analysis platform that shows both long-term and short-term rental data. Their subscription allows you to explore the entire US market, unlike AirDNA. They also show the properties for sale from their app, which makes it easier for you to discover high-return investments. 
Overview
As a software primarily focused on real estate investors, Mashvisor has helped users to do the following:
Optimize their rental strategy and estimate how much revenue the property will generate

Understand which is better: traditional or short-term rental for the property and neighborhood

Follow specific markets and growth over the years

Find undervalued properties and investment opportunities in upcoming or established areas
Mashvisor uses the help of various data input streams to scrape through large amounts of data and gives you a simpler overview presented nicely in their dashboard.
Let's go through some of the features of Mashvisor:
New Property Finder

Short/Long Term Rent Analysis

Purchase Analysis

Reports & Insights

ROI Calculator
New Property Finder
This tool helps people to filter out properties based on various criteria such as the Listing Price, Size, No of Bedrooms, Cash on cash return, Average occupancy rate, and the like. You can narrow down your search by filters by availability, ROI, Return on investment timeframe, Initial Capital required, etc.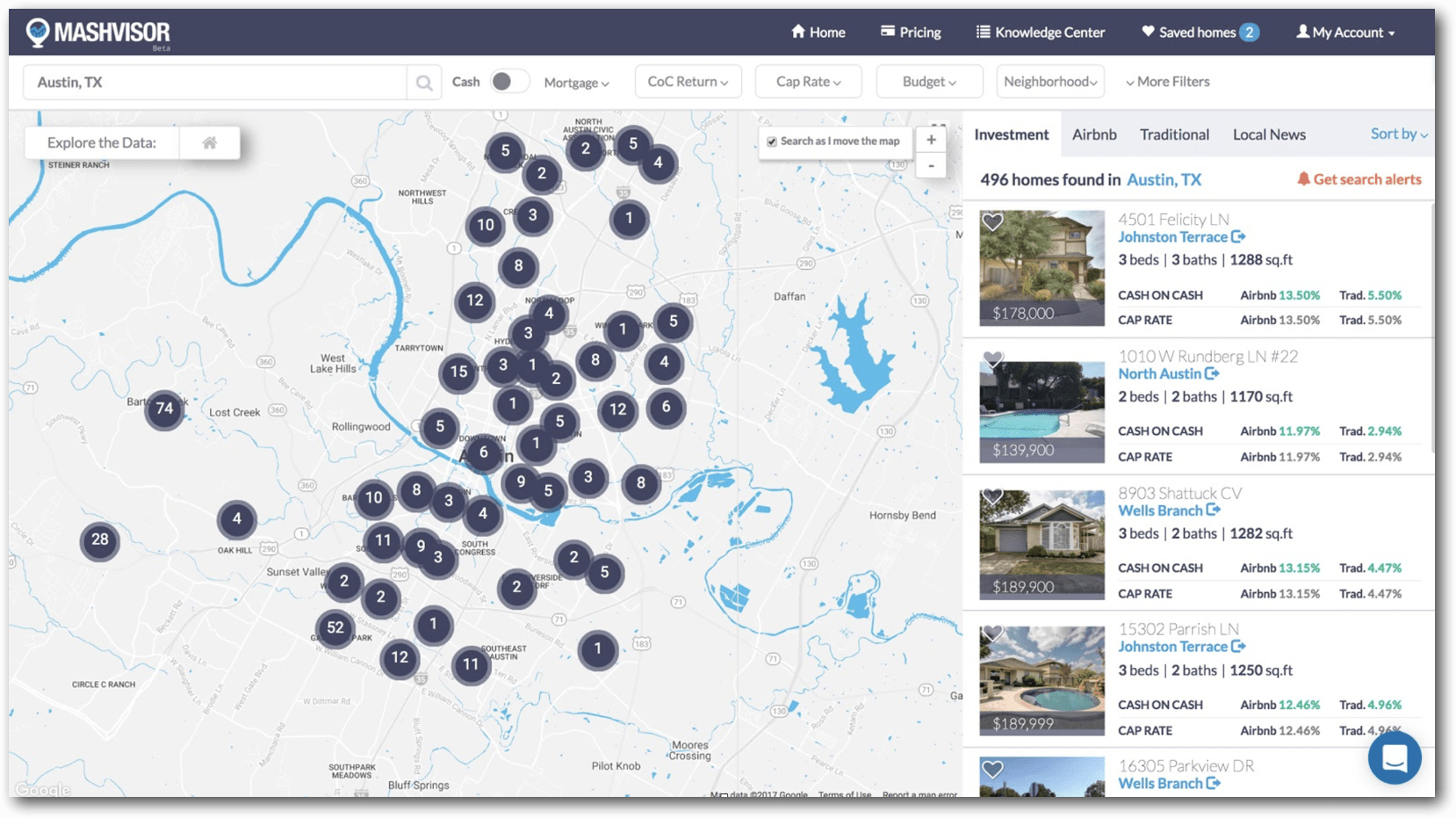 Having these many filters helps narrow down the right set of properties and helps investors to find exactly what they are looking for. This feature also enables users to multitask and search this data for multiple cities simultaneously, so you can compare between cities to make an informed decision while choosing the city to invest in.

Short/Long Term Rent Analysis
Having a rough estimate of monthly rent is very crucial when investing in a property as it helps you to determine metrics like mortgage payments, ROI timespan, yearly yield, and the like.
Mashvisor has a tool that helps you calculate estimated rental revenue for both traditional and short-term renting. These estimations are based on the real-time performance of similar properties in the area and using that data will predict cash flow for properties of your size. This turns out to be very useful to plan your other expenses and renovation of the house, cash on cash return, and other metrics to determine successful investment.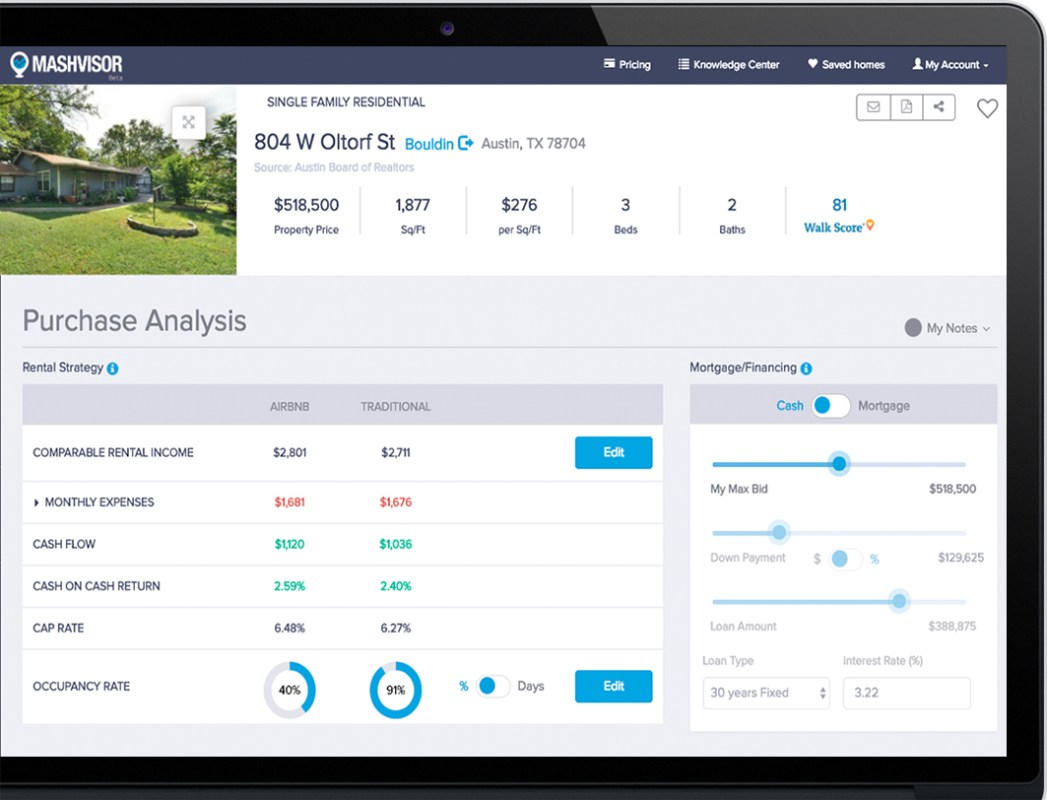 Purchase Analysis
Purchase Analysis is another feature that enables you to fine-tune your costs and view updated returns based on the interest rate, property taxes, and yearly maintenance. This feature is very useful in calculating your overall in-hand cash flow after all the expenses from an individual property.
Interactive Reports and Insights
This feature allows users not only to see reports and insights but to interact with them. You can bookmark, comment, and make notes in the dashboard itself for individual property to check back later. You can also download or directly share an individual property with your friends and agents to get suggestions from the dashboard itself.
Rental Strategy Comparison
Know how much you'll make on a property whether you list it on Airbnb or other booking sites. Use the comparing values to decide which strategy is more lucrative for a particular property. The comparison shows the difference in:
Rental Income

 Cash Flow

 Cash on Cash Return

 Cap Rate

 Occupancy Rate

 Monthly Expenses

What is AirDNA?
As the leading source of vacation rental data, AirDNA offers a wide range of tools to help its users find profitable investment properties. It offers competitive insights, custom reporting, and interactive dashboards covering more than 10 million rentals across 120,000 markets worldwide. 
It also provides an opportunity for vacation rental investors to understand and analyze key trends in the short-term rental industry leveraging historical and future-looking data to maximize revenue potential. 
MarketMinder: Product overview and key features
As a solution designed to get useful information on the performance of vast amounts of rentals and examine how the short-term rental industry is changing, MarketMinder helps potential investors understand how their vacation rentals are performing compared to others and to study real-time future demand to set their prices. 
MarketMinder can help investors to:
Locate investment opportunities 

Compare future demand with nearby comps

Price smartly and accurately

Grow portfolio with profitable listings  
Market Comparison
The Market Comparison tool in MarketMinder allows Airbnb investors to compare cities, neighborhoods,  zip codes with the number of bedrooms, and guests it can accommodate. Investors and second-home buyers can analyze annual revenue, ADR, and occupancy trends over the past years to find the most profitable properties.  
Calculate Revenue Potential & Cap Rate
Rentalizer, the Airbnb Financial Calculator, allows you to enter any address in the world and immediately receive projections on revenue, occupancy, ADR, and nearby comps. By customizing your bedroom count, purchase price, and major expenses, you can also receive operating income figures and cap rates to guide your investment decision. 
These are MarketMinder's most important features:
Short-Term Rental Research feature with interactive maps

Data-Driven Dynamic Pricing 

Customized Comp Sets

Forward-Looking Airbnb Data

Market Comparison

Calculate Revenue Potential & Cap Rate 
Short-Term Rental Research 
This feature is handy for gaining competitive insights on Airbnb and Vrbo rental properties. You can use interactive maps to examine how some neighborhoods and vacation rental properties perform. The feature includes over 25 crucial performance metrics: average daily rate, occupancy, rental revenue, booking lead times, active listing, etc.  
Data-Driven Dynamic Pricing 
With this feature, one might compare market rates to recommended rates based on property performance to have the most personalized dynamic pricing recommendations. Among the questions that could be answered are: "At what particular hours guests are willing to pay a premium?", "How probable is it to be booked last minute?", or "What type of events are increasing rates in your area?".
Customized Comp Sets
MarketMinder also allows you to upload your property and connect your listings. One can leverage the dataset to curate an accurate list of nearby akin listings. The feature provides sorting and filtering the competitive set according to ARD, occupancy rate, amenities, revenue, distance, experience, and quality. Hosts can compare pricing, demand, and historical insights to their competitors.
Forward-Looking Airbnb Data
This feature analyzes Vrbo and Airbnb data by providing a forward-looking view of the exact dates over the next six months that are getting booked now. By doing so, one can adapt their strategy and gain a competitive advantage. This feature is also useful in understanding the difference between how the specific market is advertising the prices and the rate at which they are booked. 
Conclusion
If you are purchasing 5+ properties every year, Mashvisor's yearly plan ($600/yr) can be a good investment. 
If you are purchasing 1-2 properties, it might work out better to subscribe to 3-5 AirDNA's markets for a month.
Airbtics is another short-term rental data & analytics platform. It provides as many short-term rental data points as AirDNA, while it has an affordable US Nationwide subscription-like Mashvisor. Airbtics is designed for a smart investor looking to expand aggressively using the power of technology and data. It is built for you to discover emerging markets and identify high-return investments. 
Note, you can subscribe to 5 markets on Airbtics at $149/mo.