Last updated on September 15th, 2023
Key Takeaways
Before investing in the real estate market, it's important to make sure that the property will generate a high return first. This is where Airbnb data analytics tools like AirDNA and Data Rabbu are bringing the essence to the short-term rental industry. 

Discover and compare the Airbnb analytics available in the market to meet your goals. By looking at the features, pricing, and alternatives, you'll be able to make the wisest investment decisions. 

Learn about the reviews from actual users who have tried AirDNA, Data Rabbu, and other short-term rental providers to gauge the best Airbnb analytics for your business.
Introduction
Starting your investment journey in the real estate market is an exciting step to achieving financial freedom. In fact, it can instantly help you make thousands of dollars by using the right tool to make wise investment decisions.
This is where short-term rental analytics providers like AirDNA and Data Rabbu step in and become essential. They both provide useful data points such as the monthly revenue projection, occupancy rates, and Airbnb listings among others.
But which is the best Airbnb analytics tool for you? 
In this article, we'll compare AirDNA vs Data Rabbu to help you decide on the best Airbnb analytics tool. We'll cover their specific features, pricing, and actual user reviews. We also added great Airbnb analytics alternatives just in case you need more options. Continue reading to learn more!
What is AirDNA?
AirDNA is one of the leading sources of short-term rental data in the industry. It helps users to access data by looking at competitive insights, custom reporting, and interactive dashboards. 
AirDNA also offers worldwide data coverage with features including a marketing comparison tool (Market Minder) for investors to compare cities and an ROI calculator (AirDNA Rentalizer).
On the other hand, if you're wondering, "Is AirDNA accurate?" – well, AirDNA's accuracy is a different subject. While there are several users who have tried its services, the tool's accuracy is often highlighted and several users have unsubscribed due to this problem. It's also one of the reasons why more people are looking into AirDNA alternatives.
What is Data Rabbu?
Data Rabbu is a property management service that features short-term rental data. This platform focuses on short-term rental & vacation rental properties. Therefore, more real estate investors who want to determine a property's profitability find it valuable. 
Rabbu's Marketplace tool is also helpful for those who have no properties yet or would like to create a new investment portfolio. This tool specifically assists investors to have an overview of on and off markets. 
However, its data coverage is limited to the USA markets only. Airbnb Rabbu's accuracy cannot be guaranteed since there are feedback from users stating that their "75th percentile seems to underestimate the real-world STR performance".
AirDNA vs Rabbu: Features & Tools
Aside from the fact that both AirDNA and Rabbu differ according to their data coverages, here are their individual features and tools: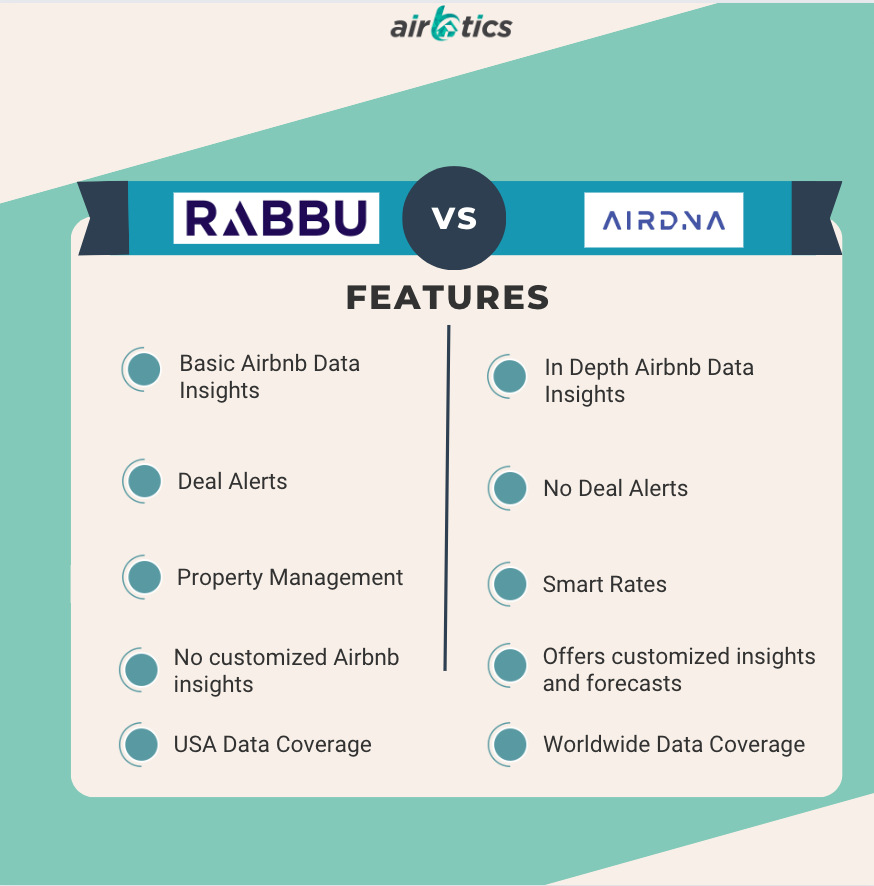 1.
Airbnb Calculator
The first question that comes to every property investor's mind is: "How much can I make on Airbnb with my property?". This is where an Airbnb income calculator becomes essential! 
Both AirDNA and Rabbu Data have Airbnb calculators. They present Airbnb data points such as annual revenue, average daily rate, and occupancy rate among others. Their major difference is that Data Rabbu's Airbnb calculator is free and you can even go through the market's seasonality.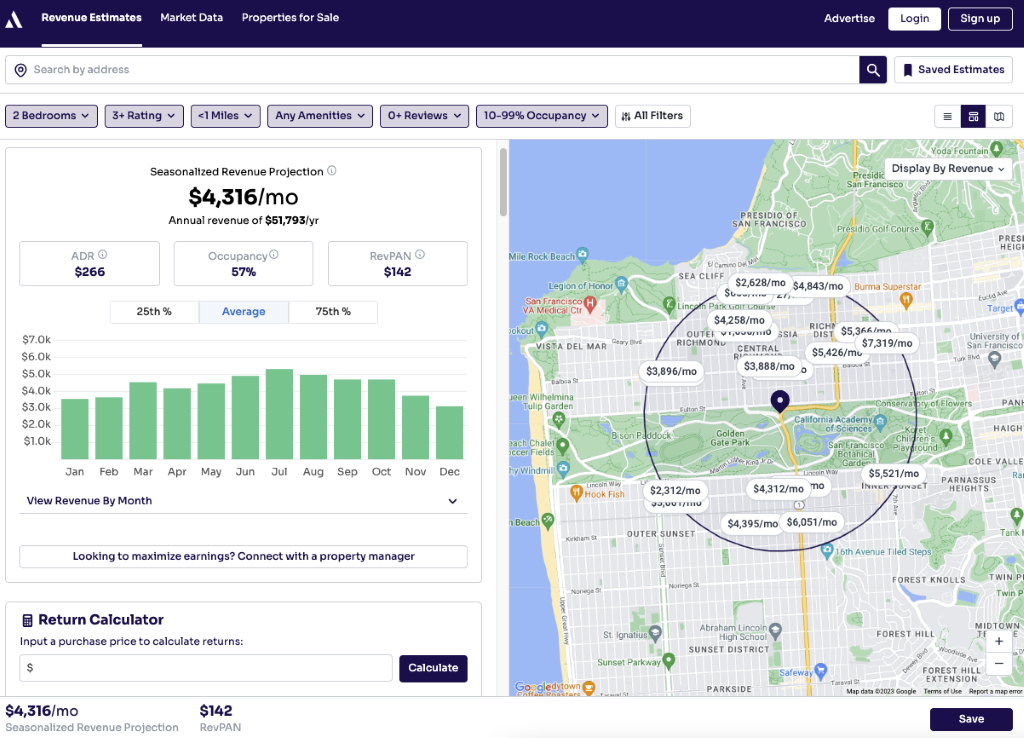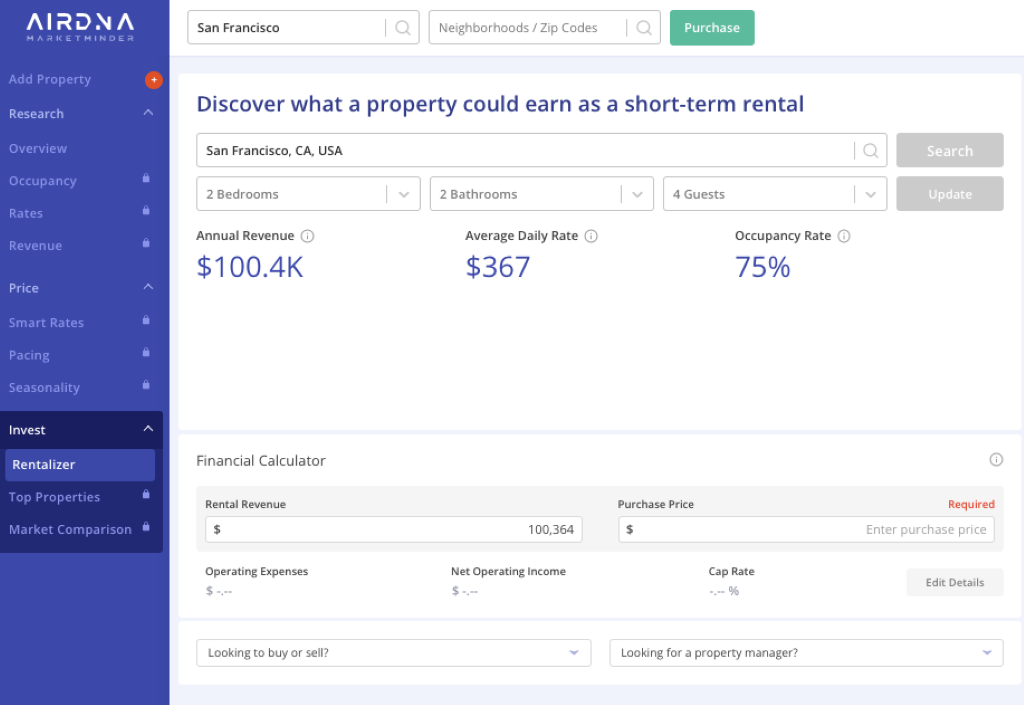 From a brief look at the dashboards from AirDNA vs Rabbu, it's safe to say that Rabbu's presentation is a lot more comprehensive. In order to view all the data from AirDNA, you will be required to pay for their subscription first so it's not completely recommended for beginners.
2.
Deal Alerts
Data Rabbu's deal alerts are built to send notifications via email or text message when there are new properties that match your preferences. You can set your own criteria according to location, property price, and expected return to get sourced!
At present, AirDNA does not have this feature as they are more focused on in-depth Airbnb data insights.
3.

Market Minder



AirDNA's Market Minder feature tracks the daily performance of 10 million short-term properties worldwide from Airbnb and VRBO. It features a fully interactive map dashboard that has various currencies and presents daily travel demands. 
However, they only update their database once a month which makes their data inaccurate as it's not real-time. 
Data Rabbu also has an interactive map but it only presents existing Airbnbs like AirDNA. How often do they update their database? Unfortunately, it's not stated on their website. And here's a feature that they both lack: Dynamic data insights!
Dynamic data insights are important for both beginners and pros in the short-term rental industry as they take into account the fluctuations in market demand. 
For instance, Airbtics' interactive map dashboard presents existing Airbnbs and dynamic data insights at the same time. Airbtics also updates its database daily, which helps investors to access real-time information to generate profitable investments.
This feature is specifically helpful for property investors to keep up with the pricing strategies in their markets.
4.
Property Management
Data Rabbu's secondary function is a tool for property management. This helps property investors to manage daily rental operations, optimize pricing, and keep track of rental properties among others.
AirDNA does not have this feature, although they offer smart rates that can be connected to the Airbnb host's account.
5.
Enterprise Solutions
AirDNA's enterprise solutions offer customized insights such as real estate market trends and forecasts. AirDNA users can even download the data so they have a copy of their own. Data Rabbu, on the other hand, does not provide customized insights. 

AirDNA vs Data Rabbu Pricing: Which is Worth it?
Now that you know the features of both AirDNA and Rabbu – let's talk about the second-most important consideration: Pricing!  
According to Data Rabbu's website, their pricing for property acquisition software costs $99 per month or $990 per year when paid annually. On the other hand, for a full-service of short-term rental property management, Data Rabbu's fees vary according to your market & portfolio. 
AirDNA's pricing costs $499.75 per month or $3,599.75 per year for accessing 5 markets in different regions. Unfortunately, this can be very expensive and they also don't offer free trials.
Overall, Rabbu and AirDNA's data depth are both lower compared to Airbtics. Since Rabbu offers property management services and Mashvisor offers basic data services, it makes sense why they can provide these services at such a low cost. 
Let's face the fact that it is difficult to gauge one city's profitability by looking at a single market alone. So if you are looking to invest in a market – it's highly recommended to look at the top 5 markets, make a comparison for each, run the numbers, and make a wise investment decision. 
The good news is that Airbtics is designed to help you with that! As a specialized data company, it provides the most accurate results and is ideal for those who want to base their decisions on high-quality data. 
To sum it up, choosing 2-5 good markets is more than enough. Once you have a preferred area to start an investment, you should consider the major factors including where you reside and work. Compared to other STR Analytics providers in the market, Airbtics provides the most affordable cost to explore 5 markets which is $149.99 per month or $999 per year.
Feedback from AirDNA vs Data Rabbu Users
Before subscribing to a service or purchasing a product, it's always best to learn from reviews or check the user's feedback first. Particularly if you're subscribing to a short-term rental analytics tool! Check out the following reviews from actual users who have tried AirDNA and Data Rabbu: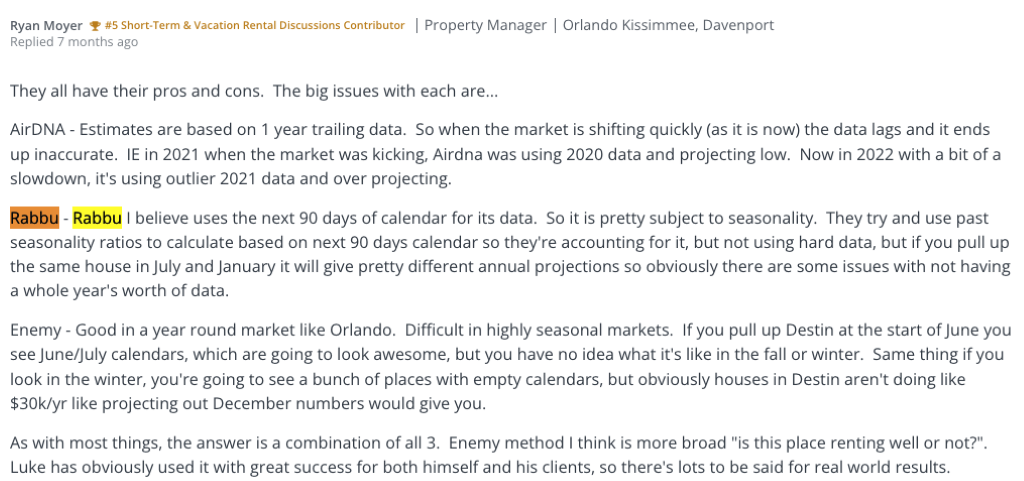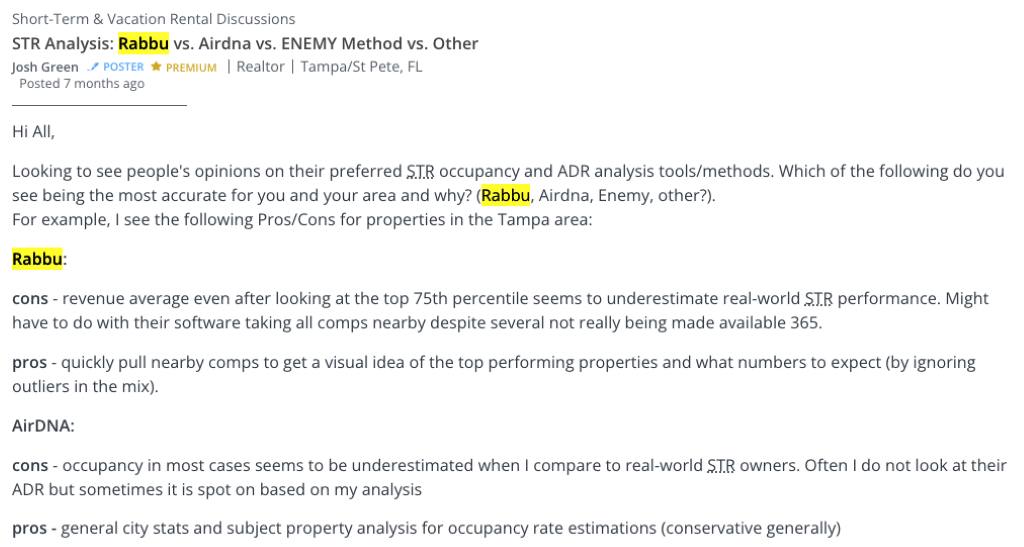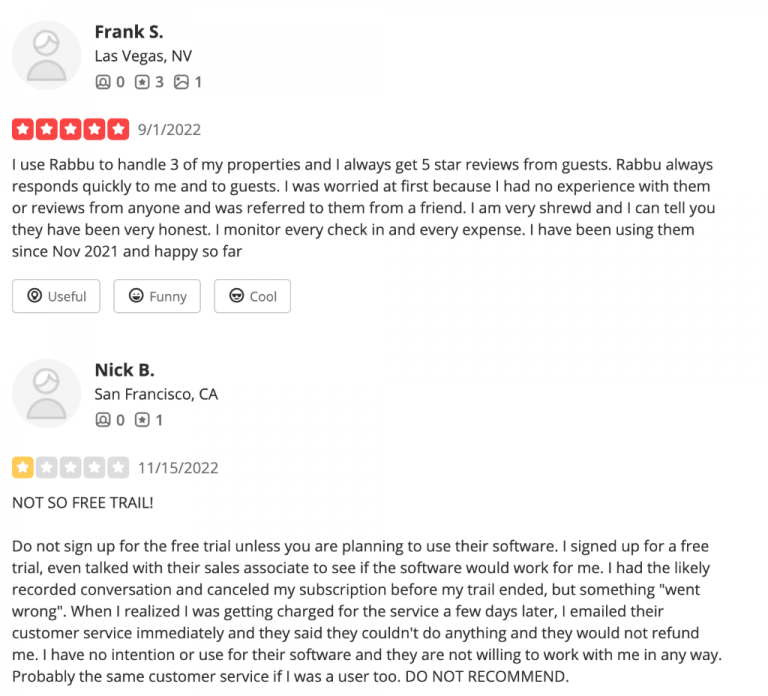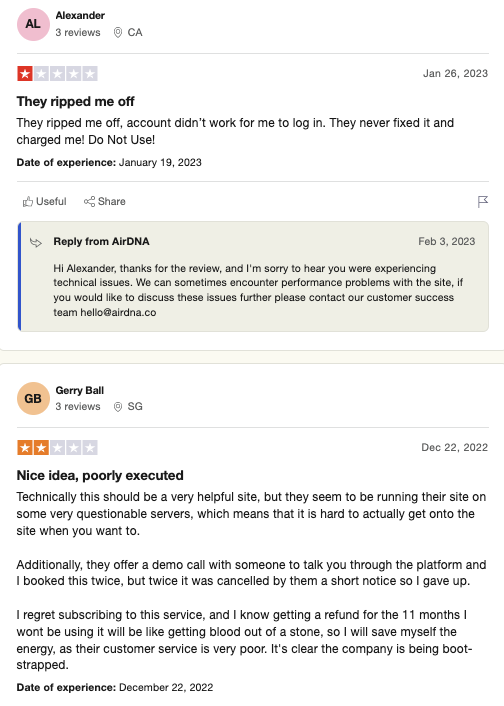 AirDNA & Data Rabbu Alternatives
Knowing the features, pricing, and major comparisons of user feedback between AirDNA and Rabbu may still not convince you. Don't worry! If you still can't still decide at this point, the good news is that there are better options. Check out the best AirDNA and Rabbu alternatives: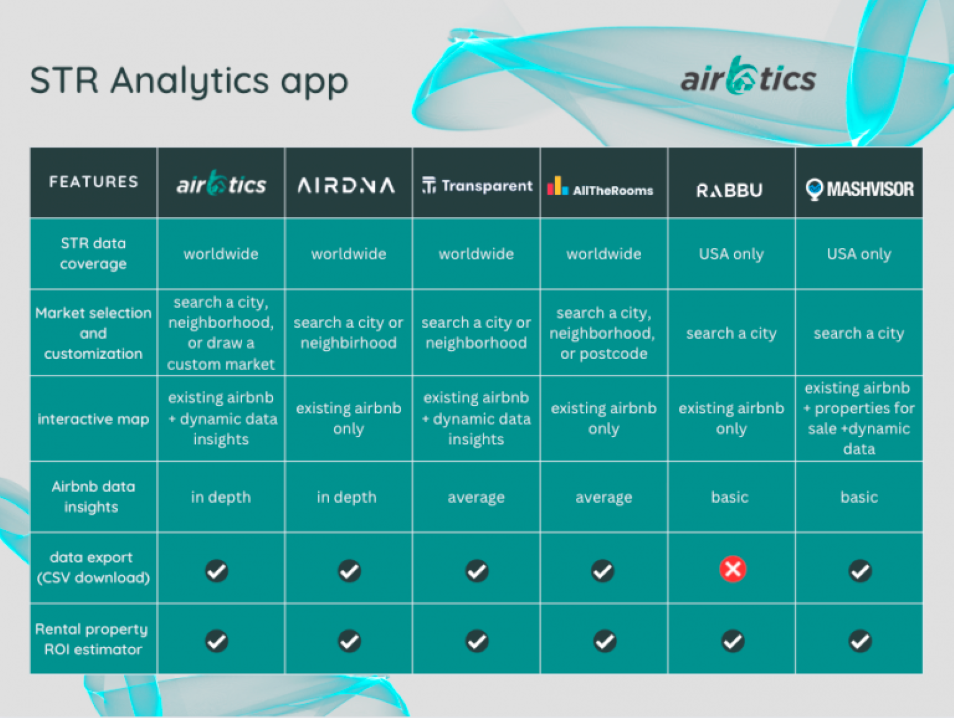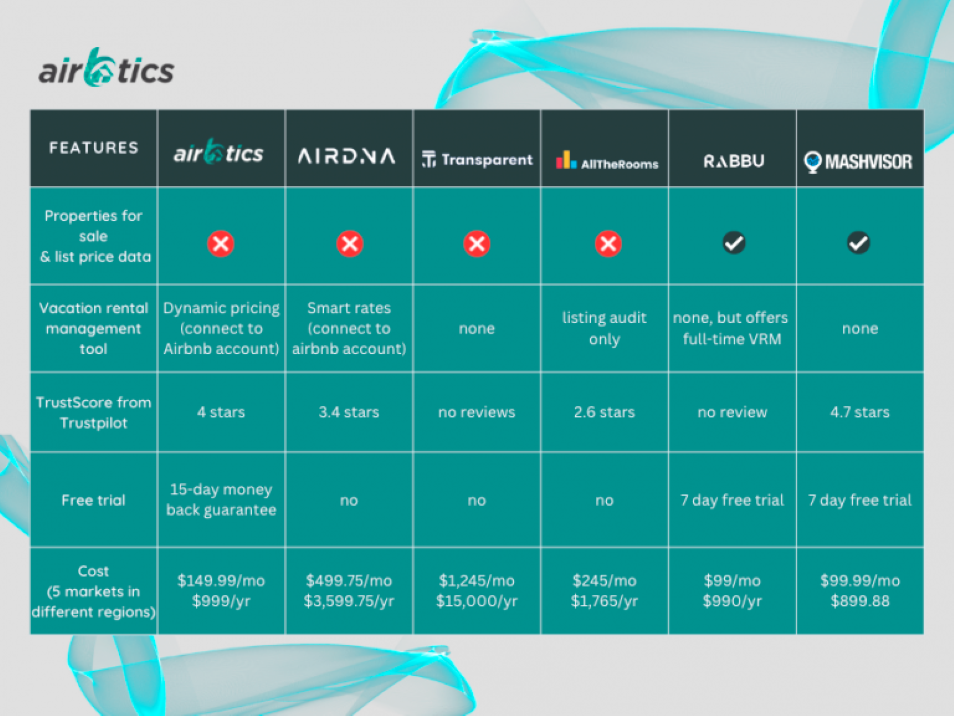 Summary: What's the Best Short-Term Rental Analytics for You?
To sum it up, Data Rabbu only offers basic Airbnb data services for real estate investors. While it has an ROI calculator that presents the most important data, it's also limited to accessing markets within the USA region. 
AirDNA caters to worldwide data coverage, but its accuracy and pricing are of major concern. AirDNA vs Rabbu has its own pros and cons, but the good news is that there are several other Airbnb data analytics providers that can meet your financial goals. 
In comparison to short-term rental analytics tool like Airbtics, it covers worldwide regions with specific markets that fully covers historical performance data, guest demographics, and more.
If you want to look at more detailed and advanced data which includes seasonality and discover specific neighborhoods, then Airbtics might be the best short-term rental provider for you. You can use the most accurate STR revenue calculator and speed up your game in the industry!