Discover the most profitable Canada Airbnb markets around where you live.
Comprehensive Exploration of Short-term rental & Real Estate Trends in the Top 40 Canada Cities for Prime Airbnb Investments! Find the best places to own and invest an Airbnb.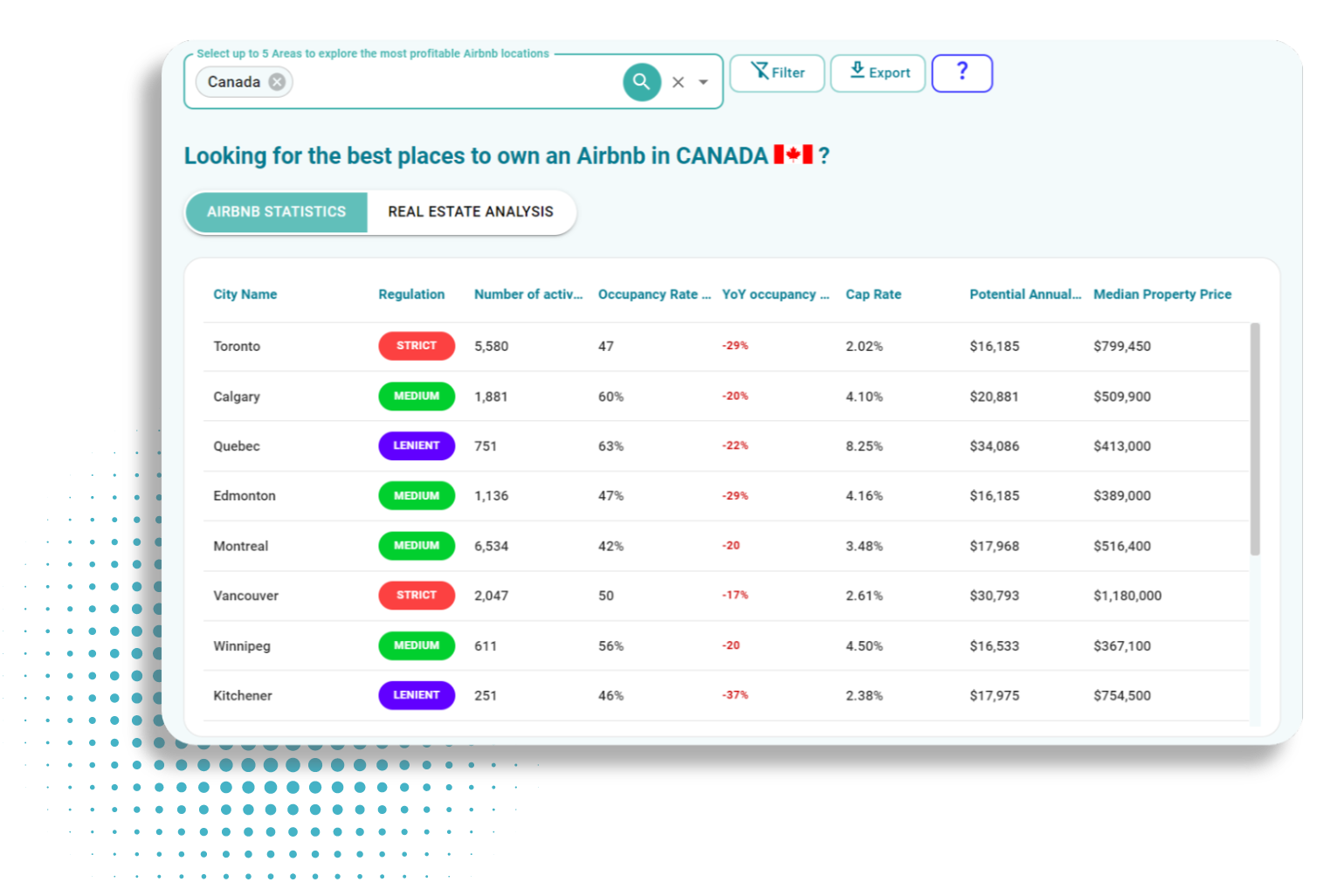 Airbnb Statistics Canada
Canada has consistently captured the interest of global travelers with its breathtaking natural landscapes and diverse urban centers. This constant trend has strengthened its local real estate investment opportunities, which have now included short-term rental ventures. This has provided a viable source of passive income to a lot of Airbnb investors in Canada.  
Contrary to common perceptions, achieving success with Airbnb investments in Canada demands a strategic approach. Finding the best cities to invest in Canada already presents itself as a challenge. 
This is where the insights from short-term rental data analysis can significantly benefit real estate investors. In this article, we will delve into Airbnb statistics by city. This includes Airbnb occupancy rates in Canada and Airbnb cap rates, among others. These key metrics are invaluable tools to guide budding and seasoned investors to the best places to invest in Canada this 2023.
Methodology For Airbnb Analytics Canada
Gathering insights from the latest and most comprehensive Airbnb data in Canada, our team has extensively explored a range of urban centers across the country. Our exploration took us from the dynamic streets of Toronto to the coastal city of Vancouver. Leveraging the advanced functionalities of Airbtics' Dashboard, we've curated an expansive dataset highlighting the earnings generated from short-term rentals in these Canadian cities over the past year.
We then delved into the median property prices within these key cities. This process has enabled us to gauge the potential income a specific market could offer in relation to its property expenses, getting each market's gross rental yield. After carefully evaluating these areas, we've compiled a list of the top 40 cities that present the most promising opportunities for profitable Airbnb investments within the Canadian market.
Where are the Best Airbnb markets in Canada?
Numerous quantifiable factors have the potential to impact the economic outlook of the Airbnb industry in Canada. Delving into these components paves the way for a data-centric investment strategy that can aid Canadian investors in pinpointing the most lucrative Airbnb destinations.
Airbnb statistics
Real estate analysis
Median Property Price
Prior to venturing into the Airbnb market, it's crucial to evaluate the real estate expenses by examining the median property price. This figure offers insights into the general price range of properties. The median property price represents the middle value among all listed properties, arranged from least to most expensive. The higher end comprises the pricier properties, while the lower end encompasses more affordably priced options.
Total Number of Active Airbnb Listings in Canada
This total count of active Airbnb listings reflects the number of available properties open for booking on Airbnb. This may provide the measure of short-term rental supply and the competition among hosts within a specific area.
Airbnb Occupancy Rate
Airbnb occupancy rate pertains to the frequency an Airbnb property gets occupied. This is calculated by dividing the total nights the property is booked by the overall number of nights the properties are available on Airbnb within a given period. A higher occupancy rate indicates strong demand, resulting in enhanced earnings.
# of nights booked
——————————
Total nights available
# of nights booked
—————
Total nights available
Airbnb Annual Revenue
This is the projected annual income a property in a specific market could generate. It's derived from the market's average daily rate and occupancy rate. This provides an estimate of the property's potential earnings before factoring in expenses.
For investors aiming to gain a head start in their search, understanding the average Airbnb income in Canada through Short-Term Rental (STR) data can be advantageous. You can get optimized earnings by choosing the right property type and the best property size in your prospective Airbnb market. 
What is the Best Airbnb Cap Rate in Canada?
In the Canadian real estate market, a favorable capitalization rate typically falls within the range of 4% to 12%. Properties situated at the higher end of this spectrum may suggest a more substantial return in comparison to their market value. 
On the contrary, a lower cap rate indicates that your investment might yield relatively less income. While this is lower than you are aiming for, this, however, implies a safer and more stable investment. The same is the case with an exceedingly high cap rate. This could potentially indicate much higher risks, such as uncertain income prospects.
The capitalization rate, or cap rate, serves as a metric to assess how swiftly a property becomes profitable. It stands as a valuable tool for evaluating various real estate investment opportunities. To compute the cap rate, you must divide the property's net income (income generated from rent after subtracting expenses like taxes and maintenance) by its current market value.
Property's net income
——————————-
Current market price
Property's net income
—————–
Current market price
Best Airbnb Friendly Cities In Canada
Our team has devised a standardized method to measure the leniency or strictness of Airbnb regulations in key urban centers throughout Canada. Our assessment takes into account multiple factors such as zoning restrictions (1 point), limitations on hosting duration (1 point), and the extent of local taxes (categorized as follows: 1 point for tax rates below 5%, 2 points for rates between 6% and 10%, and 3 points for rates of 11% and higher)
Through this well-structured scoring model that takes these components into consideration, potential investors can pinpoint the ideal location that is in line with their investment goals. However, it's important to emphasize that lenient Airbnb regulations do not guarantee instant high returns in their jurisdictions. Instead, Airbnb investors can utilize this system to streamline their search in terms of the convenience of managing their short-term rental business.
What Are the Risks of Investing in Airbnb?
In Canada, the potential for substantial profits through Airbnb is undeniable. However, the predictability of cash flow is not the same as that of traditional long-term rentals that can generate stable monthly returns. Such unpredictability stems from the inherent seasonality of short-term rental trends. Even in sought-after global tourist destinations, this cyclic rhythm of high demand and low activity is evident.
The hospitality sector, which includes short-term rentals, displays heightened vulnerability during economic downturns. Given that travel is commonly considered a luxury, this vulnerability can negatively impact average nightly rates and occupancy levels, significantly influencing earnings.
On a global scale, Airbnb hosts and investors navigate the intricate landscape of short-term rental regulations. These regulations differ based on local government jurisdiction. As an example, restrictions on maximum booking nights and the designation of specific zones for short-term rentals can profoundly affect your Airbnb operations.
The continually evolving Airbnb regulations in your area can introduce uncertainty in achieving your investment strategies and long-term aspirations. In the event of stricter Airbnb regulations in your urban center, your booking prospects may diminish. In addition, this reduces the overall demand for short-term rentals. 
Nonetheless, Airbnb maintains its popularity despite these risks. In fact, this widespread appeal intensifies competition among hosts. However, this competition poses an additional risk. If numerous hosts nearby offer Airbnb rentals, attracting guests and upholding a favorable occupancy rate could present another set of challenges for you.
Frequently Asked Questions
How to Find A Good Airbnb Property in Canada
Begin with exploring your preferred Airbnb Markets in Canada to discover a promising short-term rental property. Evaluate the city's Airbnb regulations, demand patterns, and property prices. Most of these can be answered by Airbnb statistics in Canada which offer crucial insights into the prime locations for investing in Airbnb.
How to find Airbnb Occupancy Rates?
Get the average airbnb occupancy rates by city in Canada from Airbtics' Insights Tab. This powerful tool also presents additional data points such as annual revenue and nightly rate. Feel free to check its advanced filters, so you can see the actual figures that pertain to your selection.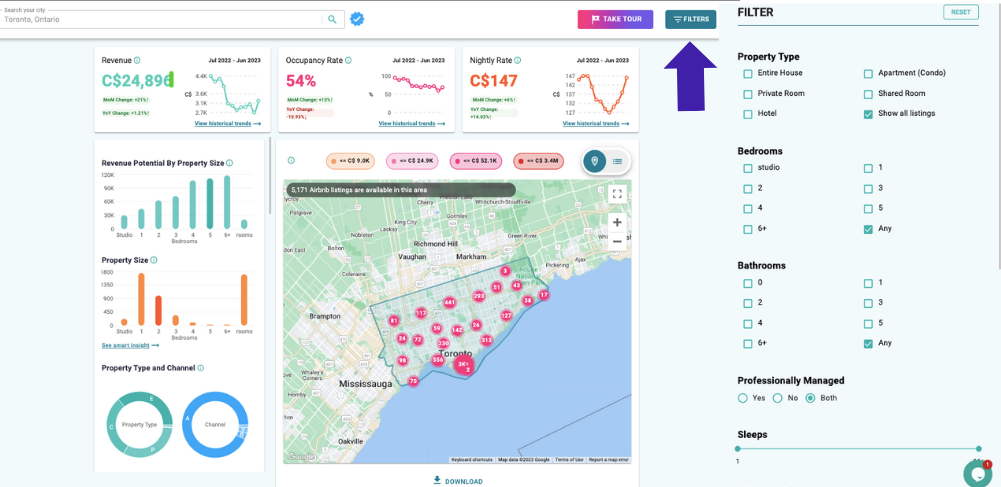 Airbnb occupancy rates reflect how frequently a listing is booked, drawing from historical data, seasonal shifts, and month-to-month and year-over-year variations. These rates mirror the current demand in your specific market.
Where To Get Airbnb Statistics of the Top Cities in Canada?
Check out this sample report for free Airbnb statistics in Canada. However, consider investing in a comprehensive Canadian Short-Term Rental Report. This resource contains valuable insights so you can optimize your Airbnb investment strategy.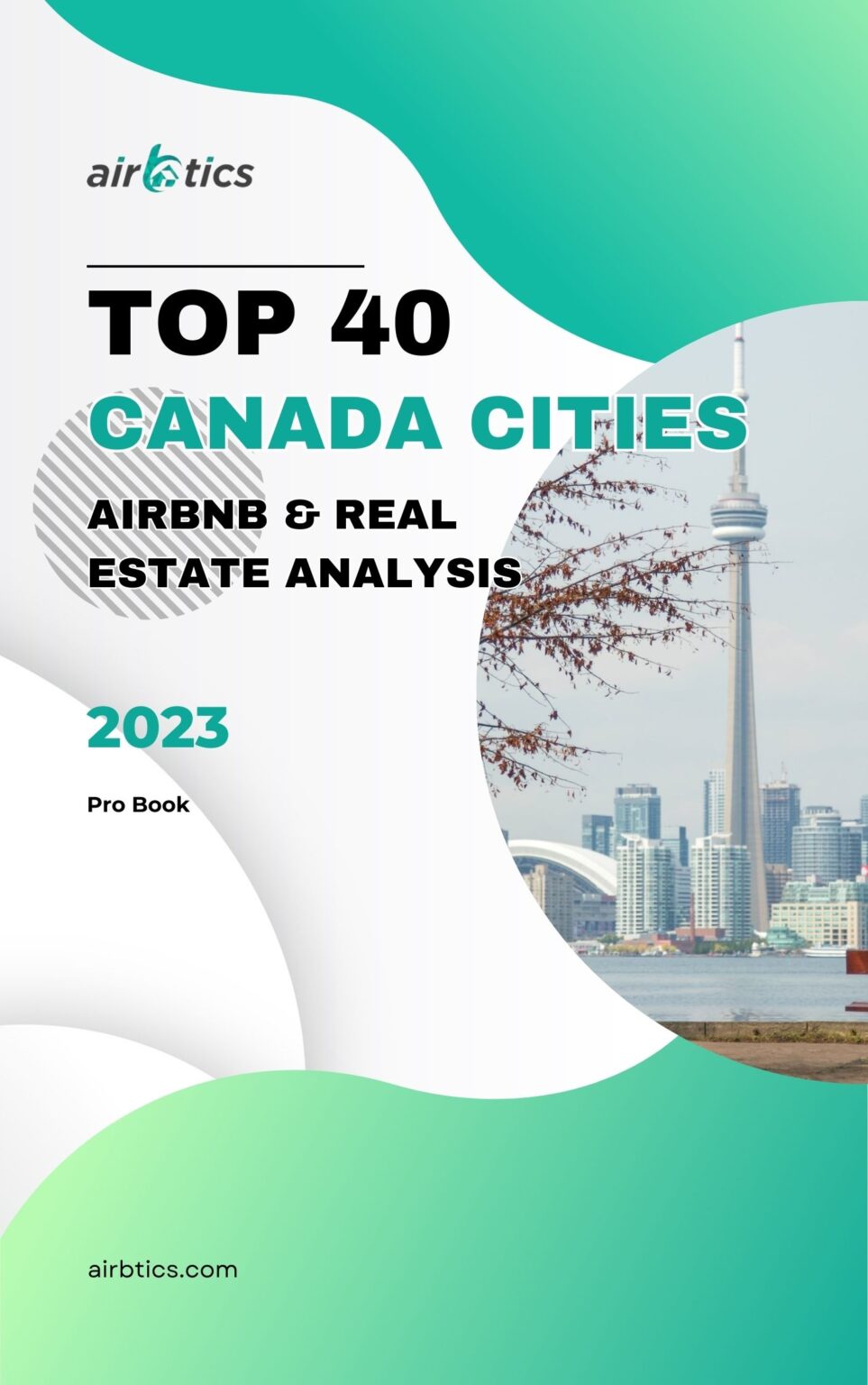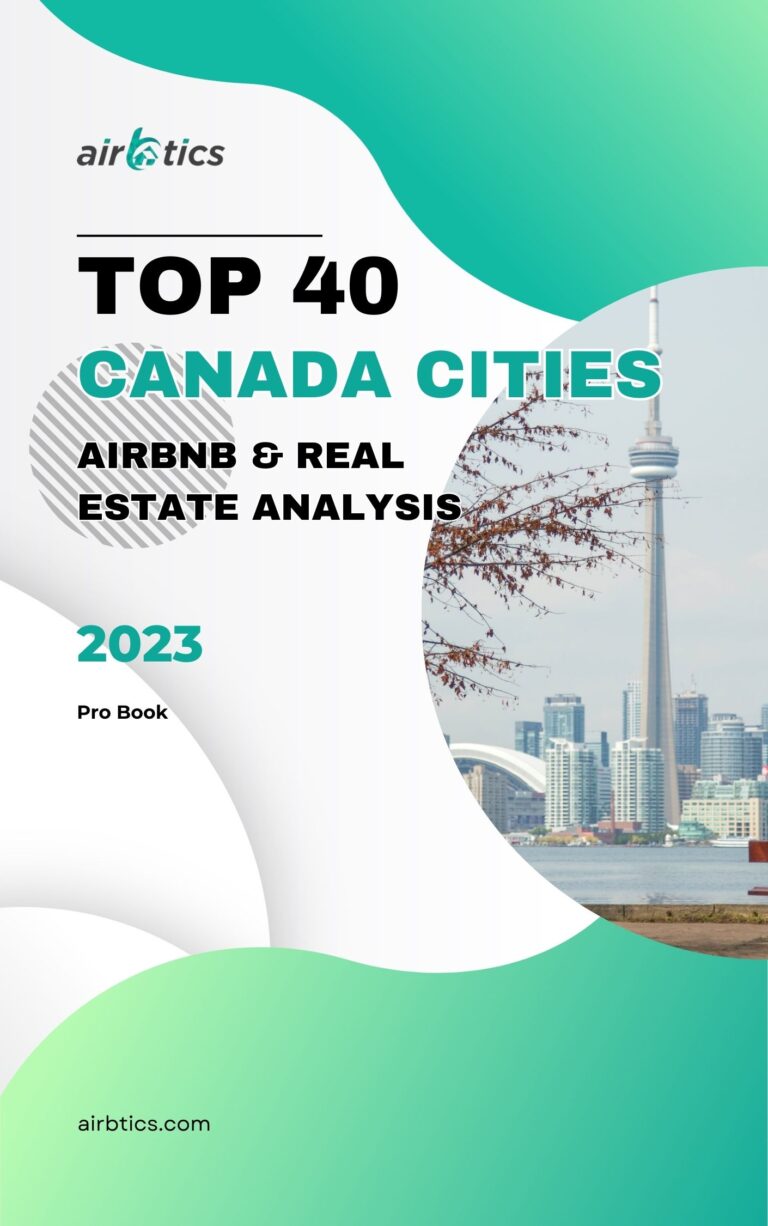 Deeper

STR

Insights.

Broader Investment

Opportunities.



Want to go deeper, broader, and faster? Supercharge your Airbnb Investment by accessing the most in-depth Airbnb & real estate insights with our exclusive STR report.
How much can you earn from Airbnb in Canada?
For accurate calculation of ROI, use this powerful Airbnb Profit Calculator. Free of charge, it's used by beginners and pros in the short-term rental industry.
Where Is The Best Place To Own An Airbnb in Canada? 
Choosing the best Airbnb location involves considering factors like local demand, regulations, and personal preferences. Look for markets that align with your investment goals. While finding the perfect spot might take time, utilizing data analytics can speed up your property search.
Want to explore Airbnb insights in other countries?