When it comes to data,
accuracy is
everything.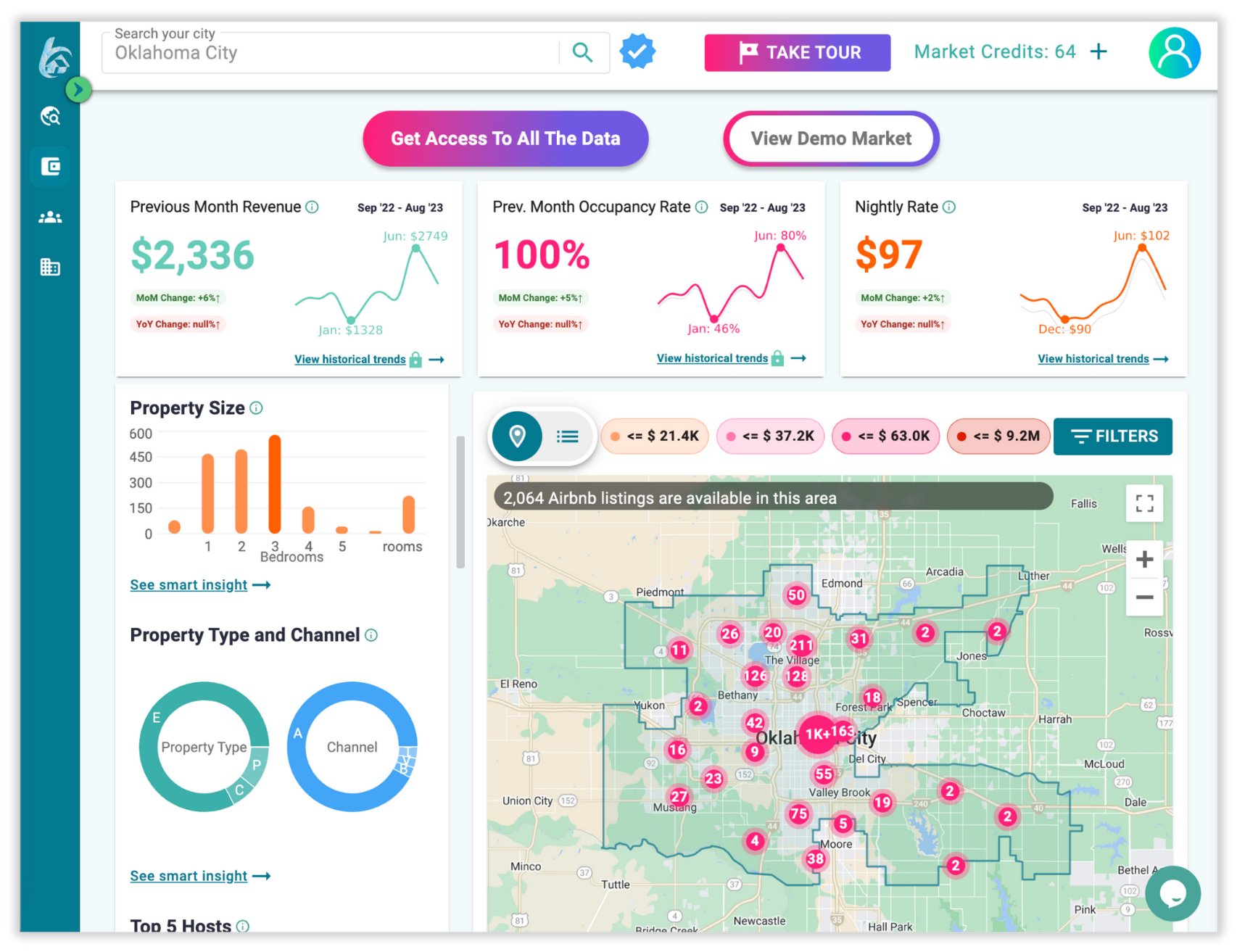 In Airbnb and the vacation rental business, accessing short-term rental data tools to lower the investment risk is now made possible.
There are a handful of companies that provide free and paid Airbnb data to investors, hosts, property managers, and even local agencies.
As a data consumer, how do you know that you are accessing real and accurate data?
How can you make sure you are paying for the real and right data to make a bigger return on your investments? Or are you just lured by the company's marketing campaign, cool user experience design, and appealing press release? 
Don't let yourself be fooled. Look closely.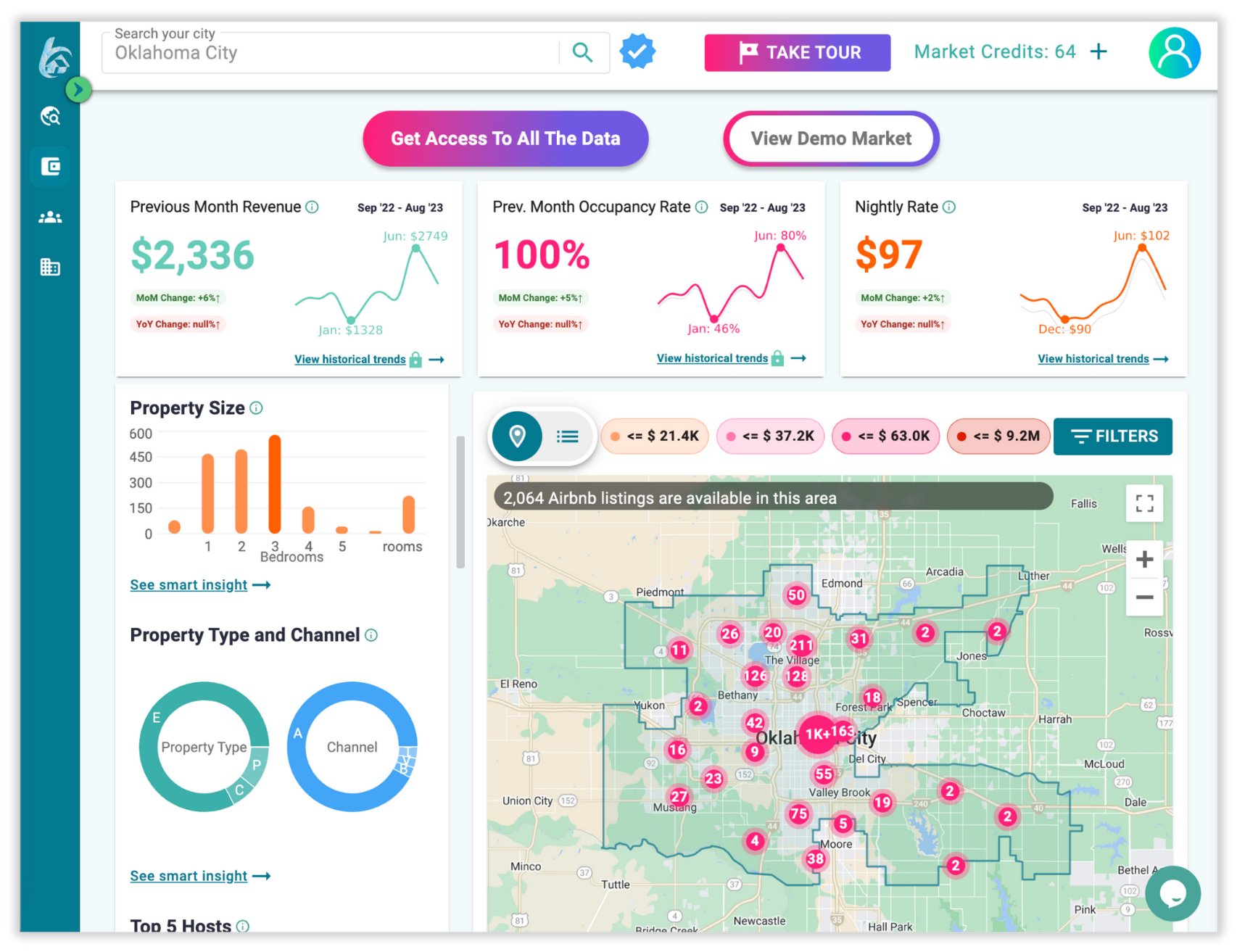 When it comes to Airbtics, transparency is what we practice.
Transparency in
data
subscription plan
how we work
Introducing Airbtics by the numbers
Since 2019, our team at Airbtics has been working to scrape, collect, and process a large amount of data from the largest short-term rental platforms such as Airbnb, VRBO, and booking.com.
Airbtics' primary data source is attained through web scraping software that directly takes data points from Airbnb. We visit each of Airbnb listings on a daily to weekly frequency to see how the booking activities are changing. We also source data from various sources including some data from our partners.
We are proud of the gigantic amount of data we process, and so we want to share it with every investor, host, property manager, and researcher who has been using our data and those who will use it in the future.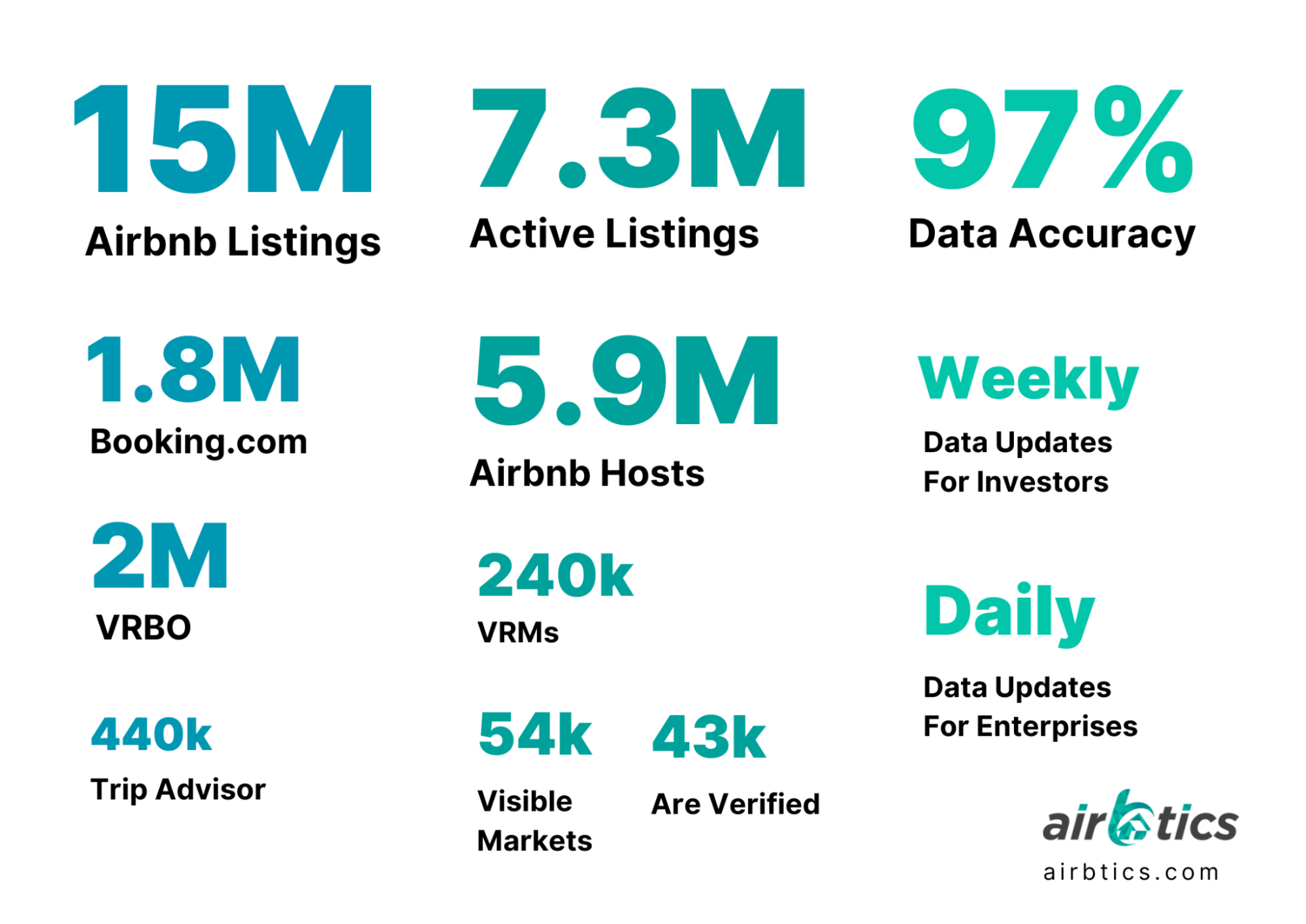 According to recent Airbnb statistics, Airbnb has

over 7 million active listings in over 220 countries

over 4 million active Airbnb hosts on the Airbnb platform

generated $8.4 Billion in revenue in 2022, with a net income of $1.9B

394 million bookings were made
Comparing it to Airbtics numbers, we have

15 million Airbnb listings historically as of Aug 2023; 7.3 million of them are active

54,000 global markets in the app; 43,000 of them are verified

5.9 million Airbnb hosts both active and inactive; 240,000 of them are VRMs

Apart from Airbnb, there are 1.8M listings from Booking.com, 2M from VRBO, and 440,000 from TripAdvisor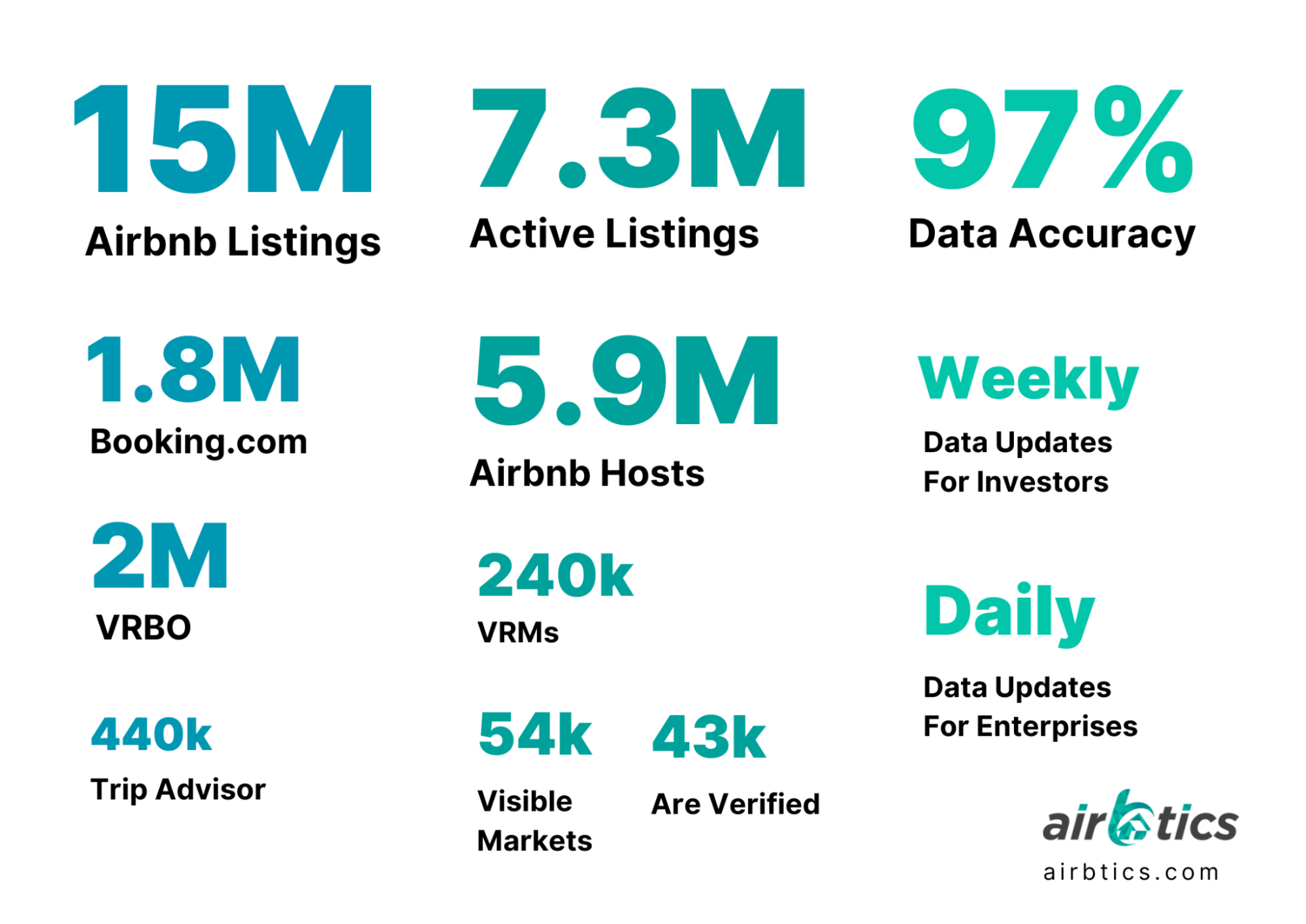 Airbnb vs. Airbtics: Our Data Accuracy
How accurate is Airbtics data?
We compared the data of Airbnb (ABNB) financials vs Airbtics data. By analyzing the Gross Booking Value (GBV) and the Total Nights Booked (TNB), we have discovered a good correlation between Airbnb and Airbtics with 97% data accuracy.
With these findings, every short-term rental investor, host, property manager, and researcher can have peace of mind that the data they are accessing in the Airbtics dashboard is real and is one of the most accurate data in the short-term vacation rental industry.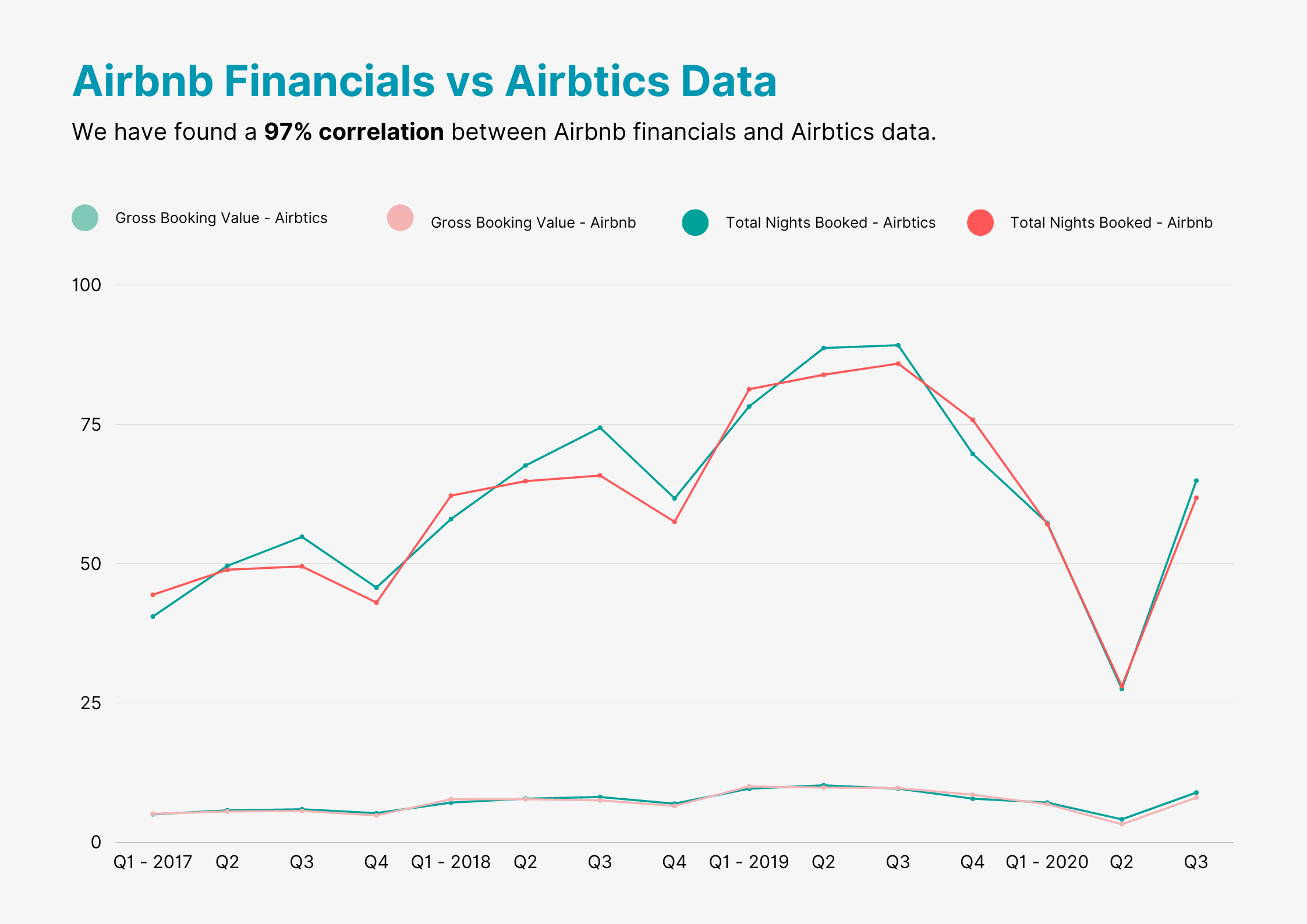 Accuracy for hosts, investors, and vacation rental managers
The Airbnb performance data you are accessing in our app is updated every week. It is scheduled every Wednesday to ensure that the data you're getting is always fresh and accurate. Indeed, a good value for your money.
.
"Great customer service. Professional team. Data is updated everyday. Occupancy rate and daily rate data are updated dynamically allowing me to explore 25 neighborhoods and communities in Orland with one subscription." – Vincent Madden, Superhost @ Malibu, California
Accuracy for enterprises
For enterprises, our data is refreshed on a daily basis upon request. In short, our partners are gaining the most accurate and the most granular data that they need to grow their businesses.
.
"The simplicity of the user interface should not undermine how advanced the software is, the analytics and data sets are the most accurate in the industry. The team knows the market, and has the quickest customer service in the industry." – Sterling Jones, Founder @ Cohostin.com
Accuracy for researchers and Airbtics' custom data
When it comes to custom data, we are the best among our competitors. We believe every enterprise, researcher, and property manager has different data needs to grow their business and do their research project.
Apparently, even our app is customizable with our tailored region and dynamic data. So, if you need custom data, contact us to get the best in the industry at a favorable price.
.
"I had a customized request for data for a research project. I appreciated the personal support from Airbtics very much and received a solution which I am 100% satisfied with for a very favorable price. I would absolutely recommend it." – Selina Steiner, Hospitality Research @ FH Graubünden University 
Are you offering free Airbnb Data?
Yes! Airbtics has a freemium feature where we give out free Airbnb data to our users. You can experience it by yourself by signing up, or learn first which Airbnb data is free.
How much is your starter plan?
For as low as $59/month, you can access one market to start your short-term rental business. If you are eyeing more than one location, then subscribe to our standard plan worth $119/month. Absolutely, NO hidden charges.
What if I'm not happy with the data I'm getting?
Unlike our competitors, Airbtics offers a 15-day money-back guarantee for first-time subscribers who aren't happy with the value they are getting from our app. If you haven't unlocked more than two regions, then you are entitled to a refund. NO questions asked. 
How do you distinguish between listing is active or inactive?
An algorithm will classify whether a listing was active or not during the month. We look into three different sources, namely:
1. Calendar pattern;
2. Whether a review was generated close to the month or not; and
3. Listing information.
A listing can be determined as entirely available or not.
How can I get product updates?
Simple. Just sign up in our app or subscribe to our newsletter. From time to time, we send out product updates directly to your inbox. NO spam.
I have more questions. How can I get more support?
Feel free to go to our Support Page, and/or book a demo with our relationship manager and see how to use our app live.