Last updated on October 12th, 2023
Tired of the guessing game if an Airbnb market is profitable? We heard you.
Finding the best market to invest in an Airbnb is a pain in the ass, especially if you don't know where to start. You want to make sure you are investing your hard-earned money in the right market. Therefore, our team at Airbtics aims to help you lessen the frustration of investing in an Airbnb—whether you are a first-time investor or a pro-investor maximizing your portfolio.
With the Airbtics Freemium, you can access Airbnb's data performance with more accuracy and ease of use. For free.
Table of Contents:
Better App

Better Data

Better Look

Better Investments
Get FREE Airbnb Data in Airbtics!
At Airbtics, transparency is our core value.
We want every customer to get the most accurate data without breaking the bank. You might encounter other Airbnb data tools that say they are giving data for free, but in the end, they will only make you pay a lot more.
We don't want that to happen when you use Airbtics.
So here are the free data that you will get when you sign up in our dashboard:
Previous month's data of annual revenue, occupancy rate, and nightly rate

The last twelve months (LTM) graph
YoY and MoM changes
Property size and property type supply
Top hosts and VRMs
Total number of listings
Amenities, cancellation policy, and extra pricing
Tailored region
And our free Airbnb Calculator
If you want to access more granular data and advanced features, you can unlock a market by using your market credits. Subscribe to our plan for only $59/month for 1 market, or enjoy 5 markets per month for only $119. No hidden charges, with a 15-day money-back guarantee!
Stop assuming, Start investing. The right way.
Login to Airbtics App and experience:
97% data accuracy of the trio:

revenue, occupancy rate, and average daily rate to help you find out if a market is a good investment even at first glance.

Up-to-date LTM data from September 2022 to August 2023.

Be the first one to access the last month's data (Aug 2023) so you can stay ahead of your competitors and prep up your win!

3-year historical trends

to get deeper insights into your market. Right investing comes with data granularity, so feel free to access the daily, weekly, and monthly trends.

Planning to invest in shared rooms? Check the

potential revenue of shared rooms, studios, and other property sizes

at a glance! 

Make a competitor analysis by checking the

Top Property Managers

and how they currently perform.

Personalize the data according to your preferences by using the advanced filter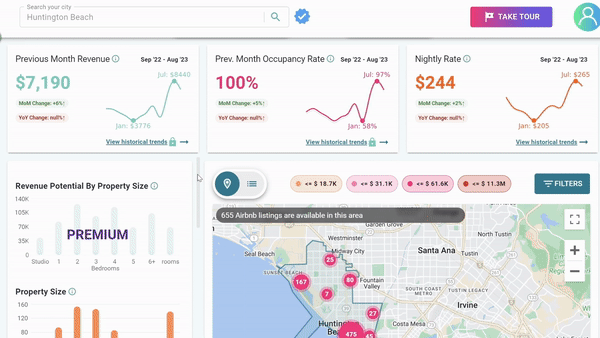 Better Projection. Better Investment. Introducing the Most Accurate Airbnb Calculator. 
Do you have a specific property address and you want to calculate its revenue projection? Cross out manual calculations in your to-do list and save time with the most accurate and free Airbnb calculator for investors and hosts—the Airbtics Profit Calculator.
The Airbtics profit calculator goes beyond the basics of most Airbnb calculators out there. With its incomparable features, you capture more insights to make smarter investment decisions: For free.
Comps transparency

Rental arbitrage section

Mortgage calculation

Compare and contrast multiple prospective properties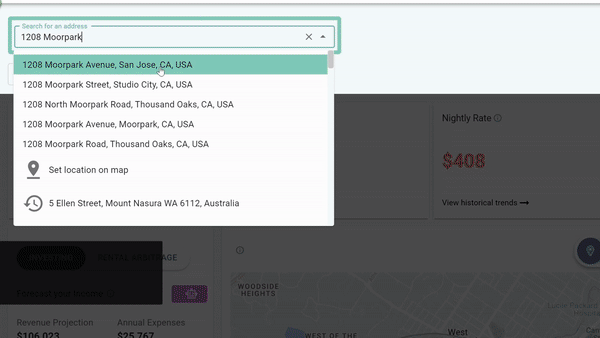 Better Data. Bigger Numbers. High Accuracy.
At Airbtics, we take data accuracy seriously.
Therefore, we pulled in the numbers we have with full transparency, plus facts on how we update our data in our app.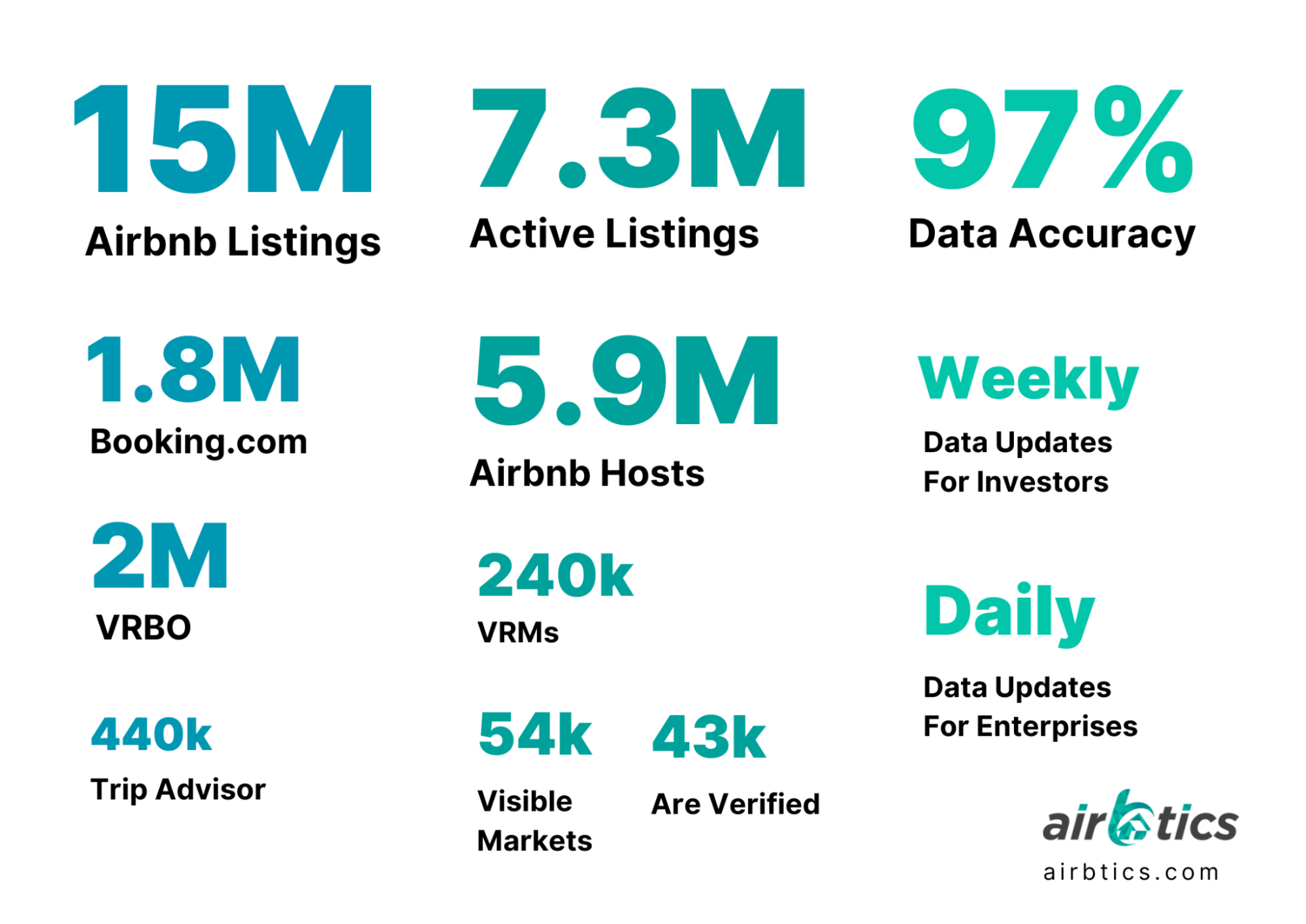 Bigger Numbers.
Currently, we have

15 million

short-term rental listings from Airbnb alone. Although we only track Airbnb's performance, we still show the data from other biggest STR platforms such as Booking.com with

1.8 million

listings, VRBO with

2 million

, and TripAdvisor with

440,000

listings.

 

Aside from that, there are

7.3 million

active listings that are updated every week.

5.9 million

are Airbnb hosts and

240,000

of them are vacation rental managers (VRMs).

 

In the

Airbtics dashboard

, you can search up to

54,000

visible markets globally, 

43,000

of which are verified. For instance, if you are located in the US and you want to invest in Europe or Asia, then you can search any city or neighborhood in these regions.
High Accuracy. 
The Airbnb performance data you are accessing in our app is

updated every week

. It is scheduled every Wednesday to ensure that the data you're getting is always fresh and accurate.

 

For enterprises, our data is

refreshed on a daily basis

upon request. In short, our partners are gaining the most accurate and the most granular data that they need to grow their businesses.

 
Airbtics data is 97% correlated with Airbnb's financials from our findings last 2020. With this 97% data accuracy, we are confident that our data can be trusted by every Airbnb investor, host, researcher, and vacation rental manager.
👉🏽 Learn more about Airbtics data accuracy
Want to grow your vacation rental business? Tell us your business goals and we'll give you the solution! The biggest names in the STR industry are trusting Airbtics!

Better Look. Better Search in Every Visit.
Do you know that it only takes you 5 seconds to access the data of your chosen market? With the new look of the Airbtics website, all you need to do is to type the first 1-3 letters of your chosen city and press enter for our system to analyze your search.
Fast, free, and effortless–so you can focus more on other important tasks. Try it now!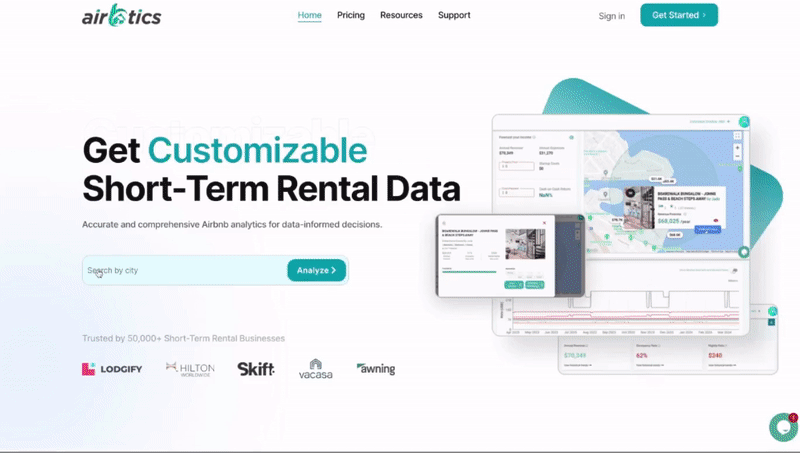 Join the 30,000 Investors, Hosts, and Property Managers who are staying ahead with Airbnb Data.
Find a profitable
investment property
Use powerful analytics to discover lucrative & traditional Airbnb properties within minutes.
Find a profitable
investment property
Use powerful analytics to discover lucrative & traditional Airbnb properties within minutes.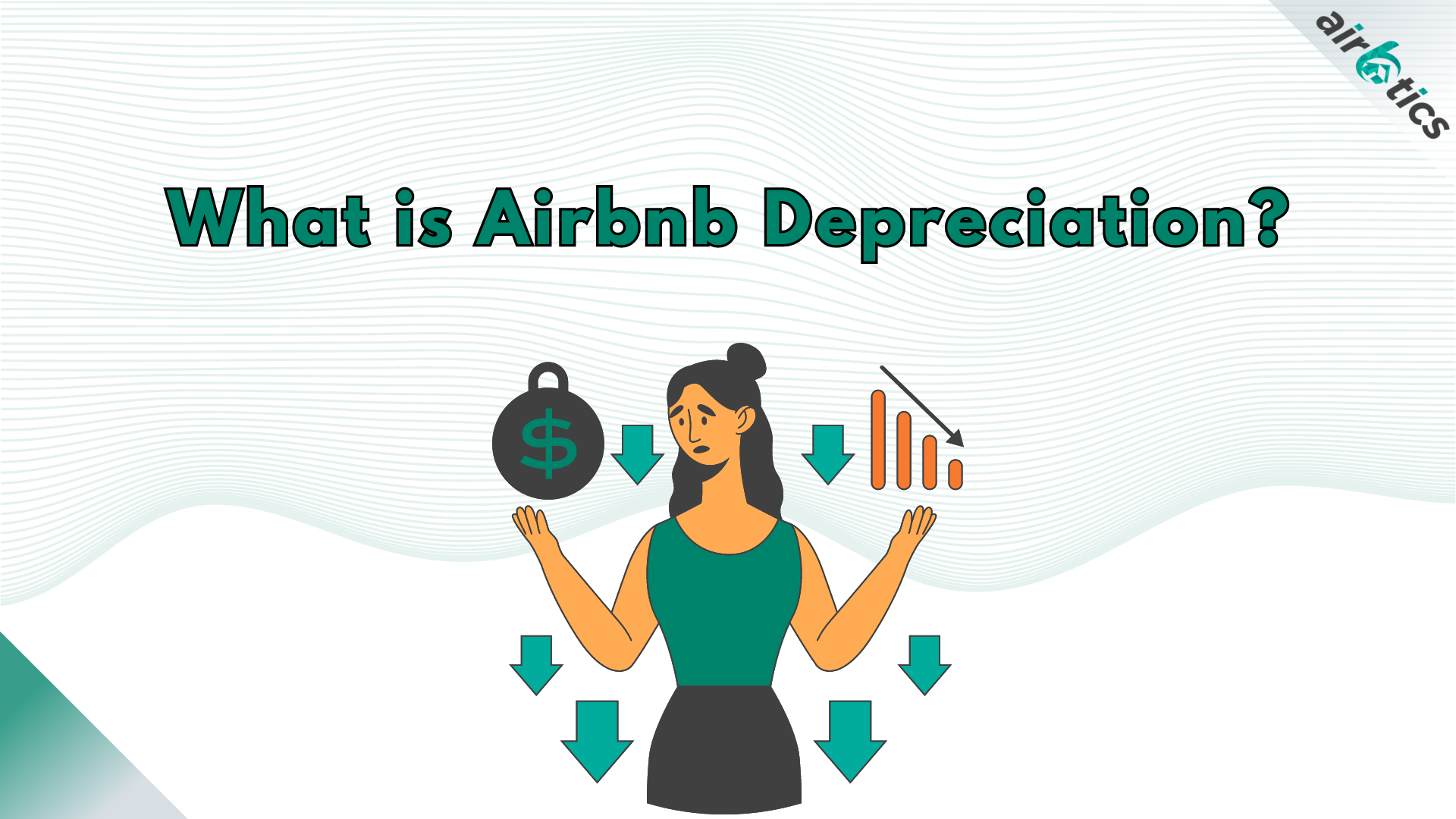 Home > Resources > Hosting Tips > What is Airbnb Depreciation? Hosting Tips What is Airbnb Depreciation? Airbnb depreciation is a perfectly legal way to lower …