Running an Airbnb is a tedious task and it requires a lot of effort and time. Especially if you are handling multiple listings all at the same time. It could be difficult to multi-task and double bookings can happen. 
Fortunately, Airbnb channel managers are available to help you with this problem!
Are you struggling with managing your listings across multiple channels? Do you feel anxious about making a mistake?
In this article, you'll learn about the perks of using an Airbnb channel manager. We also provided options for channel management tools available in the market. Continue reading to learn more!
Top 5 Reasons Why You Should Use An Airbnb Channel Manager
An Airbnb channel manager is a software solution that promotes your listings on multiple channels. Here are the top 5 reasons why Airbnb hosts use channel management tools:
1. Easy Management
It can be tiring to manage each booking and check reservations for each listing. Using an Airbnb channel manager, you can efficiently manage bookings in one place. The best part is that you can easily change the pricing in all booking providers in one click!
2.
Excellent Time Saver
Airbnb channel management tools will save most of the time that you can spend on other tasks. You no longer have to manually check on details and feel overwhelmed with multiple reservations.
3.
No Double Bookings
Here's the catch: you no longer have to constantly update your calendar's availability. Airbnb channel manager does the heavy lifting for you! This means that you can instantly view your availability on all channels as they are consistently being updated.
4.
Higher Occupancy Rates
Who wouldn't want to get more bookings? Using an Airbnb channel manager, your properties can get listed on multiple channels. You can boost your occupancy and make more money!
5.
Instant Replies to Guests
If you take a longer time to respond to guests' inquiries, you might get lesser bookings. This is one of the major perks of using an Airbnb channel manager! It helps you automate your responses, increase your bookings, and have more positive reviews.
Top 5 Airbnb Channel Managers
Check out the 5 Airbnb channel managers ranked according to their pricing. Let's visualize that you are currently handling 5 listings. Here's what you can expect on the budget: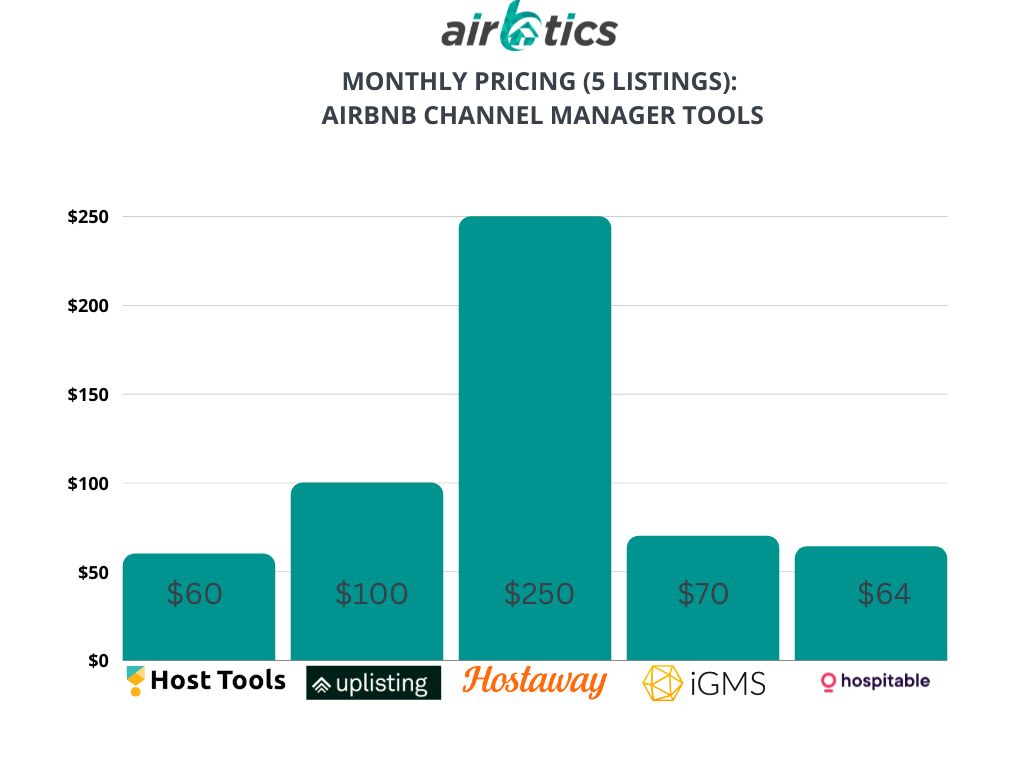 Here are some of the best Airbnb channel manager available in the market:
Host Tools is a channel management software that assists property managers with messaging and price setting. Some of its primary features are booking management, automated reminders, and predefined templates.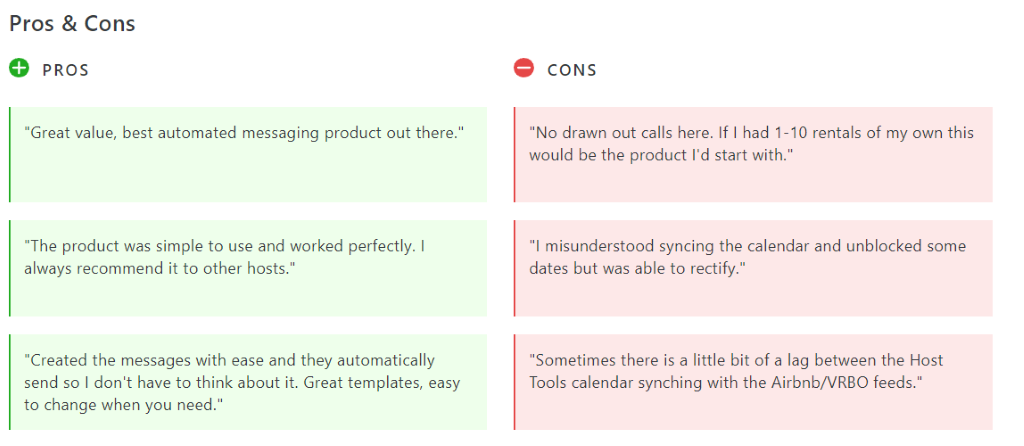 2. Uplisting
Uplisting is a cloud-based hotel management solution that assists vacation rental businesses. Some of its primary features are booking management, payments, and housekeeping among others. 
Has a

FREE 14-day trial

 

Uplisting Pricing

:  for managing 5 listings:

$100 per month.

According to Uplisting's website, this pricing excludes 20% VAT if you are based in the UK.

Pros & Cons of Uplisting

(based on Capterra reviews)

3.
Hostaway
Hostaway is a channel management system that helps with automating and streamlining across multiple channels. Some of Hostaway's primary features are property management, channel manager, marketing, and automation tools among others.
No free trials offered

and it can be more expensive than other management tools.

HostAway Pricing: Approximate

Price for Managing 5 listings: $250 per month
Hostaway's pricing is not declared in detail on its website. The pricing will vary depending on your property's requirements and portfolio. However, it was stated in a review from Software Pundit that the cost ranges from around $50 per property per month.
You can request a pricing quote on Hostaway via this link.

Pros & Cons of

Hostaway

(based on Capterra reviews)

4.
iGMS
iGMS is one of the popular vacation rental management software tools with advanced automation tools. Some of its major features include direct booking management, payment processing, and guest communication productivity tracking.

5.
Hospitable
Hospitable is essentially helpful for synchronizing calendars across platforms and has automated reminders about new tasks. Some of its primary features are team collaboration, a unified inbox, and direct booking websites among others.
Has a

FREE 14-day trial

 

Hospitable Pricing

for managing 5 listings:

$64 per month

Pros & Cons of Hospitable (based on Capterra reviews)

Summary
When looking for an Airbnb channel manager, it's best to decide based on your budget and preference. The primary advantage of using an Airbnb channel manager is to advertise on more channels and boost bookings!
You can also find other channel manager software Airbnb in the market including Guesty, Lodgify, Smoobu, and Owner Rez among others.
Other Airbnb channel managers also have dynamic pricing tools which help predict seasonality and revenue. If you'd like to make the best investment possible, you can also take advantage of a short-term rental analytics tool like Airbtics!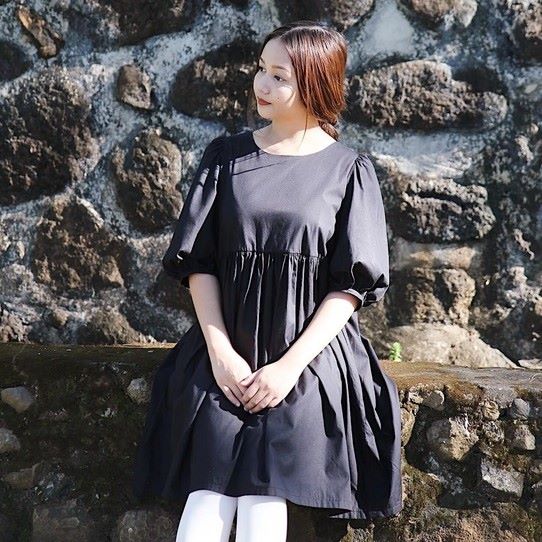 Robyn is a passionate content writer about short-term rentals and is dedicated to research & sharing property investment strategies and analysis worldwide. She is a graduate of Alliance Française de Manille, a songwriter, an animal advocate, and an avid fan of The Beatles since birth.