Last updated on October 22nd, 2023
No, you're not in a chemistry class, and they are not alien words either! These are the Airbnb KPIs to assess the performance, profitability, and potential of different properties. 
We still admit that RevPAR, RevPAL, and RevPAR do sound so weird! But we guarantee that one of these words will stay with you like a funny best friend to have in the very competitive world of Airbnb!
Airbnb KPI: What is RevPAL?
You've probably heard RevPAL in the most viral post, "Airbnb Collapse", which shook the hell out of Airbnb investors and hosts in the middle of 2023. AllTheRooms used RevPAL to identify the current status of the Airbnb industry.
Why did they use RevPAL? What's RevPAL? 
Revenue Per Available Listing (RevPAL) allows Airbnb investors to evaluate the profitability of individual STR properties in a given market. This metric is invaluable when making investment decisions about acquiring new properties or managing existing ones within a particular Airbnb market. RevPAL helps investors gauge the viability of their ventures, enabling them to optimize their property portfolios efficiently.
Why Use RevPAL?
RevPAL not only provides a snapshot of the financial health of individual listings. It also allows you to zoom out and assess the overall health of an Airbnb Market.
You are an investor eyeing opportunities in the Airbnb market. RevPAL can be your financial lead, guiding your decision-making process. When in the acquisition or managing stage, it becomes your closest advisor. It's one of the most reliable Airbnb KPIs to have a successful Airbnb rental investment.
How to calculate RevPAL?
It's easy-peasy! All you need to do is divide the total revenue by the number of available listings.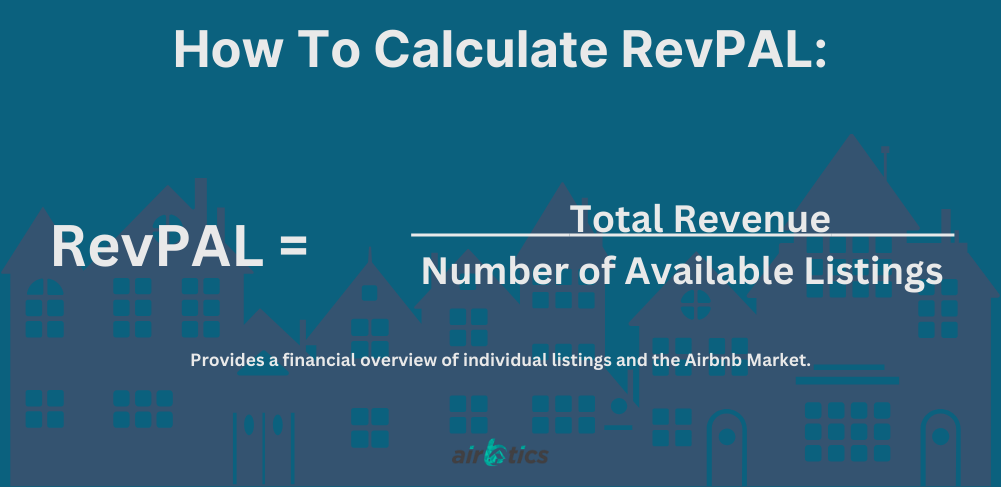 However, how do you get the # of available listings in your market? You can get free Airbnb data via Airbtics. All you need to do is to type the city name and our system will generate the total # of Airbnb listings in your city.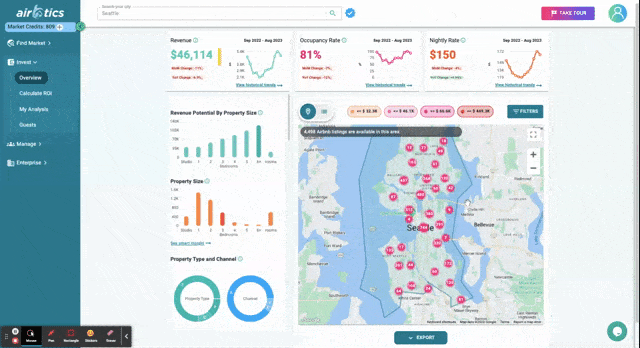 Airbnb KPI: What is RevPAN?
Another key metric that you may want to learn about is RevPAN.
The Revenue per Available Night (RevPAN) is a magnifying glass designed to see the potential of individual listings. It gets the average revenue generated per listing for each night available for booking.
Remember, we're in an industry where every night also holds potential for profit.  So RevPAN takes the night into consideration. 
Why Use RevPAN?
Think of it as your personal investigator, delving into the details of your listings. Unlike RevPAL, RevPAN is not concerned with the bigger picture. 
RevPAN is more interested in the performance of each property on each available night. 
It answers, "How well is my beachfront Airbnb performing in the summer months?" or "Is my cozy cabin booked more often in winter or during the holiday season?" This granular approach is the heart of RevPAN's charm.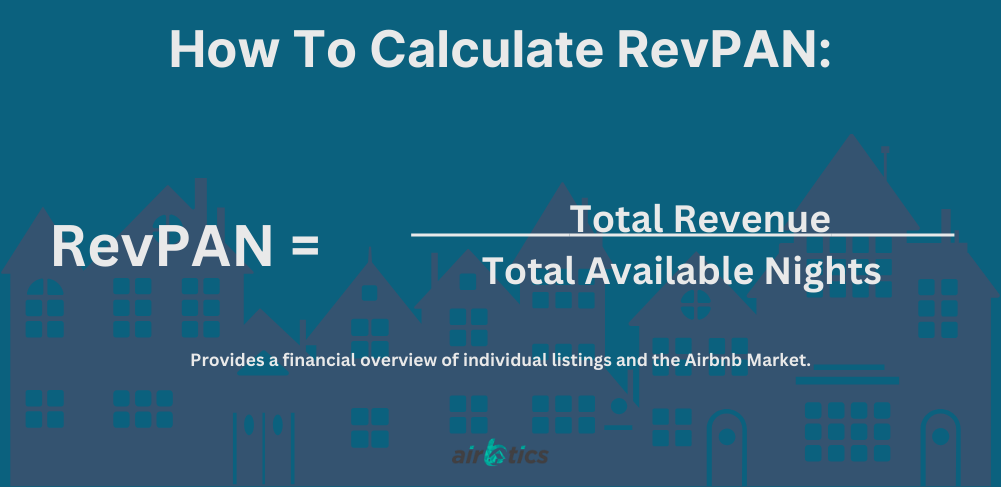 Airbnb KPI: What is RevPAR? (Revenue per Available Room):
RevPAR is a well-established metric in the hotel industry. It offers a comprehensive view of how well a hotel is filling its rooms and at what price. The calculation is straightforward: multiply the Average Daily Room Rate (ADR) by the Occupancy Rate (OR). The result is the revenue generated per available room during a specific period.
For hotels, RevPAR is the go-to metric. It accounts for both room rates and occupancy rates, making it a valuable tool for evaluating overall performance. However, its focus is on the collective performance of all available rooms within a hotel. 
Why Use RevPAR?
RevPAR can be the sidekick of Airbnb hosts with multiple private rooms. Hosts can efficiently evaluate the utilization of their room inventory, optimize pricing, and gain insights into overall property performance. You'll know exactly where your property shines, and where it could use a little extra TLC. No more guessing games, just hard data to make those data-driven decisions.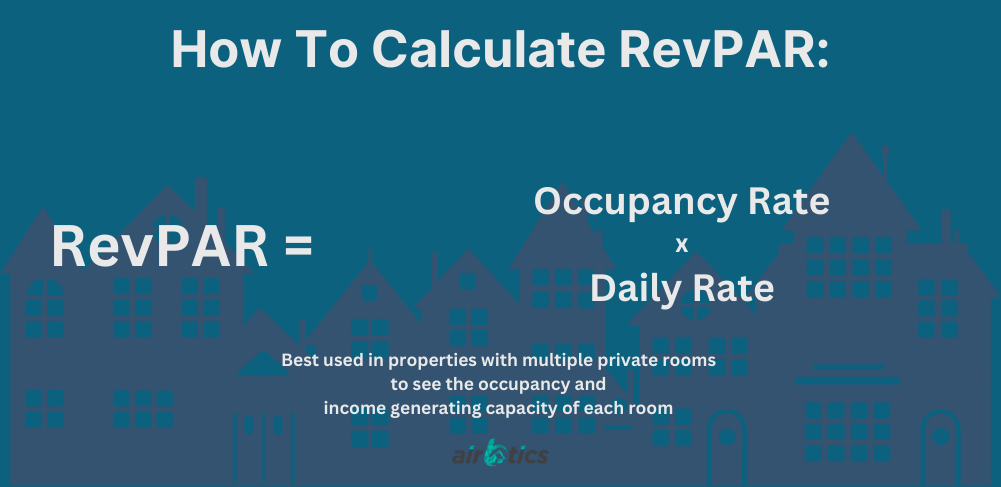 How to get ADR & Occupancy Rate to Calculate RevPAR?
When calculating RevPAR, you need these two data: ADR and Occupancy Rate. The good thing is you can access these Airbnb data from Airbtics for Free! Log in to our app, and search for your city. In just 5 seconds, you can access its potential revenue, occupancy rate, and average daily rate.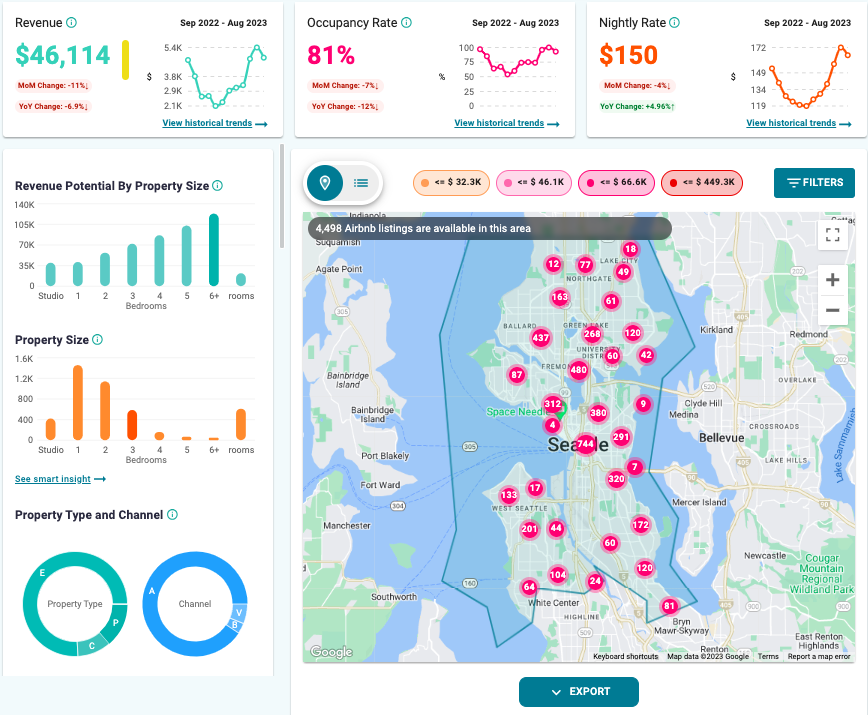 Cheat Sheet for the 3 Airbnb KPIs
---------

RevPAL

RevPAN

RevPAR

Best for

Airbnb Investors & Hosts

Airbnb Investors & Hosts

Airbnb Hosts & Hotels

Formula

Total revenue / # of available listings

Total revenue / # of available nights

Occupancy rate * Daily Rate

When to use it?

To evaluate the profitability of your property

To know the performance of each property on each available night

To find out the collective performance of all available rooms within a hotel
RevPAN and RevPAL: Versatile Metrics for All Property Types
Airbnb investors and hosts use RevPAN and RevPAL. 

RevPAN and RevPAL are the metrics suitable for various property types, making them valuable tools for hosts, investors, and property managers in the vacation rental market.

These KPIs provide insights into the performance of individual listings or properties, helping you assess how efficiently you're generating revenue and optimize pricing and occupancy rates.
RevPAR: Tailored for Multiple Private Room Accommodations
Airbnb hosts use RevPAR. 

It's best suited for multiple private room listings within a property, where factors like occupancy rates and room rates significantly impact revenue generation.
Why Use Airbnb KPIs?
Airbnb KPIs are not just numbers on a page. They are powerful measuring sticks that can help transform how Airbnb investors and hosts operate. Individually, we cannot surely earn higher than hotels. But this does not mean that we do not mean business.
Airbnb KPIs are our besties on this journey. They not only look out for what's best for us. They help us refine our strategies, make data-driven decisions, and enhance the quality of our Airbnbs. 
Remember the sage advice of Peter Drucker, "If you can't measure it, you can't improve it." And who knows? You might improve so much that you can scale your business with the help of any of the three!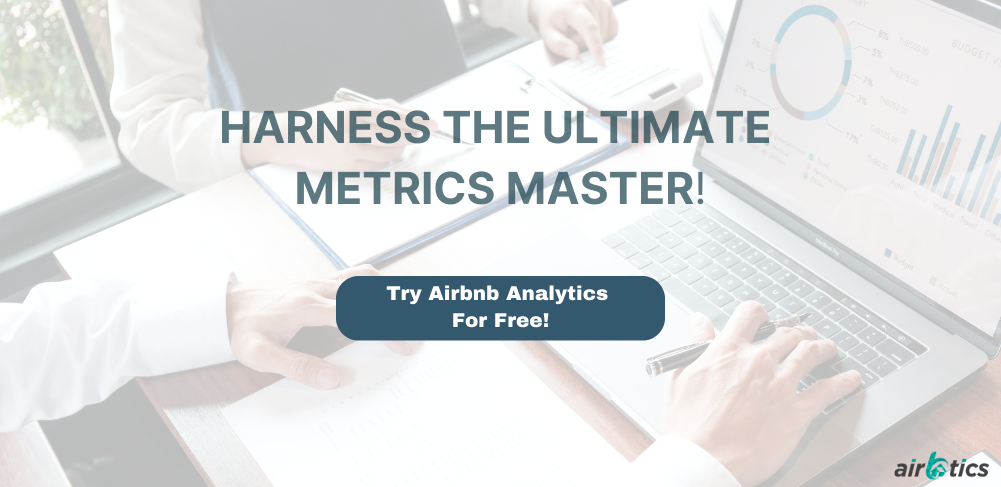 Find a profitable
investment property
Use powerful analytics to discover lucrative & traditional Airbnb properties within minutes.
Find a profitable
investment property
Use powerful analytics to discover lucrative & traditional Airbnb properties within minutes.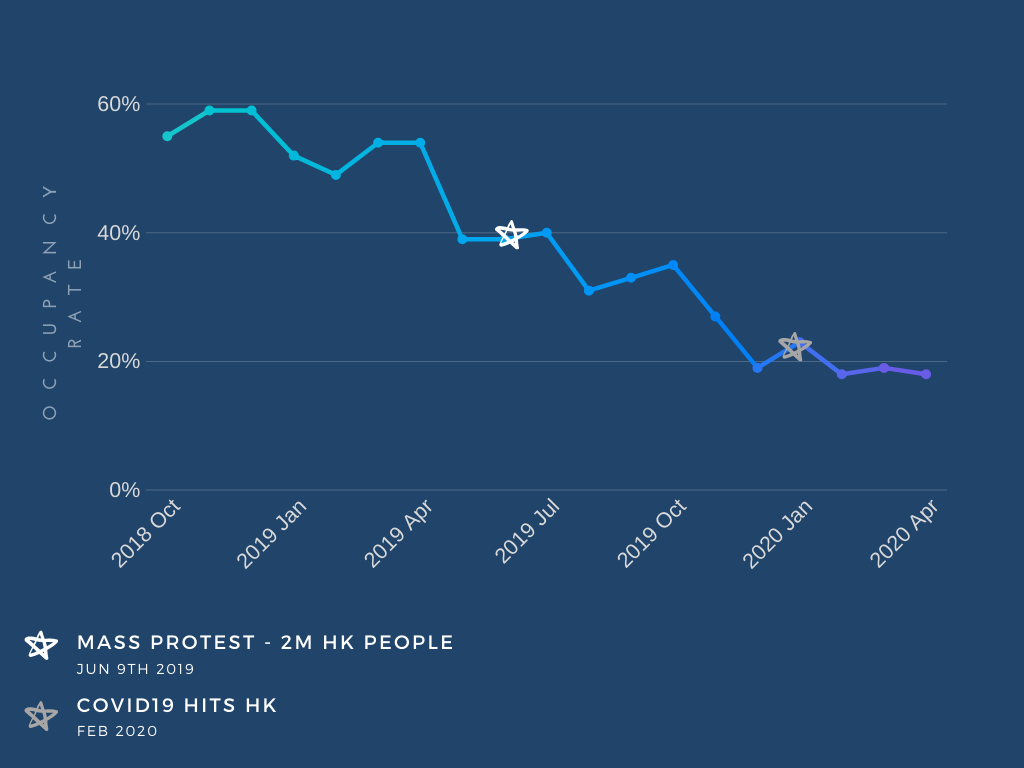 Last updated on May 15th, 2020Hong Kong attracts the largest number of visitors per year [ref], yet it does not have as much Airbnb listings …