Colorado offers various kinds of outdoor activities and has exquisite landscapes. Tourism has certainly increased in the state of Colorado. Therefore, property investors and future Airbnb hosts in Colorado should learn about its legality in certain counties such as El Paso, Denver, and Boulder, along with its chances of profitability!
In this article, we featured Airbnb regulations in Colorado, along with the new Airbnb laws in Denver. Continue reading and learn more about the Airbnb laws in Colorado.
Is

Airbnb

legal in Denver, Colorado

?

 
To cut the story short, yes – Airbnb is legal in Colorado! In fact, there have been 84.2 million visitors annually in Colorado. As of August 2022, there are 49,888 nights available in Denver from Airbnb alone. Blueground manages 61 listings, while Espadín and Kathryn operate 40 and 26 respectively.
How much can I make by running an Airbnb in Denver?
Currently, there are 2,950 Airbnb listings in Denver, with 81% of entire houses earning up to $3,863 a month. The Average Occupancy Rate in Denver is 82% and the average daily rate is $125. According to short-term rental market data source Airbtics, a 2-bedroom apartment in Denver can make up to $64,928 annually. Check out our Short-term Rental Estimator and discover how much profit you can make with Airbnb!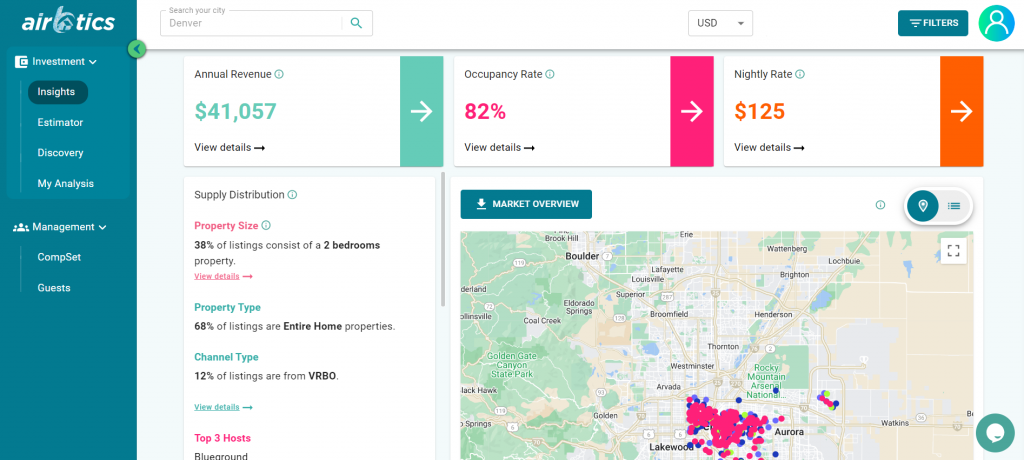 Depending on local & county requirements,

licenses or permits are required to operate STRs

. On a side note, Durango and Breckenridge cap STR permits and have long permit waiting lists

In counties and municipalities that require STR licenses or permits, those licenses and permits are typically

effective for 1 or 2-year terms

and must be renewed before such period expires

 Proof of insurance

is typically required & there should be a point person who must be available 24 hours a day to respond to emergencies
Short-term Rental Laws in Denver
It is

required to have a license to offer a short-term rental in a primary residence in Denver

The license applicant must provide a

valid Colorado driver's license or state identification card,

along with at least

two other documents

to demonstrate primary residency

Denve

r does not allow investor-owned STRs or multiple licenses

per person
Short-term Rental Laws in Colorado Springs
Owner-occupied STR units are

allowed in lawful dwelling units in zones where residential units are allowed

 Non-owner-occupied STRs

are not permitted in single-family zoning districts

and must be

500 feet from another permitted STR unit

The number of licenses to

one permit per lawful dwelling unit

is limited by the Colorado Springs City Council

The

use of STRs for commercial or large social events, including weddings, is prohibited

Owners of a condominium or similar building are limited to

two STR units per property
Short-term Rental Laws in Boulder 
It is

required to have a valid license

for all rental properties in Boulder. In relation to this, it is also required to

obtain an STR license before advertising their property for rent

, and the property must be the

owner's principal residence.

An accessory unit or a principal dwelling unit on a single-family lot or parcel with an accessory unit may not be rented as an STR unless certain additional requirements are met, and it may not be rented for

more than 120 days in a calendar year.

The name on the license must be the same as the name on the deed for the property, and the

owner must be a natural person, trust, or nonprofit organization

.

Hosts & Property investors in Colorado
According to local investors and real estate brokers in Colorado, it is currently difficult to get permits to operate short-term rentals in Colorado. Before starting an Airbnb business, it is advisable to call the permitting office and let them know in advance regarding your plans to do short-term rental business in your preferred area. This way, you'll be able to expect certain challenges and find solutions to overcome them in advance.
" But is it getting harder to get permits? Absolutely, yes. And counties and cities are tightening the rules all the time. Breckenridge just passed a law limiting the number of nights that can be rented. A neighbor of mine decided to sell his STR as a result. Super high selling price and limited rentals — why NOT sell? So he did. You've got to do very market-specific research. Some counties will allow it, and even the city, but then not the HOA." 
– Erik Stenbakken
Investor in Northern Colorado
Conclusion 
In my personal opinion, the biggest advantage of running a short-term rental is high return! I've talked to hundreds of Airbnb hosts over the past years and frequently met hosts making 15 – 30% gross rental yields, and 10-20% net. It's also fun to do!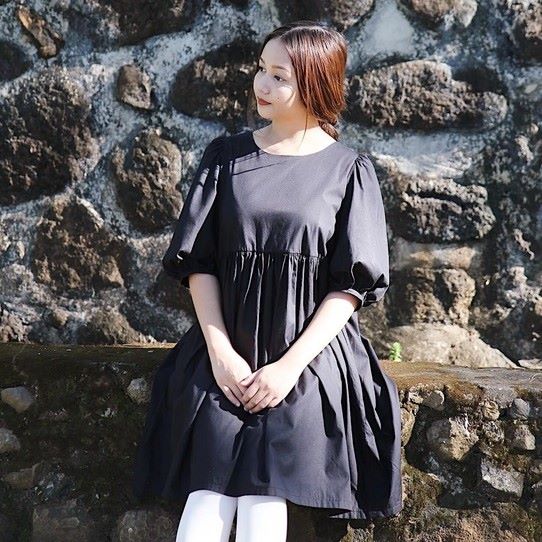 Robyn is a passionate content writer about short-term rentals and is dedicated to research & sharing property investment strategies and analysis worldwide. She is a graduate of Alliance Française de Manille, a songwriter, an animal advocate, and an avid fan of The Beatles since birth.