Last updated on June 21st, 2023
Before you invest in a property in Virginia Beach, it's essential to know its legality, step-by-step process, and profitability for a successful investment. In this article, we featured Airbnb regulations in Virginia Beach, along with the new tax collection and remittance law in Virginia. Continue reading and learn more about the Airbnb rules in Virginia Beach.
Is

Airbnb

legal in Virginia Beach

?

 
To cut the story short, Airbnb is legal in Virginia Beach! However, operating a short-term rental in Virginia Beach depends on your property's category. Based on a recent ordinance implemented by the City Council of Virginia Beach, property owners should meet the following criteria to operate Airbnb: 
The property should be located in the Sandbridge Special Service District


Properties in Sandbridge may operate as STRs "by-right" as long as they meet the regulations and obtain an annual zoning permit.

The property should be located in the OR (Oceanfront Resort) Short-term Rental Overlay District


Oceanfront Resort properties need to obtain a

conditional use permit

before operating as an STR. Once approved for a CUP, these properties must also obtain a separate annual zoning permit.

Be grandfathered in the following:
–

Grandfathered properties must have been registered with the Commissioner of Revenue and pay transient occupancy taxes before July 1, 2018.




– Grandfathering runs with the land and is valid until the property ceases to be run as an STR. 

Have an approved short-term rental conditional use permit (CUP) that was obtained before September 7, 2021


All conditional use permits expire five years from the date of adoption. CUP renewal is overseen by the Planning Department and will require the property to be compliant with all regulations and codes. If a property has a CUP, it may be subject to other regulations and restrictions in addition to the ones listed below.
To supplement this data, here are accurate findings from Airbtics. As of August 2022, there are 18,049 nights available in Virginia Beach from Airbnb alone. Ypb manages 28 listings, while Ms. Koch and Sheppard operate 26 and 25 respectively.
How much can I make by running an Airbnb in Virginia Beach?
Currently, there are 1,072 Airbnb listings in Virginia Beach, with 53% of entire houses earning up to $3,918 a month. The Average Occupancy Rate in Virginia Beach is 56% and the average daily rate is $202. 
According to short-term rental market analytics source Airbtics, a 2-bedroom apartment in Virginia Beach can make up to $82,048 each year. Check out our Short-term Rental Estimator to know how much profit you can make with Airbnb!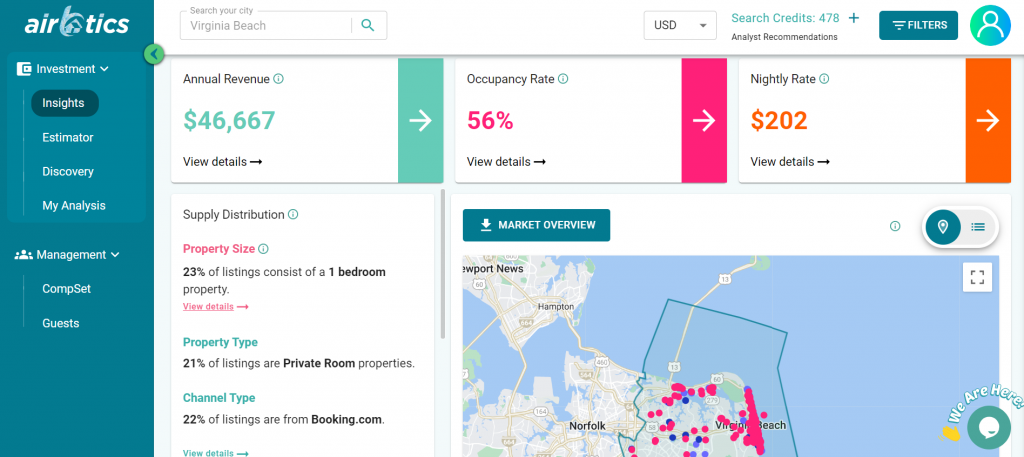 Short-term Rental Policy in Virginia Beach
It is required to get an

annual short-term rental zoning permit

to operate in Virginia Beach

.

A

structural safety inspection report is required to be submitted

for properties with exterior stairways, decks, porches, or balconies.

For rental property owners or hosts who want to

host a gathering of between 50-100 people, you'll need to get a special event permit.

Each property is only allotted up to three of these permits per calendar year.

It is

required to have liability insurance for $1,000,000

on your property. Proof of insurance must be provided and kept with the Zoning Office.

New Tax Rules for Rental Property in Virginia
Airbnb recently extended its support to Virginia's new tax collection and remittance law which began on October 1, 2022. Moving forward, the local government of Virginia will continue to recognize short-term rental businesses to entice more tourist arrivals in the long run. 
"Those of us who have been playing by the rules and supporting our local municipalities benefit with less paperwork each month. Those who have been skirting by and not paying their taxes will now have to pay their fair share whether they like it or not, providing more tax revenue for marketing efforts to further drive tourism. 
Here in the Shenandoah Valley, most jurisdictions are very STR-friendly as tourism is a key driver of our economy, and this agreement with the Commonwealth of Virginia has now solidified that even further." 
– Chase Hoover 
Real Estate Owner in Virginia
Conclusion 
With the recently implemented tax rules in Virginia, the primary benefit for short-term rental owners is that their businesses are recognized as an asset in the local community. Aside from the fact that Airbnb is profitable in most areas of Virginia, there's no denying that it will be a great place for an Airbnb investment.
In my personal opinion, the biggest advantage of running a short-term rental is the high return! I've talked to hundreds of Airbnb hosts over the past years and frequently met hosts making 15 – 30% gross rental yields, and 10-20% net. It's also fun to do!