Hong Kong attracts the largest number of visitors per year [ref], yet it does not have as much Airbnb listings as other popular tourist destinations like London (70,000+) or Paris (50,000+). Hong Kong was showing a rapid growth in both Airbnb supply and demand until the 2019 Hong Kong protests. Despite the current climate, we believe that it is an exciting market to keep an eye on.
How many total Airbnb listings are there in Hong Kong?
 Hong Kong has 6,760 unique active listings on AirBnB [2020 April], over half (52.4%) of which are private rooms. 
Entire place: 2383

Private room: 3541

Hotel room: 356

Shared room: 480
Other popular short-term rental channels are..
Tuijia.com is the AirBnb's major China rival, which offers around 2,000 listings. 

VRBO offers similar types of properties but has less than 500 unique active listings. 

Around 100 serviced apartments are listed on Booking.com. However, Booking.com does not allow above 30days' booking.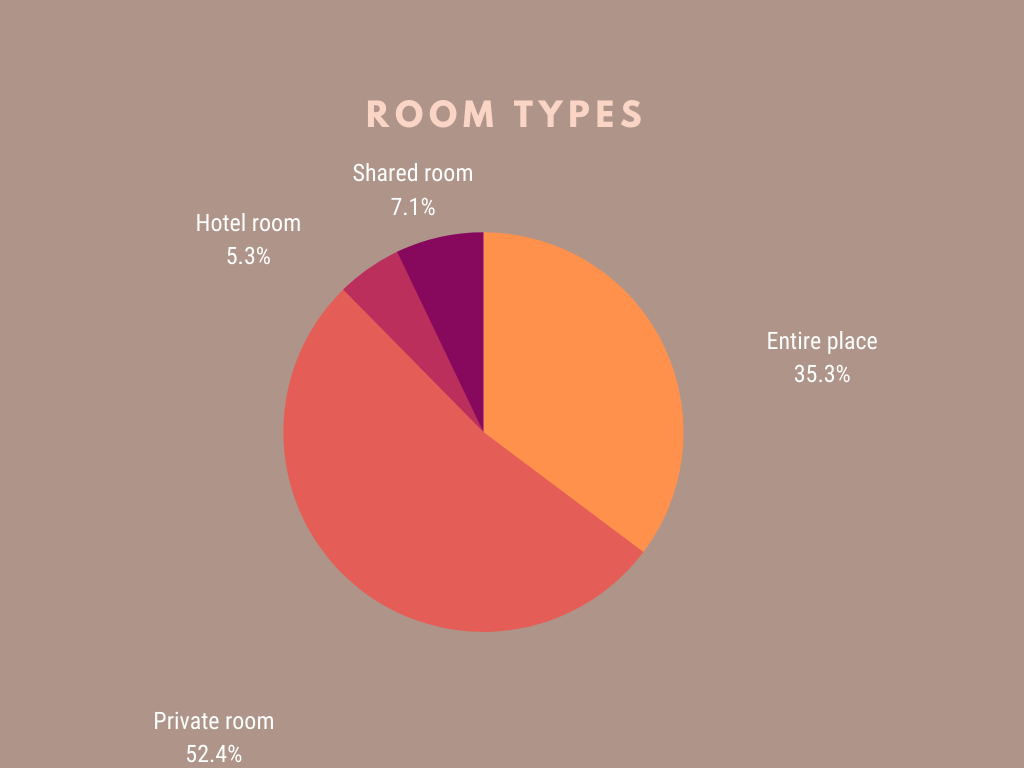 Where are the Airbnb properties located in Hong Kong?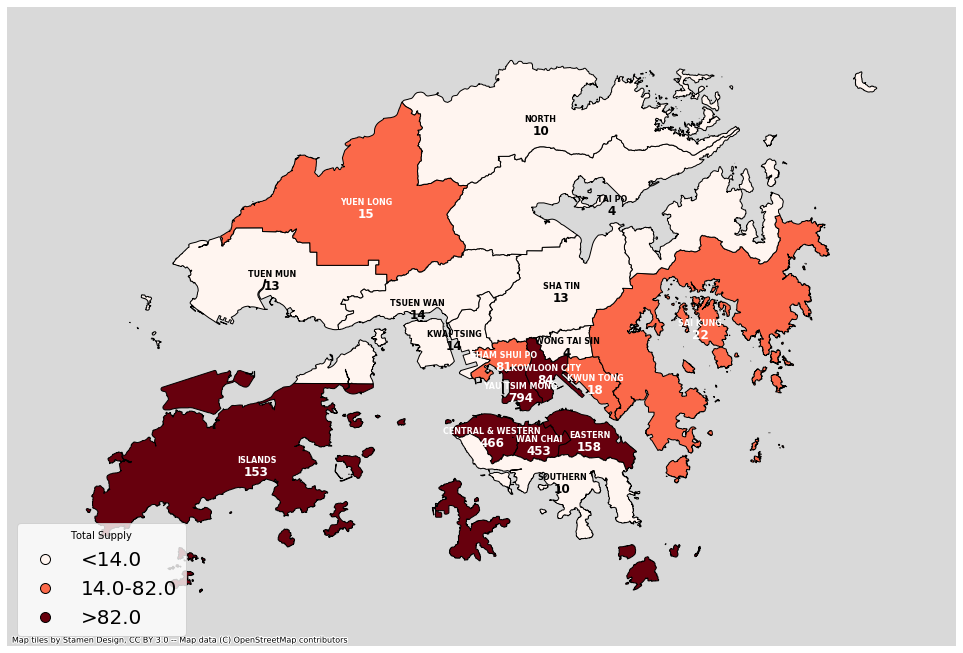 Hong Kong has 18 districts, with six districts supplying 85% of the entire house listings. They are located in:
Tsim Sha Tsui region:

Sham Shui Po

Yau Tsim Mong

Kowloon City

Hong Kong Island region:

Central & Western

Wan Chai

Eastern 
Tsim Sha Tsui is a major tourist hub where Victoria Harbour and many museums are located. 
The Hong Kong Island also has some significant tourist attractions, such as the Peak and large shopping malls. It's also the hub of numerous global financial institutions' offices.
What is the Average Daily Rate of AirBnB in Hong Kong?
This chart shows the median of the Average Daily Rate of 2 bedroom apartments in Hong Kong by district and Superhost status, excluding anomaly prices. 
Extremely high nightly rates is one of the common anomaly patterns.
The median is the better representation (than the mean) the typical Airbnb listing price in individual districts.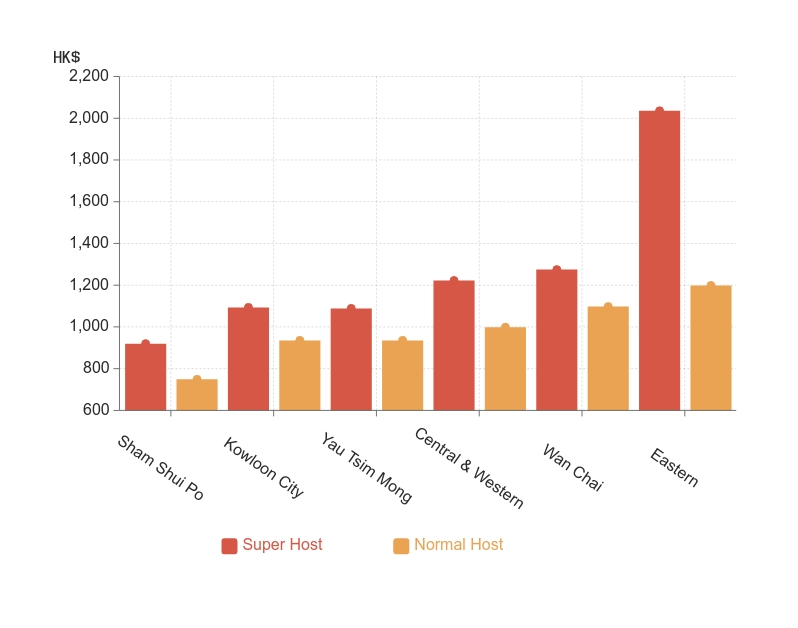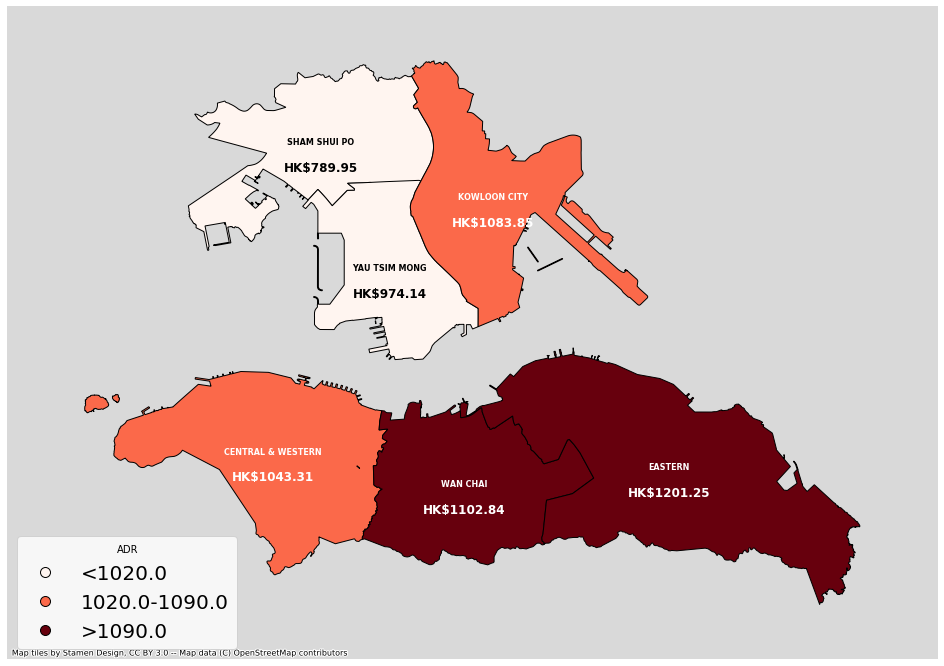 The ADR of 3 districts in Hong Kong Island (In the south) is around 15% higher than the ADR of 3 districts in Kowloon (In the north).  
This difference is similar to the difference in the housing prices between Hong Kong Island and Kowloon, which are also 15%.
HK Island House Price / Sq. Ft  – $13,686 
Kowloon House Price / Sq. Ft  – $11,895 [Ref]
What is the occupancy rate of AirBnb in Hong Kong?
In the time of writing [April 2020], the occupancy rate has been below 20% on average since the COVID-19 outbreak in HK. We expect this to get back to above the 50% region when the global travel activities resume after the pandemic.
Hong Kong's AirBnB occupancy rate peaked in 2018, and it started declining after the Hong Kong mass protests which started in June 2019. Within a quarter, the occupancy rate went down to almost half. Unfortunately, before the market was able to fully recover, COVID-19 struck HK, causing the market to drop further.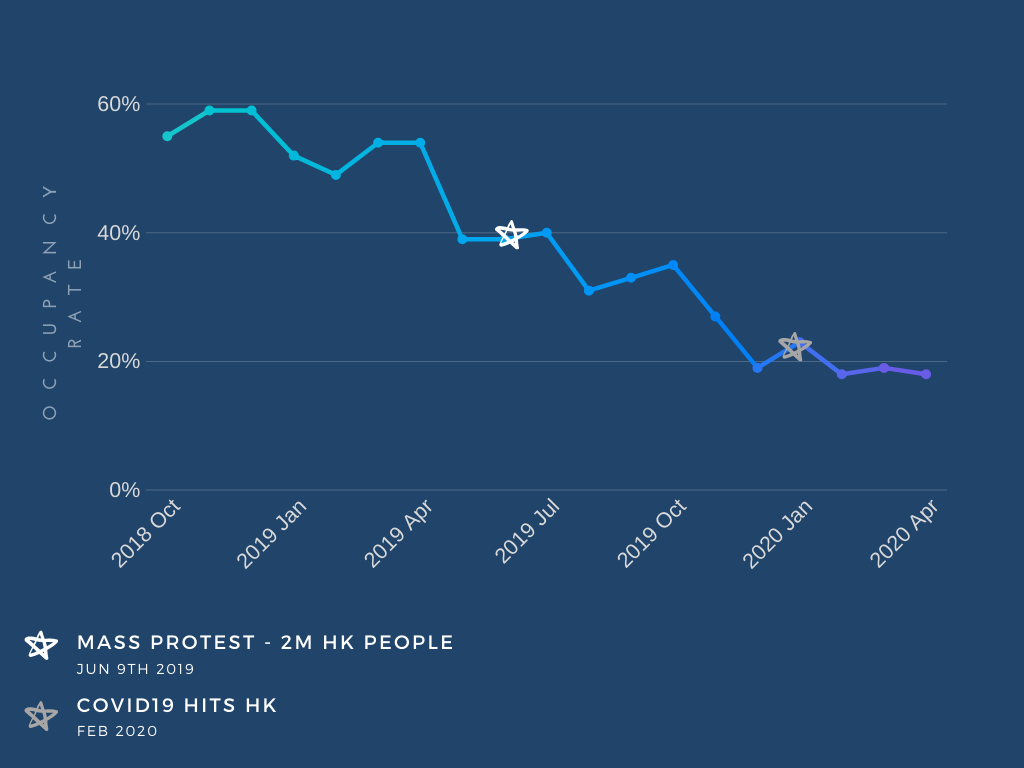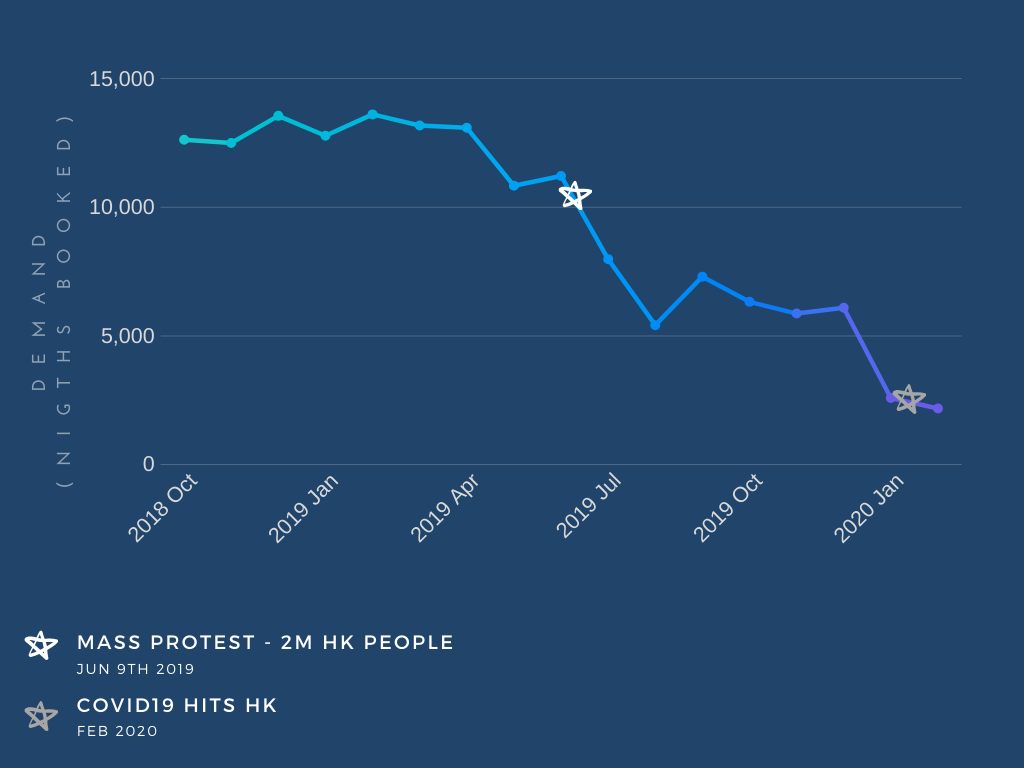 The occupancy rate aligned with the demand – This is the demand of all types of accommodations on Airbnb.
The superhost status positively affected the occupancy rate. An average two-bedroom property running by a superhost in Yau Tsim Mong and Wan Chai is 34% and 50%, respectively. [2020 April], and it is 27% and 27% if it is running by an average host.
How much can a two-bedroom apartment make in Airbnb Hong Kong?
During the pandemic, RevPAR of an average two-bedroom apartment in Wan Chai is around HK$360 ($46), with 30% occupancy rate and HK$1,200 for three guests.
The RevPAR does not look good considering a two-bedroom long-term rental can easily achieve above HK$20,000/month. (~ RevPAR HK$655)
But the top 10% Airbnb properties in HK are still doing better than long-term rentals even during the pandemic period. It is not the case for an average property. If you want to find out what are the top 10% properties are like, use Airbtics to explore. 
What is the most commonly spoken language by Airbnb hosts in Hong Kong?
English is most commonly spoken, but majority of hosts also speaks Simplified Chinese.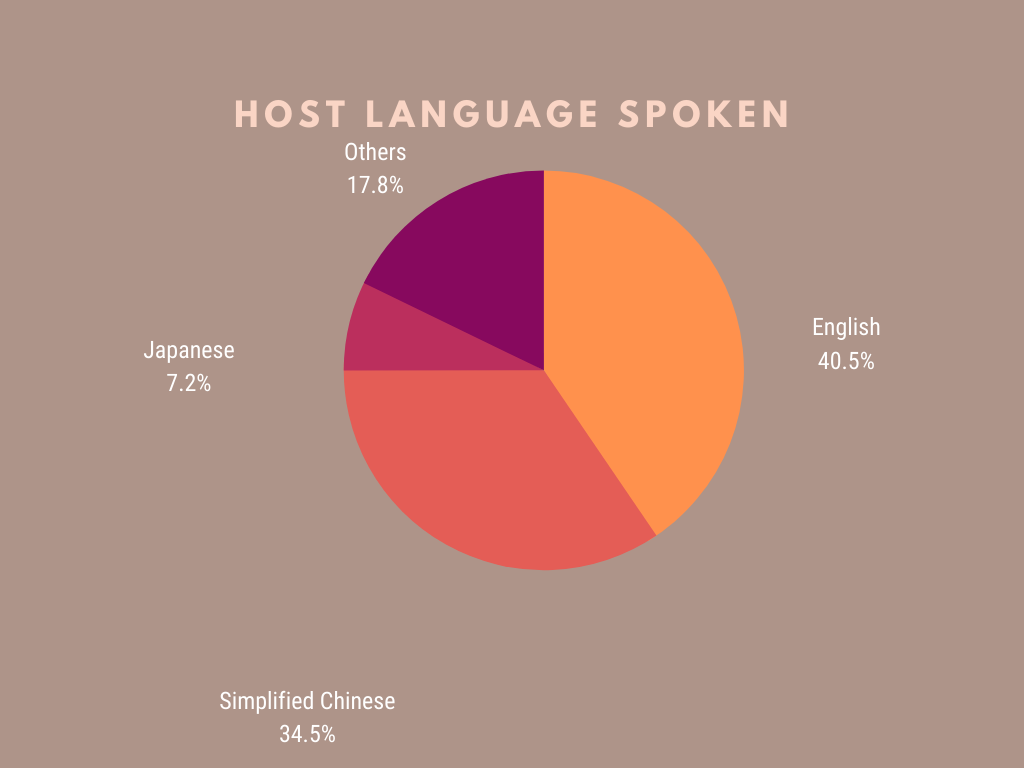 Is Airbnb legal in Hong Kong?
If you are letting out a house for less than 28 days at a time, you need to have a license provided by Home Affairs Department.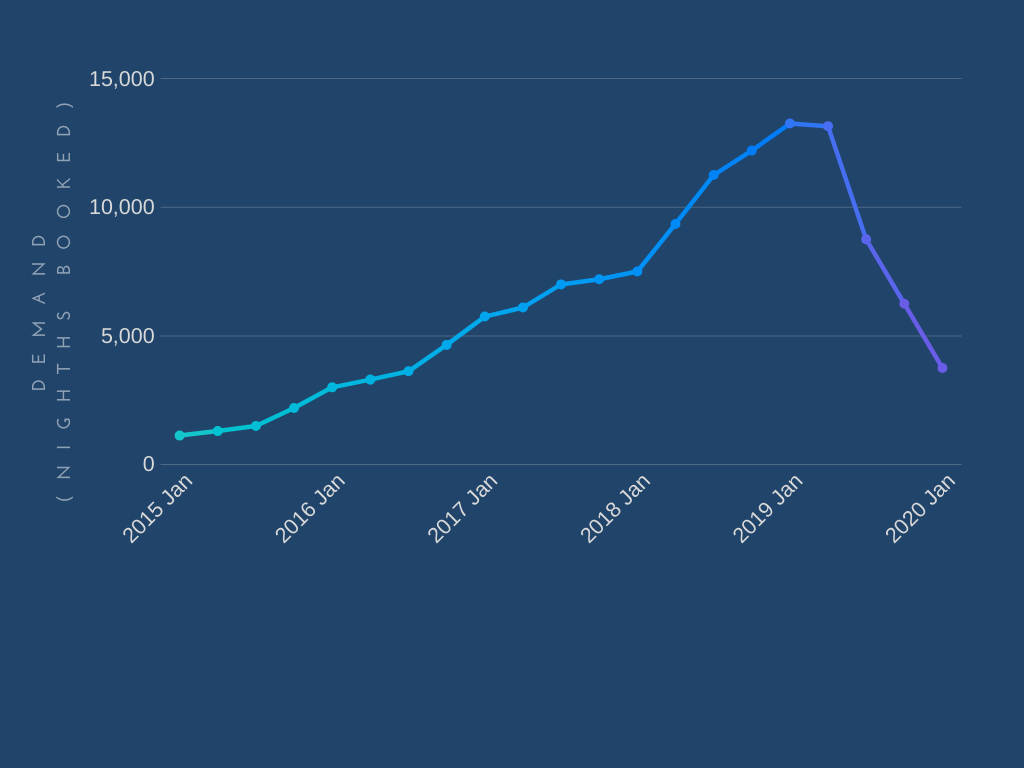 The market doesn't seem pretty, but why did I mention that I'm "excited"about the HK market?
I mentioned earlier that the Airbnb's share in the HK market is relatively low in comparison to London or Paris. I think the HK Airbnb scene (in 2019) before the mass protest looked very similar to the London Airbnb market in 2015.
For instance, London market has experienced quick growth in both supply and demand. It showed 4 times of increase[ref] in supply within 3.5 years while maintaining above 50% occupancy rate [ref].
Consequently, it brought lots of opportunities to the professional Airbnb property managers and companies in London.
Therefore, I believe that there is a chance that the HK will resume that rapid growth it showed between 2015 and 2019. 
Airbtics is the short-term and vacation rental market research platform. We help rental hosts, property investors, realtors to understand the rapidly changing rental market by providing insights via our web service.
If you have any further questions about the case study, please contact us at [email protected]
All the data here without explicit references are sourced and processed by our technologies.