Last updated on August 16th, 2023
How Much Value Does a Pool Add to Short-Term Rentals?: Are swimming pools worth it? How much value does a pool add to short-term rentals? Get the answers from this article using data analytics.
How Much Value Does a Pool Add to Short-Term Rentals?
A swimming pool is worth it in the right market. Learn if your target city has a demand for pools using short-term rental data analytics.
Airbnb hosts need to look into several factors before building a swimming pool for Airbnb. These include the market, demand, and available space – among others.
For investors who consider buying a rental property with a pool, they can know if it's a profitable investment using the gross rental yield.
Introduction
In the highly competitive world of Airbnb, investors are always on the lookout for properties with the right amenities. On the other hand, hosts constantly seek ways to set their properties apart from the rest. One amenity that has consistently proven to be a game-changer is a swimming pool. But how much value does a pool add to short-term rentals?
In this article, we'll explore the significant impact of swimming pools on Airbnb properties, analyzing their impact on occupancy rates, value pricing, and the opportunity to charge higher nightly rates. So, let's take a refreshing dive into the world of swimming pools and discover how they can make a splash in your Airbnb revenue.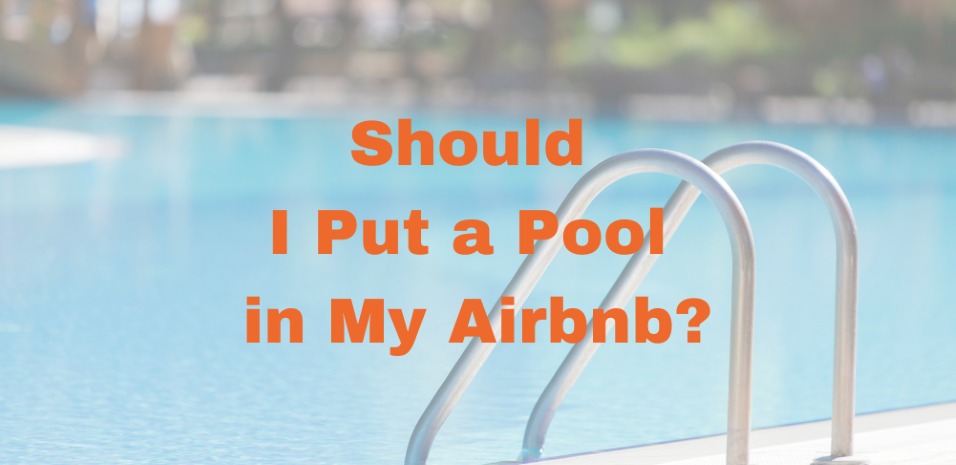 Should I Put a Pool in My Airbnb?
A swimming pool can be an expensive additional amenity. So before making this huge investment, you should consider a number of factors:
1.

Is Your Market Right?

 
Check if your market is appropriate for a pool amenity. Oftentimes, these markets have a warm climate in most parts of the year or are near popular beach destinations.  
2.

Is the Seasonal Demand Stable?
Assess the popularity of a pool in your area all year round. If your market's peak season is during the warmer months, a pool is definitely a competitive advantage. However, it may lose its appeal during a seasonal decline in tourism during the colder months, which may not help you maximize your return on investment.
3.

Does Your Property Have Enough Space?
Assess if your property has enough room for a pool amenity. If you're unsure, you may consult with a landscape architect, and you'll be surprised by how they can work on a limited space by being creative with the layout. 
4.

Are You Ready to Spend on Maintenance and Other Costs?
If you have no problems with the first three, it's now best to consider the cost to add pool. Swimming pools have a hefty price tag for construction. And you'll continue to spend money on insurance, regular maintenance, and future repairs.
5.

Have You Done a Competitive Analysis?
In any other line of business, a competitive analysis ensures success. You can use this in short-term rentals to see the performance of Airbnb listings in your area. 
Seeing that there are already quite a few properties with pools listed may trigger you to consider other amenities to differentiate your Airbnb unit. But if you've already decided to put a pool in Airbnb regardless of the competition, you might as well use short-term rental data analytics. Compete with other listings that have the same amenities by enhancing your nightly rate with the help of easy-to-use data.
What Is The Cost Of Adding A Pool To A House?
The cost of adding a pool to your Airbnb can vary depending on your location and preferred material, dimensions, and style. But below are the rough estimates of the cost:
The average cost of adding pool to house is

$35,000

The average maintenance cost is

$180

monthly

Your home insurance premium may increase by

$50

annually
How Much Value Does a Pool Add To an Airbnb?
While there is an undeniable cost of adding a swimming pool to an Airbnb, this can be a worthwhile investment that can reap rewards in the long run. We'll give you an idea of what a swimming pool can do to several key Airbnb metrics. We will use data from the 5 US cities that have a strong demand for pool amenities.  
Please take note that the following figures are from "Entire House" Airbnb listings. This excludes apartment, condo, and private & shared room listings to better guide Airbnb hosts who consider adding a pool to their properties.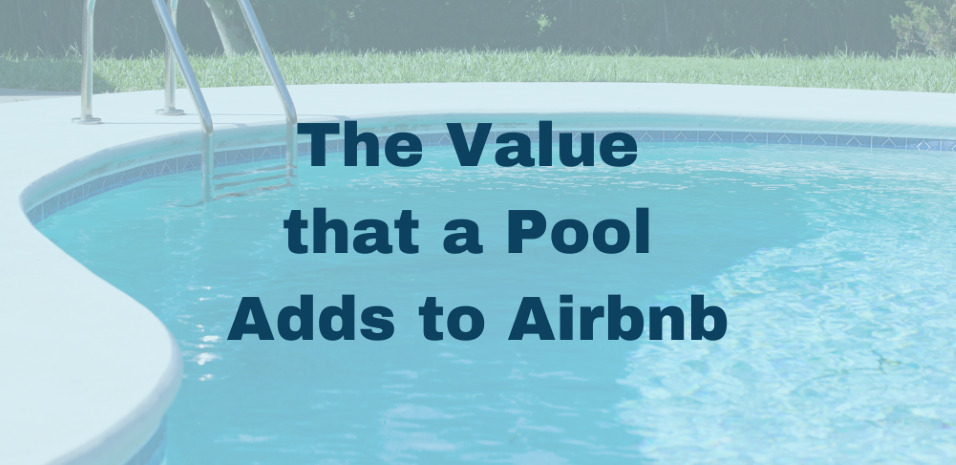 1.

Increased Occupancy Rate
A swimming pool is an attractive amenity for potential guests who may bring along their friends or families with them. As they browse through the listings, a pool can easily make your Airbnb unit stand out among your closest competition having the same property size.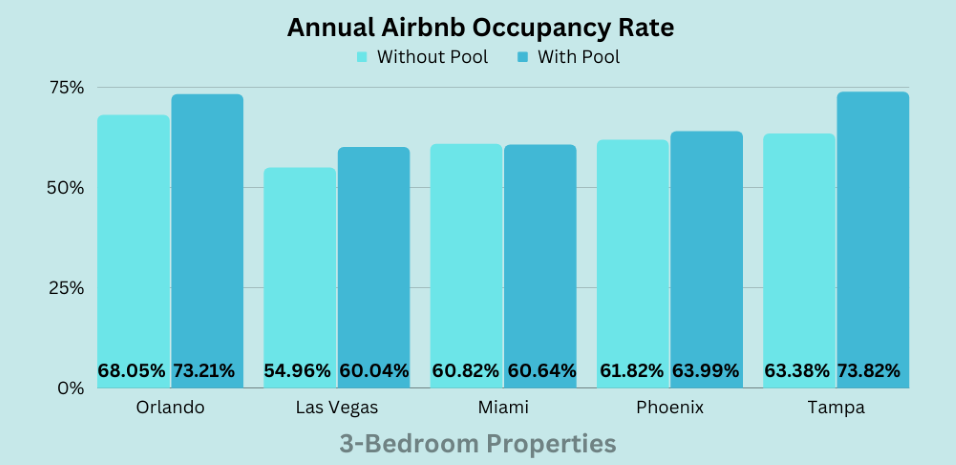 2.

Competitive Advantage in Nightly Rate
Properties with swimming pools are often perceived as more luxurious and desirable, This empowers hosts to set their nightly rates at a premium level. 
In a saturated market, a swimming pool can differentiate your property from others, attracting guests who specifically seek this amenity, and allowing you to command a higher nightly rate.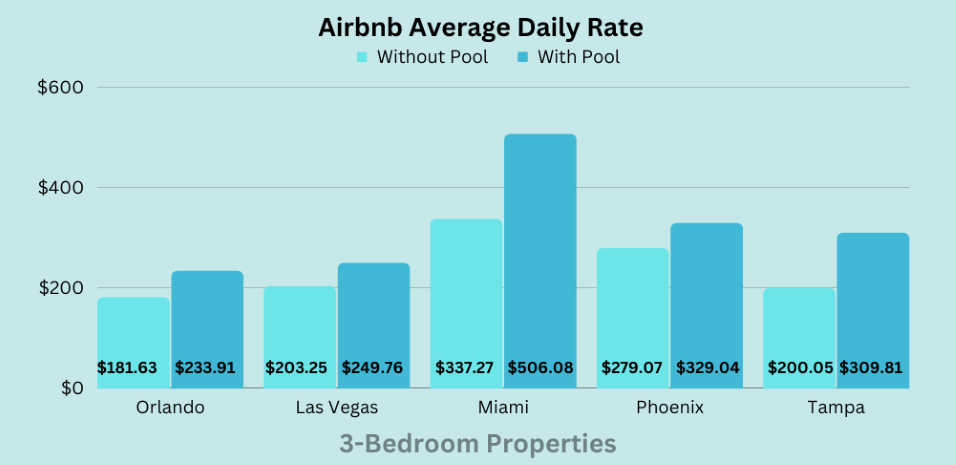 3.

Airbnb Value Pricing
Even if you charge a higher nightly rate, guests are aware that the huge gap between an ADR of a property with and a property without a pool is understandable. The good news is this gap is only marginal and does not affect the Airbnb value pricing of your property.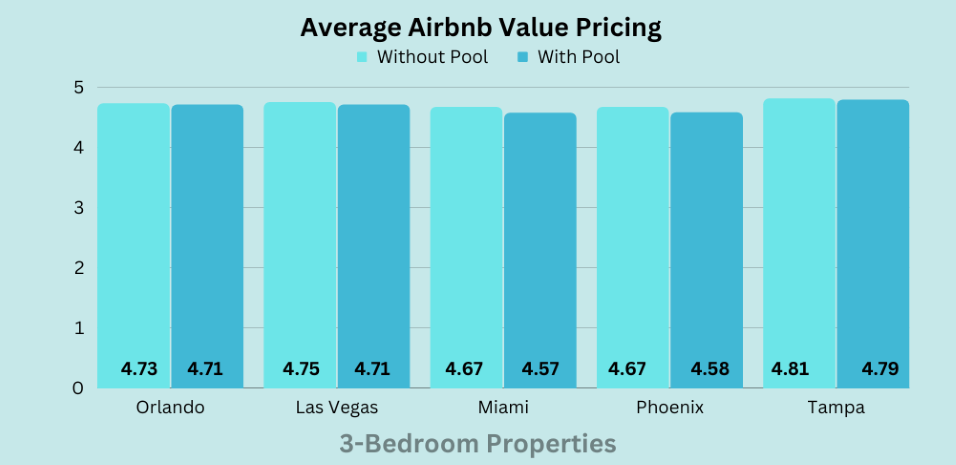 4.

Significant Difference in Annual Revenue
If your Airbnb is in the right market, you may notice a vast improvement in your annual revenue once you put a pool in your rental property. Because of the higher occupancy rate and the ability to charge a higher nightly rate, it is not rocket science that properties with pools can earn much more in annual revenue.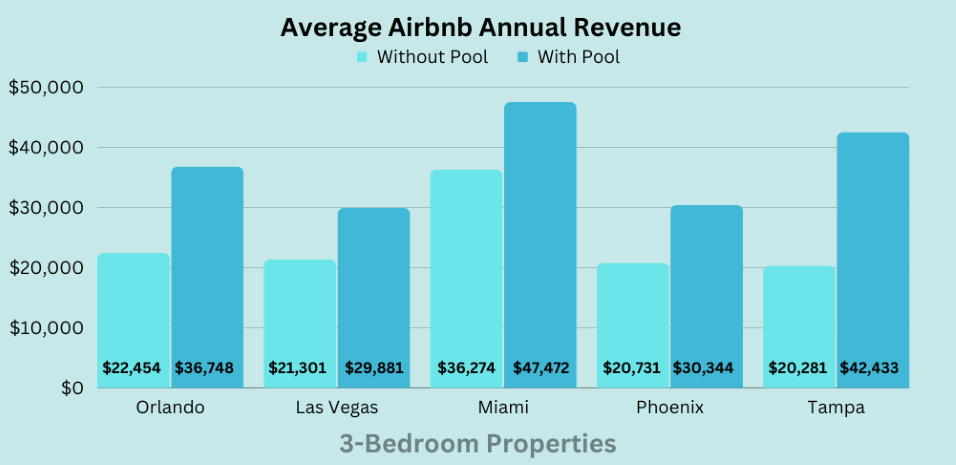 5.

Higher Gross Rental Yield 
In connection with the annual revenue, let us discuss the gross rental yields of Airbnb houses with swimming pools. Gross rental yield is a metric to check the profitability of a rental property. It allows us to compare the potential income of different properties with varying attributes such as location, number of rooms, and other amenities. 
We can get the gross rental yield of a rental property by dividing its average annual revenue by the property price. When used in our research, we can tell if a swimming pool is worth the additional investment.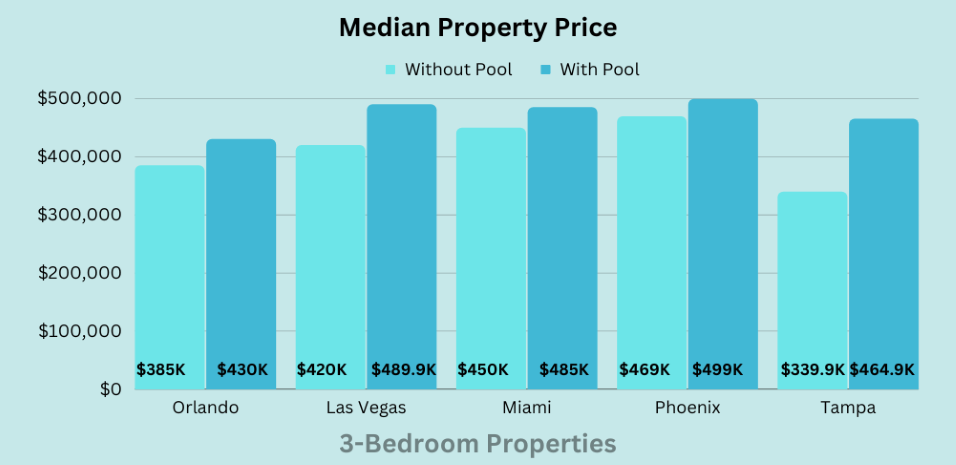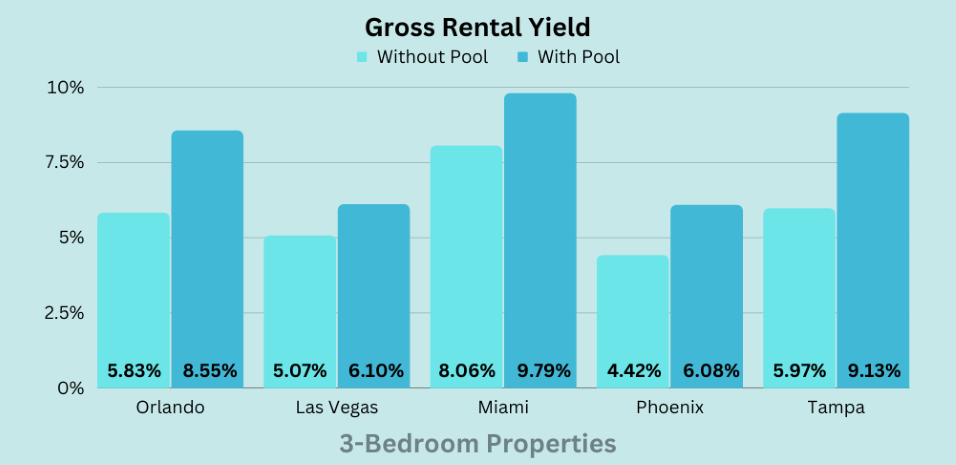 Conclusion
Using data analytics, we have answered, "How much value does a pool add to Airbnb rentals?" And in conclusion, a lot! A swimming pool can make a significant impact on your annual revenue. By increasing bookings, commanding higher nightly rates, attracting repeat business and referrals, and appealing to specific demographics, a pool becomes a valuable asset that sets your property apart. 
However, it's important to carefully consider the initial investment costs, ongoing maintenance, and market demand before deciding to add a pool. With a thorough planning and understanding of the financial benefits, a swimming pool can be a lucrative addition to your Airbnb investment, making waves in your annual revenue. 
Curious to know the income potential of an investment property with a swimming pool? Then see the possibilities using the most accurate Airbnb Profit Calculator!
Check the Airbnb Data of Your Market According to Amenities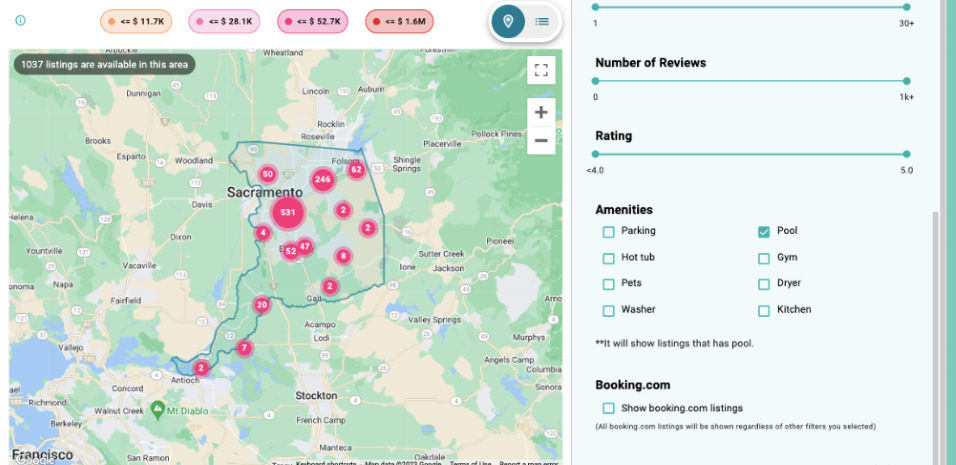 Find a profitable
investment property
Use powerful analytics to discover lucrative & traditional Airbnb properties within minutes.
Find a profitable
investment property
Use powerful analytics to discover lucrative & traditional Airbnb properties within minutes.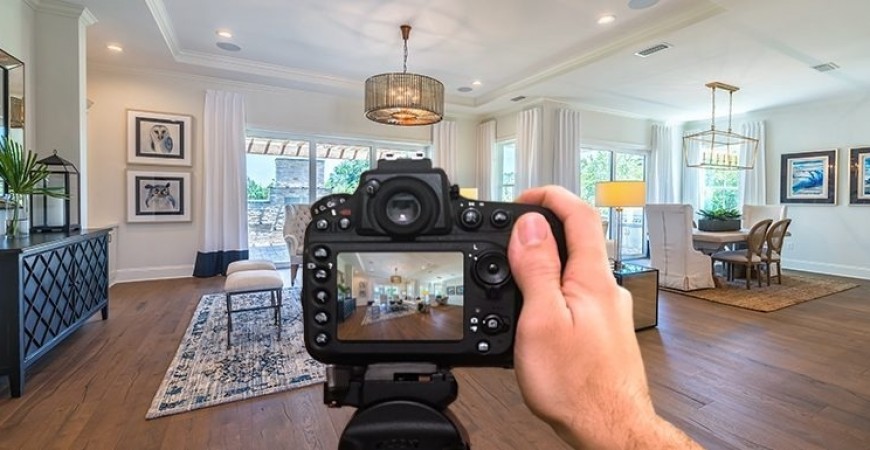 Last updated on June 23rd, 2023As an Airbnb host, you'd definitely agree that your listings are a product of hard work, determination & hard-earned money! …