Last updated on June 26th, 2023
How to increase the daily rate of your Airbnb listing while keeping your occupancy rate? Our team has been doing a crazy experiment using Airbnb data for the last couple of months. We wanted to see if we can make Airbnb hosts charge 20-30% more daily rate while maintaining their occupancy rates and without investing a hefty fee. 
We are a short-term rental analytics company processing 2 billion nights of Airbnb nights data every week and using this we were able to conclude that you can increase your daily rate and get the same amount of bookings, but by attracting different crowds and amending your offers. 
These are the example of common daily rate driver
Pet-friendly 

Hot tub or Pool 

Family-friendly 

Remote worker-friendly 

Long-term stay friendly 

Parking 




 
But the question is – how much of a higher daily rate can I increase by adding each of those services? A better question is, is there a way to identify this? 
Good news! Our demand research tool shows you the daily rate comparison of listings with certain services or amenity VS without. This can be useful if you are thinking of doing a rental arbitrage or if you already own vacation homes but looking to boost your revenue for this Summer. 
 Here are some case studies. These graphs are screenshotted from our app. 
Should I keep my strict cancellation policy?
Case 1. San Antonio, TX. Does your rental have a strict cancellation policy and happens to be located in San Antonio? Sad news, your listing is expected to have 40% fewer bookings than the listings without. If you want to increase your RevPAR, you may want to reconsider your cancellation option.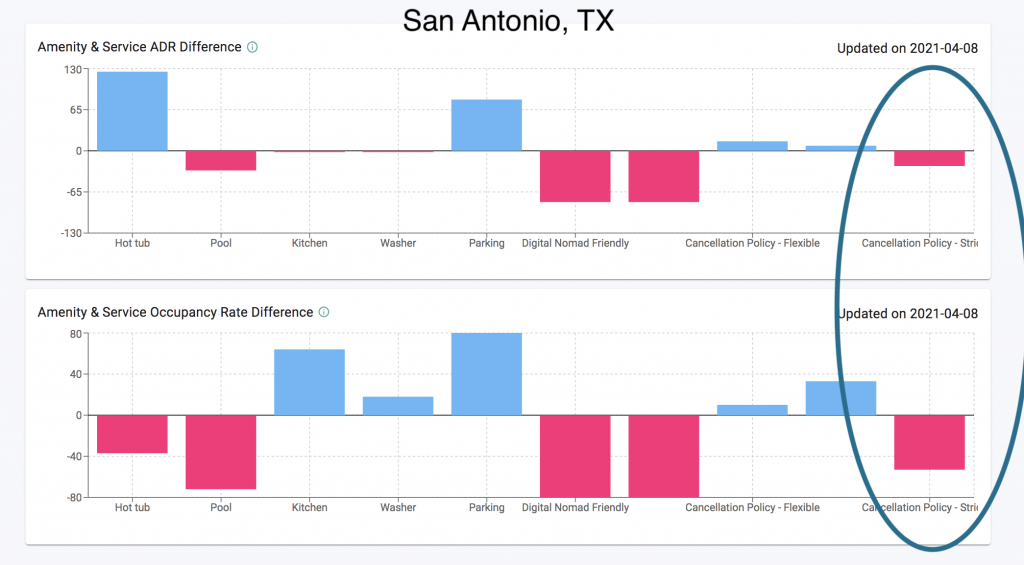 Should I make my Airbnb mid-term stay friendly?
Case 2. Navarre Beach, FL. It looks like it's time to take care of the needs for mid-term stays. Airbnb guests are looking for a kitchen, washer, and parking rather than paying a premium for a hot tub or pool. They may prefer to just visit a beach nearby! You are highly likely to increase your RevPAR by equipping washer and kitchen (and parking if you can).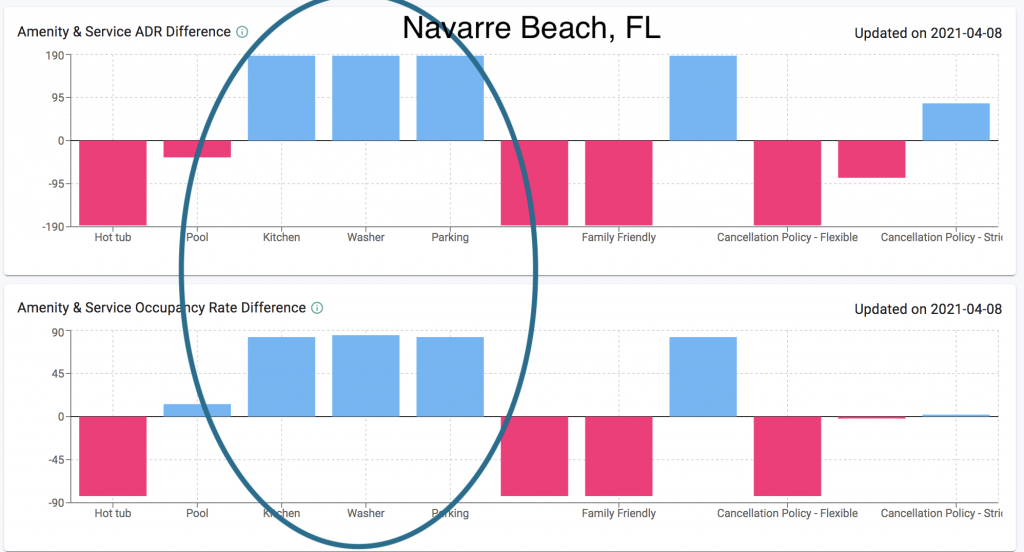 Should I make my Airbnb pet-friendly?
Case 3. Sunriver OR (But this pattern was observed from many other destinations in the US)
Americans love traveling with their pets or at least they are willing to pay a huge premium for it, at least according to the data we see. We've seen a surge in both ADR and occupancy rates for pet-friendly listings in Sunriver, OR. For your reference, Sunriver is one of the top summer destinations in the US in 2021, 60% of Airbnb nights are already booked for this summer.
There will be much more wear and tear by allowing pets to be at your vacation home, but you may change your mind after knowing how much you can earn more by allowing pets at your home.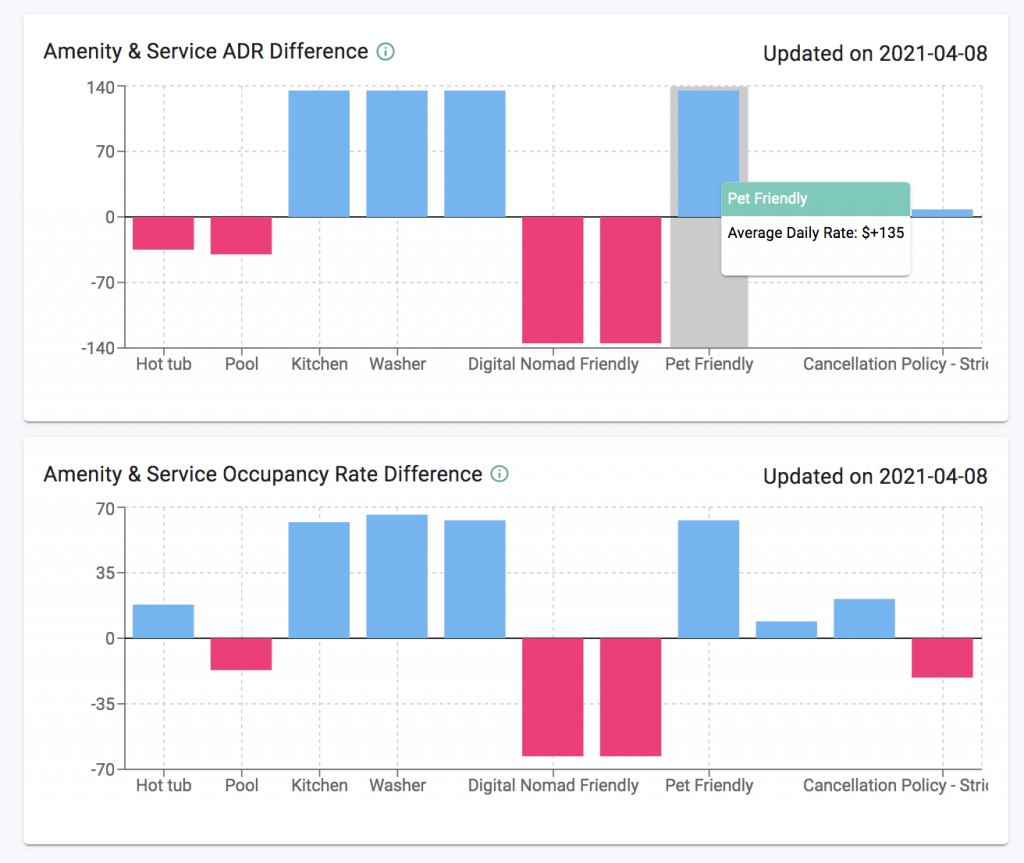 Should I buy a washer for my Airbnb?
Case 4. Brighton, UK.
What's happening in the UK? There's a high demand for a mid-term stay in this traditional vacation destination called Brighton. This reflects the current travel restriction in the UK. People aren't allowed to travel unless it's necessary. Listings with hot tubs or pools won't be booked, but listing with kitchen and washer are on-demand.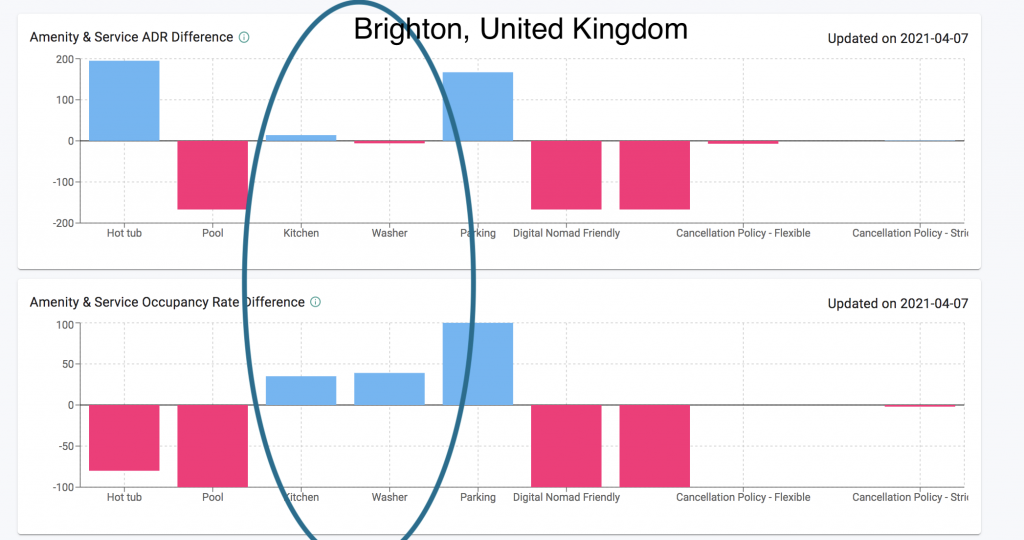 Here's a disclaimer. The data only shows the daily rate and the occupancy rate difference between listings with a specific amenity vs without. So, there could be a scenario where listings with pools have lower daily rates but it's not because of the pool but because the listings with pools tend to be far away from a beach.
Nevertheless, this can help you understand the demand in your market. Many of our users are using this tool to find the supply-demand gap in the market. Then, they strategically market their listings to target the under-supplied group of guests. This typically results in a surge in their amount of bookings and an increase in the RevPAR.