Massachusetts investment property
Key

Takeaways
‣ With its hundreds of world-renowned educational institutions, Massachusetts is known as the most educated state in the United States. With the average property price of $545,516, it might be a challenge for a lot of investors to tap into its Airbnb market. 
‣ In this article, we will provide you with a list of the best rental markets in Massachusetts for under $200K. You will also learn how these markets can go in terms of profits by using short-term rental data analytics.
Introduction
You do not need a Harvard degree for you to find profitable Airbnb markets in Massachusetts. With just a click, you will realize you can find one with ease using short-term rental data analytics. But if you have a maximum property price for an investment, then this article is for you. 
In this article, we will talk about profitable Massachusetts Investment Property Markets that you can enter with less than 200K capital. 
Is Massachusetts good for real estate investment? 
Nearby educational institutions are among the considerations when buying an investment property. Massachusetts public education system operates 1,751 schools. On the other hand, the state has 866 private schools.  
It just also happens that Massachusetts is the location of hundreds of world-renowned universities such as MIT, Harvard, and Tufts.  Top liberal arts colleges such as Amherst, Wellesley, Smith, and Williams are also found in Massachusetts. It is no surprise that Massachusetts tops the list of the most educated state. In short-term rentals, investors can expect a high number of exchange students needing an Airbnb.
How much does Airbnb make in Massachusetts?
According to March 2023 data from Airbtics, a one-bedroom Airbnb property in Boston can earn $204 from a strong occupancy rate of 79%. Its peak season is June. This can bring in $6,399 for this month alone. Annually, the said property size can generate an income of $56,935. These figures can manage the expectations from investing in Boston real estate market.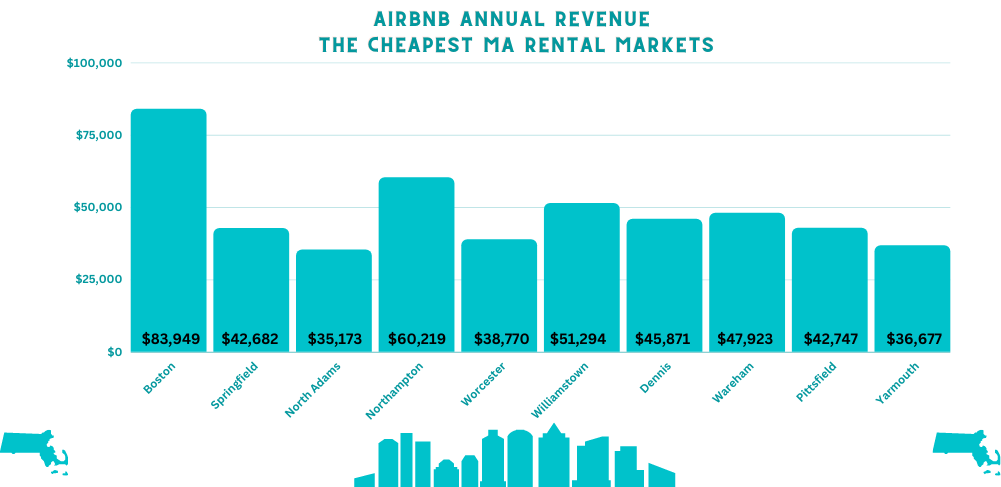 Cheapest Cities for Airbnb Investments in Massachusetts Under 200K
Massachusetts' average property price is $545,516. This price alone makes real estate investing in Massachusetts seem like a hefty investment. But below is the list of markets that you can enter with just under 200K. We can also rely on Airbtics Dashboard to see if these markets can bring in profits. And according to data, they can! 
Conclusion
In this article, we have found out that buying a rental property in Massachusetts is within reach. Of course, all investors who spend even USD 200K on an investment property still want to make the most out it. For this, we can rely on short-term rental data analytics to monitor the Airbnb Massachusetts market. It will give them a bird's-eyeview of important data like occupancy rate and average revenue. This way they will be guided to continue making informed business decisions.
If you fear doing the math, let this free Airbnb Profit Calculator do the analysis for you.
Dive Deep into The Most Profitable
Airbnb Locations in Massachusetts and Nearby Cities.
No Harvard Degree Needed!
Ramon Meris is a content writer for Airbtics. Guided by data analytics, he produces articles on various US short-term rental markets. Outside work, he is a reader, animal lover, and foreign language learner.