How has Covid-19 affected international tourism?
There is an estimated decline of 58% to 78% on international tourist arrival this year due to the Covid-19 pandemic, as stated by UNWTO. With planes forced to stop flying and borders closed between countries, people have no choice but to stay put. Looking at the current situation, international travel does not seem to be going back to normal any time soon and people have gradually turned to domestic travel. There are several cities that managed to recover economically from the pandemic through domestic tourism.
Increase in domestic tourism
Although international tourism may be essential for a greater growth in future, domestic travel will help to achieve more sustainable tourism revenue all year round, especially when faced with potential seasonal and regional restrictions.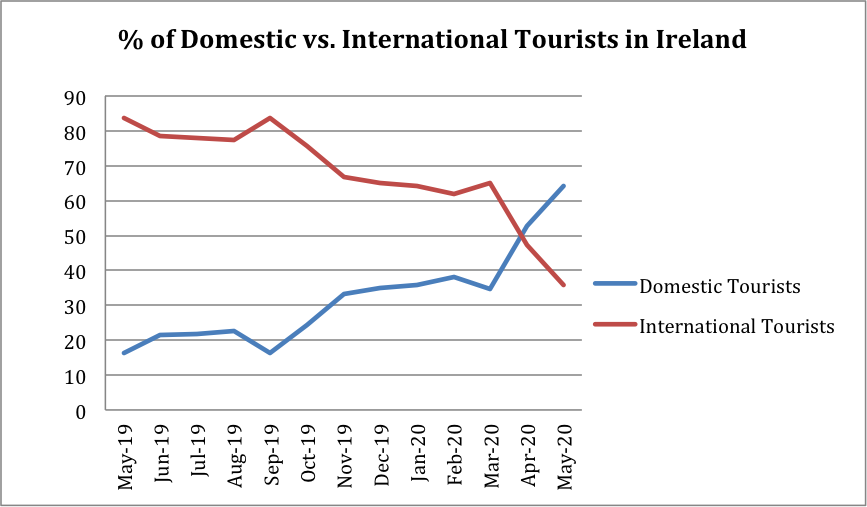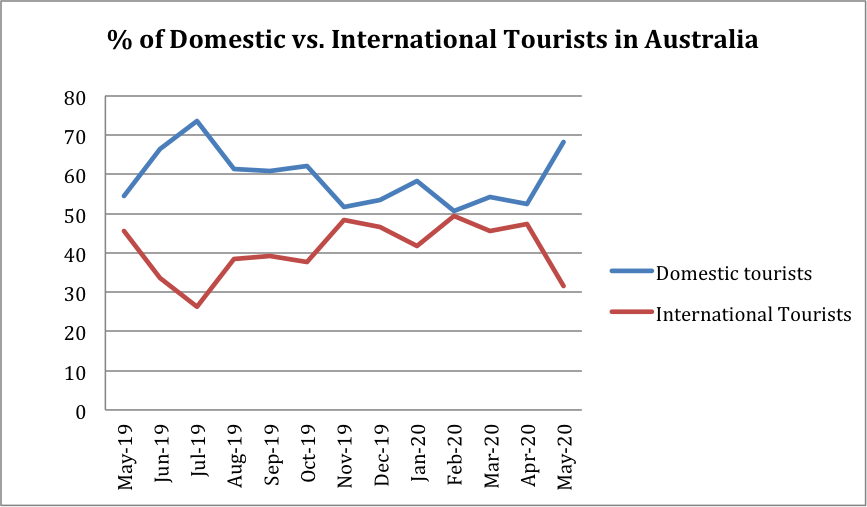 In Australia, our research data have shown that Covid-19 did have a massive impact on the ratio of domestic and international tourists, beginning from April 2020. However, it also shows the percentage of domestic travel in the country has constantly been higher, even before the pandemic. Hence, by designing good marketing campaigns to tap on the domestic trend may help to boost the tourism revenue.
There has been a growing interest in staycation, where locals choose to stay in other accommodations in their country. This is apparent from June 2020, after the lockdown period in most countries. According to our data on Airbnb bookings, the countries that show the greatest surges in staycation are the United Kingdom, Ireland, Canada, Malaysia and Australia.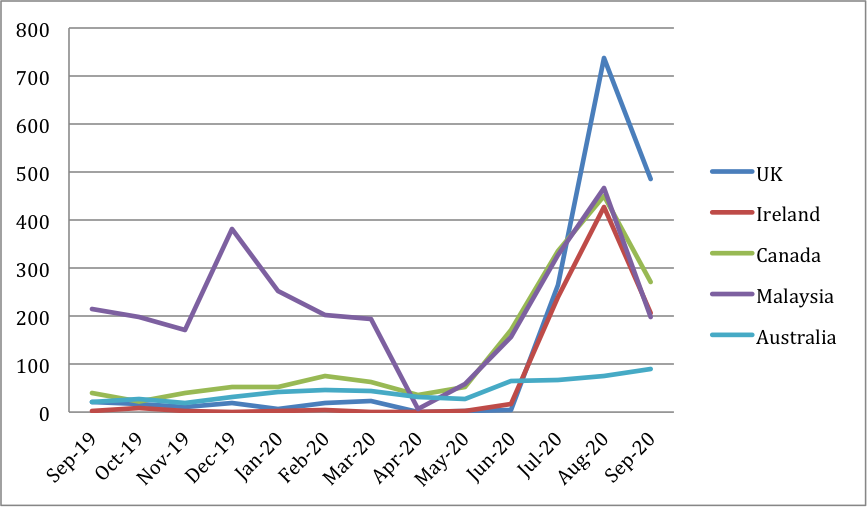 The above graph shows the number of times the word 'staycation' was mentioned, pulled from every 1,000,000 Airbnb guest reviews in the UK, Ireland, Canada, Malaysia and Australia. From the risen trend of mentions from June across all five countries, it is likely that many of these Airbnb guests have turned to domestic travel for their summer vacations. 
Gain Exclusive Insight
Take a look at how DMOs and Travel Boards are utilising data to adapt to the change and increasing visitors to their destinations
How do some DMOs adapt to the change?
We have seen many DMOs that initiated marketing campaigns by introducing their digitalized platforms to stay connected with their fellow consumers. An example of this is the Singapore Tourism Board (STB), who aims to promote domestic tourism by introducing digitalized experiences and partnering with various organizations that share similar target audiences. One of the partners includes Airbnb Experience, where they worked together to introduce virtual tourism experiences on the attractions in Singapore. STB also has a seven months long collaboration with Klook this September, where they encourage locals to take on adventures and explore a different side of Singapore. 
A similar campaign was also carried out in the United Kingdom. Visit England partnered up with DMOs across the country, where they started the "Escape the everyday" campaign in September. On their platforms, they share different types of things to do across regions, with the hope to boost domestic travel through this autumn and winter. Moreover, social media influencers are engaged in their promotions, which may appeal to the younger crowd and motivate them to join in the domestic tourism trend.
It is important for DMOs to be aware of the changes before they can adapt to them. So first, identify the trends and target markets frequently. From there, anticipate their needs and wants, which would then help in curating effective marketing strategies. Airbtics possesses a huge amount of data related to short-term rentals around the world. We provide our clients with up-to-date information based on their needs, such as the most popular regions amongst visitors, top few origins of visitors that are visiting the city, the amount they spend on accommodations, their travel expectations and much more. 
What should DMOs do to boost tourism?
DMOs act as a platform between suppliers and consumers on what their city has to offer. In brief, there are five key points for DMOs to effectively increase the number of visitors.
Identify the majority profiles of people visiting at different time points
This is the most basic yet crucial step. Knowing your market, it is like fishing where the fish are. Our team has spoken with multiple DMOs over the past few months who shared insights on the difficulties in getting specific data such as the top three guests' origins who are visiting their cities. Hence, many resorted to getting the rough gauge of their visitors' profiles by means of guessing. Airbtics uses Artificial Intelligence (AI) technology in getting data of visitors through Airbnb reviews. We are able to get the data for any regions specified by our clients for as low as $65 per month. Feel free to have a read on our free case study to help you get a better understanding on how we can help tourism boards attract visitors through a cost-effective and smart way.     
Understand and anticipate the needs and wants of your target market
By keeping your organisation updated with the latest travel and market trends, you can better understand what people are looking for and how you can market your products as best befits the needs of your consumers. Numbers speak louder than words, with access to real time data from Airbtics such as the increase in usage of "staycation" amongst guests helps in the realisation of trends. Domestic tourism has great potential and is proven to be a viable market, hence DMOs should consider looking at it as more than a short-term plan.
Ensure your website is up to date with credible and relevant information
In this digital age where people look for most information online, it is essential to have a one-stop website with an abundance of credible and relevant content as well as direct links to local businesses that is neatly categorised, easy to navigate and highly accessible via online search engines.
Take advantage of the social media tools
With the growing number of people on social networking these days, being active and responsive on social media platforms help to drive traffic and build rapport with consumers, thereby, gaining their trust. The great thing is the possibility to reach out to the market and gain awareness through organic marketing strategies. That is the beauty of technology!
Collaborate with other organisations to reach out to bigger audiences
Through partnerships with other organisations, it would benefit both parties that are working towards a common goal in bringing out more innovative ideas, reaching out to more people and gaining access to larger amounts of databases, which would be helpful for future marketing.
Gain Insider Access
Take a look at how DMOs and Travel Boards are utilising data to adapt to the change and increasing visitors to their destinations