Last updated on September 4th, 2023
Short Term Rental vs Long Term Rental in Australia: Should you do short-term rental vs long-term rental in Australia this 2023? Be informed and make your rental property recession-ready!
Short Term Rental vs Long Term Rental in Australia
If you're a traditional landlord in Australia looking to increase your income, short-term rentals could be the solution you're looking for. However, as an Airbnb host, it's essential to do your part to make your short-term rental profitable. One effective way to do this is by incorporating

data analytics

into your rental strategy. By analyzing market trends and pricing, you can charge a competitive nightly rate and attract more guests.
Introduction
If you're a rental property owner in Australia, the upcoming 2023 recession may have led you to reconsider your investment strategy. However, rest assured that we're here to assist you in navigating these uncertain times.
Regardless of whether you possess short-term or long-term rental properties, this article can offer you valuable advice on how to make well-informed investment choices. We believe that economic data should not only be available to analysts but also to property owners. By utilizing user-friendly data analytics, you can optimize your real estate investments and remain ahead of the curve during the impending downturn.
Differences between Short Term Rental Vs Long Term Rental
Let's first distinguish one from the other. As we all know, long-term rentals have been a traditional form of housing. They are offered to tenants who choose to reside on a property for at least 6 months with a binding lease agreement. Property owners decide to collect a higher rent than the mortgage to generate monthly income that remains unchanged regardless of the ever-changing economic circumstance.  
On the other hand, the setup for a short-term rental is renting out a property to visitors or guests for a very short period. It works pretty much like hotels where guests can stay in for only a couple of days. This can viably extend to weeks or even months. Short-term rentals offer a cozy atmosphere as well as significantly cheaper nightly rates compared to hotels. This is why guests keep coming back to short-term rentals. 
Since short-term rentals have become widely used all over the world, rental arbitrage is another popular trend.  It has given a lot of nonproperty owners a steady stream of passive income by simply re-renting a unit and listing it on Airbnb, VRBO, or HomeAway. This is a wise, effective, and legal income-generating hustle. Just imagine having a side income from a property that you do not own. 
Rental Regulations in Australia
Long-Term Rentals in Australia
In general, Australian rental regulations vary depending on the region. But they usually cover a wide range of topics including rent increases, lease agreements, bond payments, repairs and maintenance, and termination of tenancy. Here are some key points to keep in mind:
Tenancy agreements: A fixed-term agreement has a specific end date, while a periodic agreement continues until one party gives notice to terminate.
Rent increases: Landlords can only increase rent once every 12 months. They must give the tenant at least 60 days' notice before the increase takes effect.
Bond payments: Landlords can require tenants to pay a bond, which is typically equal to four weeks' rent. This bond must be lodged with the relevant state or territory authority and returned to the tenant at the end of the tenancy, provided there is no damage to the property.
Repairs and maintenance: Landlords are responsible for repairing the property to a certain and reasonable extent. Tenants are responsible for keeping the property clean and notifying the landlord of any immediate repairs.
Termination of tenancy: A landlord can only terminate a tenancy in certain circumstances, such as if the tenant has breached the tenancy agreement. A tenant can terminate a tenancy by giving the required notice period, which is usually 14 days for periodic tenancies and the remaining term for fixed-term tenancies.
To prevent any legal complications, landlords in Australia must have a clear understanding of the regulations in their specific state or territory. Landlords can obtain further details and guidance from their local government or rental authority.
Short-Term Rentals in Australia
Just as in long-term rentals,  keep in mind that Airbnb regulations also vary depending on the state or territory in which your rental property is located. However, in general, short-term rentals are regulated to ensure safety, quality, and fair trading practices for both renters and property owners. Here are some important points to consider:
Registration and licensing: Short-term rental hosts may need to register their properties or obtain a license before operating in some states and territories. For instance, hosts in New South Wales need to register their properties with the government and obtain a unique registration number.
Safety requirements: To ensure guest safety, short-term rental properties must meet specific safety standards, such as smoke alarms, fire extinguishers, and safety switches.
Insurance: Hosts may be required to get insurance coverage that specifically covers short-term rentals.
Planning and zoning regulations: Some areas may have planning and zoning regulations that restrict or limit short-term rentals.
Noise and nuisance: Short-term rental hosts must ensure their properties don't create excessive noise or nuisance for neighbors.
Taxation: Short-term rental hosts generally need to pay taxes on their rental income, which may include Goods and Services Tax or other taxes specific to short-term rentals.
To avoid legal issues, it's important for short-term rental hosts in Australia to know the regulations in their state or territory. Hosts can seek more information from their local government or rental authority.
Advantages of Long-Term Rentals in Australia:
Below are the advantages of operating a long-term or traditional rental property in Australia:
Growing population – With over 26 million people, Australia displays a positive population growth with an annual increase of

1.6%

. Migration always plays a huge part in this number with

303,700 people deciding to live in Australia in 2022 alone.

A steady stream of income – You are ensured to have a steady and regular monthly income immune to erratic economic conditions. The average weekly rent in Australia is

A$480

.

Steady operating costs – You do not need to shell out money upfront for furnishings since the tenants will most likely have their own.
Laid-back management – You will have less interaction with your tenants, and you do not need to be hands-on with managing your property. This is risky, however, since damages on the property can get worse if they're left unattended. 
Advantages of Short-Term Rentals in Australia:
On the other hand, here are perks that short-term rentals can offer to Airbnb hosts in Australia:
Strong tourism industry – 

Over a million foreign tourists

visit Australia each month. This makes the country a top-notch global spot for tourism. The tourism industry in our country adds up to

$152 billion

to the economy, sustaining over 300,000 enterprises, and providing employment to more than 660,000 individuals in Australia.

Flexible pricing – You can adjust the nightly rate depending on seasonality or market demand.
Experience managing the property – Building connections with people by hosting different guests. If this is not your thing, you can still manage the property remotely via automated management tools.
Feel more control over the property –  Since guests only stay in for a limited time, you can easily make changes to your property. Without getting worse, any damages can be repaired in no time and also be covered by Airbnb insurance.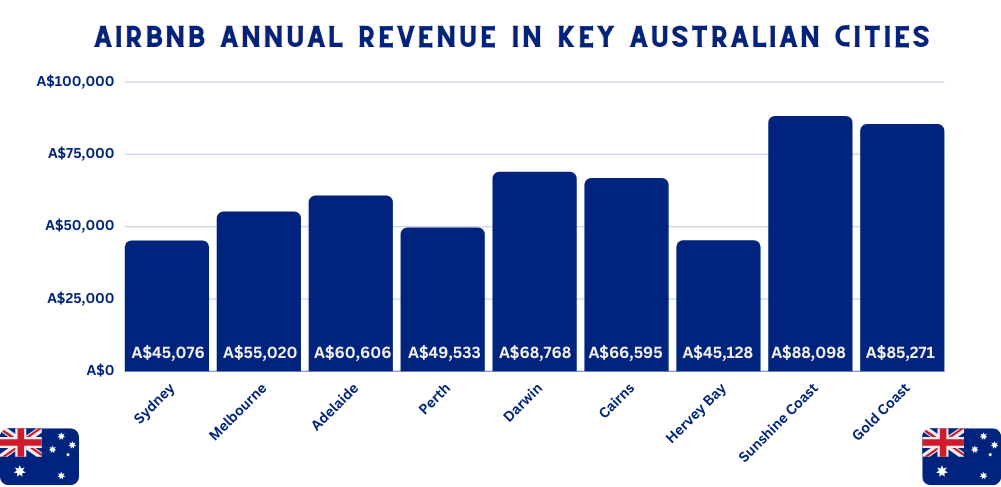 Location

Long-Term Rent

Existing Airbnb listings

Airbnb Annual Revenue

Airbnb occupancy rate

Seasonality

Average daily rate

Sydney

$820 per week

12,307

A$45,076

69%

38%

A$177

Melbourne

A$720 per week

15,320

A$55,020

70%

38%

A$219

Adelaide

A$420 per week

3,816

A$60,606

83%

34%

A$197

Perth

A$550 per week

415

A$49,533

91%

25%

A$146

Darwin

A$350 per week

864

A$68,768

68%

89%

A$229

Newcastle

A$765 per week

1,164

A$54,656

62%

44%

A$255

Cairns

A$950 per week

263

A$66,595

85%

52%

A$216

Hervey Bay

A$550 per week

381

A$45,128

79%

38%

A$162

Sunshine Coast

A$600 per week

6,535

A$88,098

85%

40%

A$294

Gold Coast

A$595 per week

7,117

A$85,271

90%

38%

A$284

Source: Airbtics Dashboard
Conclusion
As an investor, you want to make the most out of your capital, which can range from hundreds of thousands to millions of dollars. However, real estate investments can be tricky, with limited options for property optimization. That's why owners of Australian rental properties should consider strategizing their rental business to ensure financial security, especially in the threat of an economic recession. Otherwise, you could also consider targeting one of the most profitable Airbnb locations in the US if you want to try a different market.
Now that you know the difference between short-term vs long-term rental income, Airbnb is the key to having better returns. But to make it work, Airbnb hosts must also do their part. Incorporating data analytics into your strategy can provide valuable insights for setting the right nightly rates. Fortunately, Airbtics offers macro and micro views of rental markets, enabling you to make data-driven decisions and increase your market rent.
Enticed to see how your property will make via Airbnb? Check out this accurate Short-Term Rental Profit Estimator!
Be on Top of Your Airbnb Market &
Make Your Property Investment Recession Ready!

Find a profitable
investment property
Use powerful analytics to discover lucrative & traditional Airbnb properties within minutes.
Find a profitable
investment property
Use powerful analytics to discover lucrative & traditional Airbnb properties within minutes.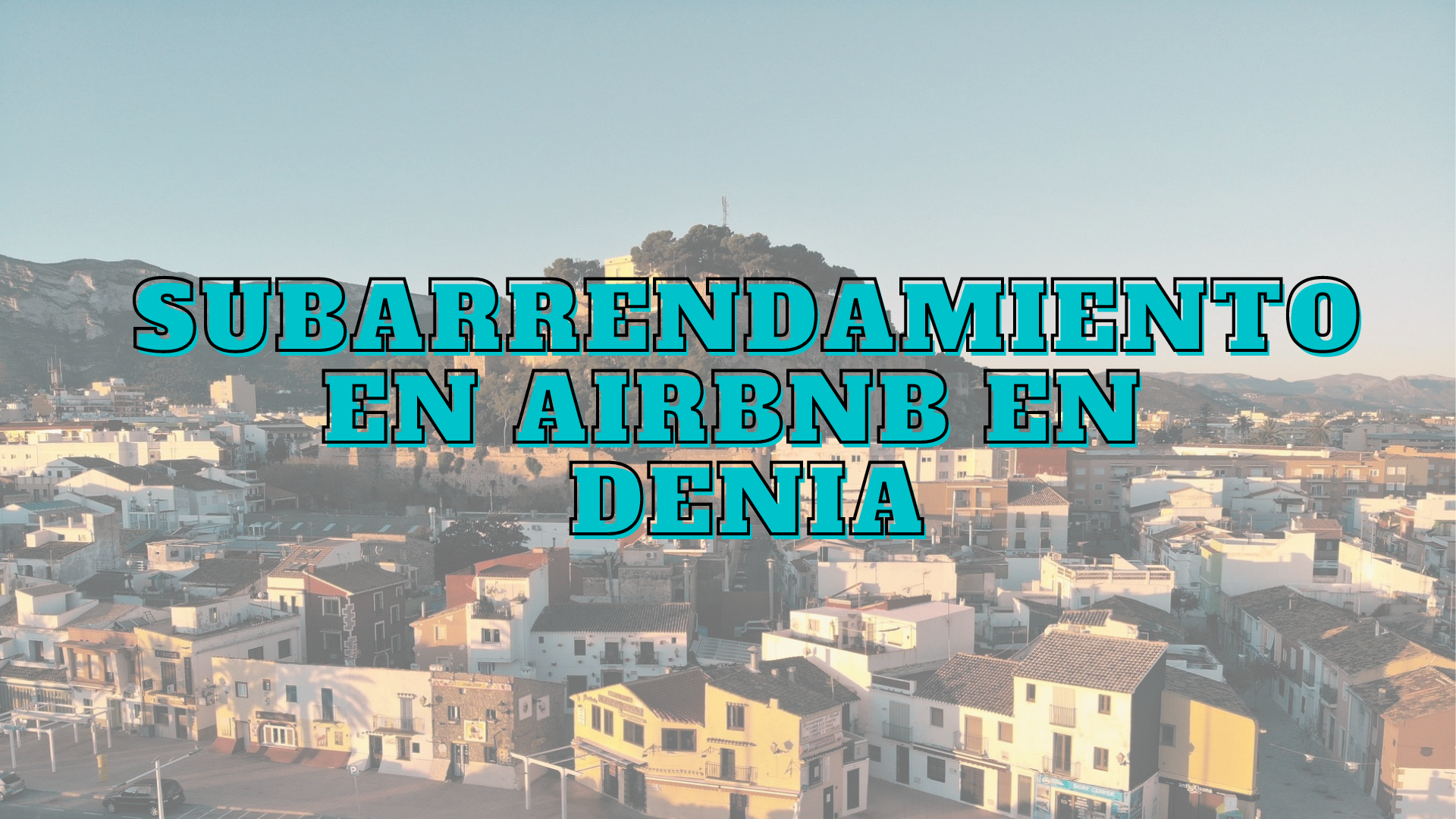 Last updated on June 22nd, 2023Estas interesado en conseguir la independencia financiera por medio de un ingreso pasivo? Te damos un aviso: no necesitas ser …