Student housing investments can be considered for those who want a more stable & long-term profit. Study USA confirms that there are more than 900,000 international students in the USA. And they keep increasing! 
Students from around the globe have been attending face-to-face classes after the pandemic restrictions were lifted. This means that real estate investors & property owners are ready to generate profit, too!
In this article, we'll discuss the factors to consider when choosing a student housing investment & the pros and cons of investing. Bonus: We added a suggestion on finding properties that can generate more profit at the end. Continue reading to learn more!
Student Rental Investment Properties
There are several college towns and university cities that cater to student housing because of their growing population. If you are considering investing in a property for student housing, then you have to do your research first.
Depending on your property's location and other factors, a consistent demand for student housing is possible. Ideally, you can also increase your rent price if there's a high demand.
For instance, Austin is ranked as the best college town in America because it generates fast-growing professionals in various careers. Some of the universities include the University of Texas at Austin, Austin Community College, and Concordia University among others. 
However, you also have to check certain metrics to identify whether this city will provide a steady rental income. This includes median home prices, changes in home values, market saturation, and cash-on-cash return rate.
How to Identify the Best Student Housing Investment?
You can identify the best student housing investment based on the following factors:
1. Economic Stability
Not all college towns have a stable economy. You can gauge this based on research, online forums, or even government websites to confirm. A city's economic stability is important to check in order to identify if a student housing property can generate long-term profitability. 
2

.

Location: Proximity to Campus
On-campus dormitories and housing are usually offered in most universities. However, they could be easily crowded and fully booked. Plus these are often for freshies who want to socialize! So investing in an off-campus can be your best bet when looking for a location. 
If the property is a little far from the campus, you can make sure that there's access to public transportation and is walkable by students. 
3. Property Type
Do you plan on choosing dormitories over private student housing? Maybe you can even offer both! Your decision should depend on your budget and the kind of students that the nearby university caters to. 
For instance, if there are more master students in uni and freshmen are still on a hybrid setup, you can opt for investing in private student housing instead. Unlike freshmen students who are happy to share a room and socialize with another student, master students may not feel the same way.
4. Supply and Demand
Is there sufficient housing to support the demand for off-campus housing? This may vary per location and zoning laws in college towns. The demand for off-campus housing may be declined if there is already enough existing housing for students.
Why Invest in Student Rental Properties?
Here are some of the pros and cons of investing in student rental properties:
♦ PROS
1. Excellent Source of Income + Higher Yields
Student housing investments can be an excellent source of income. Students typically pay more rent in comparison to other tenants, so you can operate shared student housing.
2. Low Maintenance Costs
Unlike Airbnb guests, students are generally satisfied with a comfortable home with basic amenities. They generally have fewer demands on the property, which means that there are low maintenance costs for student tenants.
3. Guaranteed Rent Payment
Students are less likely to have credit histories, so they must have co-signers on their lease contracts. No worries about not getting paid for the month as their parents or guardians are likely to come up on their behalf!
♦ CONS
1. Seasonality
Typically, students rent temporary housing during the entire school year. This means that during summertime, your property can be vacant.
Pro tip: During the off-season, you can create a listing on Airbnb and make some money!
2. Wear and Tear Items
Student housing properties can easily get damaged, especially if overlooked. While students are generally not known for being clean, molds and pest infestations can instantly tear the property apart.
To avoid these mishaps, you can let the students and guardians know that they have to report them as soon as possible.
3. High Turnover
Once a tenant graduates or decides to move into a new student housing, you'll need to fill their room and look for new tenants. It could be difficult, but you can always promote your property on social media!
Best City for Student Housing Investment
Austin, Texas, has been renowned for its top universities, making it a great investment for student housing. According to the Student Housing Guide in Austin, the best neighborhood for student property investment is Barton Hills. Due to its accessibility and amenities, most families prefer this neighborhood.
According to Trulia, there are several properties for sale in Barton Hills. The cheapest one available is $449,999 for a 1-bedroom apartment. However, this is definitely not an ideal investment for catering to only one student in an entire year!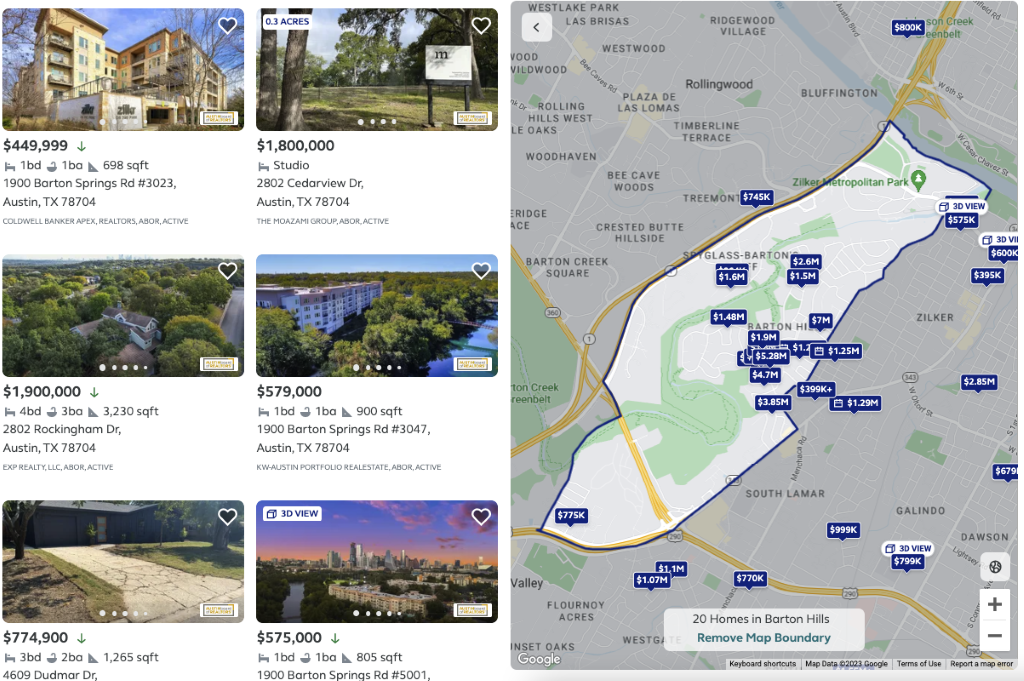 It could be a lot easier to speak with real estate agents and see the property, or you can also use short-term rental analytics like Airbtics to discover high-return properties.
According to Airbtics' data, you can spend $1,188,690 for a 5-bedroom property in Austin with a gross rental yield of 18%. If you'd like to try both student housing and Airbnb during off-seasons, you can earn an average annual revenue of $217,866. 
You can even discover other properties and see your competitors' listings on this dashboard to understand the market better.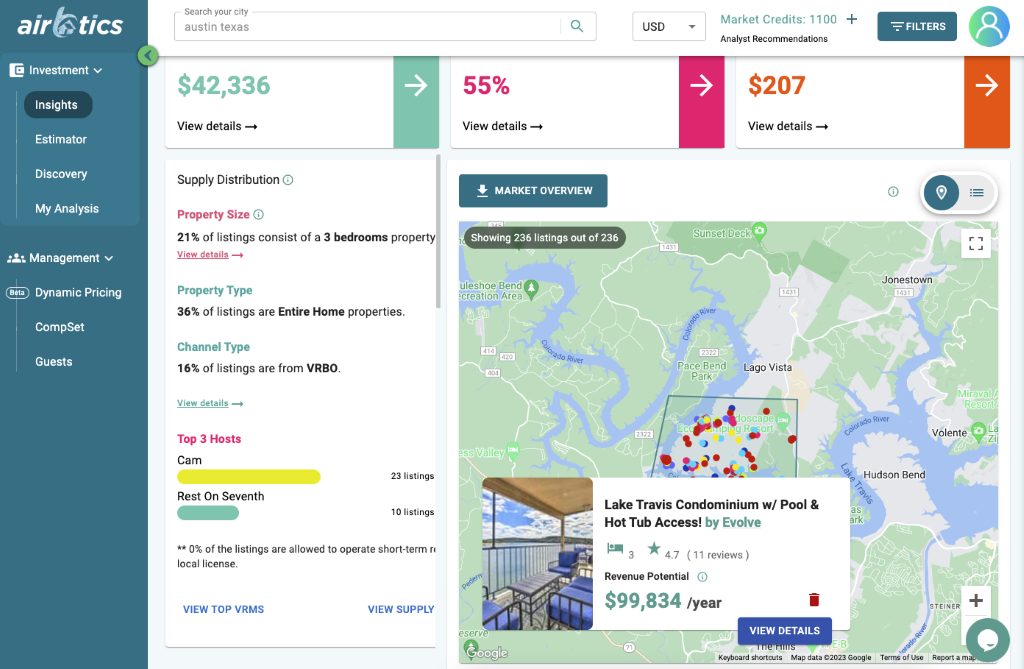 Conclusion
While there are several college towns that have the potential to start student housing investments, we recommend doing your research first. This is where a smart & reliable tool like Airbtics saves the day! 
It's bad enough to waste money and energy on a property that won't meet your financial expectations. But what's worse is not taking advantage of resources to avoid losses.
Once you set your eyes on a particular city for student housing, it's best to analyze and compare each property's prices and returns. Conducting market research using STR analytics tools like Airbtics will help you make a wise decision that you won't regret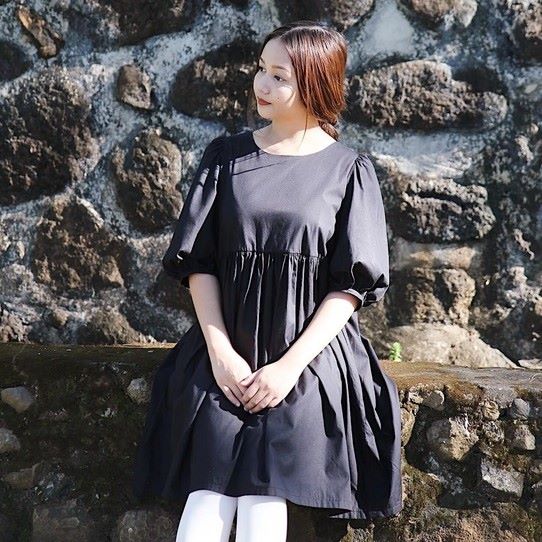 Robyn is a passionate content writer about short-term rentals and is dedicated to research & sharing property investment strategies and analysis worldwide. She is a graduate of Alliance Française de Manille, a songwriter, an animal advocate, and an avid fan of The Beatles since birth.