As the year comes to an end, it's safe to say that Airbnb trends and insights have gone through a rollercoaster of fluctuations within the past year. With tests for COVID-19 more widely available, destinations finding ways to safely reopen without the need for 2-week quarantines, and a vaccine already in sight, constant change is the new "normal". With a more positive outlook on the pandemic front,  the predictions for Airbnb travel trends and insights for 2021 are highly anticipated by those waiting for the markets to bounce back. Data analytics and accurate information play a vital role in understanding these predictions for the next year as Airbnb hosts, property managers, destination marketing organizations (DMOs), and vacation rental professionals alike are buckling up their strategies and tactics for business in 2021.
Here are the top 5 Airbnb travel trends and insights for 2021 based on the current climate in the short-term rental industry:
1. Year-over-Year (YoY) growth in Airbnb bookings will bounce back eventually
North America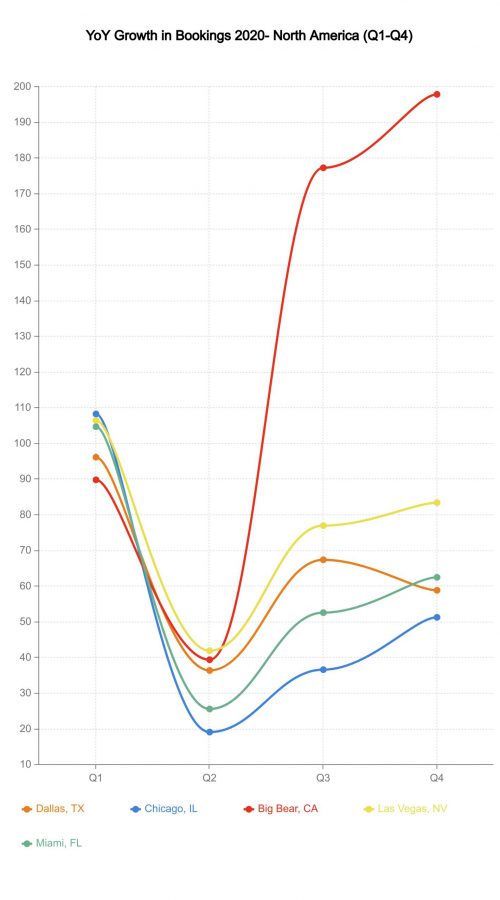 Throughout the year, the U.S. experienced diverse responses to the pandemic as some states enforced more strict stay-at-home orders while other states still have yet to enforce strict lockdown procedures. This varied response to the pandemic is reflected in the data trends of YoY growth in different regions of the U.S. and sets the foundation of which Airbnb trends will continue into 2021. 
One factor that may change the predictions is the advent of the COVID-19 vaccine. On Friday, December 11, 2020, Pfizer and BioNTech announced the historic first authorization of a COVID-19 vaccine in the U.S. in an effort to deliver hundreds of millions of vaccine doses to Americans by the end of 2021. The vaccine will be given to healthcare workers and high-risk elders in care facilities first, but how soon the vaccine will be available to other civilians is still up in the air. If the vaccine is successful at keeping American travelers safe from COVID-19, 2021 may be able to see more drastic YoY growth in the average number of bookings for properties. 
Currently, the U.S. is still experiencing the devastating effects of the pandemic as some states are once again shutting down, such as New York's ban on indoor dining, and a patchwork of fresh restrictions on social distancing in other states. YoY growth increased in only a select few major U.S. destinations.
As shown in the graph, the YoY growth of bookings in Big Bear, California grew even more in the 4th quarter of 2020 than compared to Q1. We can infer from this trend that Big Bear will continue to thrive as a four season resort destination in 2021. On the other hand, several other American cities have yet to reach pre-COVID levels.
This individualistic course of action from each state spares no room for a unified, solid trend that defines the predictions for vacation rentals in the U.S. However, Airbnb hosts and other short-term rental industry professionals can take a closer look at the data for each state and how each has performed during each quarter of 2020 to predict the near future in 2021. 
Europe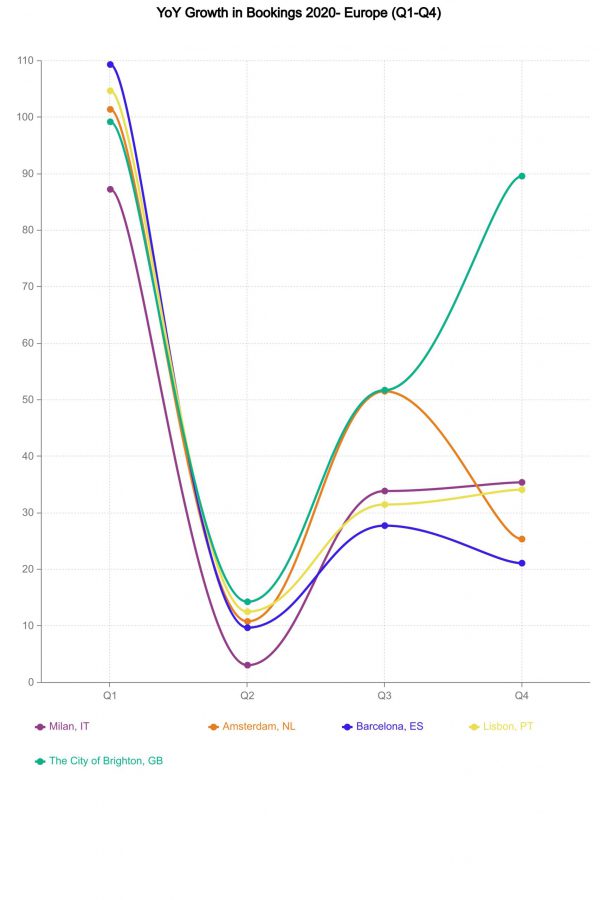 In Europe, the Airbnb trends accumulated from 2020 indicate that despite several hopeful factors, Europe has yet to see drastic improvements in their YoY growth for Airbnb. The Airbnb trends for 2021 in Europe point towards a slower climb towards normalcy as each European country continues to battle their own COVID-19 cases within their borders. 
This December of 2020, a new and more infectious strain of COVID-19 shut down Europe, causing a new wave of travel bans and restrictions, creating a logistics crisis in the U.K., and hitting European stocks quite severely. About 18 million people in Southeast England went back into lockdown, an event that would certainly cause Great Britain's YoY growth in booking to decrease once again going into 2021. We can see from the trends this year how tremendously cities in Great Britain have had to pull back from their Airbnb bookings, and we can expect the same from this new wave of COVID-19 infections.
In other European cities, we can see a similar declining trend in Airbnb booking growth as the year comes to an end. Europe will continue to balance this new and infectious COVID-19 strand with the introduction of the new vaccine going into 2021, so it's vital that Airbnb hosts and vacation rental professionals to keep track of the YoY growth trends during this time.
Going forward, the Airbnb trends and insights will reflect all of the different factors that have impacted the YoY growth in Airbnb bookings in different fluctuations. Short-term rental professionals can use this information to understand where their current strategy stands each quarter and use each data point as a benchmark to improve or address different pain points.
Asia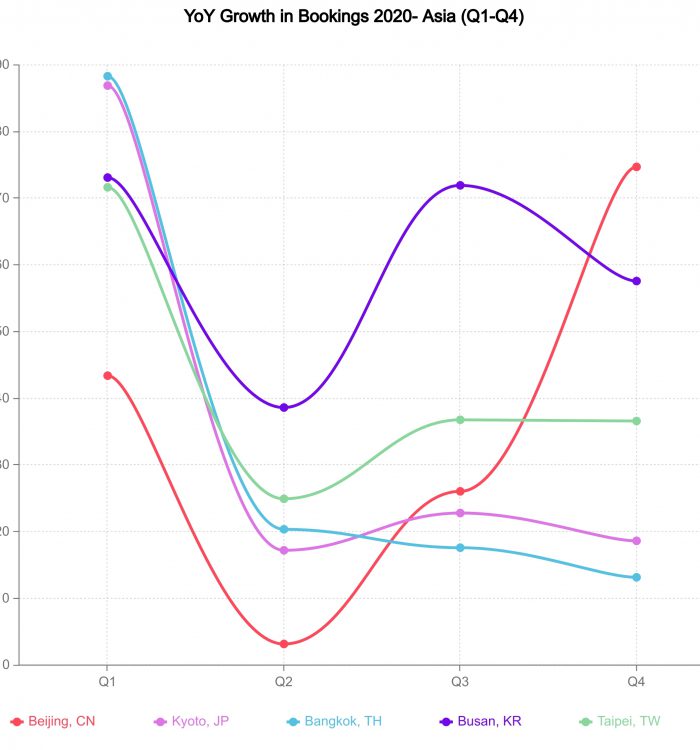 Major cities in Asia were the first to experience the deadly effects of the virus, control the virus, and also to experience second waves of infections. Going into 2021, the Airbnb trends and insights for Asia indicate that although many cities in Asia have controlled their infections, it will still take a significant amount of time for booking levels to bounce back to 'normal'.
Several different Asian destinations such as Thailand, Tokyo, Hong Kong, and South Korea have implemented mandatory 2-week quarantines for any foreigners coming into their borders in order to avoid new infections from outside visitors. This restrictive measure on travelers has had a significant impact on the YoY growth of bookings on Airbnb because travelers are deterred from traveling to these Asian cities with the requirement to pay out-of-pocket expenses to quarantine.
Going into 2021, there is no definite date when the 2-week quarantines will no longer be mandatory. Instead of only relying on current events and news, vacation rental professionals should also rely on accurate data reported from each major city to understand how profitable vacation rentals could potentially be in 2021 because data serves as an accurate precedent for upcoming trends.
Although different cities of the world are experiencing different phases of the coronavirus, the majority of experts predict "a rebound in international tourism in 2021, in particular by the third quarter of 2021, while around 20% expects it to occur only in 2022", according to the World Tourism Organization.
This prediction points towards a more hopeful future of bringing YoY growth of Airbnb bookings back to normalcy. As hosts, property managers, tourism boards, and financial institutions wait for this prediction to become reality, they can focus their efforts on preparing for this trend with Airbnb insights that help solidify their business model for 2021.
*Note* The YoY growth shown in the graphs is not the platform-wise YoY growth in Airbnb bookings, but instead the YoY growth of the average number of bookings for properties that are available in both 2019 and 2020. If you are interested in the YoY growth in bookings platform-wise (or gross booking value) visit here. 
2. Beaches are still trending destinations for Airbnbs in 2021
As the whole world continues to navigate the new 'normal' for travel, some destinations in the world have suffered more than others from travel restrictions and lockdowns. Despite the uncertainty of the travel industry, people all over the world are still hopeful of a future that allows safe travel. Many travel itineraries and trips for 2020 have been canceled, but more importantly, they have been postponed until 2021. Now that 2021 is already on the horizon, which destinations are trending? 
The easiest way to find this out is to do an analysis of internet searches all over the world. Using several different tools, Airbnb hosts and other professionals in the travel industry can find out where travelers will flock to once more restrictions are lifted by looking at the numbers. Understanding the numbers, demographics, and overall measurements in the travel industry for the upcoming year is a vital tactic to start strategizing for short-term rental business. 
Consumers and travelers are already looking forward to the summer of 2021, the summer that could redeem the time people spent cooped up in their homes with cabin fever. With hopes high and the case of the travel bug going around, it's no surprise that the majority of trending searches for travel destinations relate to most beaches and exotic island destinations.
Our data analysis on Airbnb reviews suggests that the appearance of the word "beach" increased by 2.7x during the pandemic, and will continue to spike in popularity. According to internet searches, there is a surge in searches for these specific destinations:
The Maldives

French Polynesia

Los Cabos, Mexico

Miami- The booming business of short-term rentals in South Florida 

Maui and Oahu

Punta Cana

Orlando

Las Vegas

Riviera Maya, Playa del Carmen, and Tulum

Cancun
All of these destinations point towards the public's movement toward more secluded areas and locations that are relaxing, vacation-style getaways. This trend indicated a huge shift from business travel within heavily populated metropolitan areas to more remote and private areas.
3. Properties optimized for domestic tourism are on the rise
We're not sure how long it will take for international travel and tourism to bounce back completely, but one thing is certain: domestic tourism and travel are some of the biggest Airbnb trends for 2021. 
Travelers looking for new, innovative ways to satisfy their desire to explore new destinations have fueled the booming popularity of domestic tourism. This upcoming Airbnb trend has already manifested in the last few quarters of 2020 as travel bans and restrictions lifted in some cities while others shut back down.
In other words, visiting local attractions and destinations within their own borders is a huge trend for the short-term rental industry that will stay relevant going into 2021 as people continue to search for staycation getaways to escape both cabin fever and the current international travel bans. 
One interesting result of the booming domestic tourism trend in the short-term rental industry is that properties in domestic locations near cabins, beaches, or mountains surprisingly experienced huge growth in 2020. These domestic destinations hit their best numbers while most short-term rentals in urban areas continued to decline. This shift in the movement of travelers flocking to more secluded areas is a significant key indicator of where STR professionals should invest in next in 2021.
In particular, this vacation rental trend is significant to hosts and short-term rental professionals because this key insight can help them re-strategize and pivot their business strategies based on different properties, locations, and amenities that will attract domestic travelers. Vacation rental professionals can use this data to visualize their objectives and goals for the new year and understand the new type of demographic they need to tailor their niche to (domestic travelers). 
As hopes are high and the desire to travel continues to fester, it's important that vacation rental professionals understand the sentiment of the data trends and re-prioritize their resources where needed.
Want more accurate insights?
Stay up-to-date with the current climate of the short-term rental industry at any moment, for any location.
4. More Airbnb properties are becoming long-term stays
Remote work is now more important than ever. This whole year, companies all over the world pivoted towards a more remote-friendly environment, getting rid of unnecessary physical presences, office buildings, and more. 'Work from home' is a defining trend in 2020 that will continue to shape the world's future of telework into 2021.
As we approach the new year, workers now place emphasis on the importance of being able to work remotely. The surge of remote jobs will continue into the new year as workers re-prioritize which tasks can be completed through video conferencing or emails rather than in-person. The WFH trend is highly relevant for Airbnb or vacation rental professionals because now, Airbnb listings are more likely to be booked for long-term stays.
The reasoning behind this trend is that travelers are no longer restricted by time or location to their jobs. Now, they can extend their stays in a destination while working remotely. Another huge factor behind this trend is that people now have the flexibility from remote work to try living in different areas or neighborhoods that might have a lower cost of living or a better quality of life.
Rental property hosts and short-term rental professionals can leverage this trend for their properties on Airbnb or VRBO in 2021 by strategizing their pricing model for their properties to accommodate long-term or mid-term stays. Instead of taking on several guests that only stay one or two nights, it would be more profitable and mutually beneficial for the STR property owners to rent out their places for a longer period of time (15+ days). One way that vacation rental professionals can promote this is to offer discounts for longer stays (2 weeks or longer). 
According to Airbnb's survey, there was a 128 percent increase in reviews mentioning words like "relocation," "remote work," and "trying a new neighborhood," when it compared July to September of this year to the same time last year. These widely-searched phrases reflect the buzzwords that Airbnb hosts and STR professionals should continue to monitor within the next year. They can leverage these trending Airbnb buzzwords to tailor their rental property services to a specific demographic. 
As the future of both travel and work continues to evolve, consumer behavior will also continue to change. Professionals in the short-term rental industry should monitor these trends to keep track of consumer confidence in vacation rental services or properties. Reviews that mention "trying a new neighborhood" or "relocation" are indicative of the next, biggest trend about consumer behavior: movement from metropolitan areas to satellite cities.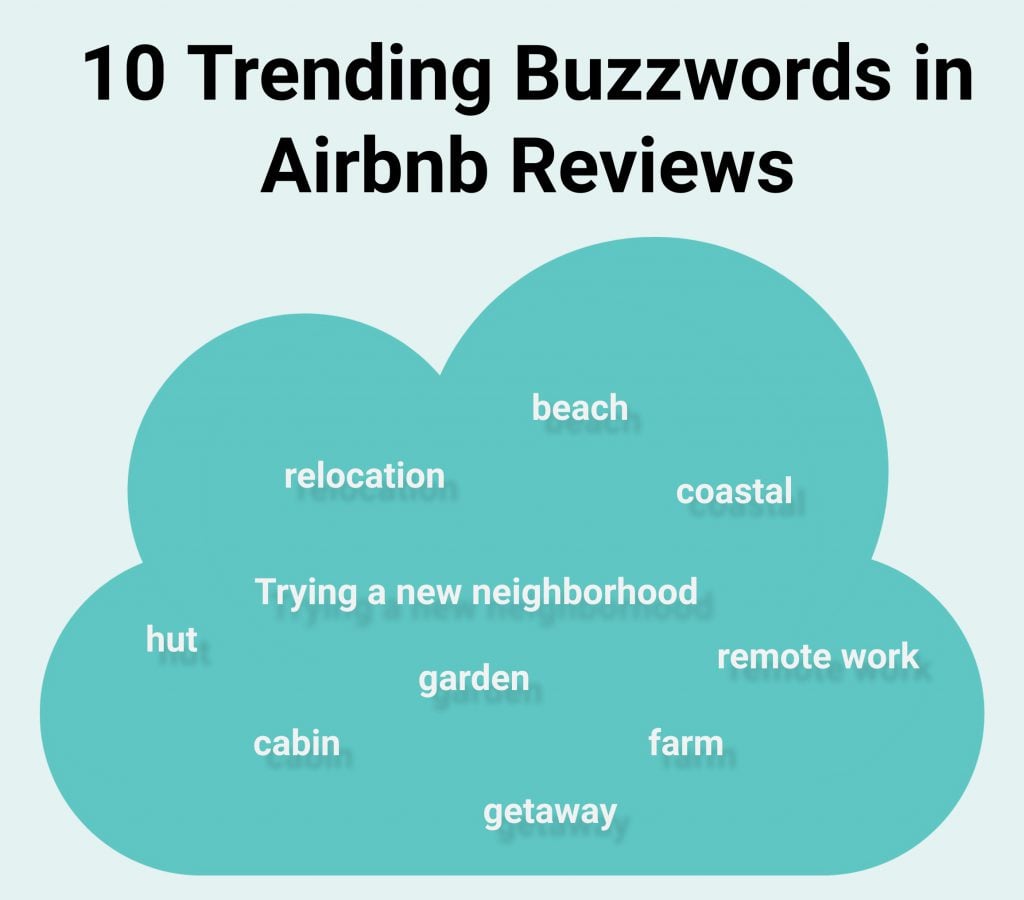 5. Airbnb guests are moving from metropolitan areas to satellite cities
As a result of the remote work trend, there is significant movement from heavily populated metropolitan areas to smaller, satellite cities around the area. Workers are realizing that they now have the freedom to relocate to wherever they want because now they are not bound to a specific location because of their work.
This trend was especially apparent as the U.S. experienced mass, unprecedented levels of people moving out of the Bay area or New York to more affordable cities with cheaper costs of living as remote work gave them the flexibility to do so. 
Our data analysis of reviews illustrates this mass movement from urban areas to more secluded areas: the top trending buzzwords found in property reviews include "getaway", "coastal", "hut", "garden", "farm", and "cabin". The combined connotation of this list of buzzwords points toward guests' sentiment to find more secluded getaway destinations away from their usual, highly-populated urban areas.
Hosts, property managers, and other vacation rental professionals can follow this flocking movement of travelers to new areas outside of large, metropolitan areas and focus their strategy on these satellite cities or outskirt areas. 
Tourists and travelers looking to move to a new neighborhood now have the flexibility to live in areas that are better tailored to their own lifestyles without having to completely commit to the location with a mortgage. Alternatively, Airbnb and other vacation rental platforms make it possible for those looking to relocate to experience living in a specific area outside of their usual home base in metropolitan areas.
In coordination with the Airbnb trend of long-term stays, this trend of moving to satellite locations allows vacation rental professionals to leverage the newfound flexibility of relocation and tailor their rental properties to accommodate this trend. As more people move towards smaller satellite cities, guests and visitors are looking for unique experiences and rental properties that can accommodate their stays. 
The future of travel may be uncertain, but STR professionals can leverage the power of data and Airbnb trends to re-prioritize and strategize for the new year. Some other key considerations to keep in mind include: consumer and business confidence, economic impact, and government support. The world is still experiencing a global recession that greatly influences consumers' spending decisions, their travel behaviors, and the different measures governments all over the world will take to support tourism.
Professionals in the short-term rental industry must stay prepared for several different factors in 2021, such as shorter booking lead time due to the uncertainty of the pandemic or the continued, drastic shift from hotels to short-term rentals. The best practice of strategizing for the new year is to practice resilience with the help of accurate Airbnb data and insights.