Last updated on May 4th, 2023
washington dc airbnb occupancy rate
Key

Takeaways
● The National Cherry Blossom Festival is the biggest spring event in DC. It is an annual event attracting 700,000 visitors who wish to witness the blossoming of over 3,000 cherry trees. 
●  Short-term rental data analytics informs us that while the event is a magnet of close to a million spectators from outside the DC area, Airbnb revenue is just starting to climb up from there.
Introduction:
Washington DC is not all about politics. Residents also know how to have fun by celebrating numerous festivals. And part of this fun for Airbnb hosts is enjoying high rental earnings during the peak season in Washington DC!
In this article, we will take a look at the Washington DC Airbnb occupancy rates throughout the year. It will also include a heads-up for Airbnb hosts to expect the seasonality where their revenue can potentially spike.
Florida Property Investment Markets
 Is Airbnb profitable in Washington DC?
Airbtics' Dashboard confirms that Airbnb is indeed profitable in Washington DC. A one-bedroom property can rest assured of a staggering 72% occupancy rate, which can bring in annual revenue of $42,407.
If you wish to test the Washington DC Airbnb market first, check how rental arbitrage can allow you to do so. Why not try it out during the upcoming festivals? You will be surprised to know that lucrative side hustle has been readily available for a long time!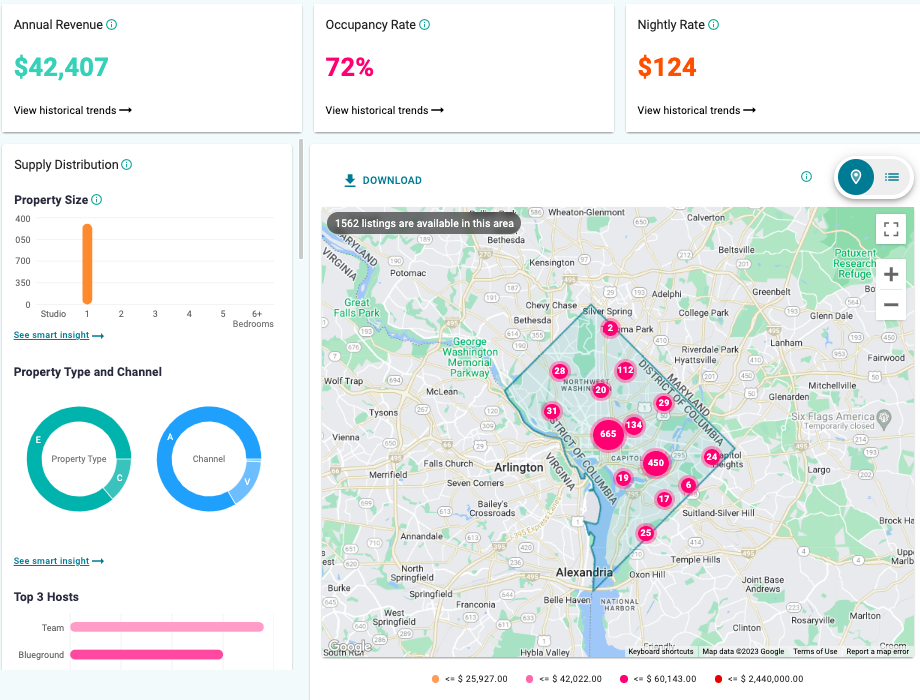 Spring 2023 Events in Washington DC
The National Cherry Blossom Festival is the biggest spring event in DC. It is an annual spectacle attracting 700,000 visitors who wish to witness the blossoming of over 3,000 cherry trees. These trees were gifts of Tokyo Mayor Yukio Ozaki to DC in 1912. Running from March 18 to April 16, this festival is a celebration of friendship between these two nations. 
Coinciding this month-long celebration, here are the other big events happening in the US capitol this Spring 2023:
● Japanese Street Festival – Japanese culture takes center stage in this 24-hour, 2-day street festivity. Expect a lot of Japanese cultural performances as authentic food, beverages, and handicrafts from the Land of the Rising Sun overflow 3rd to 7th streets NW on Pennsylvania Avenue. This event will take place on April 15 to 16. 
● FilmFest DC – Watching movies at theaters is a communal experience. And this year, Washington's biggest and long-enduring film festival returns after a hiatus due to the pandemic! See the best of world cinema to come to DC on April 19 to 30. This film festival will feature 65 films from 30 countries over the course of its 12-day run. 
Profitable Airbnb Areas in Washington DC
We have learned the potential earnings of an investment property in Washington DC. The best thing about the National Cherry Blossom Festival is attracting hundreds of thousands of tourists every year and being enjoyed anywhere in the DC Area.
Aibtics Dashboard gives us the top 3 areas for an Airbnb Investment in DC.
Georgetown is the top DC neighborhood for an Airbnb investment. In fact, the 79% occupancy rate for a 2-bedroom property in the area is higher than the average occupancy rate of the entire DC. This type of property gives a steady annual income of $72,755. In connection with the DC events happening in April, Airbtics Dashboard confirms that this is its peak month – when hosts can expect more than 10% of the annual revenue in just a single month.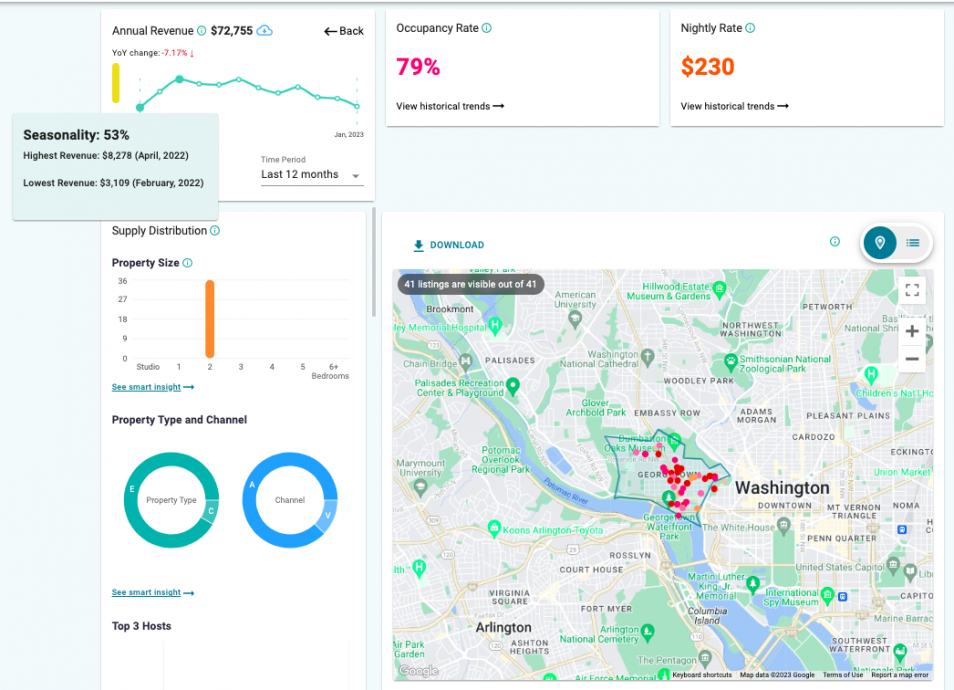 It's not surprising to see Arbtics Discovery Tool includes the Capitol Hill area as one of the top places in DC for Airbnb. But the value the tool adds is getting the average occupancy rate of a one-bedroom apartment in the area. Furthermore, an Airbnb host owning this type of real estate can earn around $54,436 yearly. Notice that while March is not the area's peak season, the monthly revenue is only beginning to rise.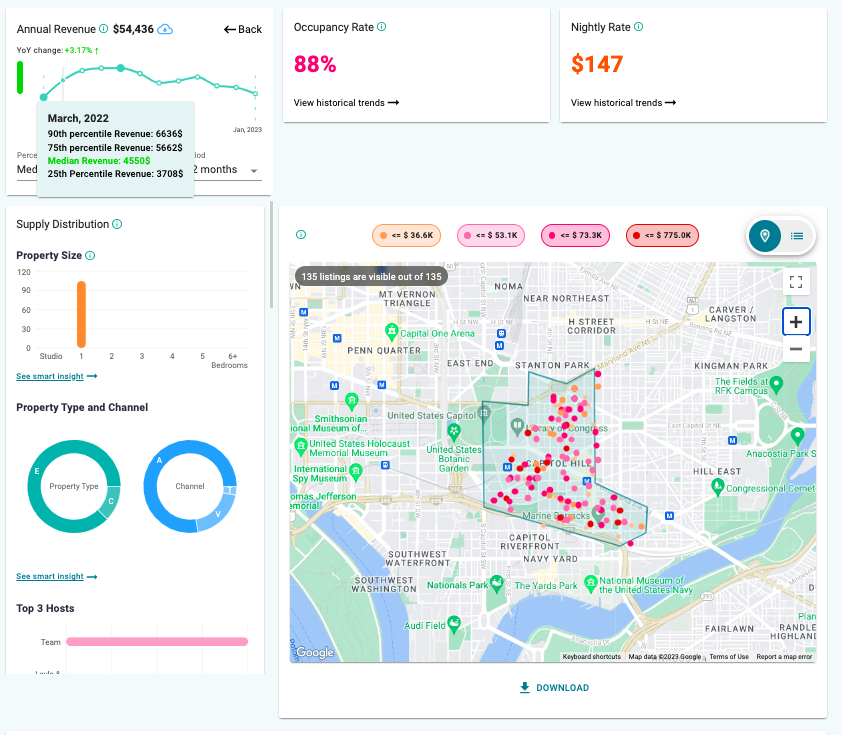 The third best place for an Airbnb investment has 61 Airbnb listings with an average occupancy rate of 54%. While the trend is also projecting upward, monthly revenue can nosedive starting from the month of July. Still, hosts can expect an annual revenue $41,835.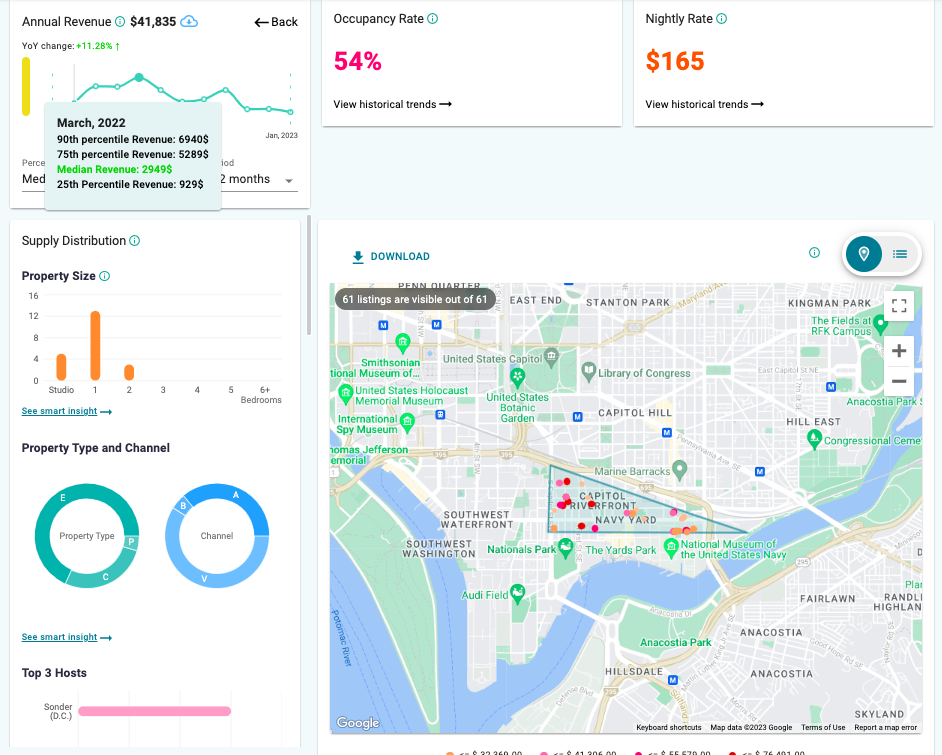 Is Airbnb legal in Washington DC?
Yea, Airbnb is certainly legal in Washington DC! Hosts planning to have an investment property in Washington DC should first apply for a Short-Term or Vacation Rental License to kick off their Airbnb. 
In a short-term rental, the host should also be on the same property, which has a spare bedroom for their Airbnb guests. Only the presence of the host differentiates a short-term rental from a vacation rental, as defined by the local government of the District of Columbia.
Conclusion
In this article, we have learned about the best Airbnb neighborhoods in Washington DC. Not only that, we have learned how short-term rental data analytics can guide us in making the best investment decisions that would lead us to the most favorable financial outcomes.
Just like in politics, be strategic in your real estate investment. Start with this free Airbnb profit estimator to see where you're at in your real estate game!
Explore The Most Profitable Airbnb Locations in Washington DC
Ramon Meris is a content writer for Airbtics. Guided by data analytics, he produces articles on various US short-term rental markets. Outside work, he is a reader, animal lover, and foreign language learner.