Last updated on June 21st, 2023
Key

Takeaways
Airbnb

confirms that as the inflation in Australia continues to rise, more hosts are able to cope by joining the Airbnb community. Particularly in Adelaide, where the rental population is 50%, making it ideal for property investment.

There are several exciting events in Adelaide that attract more Airbnb guests. This boomerangs to an increase in revenue for Airbnb hosts! Discover the most recommended areas for property investment in 2023.

Learn about the major events in Adelaide and which areas make it ideal for Airbnb investment based on accurate Airbnb analytics.
Introduction
The travel industry in Australia is one of the major contributors to earning billions of dollars in the country. Particularly after the pandemic restrictions have been lifted, more tourists are enticed to travel for work, vacation, or sometimes both! 
Adelaide, the capital city of South Australia, has one of the highest Airbnb occupancy rates. And it's no surprise why – this city offers more than just wine and festivals.
This is where most investors get the opportunity to enjoy a stable revenue from property investments. But note that not all properties can generate a great return – so where are the best places to invest in Adelaide?
In this article, we'll feature just that. One of the highlights of this blog is the upcoming major events in Adelaide this March of 2023. Continue reading to learn more as we feature expert tips for property investors!
Is Adelaide a Good Place for Investment Property?
According to Airbtics' data, Adelaide is certainly a good place for investment property. 
An Airbnb host can expect a strong occupancy rate of 84% and annual revenue of A$59,408 in Adelaide. And this revenue is just for operating a 1-bedroom apartment/condo, so you can expect more if you own more than 1 property that can cater to more guests.
Apart from the city's strong rental yield which has a year-over-year increase of 14%, Adelaide is also one of the top-performing property markets in Australia. If you want to test the waters in this market first, rental arbitrage is always an excellent option to try Airbnb.
What are the Major Events in Adelaide? 
The major events in Adelaide play a huge role in the steady Airbnb occupancy rate and whopping annual revenue for hosts. These events typically attract more tourists, particularly this March of 2023. Check out some of the major events that property investors and Airbnb hosts should take note of:
1.
Adelaide Festival
The most popular Adelaide Festival consists of 52 various events that last for 17 exciting days. This event started on March 3rd and lasts until the 19th, so there's no surprise that the accommodation has consistently spiked demand.
Adelaide festival is celebrated annually and showcases theatre, dance, and music among others. 
In fact, Airbnb has partnered with Adelaide Fringe to avoid the shortage of accommodation. Property investors and Airbnb hosts can expect to cater to more tourists for the entire duration of this festival.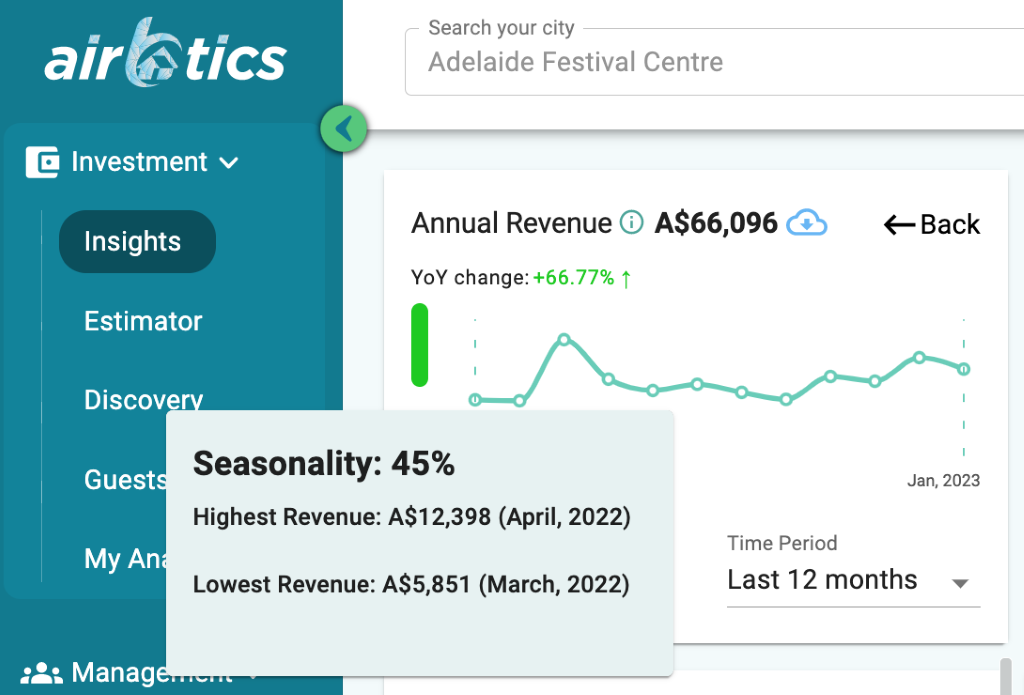 According to Airbtics' data, an average host nearby Adelaide Festival Centre can expect an annual revenue of A$66,096 for a 2-bedroom apartment/condo alone.
It was also discovered that the highest revenue within the area last 2022 was in April. A market's seasonality is important to expect revenue shifts in the Airbnb business. Low seasonality such as 45% does not also mean that investing in that area is not profitable because it still gets year-round bookings.
2.
Womadelaide
WOMADelaide, also known as the World Of Music Arts & Dance in Adelaide, is one of the unique festivals showcasing the Australian festival landscape. This world festival has been celebrated since 1992.
Known as an award-winning celebration in South Australia, Womadelaide is a 4-day festival that starts from March 10-13, 2023. Festival City Adelaide confirms that this event created around 52,300 visitor nights in South Australia. You can imagine the total revenue that Airbnb hosts nearby can enjoy because of this!
To confirm this, we've taken a look at the Airbnb data near King William Road where Womadelaide Festival takes place.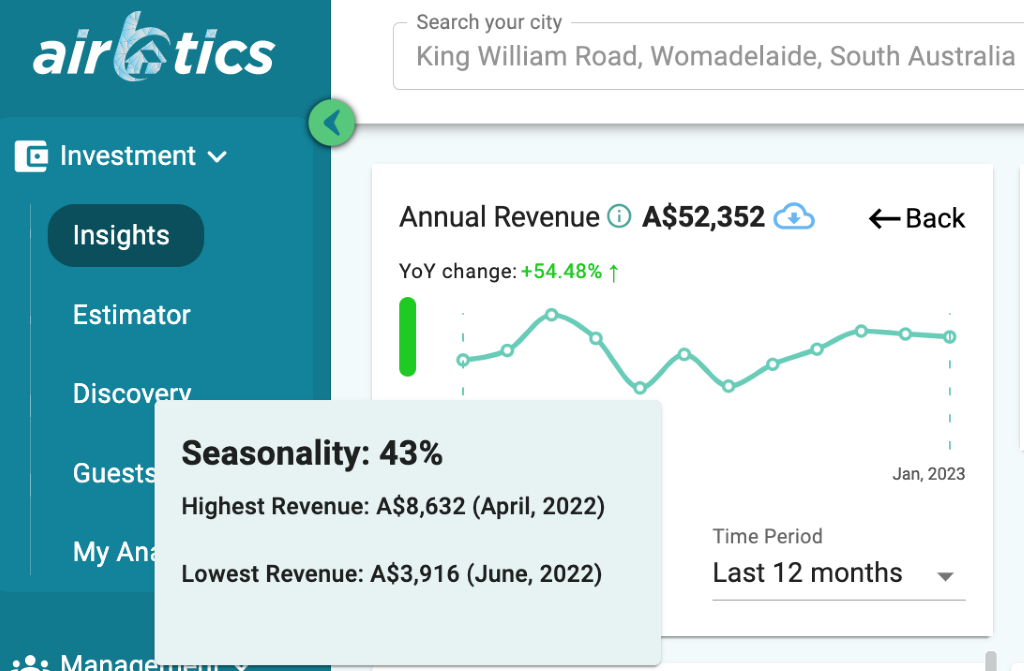 Airbtics confirm that an average host nearby Womadelaide can expect an annual revenue of A$52,352 for a 1-bedroom apartment/condo alone. Its seasonality is at 43%, where an Airbnb host can expect the highest revenue in the month of April.
Where to Invest in an Airbnb property in Adelaide, Australia?
There are several Airbnb host expenses to consider, but the most crucial part is deciding the property's location. While there are plenty of properties in Adelaide, not all of them can guarantee a good return.
So it leads you to the final question, where can you invest in an Airbnb property in this city? Discover the most recommended neighborhoods for buying an Airbnb property in Adelaide:
Airbnb occupancy rate:

88%

Average daily rate:

A$188

Airbnb annual revenue:

A$63,858

Best property size:

2 bedrooms

Existing Airbnb listings:

419 listings
Airbnb occupancy rate:

84%

Average daily rate:

A$193

Airbnb annual revenue:

A$67,343

Best property size:

2 bedrooms

Existing Airbnb listings:

63 listings
Airbnb occupancy rate:

93%

Average daily rate:

A$183

Airbnb annual revenue:

A$66,905

Best property size:

2 bedrooms

Existing Airbnb listings:

29 listings
Takeaway
In general, Airbnb data shows that property investment in Adelaide can truly help hosts to achieve financial freedom. In fact, with or without the major events occurring annually, hosts can still expect to earn a steady revenue in the city.
Now that you have a clear overview of where to invest in Adelaide, take the next step by comparing Airbnb data in other cities. If you're looking to invest in a property in Australia, using an Airbnb income calculator will help you make data-based decisions. 
Wondering which area of Adelaide has the highest rental yield? With one click, you can easily discover this.
Don't make the wrong investment decisions based on guesses, try Airbtics now and stand out among your competitors!