Learn a systematic approach to your vacation rental search before you buy short-term rental property! Embrace Airbnb data and kiss the guesswork goodbye.
Where to Buy Short-Term Rental Property: With Tips & Tools
Embrace Airbnb Data and Kiss the Guesswork Goodbye
Finding the perfect short-term rental property may often feel like searching for a needle in a haystack. While some might rely on gut instincts or hushed words of mouth, savvy investors understand that the path to profitable returns is paved with data-driven precision. 
There's no stopping that the digital age will continue to reshape industries, and the real estate sector is no exception. 
The days of blindly investing in short-term rentals are gone. This makes way for a more calculated approach supported by Airbnb analytics. And it's not difficult at all!  In this article, we will dive deep into how data will guide you where to buy short-term rental property. We'll break down complex terms and show you the ease of relying on quantifiable metrics. So leave behind the uncertainties of hunches and fads because your Airbnb success is waiting, and it's backed by data you can trust!  
But First, Set Your Budget!
Admittedly, searching for the best short-term rental markets is an exciting endeavor. But getting carried away by the charm of a potential location without a well-thought-out budget may lead you to stress and even deep disappointment. 
With some wiggle room, establish a budget beforehand. You may use your savings or Airbnb financing. Buying short-term rental property is not just about the purchase price. There are other expenses attached to it such as acquisition cost, maintenance and renovation costs, as well as other hidden costs. Finding the best vacation rental property for you but not being able to afford it in the end is a waste of time spent on it. 
Where to Buy Short-Term Rental Property
Location is everything in any form of real estate investment. Be sure not to skip this because we'll tell you what to look for in an Airbnb market. We'll demonstrate the best tool for you to gauge the viability of any vacation market with the easy-to-use Airbticss Insights Tab! 
Just by typing in your target city, you will know the key investment metrics of any Airbnb market! In fact, Airbtics is covering 54,000 visible markets globally, out of which 43,000 are verified. With these numbers, feel free to search a state, a city, or a neighborhood anywhere in the world.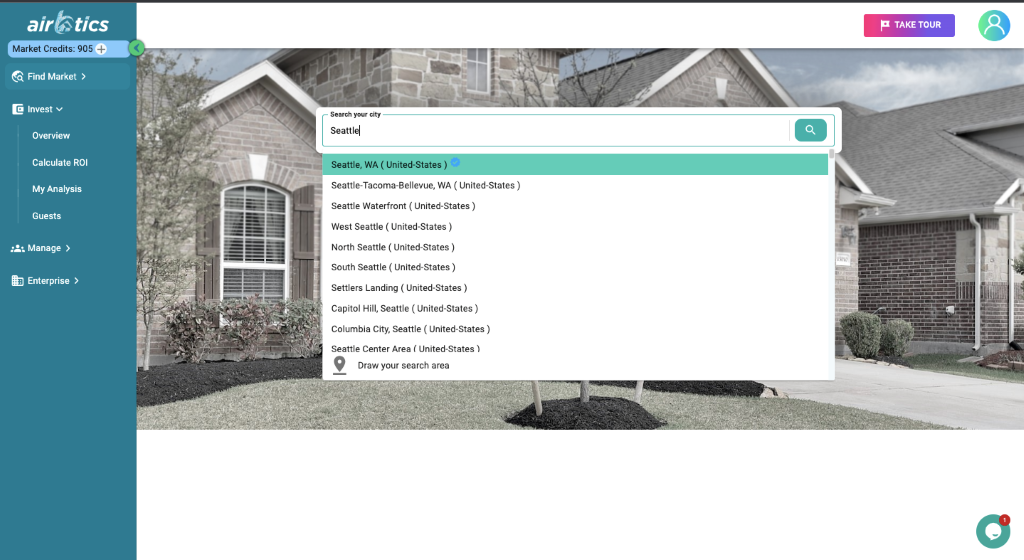 Instantly, you will see this screen that shows all the important quantifiable Airbnb factors that can lead you to a profitable short-term rental property!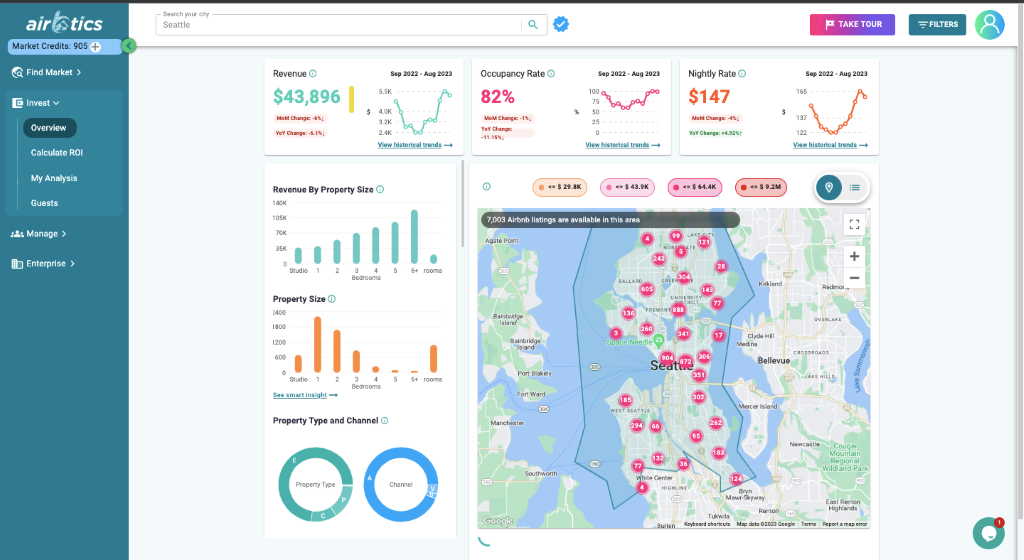 High Occupancy Rate
As in any other line of business, the demand for a product or service is crucial. It's the same with a short-term rental. Launching a short-term rental business without understanding the demand is risky. And in the vacation rental industry, one metric to measure this is the Airbnb occupancy rate in your target city.
A high Airbnb occupancy rate reflects the booking activity in a market. In terms of demand, this refers to the level of interest of guests to seek short-term rental accommodation in your area. And you will want this to be as high as possible.
For instance, the Seattle Airbnb market has a high occupancy rate, whopping at 82%. This rate means out of the total length of time that all the properties are available for booking, 82% of that is booked.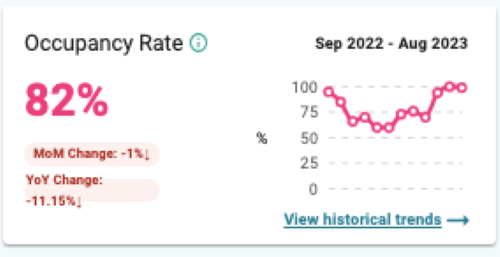 Click the historical trends and see the peak season of the Seattle short-term rental market! As the data confirm, short-term rentals sell like pancakes during the months of July and August with 100% occupancy from the 50th percentile and above!

High Return on Investment
Assuming that you have found a market with a high short-term rental demand, it's time now to gauge the return on investment. This answers the question, "Can the potential rental income justify the initial purchase price?" This helps you assess the financial viability of your short-term rental property.
This is where the gross rental yield can lend a hand. It is one of the measuring sticks for Airbnb property investments. To calculate it, you need to divide the annual rental revenue by its purchase price (annual revenue ÷ purchase price = Gross Rental Yield).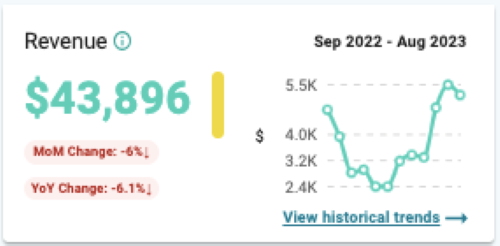 In our example, the Seattle Airbnb market has an average of $43,896 in annual revenue, while its median property price is $789,475. If we're going to get the gross rental yield using this median price, this only results in 5.56%.
Of course, you want to maximize your return on investment. The workaround here is you can always go for a more affordable property! Luckily, real-estate websites like Redfin and Zillow allow you to search for properties on sale using their filters so you find one that matches your budget!
Find the Best of the Best Investment Property Using Airbtics Advanced Filters
Real estate websites do not monopolize the advanced filters. Quite the contrary, not all short-term rental analytics companies have these. But on Airbtics, it's just business as usual for both Airbnb investors and hosts to utilize this feature.
Airbtics Advanced Features have led investors only to the most profitable locations. We have also given them comprehensive data that will guide them in finding the best Airbnb rental attributes in their markets. This way, their occupancy rate is higher than the market average. And in some cases, they can charge a higher nightly rate compared to their direct competitors!
Each Market Has The Best Property Type
Choosing the right property type for your Airbnb business can be a challenging decision. Each has its own unique set of characteristics. It is not as simple as flipping a coin to decide between offering an entire house or an apartment for your Airbnb accommodation. 
The profitability of the two can significantly differ depending on the specific city and neighborhood where a rental property is located. "What is the Best Type of Property for Airbnb? (with 3 Sample Markets)" shows you a straightforward step-by-step guide to help you make an informed decision!
Find Your Market's Optimal Property Size
1 to 6, that is the typical range that you can choose for the number of bedrooms. So instead of rolling a die, use Airbnb analytics to inform your decision before you buy short-term rental property. Same with the property type, it can vary depending on your target market. 
The article titled "What is the Best Number of Bedrooms for Airbnb?" delves into the intricacies of this number's game. It provides valuable insights and a data-driven approach to help you determine the optimal number of bedrooms for your specific location!
Swim in Profit or Drown in Loss
The decision to add a pool or buy a short-term rental property with one already on it is a significant one. It comes with both costs and potential benefits. Understanding the value a pool can add to your property in terms of attracting guests and potentially increasing nightly rates is crucial. 
Leveraging data analytics, this article answers the question, How Much Value Does a Pool Add to Short-Term Rentals? By analyzing relevant data points and market trends, we offer insights into the potential fruits of having a pool on your Airbnb.
Soak in a Higher Nightly Rate or Sink in Additional Expenses
A question often asked on Airbnb forums is whether or not to plunge into investing in a hot tub. Is the allure of a bubbling and relaxing amenity worth the investment? Enhancing guest satisfaction which gives higher nightly rates seems a never-ending quest in Airbnb. 
The article "Is a Hot Tub for Airbnb Worth It?" delves into the considerations and benefits of a hot tub for short-term rentals. It provides valuable insights to help investors and hosts make an informed decision that can lead to increased bookings, nightly rates, and guest satisfaction.
Let Data Drive Your Airbnb Property Search
Investing in short-term rentals used to feel like a leap into the unknown. Searching for the property to buy was often met with uncertainties and risks. Many investors relied on gut feelings or hearsay while hoping for the best. However, they faced disappointments along the way due to the lack of a systematic approach and a reliable tool to light their paths. 
You now have the power of data at your fingertips which can transform your approach to your Airbnb property search.  Imagine having to ability to make informed decisions about where to buy short-term rental property. Visualize potential return on investment, understand demand, and discover the best property attributes in your market using Airbtics. Your journey toward profitable short-term rentals starts right now! 
Have you eyed a specific vacation rental and been wondering if it'll be worth it? Then check its income potential with the most powerful Airbnb calculator!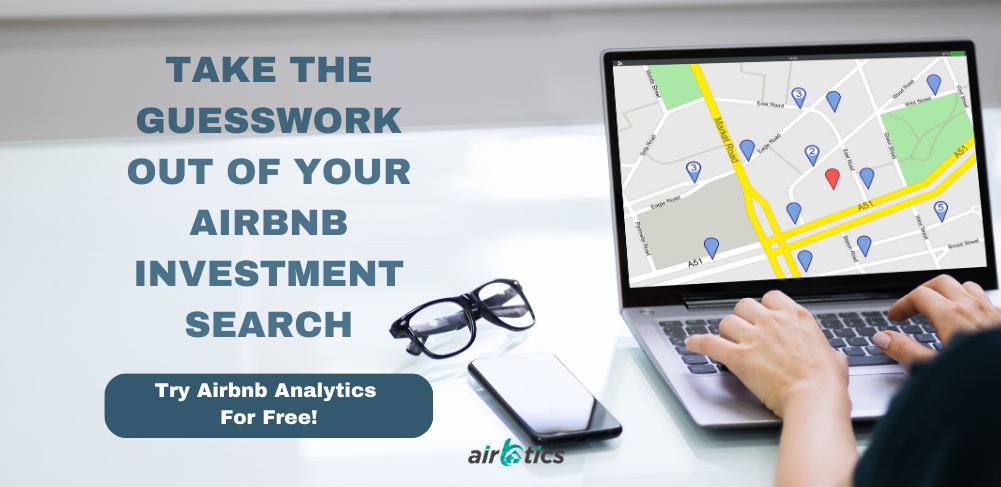 Find a profitable
investment property
Use powerful analytics to discover lucrative & traditional Airbnb properties within minutes.
Find a profitable
investment property
Use powerful analytics to discover lucrative & traditional Airbnb properties within minutes.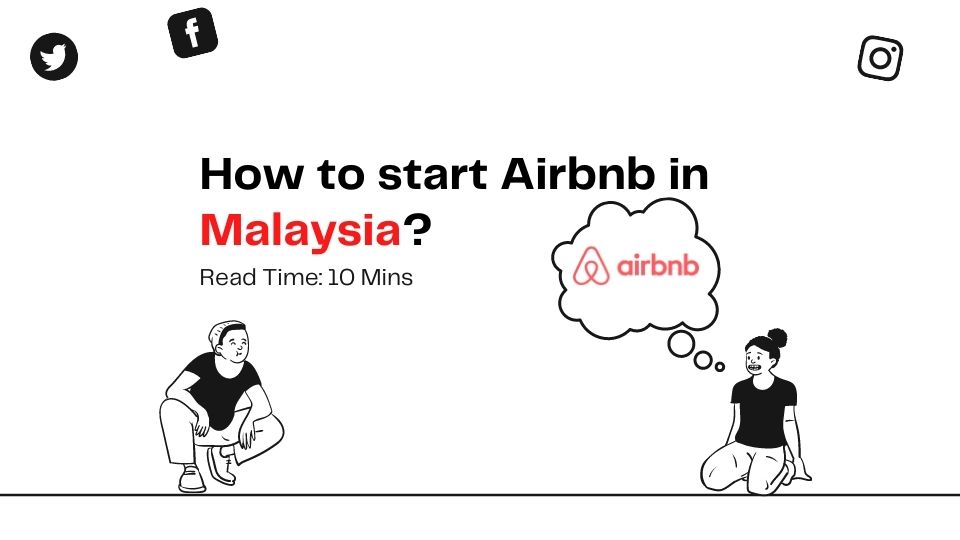 Table of Contents Add a header to begin generating the table of contents If you're wondering how to start Airbnb in Malaysia, you've come to …