Last updated on December 13th, 2022
Welcome back to another episode of Into The Airbnb, where we chat with Airbnb hosts about their short-term rental experience.
Our guest for today is Laura Spaulding, an Airbnb host who owns and manages four listings in Tampa, Florida. She started 7 months ago and decided to go with hiring a property management company to manage her listings, after some time she noticed that the numbers didn't make sense and not everything was being reported to her, so she decided to start managing herself and she noticed a big difference with this change. Join us today to hear more about Laura's story, how she overcame this bad experience and also super interesting insights from her market.
This episode is sponsored by Airbtics, short-term rental analytics for high return investments, comprehensive data for insights, ideas, and inspiration. Go to app.airbtics.com to find precise Airbnb data such as occupancy rate, revenue, average daily rate, and so on. So, without further ado, let's get into it!
Into The Airbnb Podcast S2 EP 58: From $1700/mo to $3700/mo after leaving a bad property manager company – 4 Airbnb listings in Tampa, FL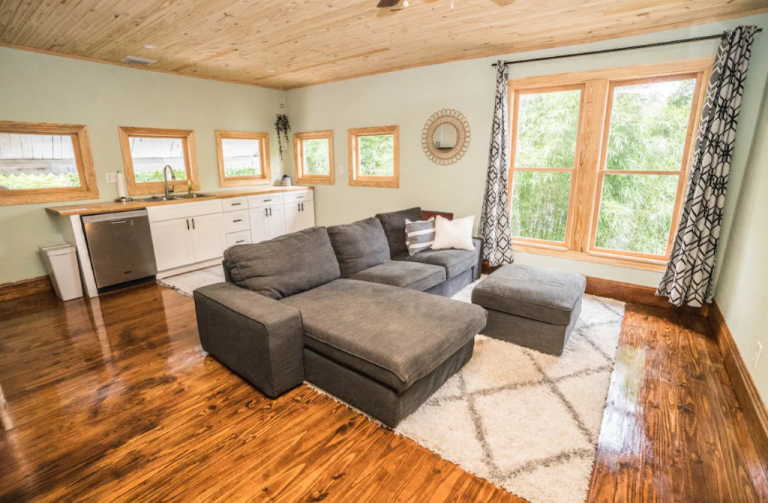 Delia:
So can you tell me how you got started with Airbnb or short-term rentals?
Laura Spaulding:
I've been in the real estate investing space since 2016 and I was doing kind of fix and flips and some long-term rentals. And then when I started looking at the numbers, I realized that I could double or triple my revenue on a place if I would do a short-term rental on it. So I decided to kind of just dip my toe in it and try it out on a couple places and it worked out really well.
Delia:
And how did you find out about Airbnb and short-term rentals?
Laura Spaulding:
I was using them myself when I travel, so I knew that, you know, there was a big community out there that was kind of bypassing hotels and doing more of a, you know, live in the city, experience the city rather than just go to the tourists side of things.
Delia:
And did you already own those properties that you started renting on Airbnb?
Laura Spaulding:
So I was in the middle of a couple rehabs and one of them is by an amusement park in Tampa here, so I thought I'm going to try that one out first. So as I was rehabbing it, I kind of switched because I was going to do a long-term rental and I thought, "You know what, I'll just furnish this place and try it out" and that was about six months ago. So I've been in this space for about six months and it's going very, very well.
Delia:
And how was your experience just getting started like the first month?
Laura Spaulding:
Well, initially, I decided to hire a management to take care of all the cleaning and the scheduling and all that, but I wasn't really happy with the lack of transparency, like I wasn't getting good financial statements, I wasn't getting told that either things were missing at the property or things were not going right or there was going to be claims and I just wasn't happy with it, so I decided to take it back myself and start learning how to do it myself. So I got, you know, all the software that you needed to run it and I still feel like I'm learning something every single day. So I'm definitely, you know, not a perfect expert at it by any means, but I'm learning from the experience.
Delia:
And if you don't mind sharing this, which were your main problems, like main problems that you had with that one property management that you decided to hire for the first time?
Laura Spaulding:
Well, it was a couple things. So I mentioned is the lack of transparency. So she initially wasn't, I don't know what she was using software wise, but I wasn't getting detailed reports showing that people stayed in the property. I charge extra for pets, I knew through cameras that pets were staying in there, but yet that fee wasn't coming back to me. Things were either getting stolen or broken. They weren't being relayed to me that that was happening. So you know, I felt like I didn't have any control over what was going on and the numbers just were not good because I knew that I should be making more than what was being given to me and then once I took it back, I realized my numbers just tripled.
Delia:
And what were the steps that you took when you started managing it yourself to manage it the right way and get the amount you were projecting?
Laura Spaulding:
So what I did, my first step was to find a software so I get automate as much as possible. So I did, you know, quite a bit of research on it and I ended up going with Guesty for my management software, and then I use PriceLabs for pricing. So that really takes care of all the pricing and communication. Guesty is definitely not perfect, it's got issues as well, their customer support, I would say is, is very poor. You can't talk to anybody, if you have an issue, you have to put in a ticket and it could be two to three, maybe even four days before you get a response. So that I'm not happy with it is expensive as well, but it does have a lot of bells and whistles.
Delia:
And when you started managing yourself did you also notice that there was a change in the quality of the guests you are getting versus the ones you were getting back with the property manager?
Laura Spaulding:
Not really, because I didn't know anything about the guests that I was getting with the property manager, like there was just no transparency at all. So there was, you know, issues that were going on, that I wasn't even aware of. But you know, I found a cleaning company and I had to kind of outsource, you know, all that and manage it. So I'm still in the process of really automating everything, so I can be extremely hands off, but right now, I've got a VA that does all the communication with the guests, cleaning company gets all of their schedules via the guests the automation, and then I really just handle anything that has to do with like issues, stuff that's broken, stolen, ruined anything like that.
Delia:
Okay, I get it. And when you heard that property manager, do you think like you made a mistake when you like filtered her or them? If you ever try to hire again another property management company, do you think you're going to do a little bit of more through research before?
Laura Spaulding:
Well, I would never hire a property manager for long-term rentals. Regardless of it, I don't think they take care of your property like you do, they don't inspect them, they don't treat it as if it were their own. So I've never used a property manager for long-term rentals. The reason that I decided to go with one for short-term is because there's a lot more moving parts, there's cleaning, there's communication with guests, and I have other businesses, so I didn't really want to deal with it. But then once I was looking at the numbers, I knew something was not right, you know, we weren't making what we should have been making and the reporting just wasn't good. So you know, I don't know if it was just a case of bad reporting lack of data or if it was actually like a theft. So I'll probably never use a manager again.
Delia:
Yeah, I completely get it, I completely get it. But your bad experience with this property manager is actually, I don't regularly hear about other people having these troubles when they hire a property manager, did you get to hear like, after your experience, did you ask and find out that other people were getting like the same problem as you?
Laura Spaulding:
In terms of long-term rentals, property managers, they know when it has a very good reputation, it's kind of well known that property managers just don't look out for your place. Now, in terms of short-term, they're very, very expensive and they run the gamut. So you know, it's just I find it very easy to run it myself when you have the right software's in place, and to me, it's not worth 20-25% of my revenue, when it's something that I can just pay, you know, a couple $100 a month for software to automate it for me.
Delia:
That's right, I get it. And can you tell me if you don't mind sharing this, how much were you getting with that property manager? They were like managing your property? And how much are you actually making now that you are managing yourself?
Laura Spaulding:
Yeah. So I'll give you an example, the property that I have, that's next to an amusement park here in Tampa, I was getting about $1,700 a month from the property manager and now I'm getting $3,700 a month renting it myself.
Delia:
That's a really, really big difference, right? A little bit suspicious, right?
Laura Spaulding:
Yes.
Delia:
I see now. So it was a very bad experience that you had with this one property manager. I see. Can you tell me a little bit about your market? You told me that one of your rentals is near an amusement park and what about the other ones? Do you have like three more if I'm not wrong, right?
Laura Spaulding:
I have six total. So I'm in the Tampa Florida market. So our market is very touristy vacation location, except for the summer. The summer is kind of our downtime because it's extremely hot. So I have one near Busch Gardens and I have four near Ybor City which is a historic area that's full of like nightclubs and restaurants and kind of like a Bourbon Street type place. And then I have one that's by a Air Force Base that I rent out quite a bit on a short-term rental as well.
Delia:
And for all of those listings, are you getting really like different numbers when it comes to occupancy rate, revenue, demographic of guests?
Laura Spaulding:
Yes, absolutely. So that was really eye opening to me. The four of them that I have in the Ybor City Market, they're very small, they're just one bedrooms, and those are rented nonstop, there's like a 97% occupancy rate on there. And then the larger homes that I have, have the lower occupancy rates. So I thought it would be the other way around, but the one bedrooms do very, very well.
Delia:
And why do you think it's the reason that the larger ones get lower occupancy rate?
Laura Spaulding:
Well, I think the larger ones are being rented mostly by large families or people that are vacationing together and it's cheaper for them to rent a house together than it is to get like five hotel rooms. Whereas a lot of people either travel for business or maybe just couples, they're only wanting a one bedroom and they don't want to spend a ton of money on a giant house if they don't need that space.
Delia:
Yeah, I understand. What is the difference of revenue that you perceive in these different locations?
Laura Spaulding:
Well, it's based on the occupancy really. So the one bedroom apartments that I have, I've got four of them and those are the ones that rent very, very well. So as a long-term rental, they were only getting like $850 a month, when I bought the building and now I get about $3,500 a month each apartment. So it's a big, big, big difference.
Delia:
Yeah, for sure a big difference! And about the larger ones, if they're not getting like the same amount of the smaller ones, are you thinking, sorry, about getting them to be long-term rentals again?
Laura Spaulding:
I'm considering it, but I'm not sure yet because I really would like to cater it more towards corporate housing, which is longer, but not exactly a long-term rental. So I'm really kind of testing it right now. And this is probably the worst time for me to make a decision because the summertime is our slow time.
Delia:
Oh, so you're waiting for the high season to start, so you can try out.
Laura Spaulding:
Exactly.
Delia:
I get it. And we the smaller ones, so do you think in the areas you're hosting, those are the ones that work best?
Laura Spaulding:
Yes, absolutely because it's such a hot market, and it's gentrifying. The city is putting a lot of money into that area. So I bought the building in January of 2021. I've already noticed a huge shift in the money that the city is putting into that area, and the rents have just skyrocketed. I'm also renovating the building too because it was set up as long-term rentals for every unit and it just wasn't taken care of very well at all.

Delia:
Okay, I see now. And can you tell me a little bit about your area like, what's the high season? What's the low season?
Laura Spaulding:
Yeah, so Tampa's high season is basically the fall all the way to like, I would say September, October, all the way to April. And then people kind of stay away for the summers just because it's so so hot. So right after spring break is really when it starts to slow down.
Delia:
What's the average occupancy rate? I know you've only been live for six months, I guess, right?
Laura Spaulding:
Yeah.
Delia:
But do you have any idea of what's the average occupancy rate in those seasons?
Laura Spaulding:
You know, I can't remember what it was when I pulled the reporting off of PriceLabs, but my one bedrooms are around 94% until it hit our slow period, now it's a lot slower. But I don't have enough data yet on the bigger houses.
Delia:
I get it then. One thing that I'll like to ask you about is, you recently bought the house, right? So are you able to cover for example your mortgage cost with the revenue you're getting from Airbnb?
Laura Spaulding:
So I am with the exception of the one house, the largest one. So that one is the most recent short-term rental, I think I put that on the market in February of this year. So it hasn't been that long and it's okay it's not covering the mortgage yet, but we've got to get through the summer periods for me to be able to make a real evaluation and decision on what I want to do with the house.
Delia:
I see, so the smaller ones are covering the mortgage?
Laura Spaulding:
Yeah, absolutely.
Delia:
That's amazing. And for the areas you're hosting in are there very like competitive markets when it comes to short-term rentals, Airbnb?
Laura Spaulding:
Yeah, I think it is because anytime you have a vacation tourist spot, like, you know, Tampa, you're gonna have a lot of Airbnb, so I think there's, you know, there's no regulations here that we have to worry about in the city, but I don't feel like it's oversaturated.
Delia:
But despite the competition that's there, are you still able to perceive like a good amount of revenue? Do you think you're doing good despite of the big amount of short-term rentals in the area?
Laura Spaulding:
I do on the apartments and on the smaller house. The larger one not so much.
Delia:
Okay, I get, that's great. And would you still like recommend people to invest in that area?
Laura Spaulding:
Yeah, definitely. I would say, you know, there's a lot of popular areas, you know, like Gatlinburg and the Smoky Mountains and stuff like that, everybody's kind of going there. I happen to live in Tampa, so that's why I invest here. You know, if you're in an area where it's not touristy, like the middle America, you know, you can pick beaches or mountains or anything like that to invest in and I think it's always going to be a good bet.
Delia:
Yeah, I see. And can you tell me about what's your, like your hosting style?
Laura Spaulding:
Everything is automated for us, so we don't like actually meet the person there or anything like that. We are very kind of hands off, we'll be there if you need us, but you know, I don't want to interrupt them. We do all of our communication through Guesty. We do our inspections before and after cleanings. You know, everything has door codes and there's cameras outside and all that stuff to kind of monitor our assets, so to speak. So I would say it's very kind of live and let live, very hands off.
Delia:
And do you see that's working with your guests? Do they like the way it gets managed? Do they like the communication they get with you and all this stuff?
Laura Spaulding:
Yeah, we haven't had any complaints on it. I think when people are on vacation, the last thing that they want is some host, like looking down on them and you know, monitoring their every move and all that and you know, frankly, I don't have time for that and I'm not interested in it.
Delia:
I get it totally. And you told me that everything is automated, so am I right assuming that your pricing is also automated?
Laura Spaulding:
It is.
Delia:
And how do you manage that? Do you get it like completely automated? Or do you like planning strategies for the slower months? How does it work for you?
Laura Spaulding:
Well, we use PriceLabs for our pricing and automation. And so far, I'm happy with it because the algorithm allows for the slow periods and then it knows when the high periods are, it knows when there's big events here or anything like that. So it's much easier for us to do it that way.
Delia:
I see. Yeah, it's actually easier when you automate it that way. That's great. And what about the challenges that you had so far as an Airbnb host? I know you had a very, like big challenge with your property management service, but are there any other particular challenges with I don't know, maybe the guests, maybe the automatization, maybe the Airbnb platform?
Laura Spaulding:
You know, the biggest issue that we've had has been with booking.com and it's been such a terrible experience that we've actually removed our listings from them. So they have no customer support, they don't check credit cards and authorizations before someone checks in. So we have people that haven't even paid and they couldn't care less. So they don't help you get paid, they don't monitor that type of thing. Then the ones that do put in a credit card, sometimes it's fake, but they don't alert you to it until the person has already checked in. So it's just a really bad platform and it was something that I learned through the experience and then once I looked into other people's experiences, everybody seems to be having the same problems with them. So we removed all of our properties from there.
Delia:
So booking.com is no for Airbnb, short term-rentals.
Laura Spaulding:
No way. Don't use it. No way.
Delia:
Okay, I see now. And what about the other platforms? Do you use for example VRBO or the booking site, the website?
Laura Spaulding:
We just use VRBO and Airbnb.
Delia:
And how has been your experience with VRBO?
Laura Spaulding:
Very little. They don't have a high volume of guests that are looking on their platform.
Delia:
I see, that's right. And how what's been your experience with the Airbnb platform so far?
Laura Spaulding:
They're okay. I heard many horror stories about if you have damages or anything, they're almost impossible to collect. So that was one of the reasons why we went with Guesty because we can make the guests pay for their own insurance and we can file a claim through Guesty and we never have to go through Airbnb. So that was one of the reasons that we went with them instead because we just don't want to deal with Airbnb.
Delia:
I see now and Guesty, can you explain a little bit more about how Guesty works in case someone is like listening and would be interested in doing the same as you?
Yeah, so like you pick your coverage. So for like my one bedroom apartments, I pick like $2,500 or $5,000 in coverage, and that is $45 for each guest, so I make the guests pay it instead of a security deposit. So they're paying that $45 if I have a claim, I go through Guesty and Guesty takes care of it with no deductible. So that way, I never have to bother Airbnb and I don't have to deal with their bad service.
Delia:
Oh, so most of your bookings come through that one platform, Guesty?
Laura Spaulding:
Well, the bookings go through Airbnb and then through Guesty, but Guesty ensures it.
Delia:
Oh, I see now how it works. Okay, thank you for explaining that to us. And lastly, are there any tips that you'd like to give for other Airbnb hosts?
Laura Spaulding:
Yeah, there's a lot like I've learned always have like an owner's closet or an owner's locker that's actually locked, that you can store your extra supplies in. You know, try to buy in bulk and restock, you know, as you need it for, you know, toilet paper, paper towels. I like to have three sets of sheets for every single bed, two towels per person for each day just in case and then I'll keep extra in the owners locker. You just basically have to plan for anything that could possibly happen because it will happen and you don't want to be, you know, rushing at midnight to try to, you know, find the key to get these people in. So I use lists for everything, you know, and then the Guesty monitors that, the automation sends them the combination, so it's virtually hands off.
Delia:
Okay, yeah, that's great to hear. Thank you for the tips, they are really useful. So that will be it for today. Thank you a lot for your time and for your tips!
Laura Spaulding:
Thank you for having me. Appreciate it.
Do you want to maximize your profit?
As a professional in the short-term rental industry, you'd definitely know that there are intense competitors who are probably obsessed with maximizing profit & exert efforts to promote Airbnb listings. What are their unique tools, you ask? We say:
A super-accurate & reliable data analytics tool.
Relatively, you can also profit thousands of dollars without owning a single property through Airbnb rental arbitrage in Florida. 
Designed to showcase accurate short-term rental analytics data, not only does our app help you optimize your listing, but it can also provide VERY useful data for simulating cash returns using the Airbnb Calculator. try looking at real-time data from Airbtics & stand out among your competitors!