Welcome back to another episode of Into The Airbnb, where we chat with Airbnb hosts about their short-term rental experience.
Our guest for today is Donnie Daniels, an Airbnb super host who owns and manages four listings with his wife in Terlingua, Texas. His listings are located in highly touristic locations, near to Big Bend National Park, Terlingua Ghost Town and many other interesting locations and activities for tourists to do. Two years after buying his first investment property, he was able to purchase a second one paying 90% of the total property cost with the money he made on Airbnb. Join us today to learn more about Danny's story and experience on Airbnb.
This episode is sponsored by Airbtics, short-term rental analytics for high return investments, comprehensive data for insights, ideas and inspiration. Go to app.airbtics.com to find precise Airbnb data such as occupancy rate, revenue, average daily rate, and so on. So, without further ado, let's get into it!
Into The Airbnb Podcast S2 EP 46:
Pay off your investment property with Airbnb – over $93K revenue 6 months into the year in Terlingua, Texas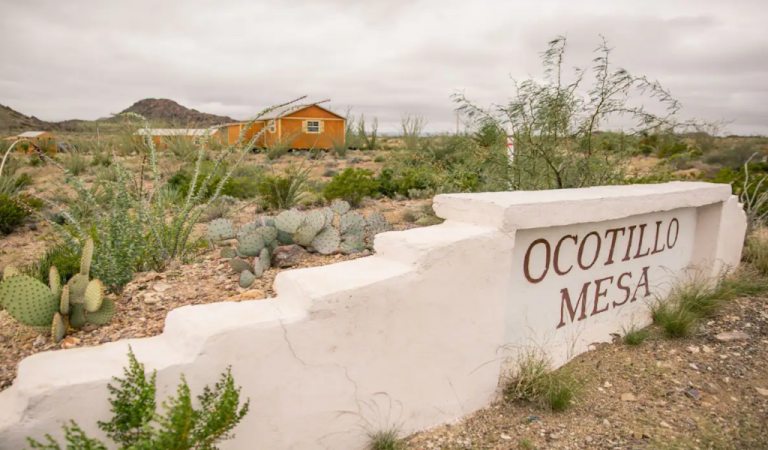 Donnie Daniels:
Hello, my name is Donny Daniels, myself and my wife, we own Roadhouse rentals. We have four Airbnbs, they're studio size apartments, they can sleep anywhere from two to three people easily. The larger ones, we can provide a roll away and that will put in a fourth person in the larger ones. We've been doing this since 2018. We just added our second duplex in November of 2021 and since that time, our occupancy, our slow periods are between May and August and our occupancy during that time is right around 52%. So even though it's slow and hot out here in the desert, it's still pretty busy.
Delia:
So 52%, right?
Donnie Daniels:
Correct and then the rest of the year, the other eight months, we average anywhere from 78% to 100%.
Delia:
Wow, that's a lot! And can you tell me a little bit of your story? How did you and your wife started on Airbnb or on short-term rentals?
Donnie Daniels:
Well, we wanted to buy some property. So we bought some property here locally in southwest Texas at the Big Bend area and I wanted to get her a souvenir shop opened up on the main road. So I wanted some property frontage on the road and we got 21 acres. So I'm looking back at the rest of the 20 acres because I'm only using one I'm like, "I need to do something with that" and we're right near the Big Bend National Park and Big Ben Ranch State Park, two of the largest parks in the state of Texas. So I was like "People need a place to stay, so let's do some Airbnb". That's what we decided and it's been uphill ever since. I mean, it's like a quick success.
Delia:
How did you learn from Airbnb? Like, when you were like thinking about opening Airbnb? How do you know about Airbnb back then?
Donnie Daniels:
I have used an Airbnb before I stayed in one and only been one so it wasn't much. I researched a little bit online and when Lynda and I talked about it, we said "Let's try it!". We can always, one thing about here is if it didn't work out, we could always rent it to the locals for housing. So the locals were hoping that they would be housing because it's very far and few between out there. But the tourist out here, it's a big tourist industry. The State Park or the National Park last year, broke its attendance record by almost 25%. These people have to stay somewhere. Our nearest town is an hour and a half away from the National Park and I am currently nine miles away from the park.
Delia:
Okay, so real close and on the very beginning your target audience was those people who were coming to see the National Park, so they could have a place to stay, right?
Donnie Daniels:
Correct. So I looked at all the activities, I currently put out four automatic messages to the guests when they book and one says "Thank you for booking with Roadhouse rentals. Don't hesitate to ask me any questions". The second one is a list of activities to do around the area and the outfitters that they can book event, whether it's canoeing, UTV, hiking, there's so much to do out here. And then the third one is the check-in- standard check-in info. And the fourth one, it's a "Thank you". And one question that I asked them is, "Please tell me anything that we can do better to make your experience more enjoyable". So I've had 670 reservations in four years and I am almost right 525, I think it is, in reviews out of those. And most of the time, those are reviews where they tell me not to mess with anything because it's perfect or then you got the few of one of those suggestions. Most of them are just leave it like it is.
Delia:
The fact that you're open to guests suggestions, I think that makes you like more of a friendly host and they also can trust you a lot with that. So are you the only Airbnb rentals there? So you have like four listings, right?
Donnie Daniels:
Correct.
Delia:
Are you the only four listings around there in your town?
Donnie Daniels:
When I opened up in 2018, there was 120 and now there's 250+.
Delia:
But those listings weren't like targeting to the people who were visiting the National Park? Or there was like, a necessity for more short-term rentals there?
Donnie Daniels:
It's all for the park. The park gets about 4k and 10k vehicles a year on average. There's really no place for them to stay.
Delia:
Oh, that's right. That's right, I understand. So you already have those listings there like, the properties were there already?
Donnie Daniels:
Correct. We got Roadhouse Rentals One, Roadhouse Rentals Two, then we have Roadhouse Rentals XL Three and Roadhouse Rentals XL Fourth.
Delia:
So these are both duplex as you told me, right?
Donnie Daniels:
There's two duplexes with two units in each building.
Delia:
Okay, that makes sense. And did you already have those properties before you started short-term rentals?
Donnie Daniels:
I bought the property at the same time I started all the rentals.
Delia:
Okay, so when you bought it, you were thinking about doing short-term rentals with those?
Donnie Daniels:
Probably about a month after it wasn't long because I fell in love with the property first and then I said I need to share it.
Delia:
Yeah, that's right. So you weren't planning to use it that much. That's why you decided to do the short-term rentals, right?
Donnie Daniels:
Correct.
Delia:
I see now! And can you tell me a little bit of the financing story of the properties? If that's alright with you?
Donnie Daniels:
Yeah, I'm okay with that. Well, we jumped in, completely in. We moved here five years ago, we sold our house in the Houston area and we cashed out our 501K and we paid everything in cash. Immediately, we were covering our costs, only thing we were had to do is the utilities, insurance, stuff like that. So we were making a profit and then once the first building made enough to buy the second building, then we proceeded with the second building.
Delia:
So you paid both of your rentals basically off of doing Airbnb, right?
Donnie Daniels:
Correct.
Delia:
Wow, that's really amazing!
Donnie Daniels:
Well, the first one was with the one and when we sold our house, the second one was through Airbnb.
Delia:
So can you tell me what was the price of the second property you bought for Airbnb? Like with the Airbnb money? Sorry.
Donnie Daniels:
It was probably with everything included, probably about 150.
Delia:
And you managed to cover absolutely everything with your short-term rental money, right?
Donnie Daniels:
Let's say 90% of it. We had to throw in some of our own money to put up with it. Yeah, we had to throw in some of ours to help cover the interior decorating and furnishing.
Delia:
A 90% is a really impressive number. So you were doing short-term rentals for two years when you bought the second listing, right? The second property.
Donnie Daniels:
Correct.
Delia:
And in those two years, how much was your revenue per year?
Donnie Daniels:
The first year, I want to say. Well, the first year was only two months, so that is really not even worth talking about. I think it ended up being close to 6K-7K. The second year was in the 60s and the third year was in the 90s and then this year, we're already sitting above 93 right now.
Delia:
Wow, 93! That's a really good number. Do you think the other rentals out there do the same amount as you? Or is just your listing has perceiving this amount?
Donnie Daniels:
I think it's pretty well even around the board, there's some that probably do better, they charge more. And then there's some that do better, they probably charge less, so they get more active. But all of us,  out here is like a family, so we all know each other, we all take care of each other. If someone has an emergency at one of their Airbnbs, they'll reach out to me and say, "Donnie, you got vacancy? Can I send them your way? I need to let them come over there", so we relocate between each other.
Delia:
Oh, that's really nice. So you're pretty close community there, right?
Donnie Daniels:
Yes.
Delia:
That's really nice! And can you tell me a little bit of how much is your average daily rate and how do you like plan the pricing for your listings?
Donnie Daniels:
Of course, it's the weekends and holidays and stuff like that are more expensive, or the prime time of the year. I will run anywhere from $99 a night in the regular Roadhouse Rentals, up to $179 a night in Roadhouse Rentals and then the XLs will be anywhere from 139 to 79.
Delia:
So the difference between these listings is that some of them are bigger than the other ones, right? That's why they excel.
Donnie Daniels:
Correct.

Delia:
Okay! And what kind of amenities do you offer in your listing that probably like attracts the guests? Or are really comfortable for the guests you have?
Donnie Daniels:
We've got a queen size bed. It's basically it's like a tiny home. It's got a queen size bed with dresser underneath it. We've got a full size bathroom, the shower. We've got a two burner stovetop, in the kitchenette with a microwave. I know as funny as it sounds, we have running water, electricity. We are on a septic system. Out here you'll get a lot of people who prefer off grid, which means they've got compost toilet, Solar System, catchment water. So I almost have like the hometown fill out in the middle of nowhere, so I've got a sitting area outside with a fire pit and there's a charcoal grill outside, there's a cabana to sit in to get some shade. I've made a half a mile long walking trail that goes around the property that people can go hunting for rocks and fossils and stuff like that and that's about it.
Delia:
So the guests you usually have, you told me they come because of the National Park. Do they usually spend more time going around the National Park? Or do they stay more at your listing?
Donnie Daniels:
They definitely go out during the day. We do get night sky because we're the darkest sky in Texas or darkest sky in the United States. So you can see the Milky Way with your naked eye, so we get a lot of nighttime photographers. The National Park has 450 bird species that migrate through the National Park, so we get a lot of bird watchers that come in and see what birds they can see and do a lot of photography. Then we also have Terlingua, which is a mining ghost town from back in the 20s to 40s, that's a big tourist site. They'll come to starlight and stuff like that, there is somehting like a theater so they can participate in the mining company. There's a lot of different drawers out here.
Delia:
Yes! So about the ghost town, I googled it a little bit because some of your listings' location drop down there, so is that attraction really near your place?
Donnie Daniels:
It's 17 miles away.
Delia:
And people usually go visit that town as well, right?
Donnie Daniels:
Yes and then they'll go over to Lajitas, we've got Lajitas Golf Resort which is probably 25 miles away. They have zip lining and they have golfing and horseback riding. There's other horseback riding in Terlingua, in Study Butte, which is a smaller town. There's many outfitters around to do whatever you could think you want to do there.
Delia:
Oh, so it's a very like touristic area, right?
Donnie Daniels:
Yeah, the population is just over 1K locals and like I said the National Park maybe had, last year they set the record at 578K came in.
Delia:
578,000 visitors for the National Park?
Donnie Daniels:
Yes.
Delia:
That's really nice! So you have, most of your bookings are just for the guests who come to the National Park, right? That's your biggest demographic?
Donnie Daniels:
That's the biggest draw.
Delia:
Do you get another demographic of people who come for like, for different activities?
Donnie Daniels:
We have a lot of different festivals in this area. Number one is and you know what chili is, right?
Delia:
Yes, that's right.
Donnie Daniels:
Well, chili was created here. They have the International Chili Cook-offs every November, so for a week or two weeks, a week they come in prep for the setup and then the week of the tournament, so the cook-off. That's one of the things and then there's a bunk, you get a lot of car shows, you get a lot of motorcycle groups. It's a big draw. Highway 170 is the number one scenic drive in Texas. It starts 25 miles away from me and you can take it about another 30 miles and then turn around and come back. There's been many movies filmed out there. Probably before your time, the movie Fandango back in the 80s, it was filmed out there. Lots of music videos have been done out here. They got, a movie they just did was Deep in the Heart of Texas. It's got some areas from here on it and then there's another one, Frank and Penelope that just hit the films in the last month, so they're in the theater.
Delia:
I see! So it's a very known area then. Can I ask you for your pricing what like, method do you use? Do you do market research? Do you keep a standard pricing?
Donnie Daniels:
I try and keep it standard, then like you always got to try and stay competitive. So you can get some bookings.
Delia:
That's right. When you are planning on your pricing, do you do market research? Or what strategy or method do you use?
Donnie Daniels:
I researched other Airbnb sites that were similar to mine and basically went up and stay right around them.
Delia:
Okay, that makes a lot of sense. And can you tell me what is it the most that you like about hosting?
Donnie Daniels:
One good thing about out here is they are tourists, so they're on vacation. They want to get away from the big cities. So they're out here to have a good time and they're very polite. I rarely have I ran into any rude visitors that were guests with me.
Delia:
Oh, so you have really good guests then, you haven't encountered any bad guest yet?
Donnie Daniels:
Well, maybe two or three if that and they were usually out here just to do work. As long as they're out here on vacation, they usually get along pretty good.
Delia:
I see now! And are you barely like close to your listings all the time? Do you live close to your listings?
Donnie Daniels:
I'm setting up a house right now at the very back of the property, so I'm 40 acres behind everybody. So I do greet them when I can, I always talk to them a little bit somehow whether it's text messaging or through Airbnb messaging. Out here you can have a hard time finding Wi-Fi. My Wi-Fi in my Airbnb is a fiber Wi-Fi, so it's super fast. So that's not an issue, but until they get logged into it, you have to depend on those service. and it's hard to make a phone call it sometimes, but texting works great and messaging works great.
Delia:
And now that we're talking about communication with the guests, can you tell me if there was any particular big challenges that you have encountered as an Airbnb host? It can be with the Airbnb platform, with your guests, with pricing, whatever you find the most challenging.
Donnie Daniels:
What do I find challenging with my guests? I can honestly say I've probably had maybe 5 to 10 asked me for a discount, but other than that, they book it as is. They don't try and negotiate, so I can't use that as a problem. I think my hardest part would be reviews because I mean, I'm at 95% 5-star reviews, right? But then you've got those few reviews, like in the last year, I think I'm sitting at 11 reviews below 5 stars and like I said, I know you can't please everybody, that's my favorite line. But I mean, if everybody else will look at the other 250 for the last year that are above or at 5 stars. People would look at the whole thing, when 90% of them say that you're in a great location and then all of a sudden, two of them say that you're in a bad location. Now like, why is that? I wish I could reach out to him and say "Explain to me more" and then we can continue the conversation, but I don't want to be like argumentative, so.
Delia:
So how do you deal with those bad reviews? You have very few of them, obviously. It can affect you, right? Your superhost status?
Donnie Daniels:
Exactly.
Delia:
Yeah, that's right. And can you tell me how do you deal with that?
Donnie Daniels:
I strive harder to get more 5 stars and I communicate, I make sure they understand where I'm at and where I'm located. So hopefully, they're not surprised when they get here and say, I mean, I realized that most people in big cities probably only drive 5 or 6 miles to get where they gotta go. So when you get out here and you realize you got to go 10 miles or 9 miles to get to the park and then that's another 30 miles inside the park just because it's the largest National Park in Texas. So it can take you an hour to drive across and then that's, they think that you're too far away. So now I get you to the park.
Delia:
And most of your bad reviews are about that, like the location, they think is like too far?
Donnie Daniels:
Yeah, location and then of course price because we are, everything out here is expensive. Expensive to get everything here, we are three hours from the nearest Walmart, that's how far we are and that's three hours to the nearest stoplight. That's how remote we are. So it is costly to get things here. So we got to get it back in our costs.
Delia:
So that would be like one of the main challenges of having like a really remote location listing, right? That everything is really hard to get to. I see now. Lastly, I would like you to tell me if there's any tips that you'd like to share for other Airbnb hosts?
Donnie Daniels:
My biggest thing is when I set this is, I set it up exactly the way I would want if I stayed there, okay? So I did that and then I did suggestions. I asked for suggestions and if they were good suggestions, I implemented them and when we built our own extra large unit, we implemented quite a few of the suggestions into it like more cabinet space, more counters space stuff like that. Listen to your guests and improve what you're gonna do.
Delia:
Yeah, that's right. That's a very like accurate and onpoint tip. Thank you for that. So that would be it for today. Thank you a lot for your time, for sharing us your story and also the tips. It's been really amazing to hear about your story as an Airbnb host!
Donnie Daniels:
Alright!
Do you want to maximize your profit?
As a professional in the short-term rental industry, you'd definitely know that there are intense competitors who are probably obsessed with maximizing profit & exert efforts to promote Airbnb listings. What are their unique tools, you ask? We say:
A super-accurate & reliable data analytics tool.
Looking to earn more money within Texas county? Read more about Airbnb Rental Arbitrage in Texas and start receiving loads of cash without owning a single property! 
Designed to showcase accurate short-term rental analytics data, not only does our app help you optimize your listing, but it can also provide VERY useful data for simulating cash returns using the Airbnb Calculator. try looking at real-time data from Airbtics & stand out among your competitors!