Add a header to begin generating the table of contents
Airbnb Community
Founded during the Economic Crisis, Airbnb helps people earn an extra income from their biggest investment, their homes. Since Airbnb wants to grow communities, it focuses on cities where it has a significant presence. This is because people have the right to rent their homes, whether they live in them or not.
As they collaborate with towns all over the world, they will:
Treat each city as an individual and work to ensure that each community pays its fair share of hotel and tourist taxes-
Cities have different home-sharing policies than historic vacation towns or unconventional destinations. Airbnb will work with cities to address their specific policy requirements.
Build an Open and Transparent Airbnb Community-
Using anonymous information about their hosts and guests, Airbnb will assist local officials in making decisions about home sharing policies. To develop fair and progressive laws, they will help communities identify what kinds of data they will need.
To make cities stronger, — helping home-sharing-
Cities grow when people are actively involved in choosing their fate. Airbnb will empower its hosts and guests with city-specific home-sharing rules, encouraging them to take part in practices that benefit local communities.
References- feverbee.com | airbnbcitizen.com
Background and Concept
Founded over five years ago, Airbnb community has undergone some changes and modifications.
Lithium is the platform on which the community runs and uses a majority of Lithium's modules.
This means that hosts can ask questions, exchange tips and tactics, interact with other hosts, offer ideas, form, host meetup groups, and engage in home-sharing clubs through the community.
To cater to different languages, the community employs translation (rather than distinct sites).
Handling high levels of activity, being very responsive to member questions, and ensuring members are engaging in behaviours that provide genuine value to the business are the primary difficulties for a mature, highly active community like Airbnb.
There may also be doubts regarding an online community's worth. The larger the community, the larger the necessary team. As the team expands in size, the desire to cut the budget grows as well.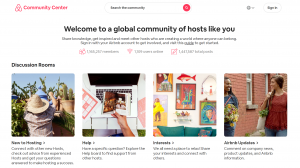 The development of Airbnb Community
Below are the websites that are part of the community (sorted according to prominence):
1) Advice on how to become a better host. The community's main purpose is to make it easier for members to share ideas.
2) Make contact with hosts in your area. A second purpose is to create sub-groups allowing hosts to engage with one another on a local level.
3) Assistance to customers. Many of the activities in the community concentrate around hosts asking questions and receiving help from one another.
4) Home Sharing Organizations. This is where hosts may share their experiences and assist local causes.
5) Voice of the host. Members can propose suggestions to Airbnb that they would want to see implemented.
6) Get-togethers. Members can organize local gatherings and sign up to attend them.
Is the Airbnb community helpful to communities?
The Airbnb community is at the forefront of the new Sharing Economy, a movement that will drive much of the world's future economic growth. Millions of micro-entrepreneurs can now use their unused assets to help make ends meet. As a host, you can earn extra money, or as a guest, you can find unusual accommodation opportunities. This movement is spreading economic opportunities across diverse communities.
Over 35 million visitors have enjoyed a safe and enjoyable stay on Airbnb since 2008. Airbnb is proud to be a global pioneer in developing tools and resources that encourage openness and trust. 
Simply said, Airbnb allows everyone to feel at home in any location. Airbnb connects people all over the world with communication, money, and trusted technologies. Strangers can see a city through the eyes of a local, and hosts can become advocates for the cities they care about. 
The Sharing Economy's Economics
Home-sharing has many advantages, including beneficial social and environmental consequences. It is often a life-changing experience for hosts, and it revitalizes neighborhoods and small businesses in cities as a result. There are three main advantages of home-sharing:
Beneficial effects on tourists and the tourism industry
Community and enterprise benefits, and
Beneficial effects on residents and their households
Onboarding And Registration
Is it simple and inspiring to join and register for this online community?
To get access to the Airbnb community, you'll need an Airbnb account. There is no separate community registration process. You go through the same steps as if you were registering for the site. There are no distinct user journeys here. This implies there is no opportunity to interact or educate members throughout the onboarding process. Acceptance of the anti-discrimination policy is a nice touch.
There is no welcome email that directs people into their continued contributions to the community because there isn't a dedicated community participation track. This appears to be a missed opportunity to turn people into active participants, as well as a lack of interaction with other parts of the company. 

This email even directs users away from the group they were trying to join. A carefully organized collection of tips and how-to tutorials is an excellent addition. However, it is hidden deep within the community and would benefit from being part of an automated onboarding process. However, the list is robust and might be quite beneficial. It is also updated regularly.