Last updated on November 7th, 2022
Add a header to begin generating the table of contents
There are a few steps that Airbnb hosts need to complete before posting their short-term rental listings on platforms. In this article,  we'll talk about staging and furnishing, which  are both important parts of the amenities that will be offered.
Think about how this will influence your revenue and rating on platforms like Airbnb. We know that furnishing can be a nerve-wracking process, but we are here to help!
While it's important to think of the factors to consider when furnishing a property, place we'll also give you tips to make the best decisions possible and we'll include a FREE Airbnb Furniture Checklist PDF (printable) so you can track your furnishing progress.
Factors to consider when planning to furnish your property
1.
Budget
The first important step is setting the budget. By writing down a minimum and maximum amount  and analyzing a reasonable amount to spend on this task, the next steps will be easier. Our suggestion is: don't be too tight but don't go too high either, not all your pieces of furniture have to be brand new and high-end. There are stores where you can find beautiful and cheap second-hand furniture.
According to other hosts' experiences, a 1 bedroom apartment can be considered  $5,000 to start with. This includes furniture, decor, and amenities. Then, you can estimate about $1,000 per bedroom. If we're talking about an entire house property type, let's increment the budget to $6,000 for the house and $2,500 per bedroom. These amounts can vary with the size of the property and how you plan to style it.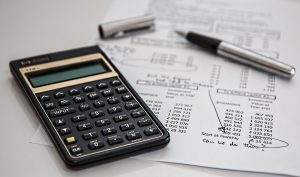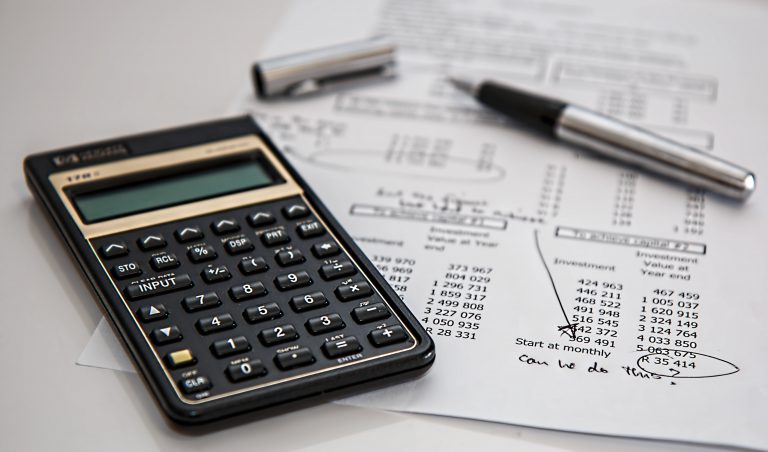 2.

Styling
When it comes to designing a place, you should not only think about the individual items but how it all comes together. You can also visualize it with different flooring or wall color.
There's no need to go over the top with every room as there are simple themes and color combinations that work well and don't need fancy items to set up.
Styling a room is not a job that everyone can do. If decorating is not your thing, you can hire a professional interior designer/decorator. This means you'll have to increment your budget depending on your preference. Another suggestion from hosts is to ask a real estate stager if they're willing to do it for you.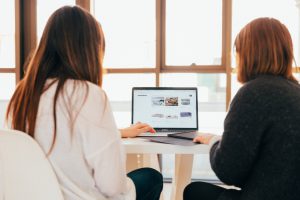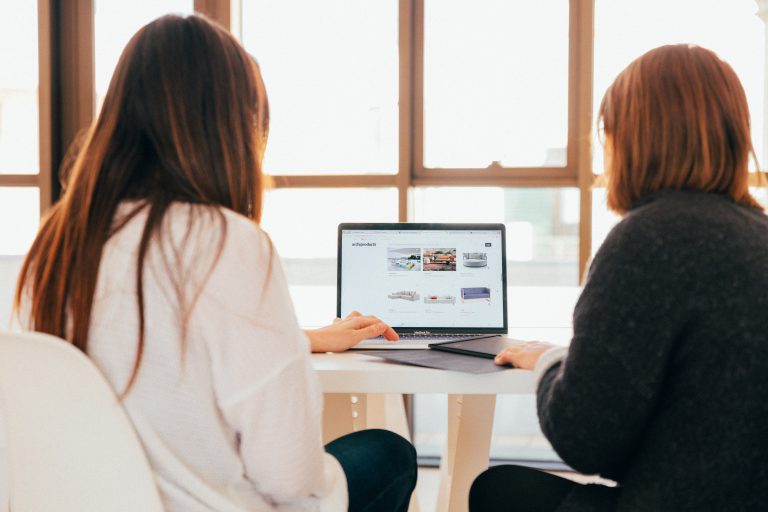 3.

Property Size
If your property has a very reduced space, don't worry! There are still creative ways to furnish and style your property.
You can either request the help of a professional designer for this occasion or do it by yourself. There are some resources like YouTube videos you can use for inspiration.
Make sure to take all the measures needed, especially if you plan to buy furniture online so you don't end up with the wrong size item.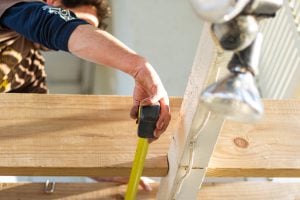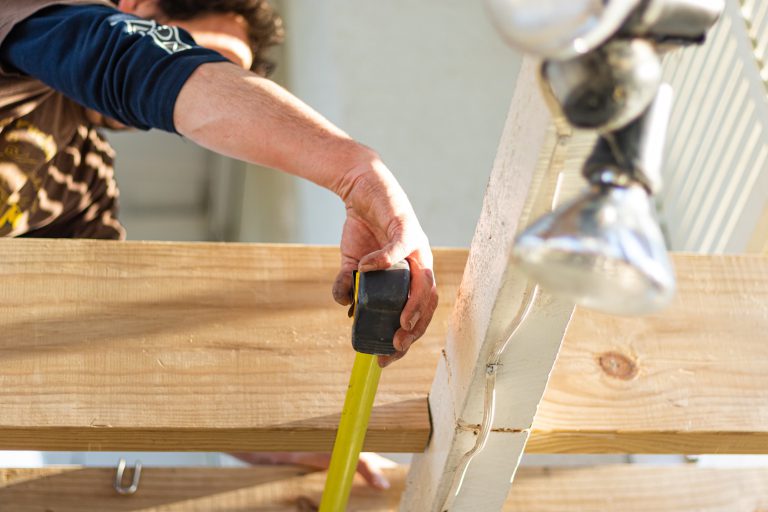 4.

Identify your audience
When you understand your target audience's needs, you're at a great advantage. This means you'll be able to fulfill them with success and provide an exceptional guest experience.
For example, families with children will appreciate high chairs, diaper-changing stations, and a playground with some toys and books.
Business travelers and remote workers would love an office place with free WiFi, a dedicated workspace,  and a printer they can use.
Similarly, couples looking for a getaway place may like a sofa bed for more comfort, a hot tub, and the like.
If you're setting up your first listing, ask your local host community what kind of guests they usually attract and what kind of listing they offer.
If you already own an STR and have experience in managing it, investigate your previous and future guests. This will help you find out what kind of people they are, what brings them to your area, and have an idea of what they are looking for.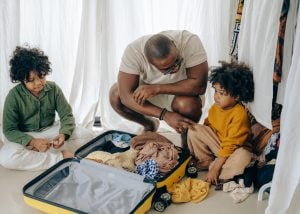 5.

Timing
Similar to other projects, furnishing and staging your listing should take a certain and reasonable amount of time. When planning this task, it is best to make sure everything falls on time.
To achieve this, you can make a schedule and assign 1-3 days (which can vary depending on size, theme, and state of the room) to every room on your property.
Setting this schedule will help you focus and prevent you from overthinking every detail and going over your budget. 
This means it should take 1-3 days to plan one  room and once you have it all planned out, you start with the next one. This doesn't mean that you need to have all the furniture within 3 days, but those days should be allocated to select, buy, and collect the furniture.
You can start the staging once you're in the buying stage or at least 60% done.
The ideal time to finish this task would be 2 to 3 weeks, once again, this depends on many factors but you can aim to finish it as soon as you can.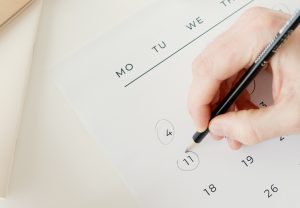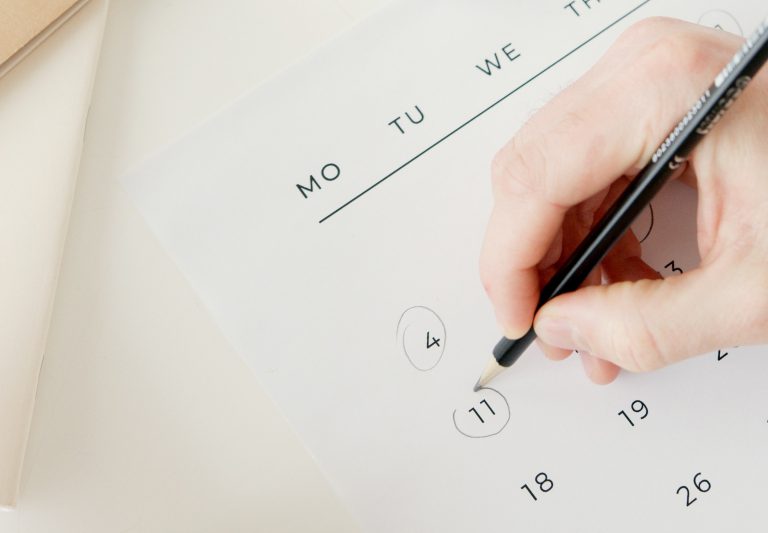 Ideal furniture for your listing
1.

Entire House / Condo / Apartment
Living Room
Furniture (Average $819)
Appliances (Average $630)
Decor (Average $326)
Office furniture and appliances (Average $2,068)
We usually see the living room as a resting area or for reunion, so the best advice we can give out is to keep it simple but cozy.
When selecting the sofa and armchairs, take into consideration the materials, how much weight they support, quality, and the like.
We recommend you get a smart TV, depending on your preferred size, but guests will appreciate a smart TV with streaming services available for them.
In case you're setting up the office space, make sure to do it in a place where there are a lot of electric outlets available and very close to the WiFi router.
DINING

ROOM
Furniture (Average $1,145)
Decor (Average $130)
It can also depend on the space you have available but a six-seater dining table sounds reasonable, if you can do a four-seater is good as well. 
In case you find more space in your dining room after the main, which is the table, there comes the cabinet: it's optional but is cute, simple, and adds personality to the room.
Placemats and coasters are a must and you can find them in any shape and color, and they help a lot with the maintenance of your bare table or tablecloths (if you use them).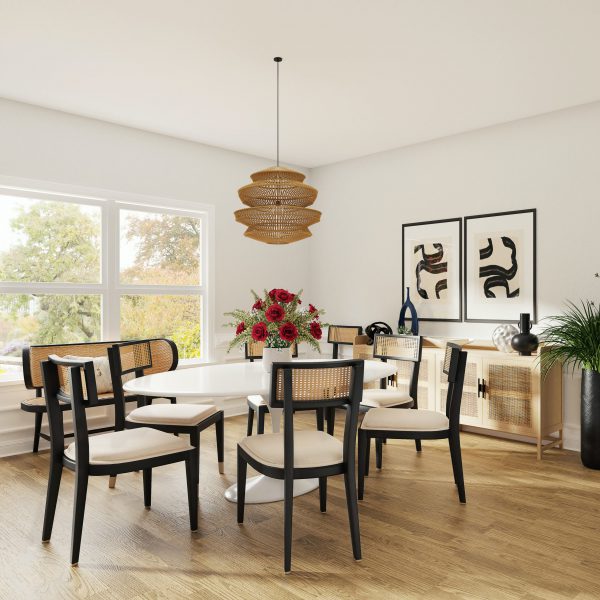 KITCHEN
Appliances (Average $1,730)
Tableware
Kitchenware
There will always be guests who'll struggle interacting with your appliances. Your work will be easier if, when it comes to appliances, you select the easiest one to use or provide easy-to-follow instructions along with some appliances like the coffee maker, toaster, kettle, etc.
Not all hosts like to provide kitchenware and that's fine, but it'd be really thoughtful of you to offer them, guests will love it! Since these are items that get easily damaged, make sure to get the best quality but cheapest possible ones and replace them every 5-8 months on average.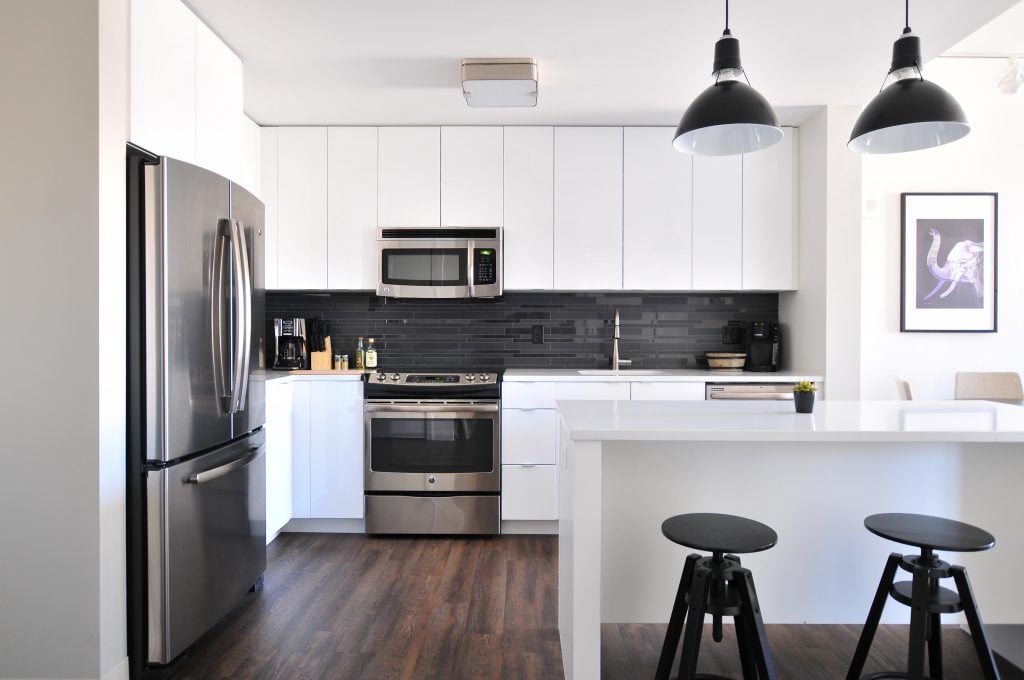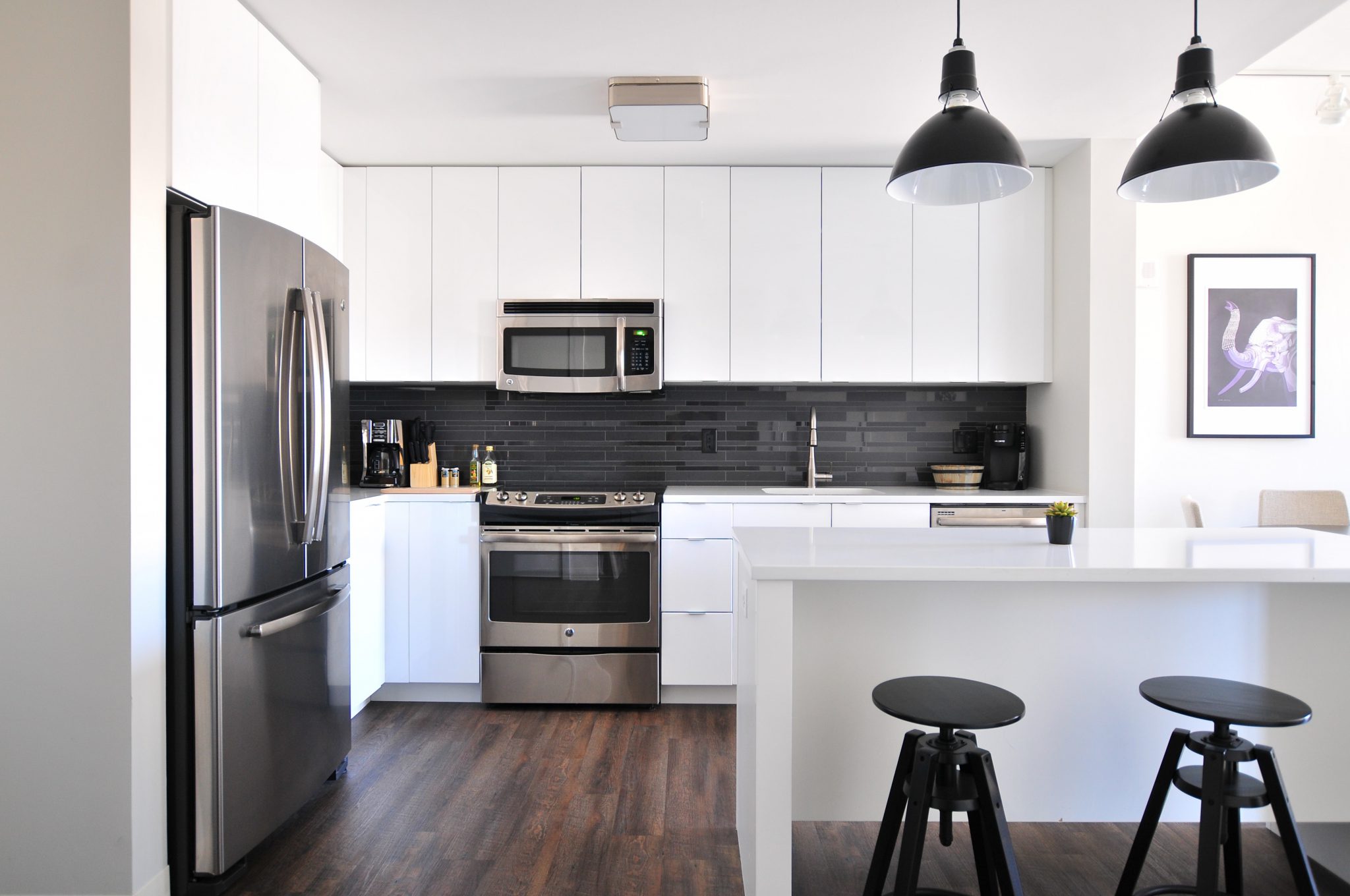 Toilet & Bathroom
Essentials 
Decor
Often people forget to put the same effort into decorating and setting up the bathroom as in other rooms. Bathrooms are an important part of your listing: if it doesn't look nice and clean, guests surely won't like your listing at all and won't come back.
Offer the essentials for a reasonable amount, let's say 2 towels per guest and 3 toilet paper per stay, depending on the length of stay.
Getting a new mirror, toilet seat and shower head is optional but would be best if you can replace the already existing ones with new ones if these have +2 years of use already.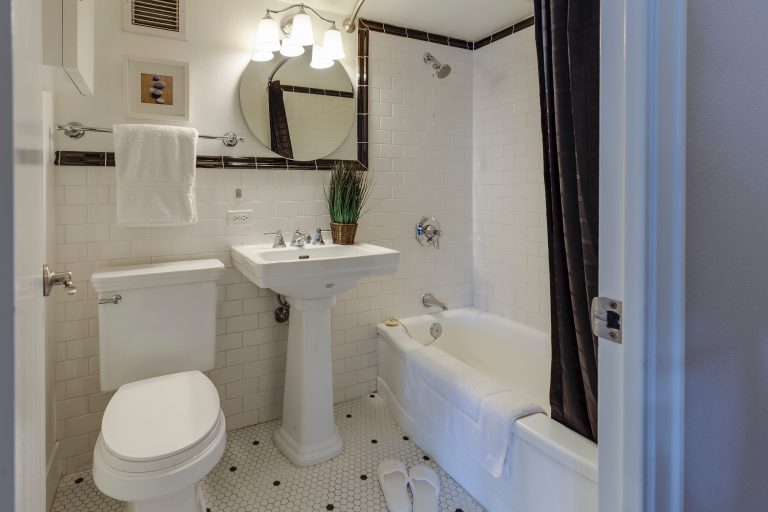 Bedroom
Furniture
Appliances
Decor
For the bedroom, the type of bed depends on the number of bedrooms you have in your listing. For the master bedroom, hosts usually select the biggest size bed possible, a king-size bed. For the second and third bedrooms, they usually select a queen size; this also depends on what you're doing for the other bedrooms, a normal bedroom or a kids' bedroom.
The dresser doesn't need to be big but you'll be good with a medium size, they won't be used often but it gives more life to the bedroom as decor and in long-term stays, guests may get to use it.
TV is also optional, usually, they're more common in the master bedroom only.
The decor is super important, a bedroom is a place to rest and the atmosphere should be light and easy to be in for a long time. Think about the colors you're going for and the amount and theme of items you're getting for decor.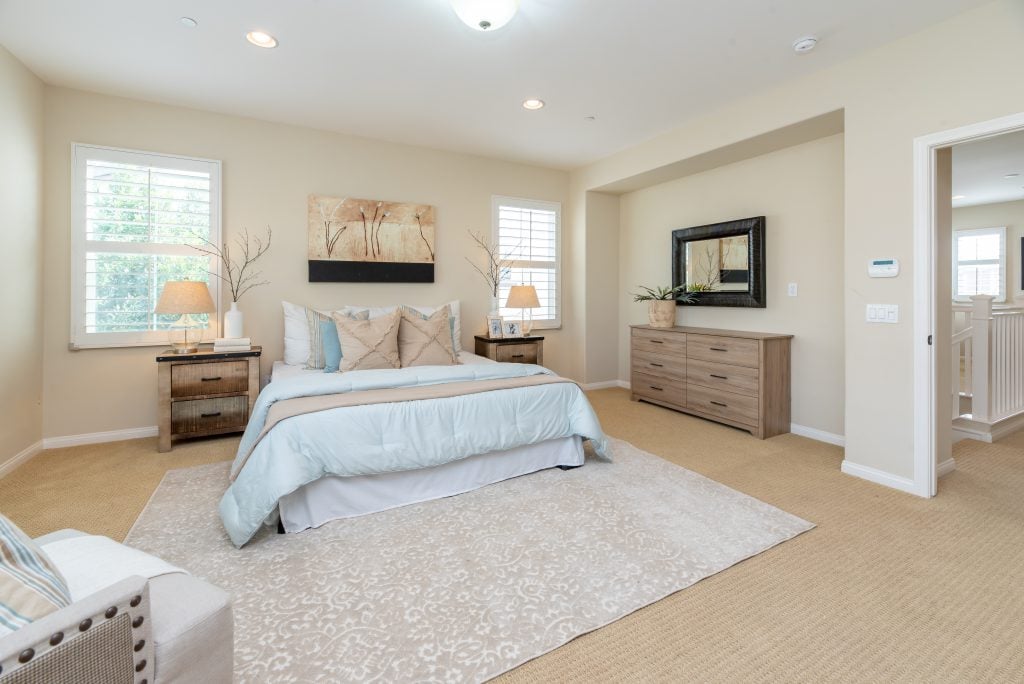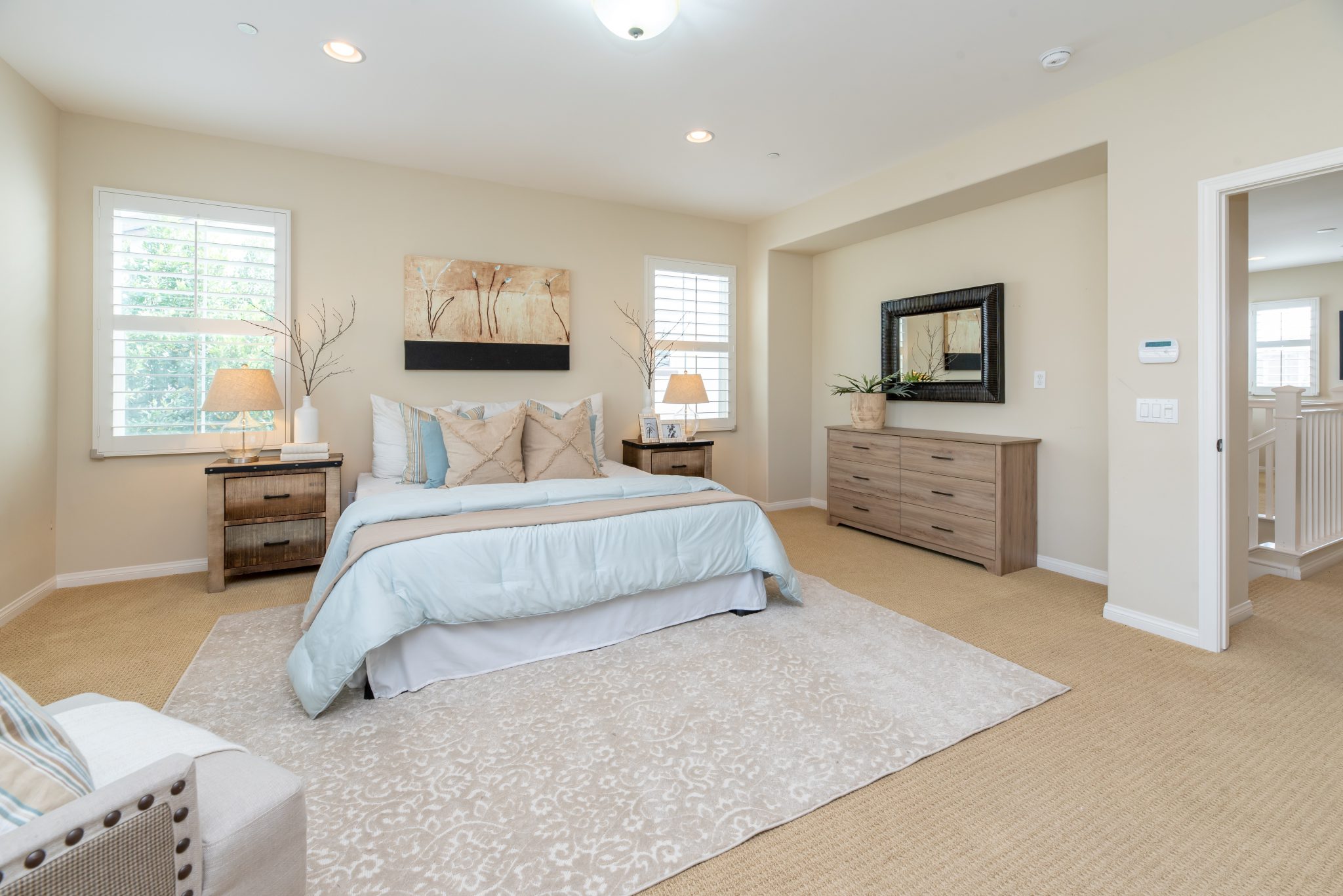 Studio

Apartment
Since the space in a studio apartment is much more reduced, I'll be making a checklist separately where we can list everything it can fit.
Living room furniture and appliances
A single armchair should be enough in order to not take up so much space and provide another place to rest aside from the bed, the coffee table is not necessary.
Dining Room / Kitchen furniture & appliances
Tableware & Kitchenware
Looks like a lot but you can accommodate all of this in a single kitchen space, 4 of each tableware item and 2 of each kitchenware item will work fantastically. 
Office furniture & appliances
As we mentioned before, make sure to have a multi-outlet extension and the WiFi router very close to this area, guests will appreciate it.
Bedroom furniture & appliances
If the bed takes up a lot of space then you should consider a Murphy bed, some of them can have a sofa underneath or a built-in closet on the sides.
Bathroom Essentials
General
Tip: there's no need to overload this place with decor, there are smaller options or you can still go for the regular size items but put very few of them.

Where can I get Inspiration from?
A great way to start planning and to keep you in line while you're in the task of furnishing your Airbnb is looking for inspiration, something you can see and say "oh, I really like this arrangement/style" and start projecting how your place will look like. No interior design is trademarked so if you want to take complete inspiration from a room design, go for it!
We'll list some of the most well-known inspiration resources for you:
1. Interior Design Magazines
This is a very old-fashioned way but still works, it is the least convenient because if you like any item from the magazine it may be hard to find online. Up-to-date magazines may come with better references on where to find the furniture pieces they use for staging.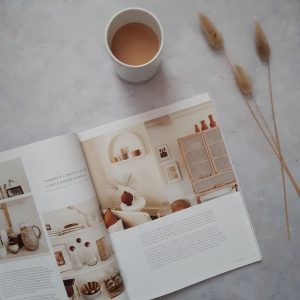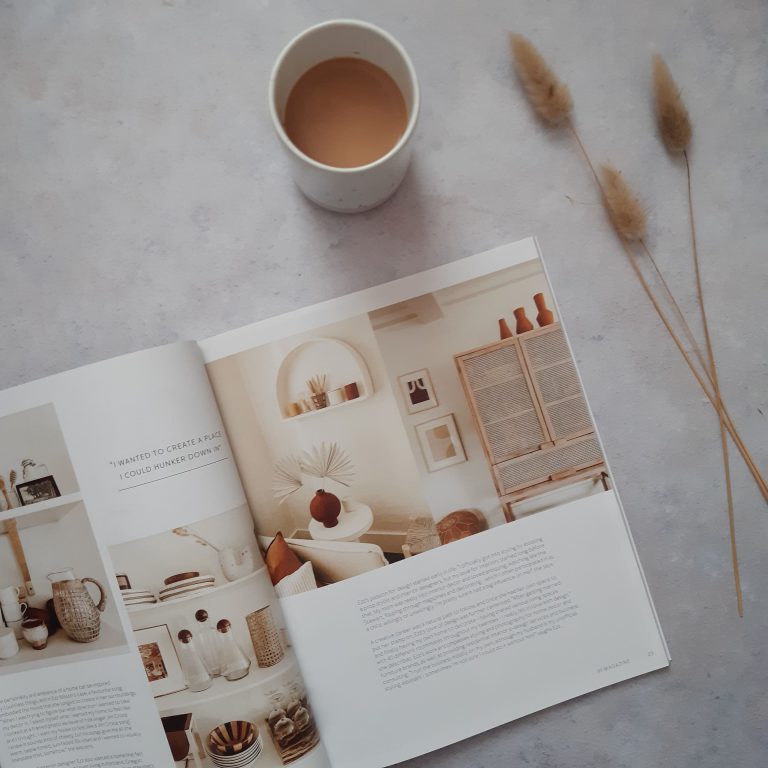 2. YouTube
The number of helpful videos you'll be able to find on YouTube is incredible. Any particular style or theme you're interested in, you'll find something related to it here. This is one of the most convenient and entertaining ways, the content creator will often leave useful tips and buy lists that can be extra helpful.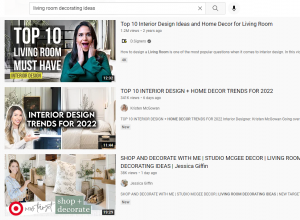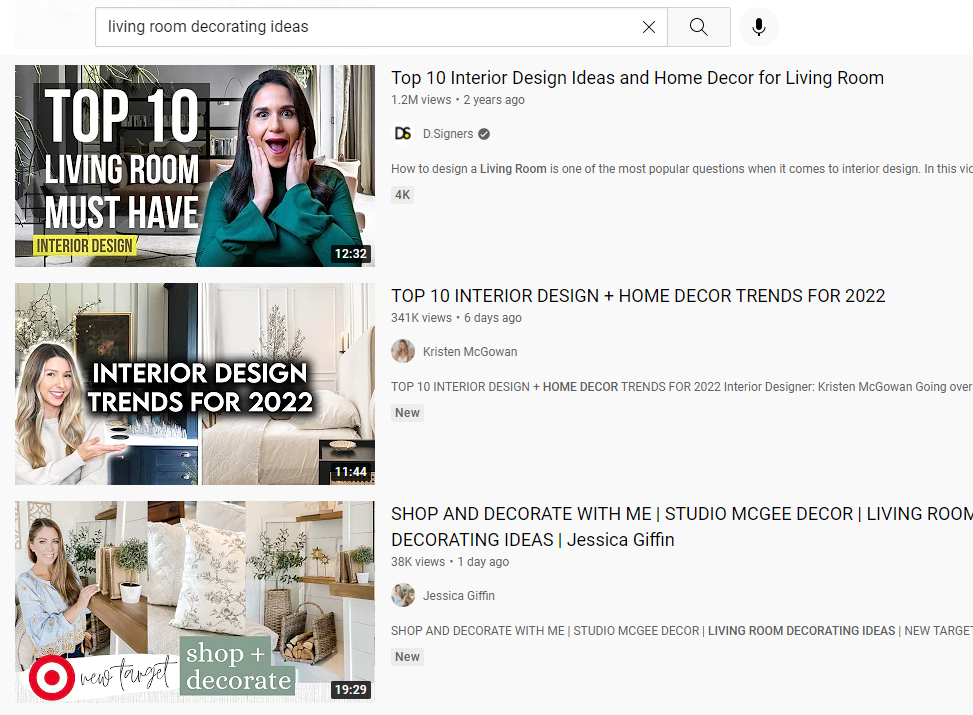 3. Pinterest
From luxurious to rustic and minimalistic designs, anything you can think of, you'll be able to find it here. Interior Designers also use Pinterest to create their image boards where they save inspiration ideas or past work results.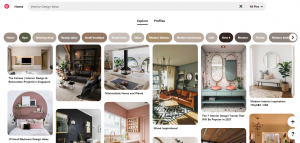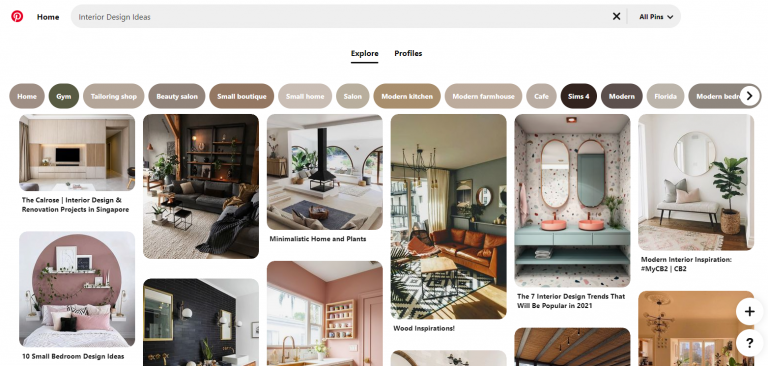 3. Interior Design Sites
Thank God there are online web pages dedicated to sharing Interior Design ideas and making our work easier! One of them is Havenly, which is an online interior design service, but they also offer a website with entire decorated room ideas and you can also see and shop for every single item the designer selected for that stage.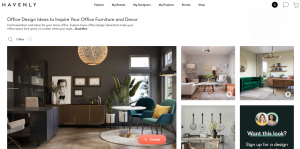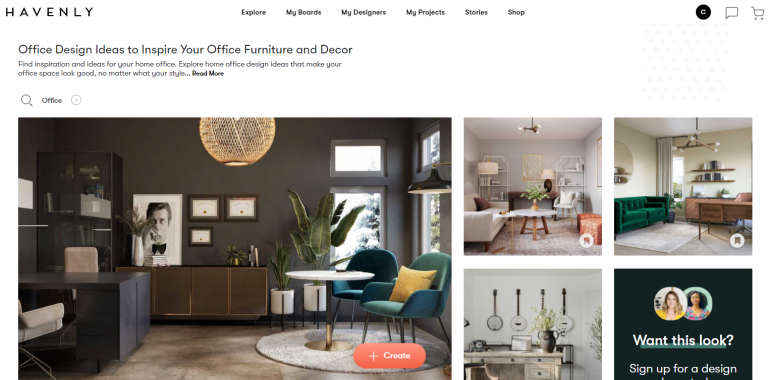 4. Airbnb Hosts Communities
On certain Airbnb Hosts Communities, especially on Facebook, hosts share the struggle they have furnishing their listing, tips for furnishing and also share their finished listing for other hosts to judge. Here are some examples of hosts' posts: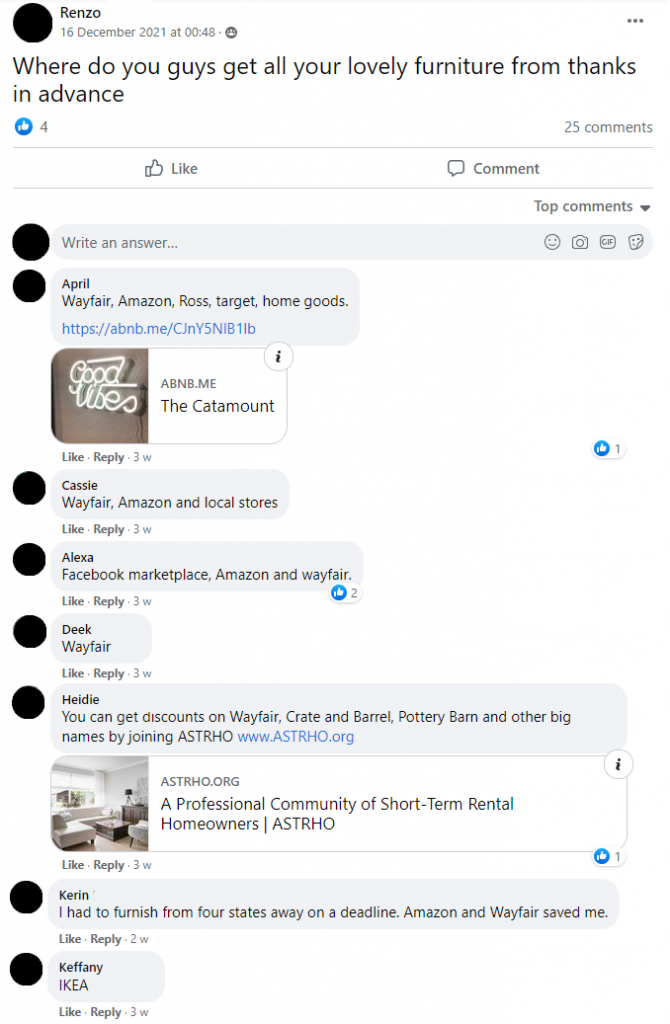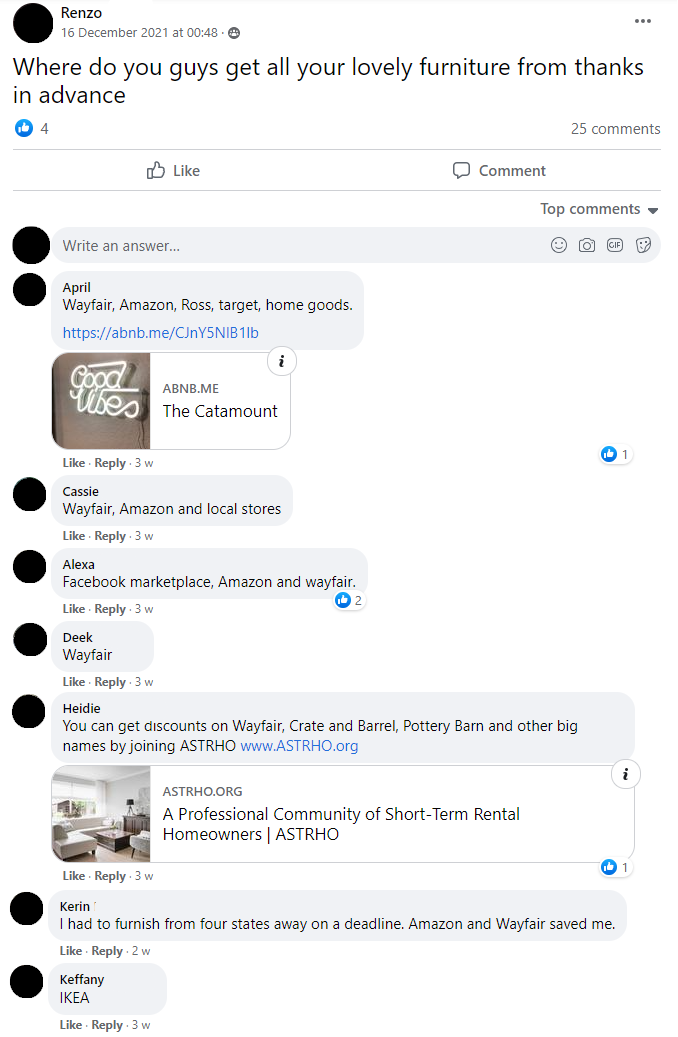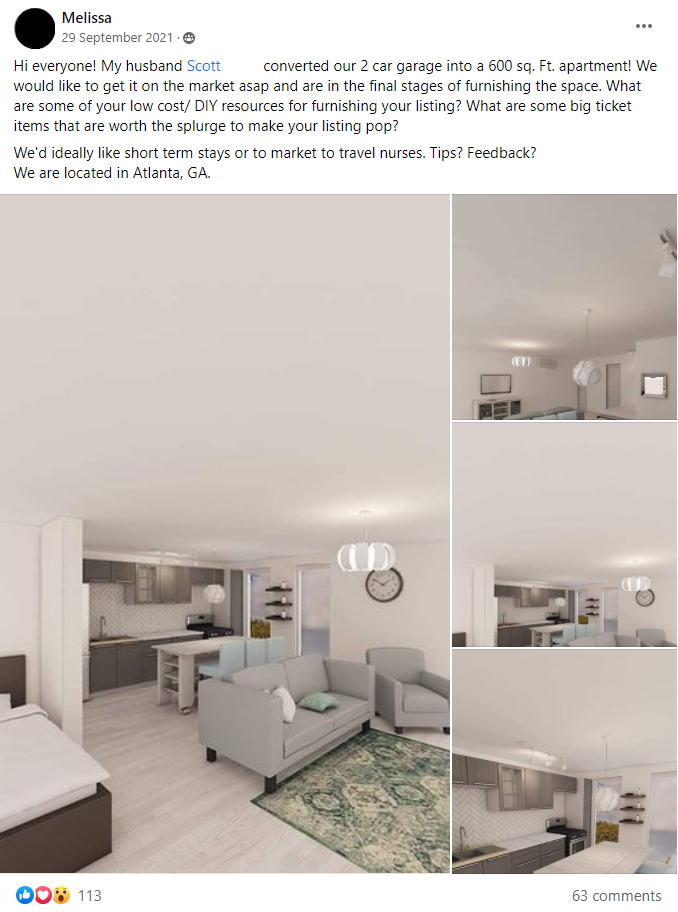 Conclusion
As you can see along with this blog, furnishing your Airbnb is a task that takes a lot of time and effort but you can always have fun and enjoy it! After all, once you have the experience, when you have to do it again it'll be a piece of cake.
Once you're all done and ready to go live, don't forget to take high-quality pics and if possible hire a professional photographer, it'll be worth it.
We hope all the resources we provided you will make your listing's furnishing journey the easiest and best possible, happy furnishing!
FIND STATS FOR YOUR CITY – CLICK HERE
Read More – List of All AirbnbCost To Owners
Useful tool in 2022: Try Short term rental calculator to see your income potential