Last updated on June 15th, 2023
Airbnb investment guide running springs
There's a huge chance that if one can't properly decide whether to live in an area with tropical sunny weather or in a city filled with cold breeze snow, it could be difficult to stand your ground. Here's the good news: Running Springs has them both! 
This place is adored for its all-year round of both sun and snow, which is ideal for those who want to experience both seasons. After all, isn't that what's mostly exciting if you can't decide which one to like most?
Running Springs has a close proximity to other mountain communities in San Bernardino including Lake Arrowhead and Big Bear, and while it doesn't have a specific booming industry yet, it's certainly a popular tourist destination.
While there are several places to invest in California, in this article, we'll feature Running Springs, one of the mountain communities in San Bernardino with breathtaking scenery. Continue reading and let's identify whether it's a good place for investment or not.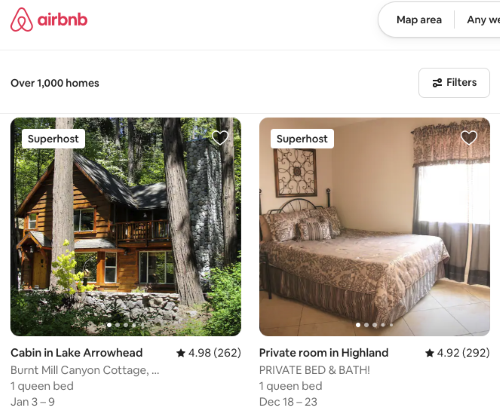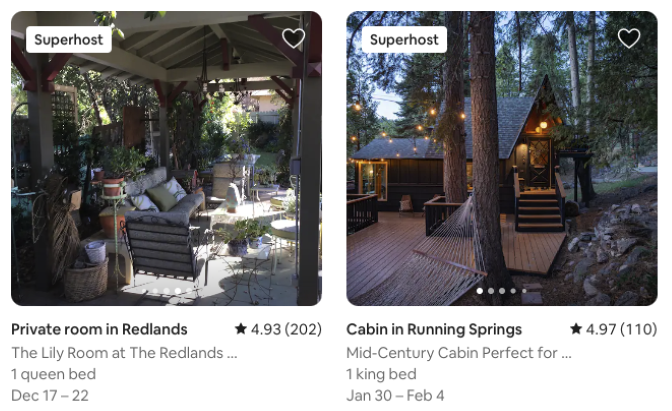 airbnb property for sale Running Springs
Source: Airbnb in Running Springs
As seen on Airbnb, there are various property types in Running Springs including cabins, apartments, private rooms, and even guest houses. In order to determine an investor's potential profitability in this area, an Airbnb income calculator is necessary to help you make the best decision before taking the step and spending tons of ka-ching in a property! Speaking with one of Running springs CA real estate can also help you figure out if you need to finalize your decision to purchase a property.
On the other hand, considering your competitors in the area, conducting market research will also allow you to get ahead and stand out from the rest.
Top Reasons for Buying An Airbnb in Running Springs
The majority of research claims that Running Springs is a year-round destination. However, based on the investment insights from Airbtics, the seasonality in Running Springs is at 71% with the highest revenue of $7,136 during the month of January and the lowest revenue of $1,627 during the month of May.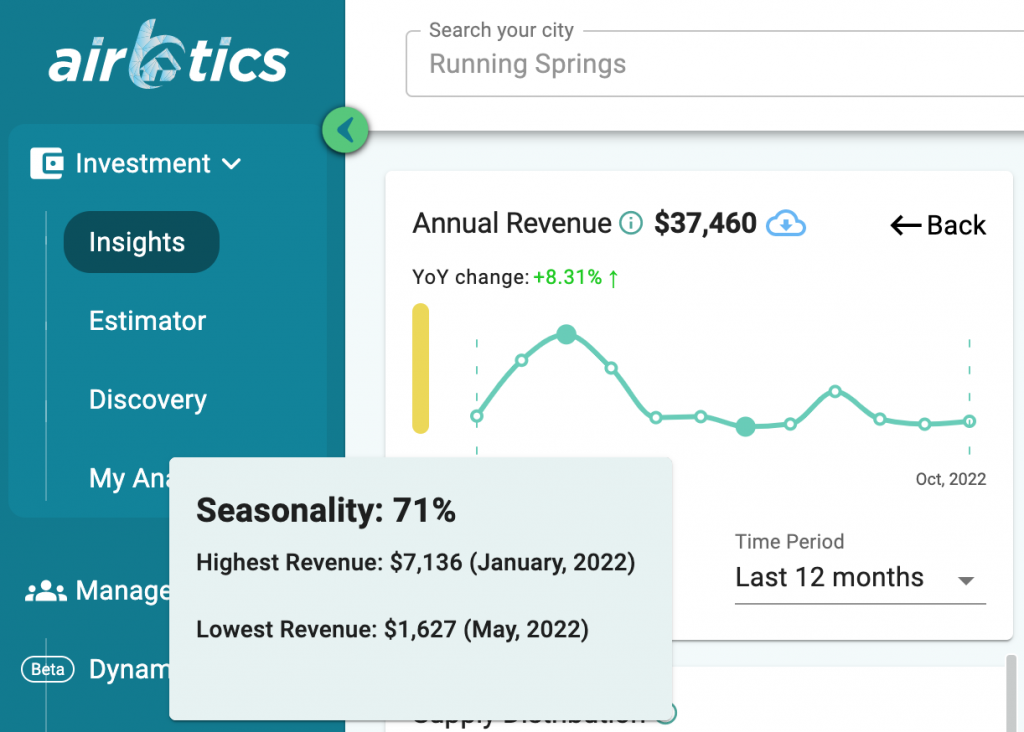 Let's take a look at some of the major reasons why you should consider buying a property for Airbnb in Running Springs:
1. Educational Tours & Programs
Did you know that aside from Running Springs' innate beauty, it also offers educational tours for students & professionals? This means that there are more tourist expenditures on accommodations as they go through educational programs about National Children's forest – a sweet deal for property investors who want to cater to this market.
2. Fun Activities in Summer & Winter
There's no denying that this place offers the best of both worlds! For property investors who want to enjoy their lives in two different seasons, the expectations in Running Springs are immeasurable. Here's an imagination: During the summertime, you can go for an offroad adventure in the forest and swim in some of the beautiful lakes, and try skiing & snowboarding during the winter. All the while, generating money as a passive income and maybe earning some friends while being a superhost.
3. Low Crime Rate 
The recent statistics from Neighborhood Scouts reveal that Running Springs has a relatively low crime rate of 15 per 1,000 residents and that's truly a breath of fresh air if you ask me. Since other Airbnb hosts prefer to do remote hosting and have at least one person to take care of the property while they're away, purchasing a property with low crime rate can definitely reassure one's safety.
Best Neighborhoods for Airbnb in Running Springs
While Running Springs is undoubtedly one of the best property investment cities in the USA, let's take a closer look at the important Airbnb key metrics. Filtered for a 1-bedroom apartment, here is a brief overview of some of the most recommended and profitable neighborhoods in Running Springs:
1.

Smiley Park
Annual revenue:

 $32,738

Average daily rate:

$123

Occupancy rate:

54%
2.

Arrowbear Lake
Annual revenue:

 $32,972

Average daily rate:

$157

Occupancy rate:

48%
Is Property Investment Profitable in Running Springs?
Using a short-term rental profit estimator, it was discovered that a 2-bedroom apartment in Running Springs can generate an annual revenue of $31,753 with a steady occupancy rate of 42% and a nightly rate of $206.
Airbnb investment guide running springs

Houses for Sale in Running Springs, CA
Purchasing a property in Running Springs will not only reassure you to have access to a delightful vacation spot, but it can also bring an excellent return on investment and become a reliable income stream. It may be difficult to find the best properties that have the potential to produce high yields and capital growth, and this article will certainly help you through.
Here are some of the houses for sale in Running Springs, CA, along with the calculated gross rental yield, cash-on-cash return, and annual revenue.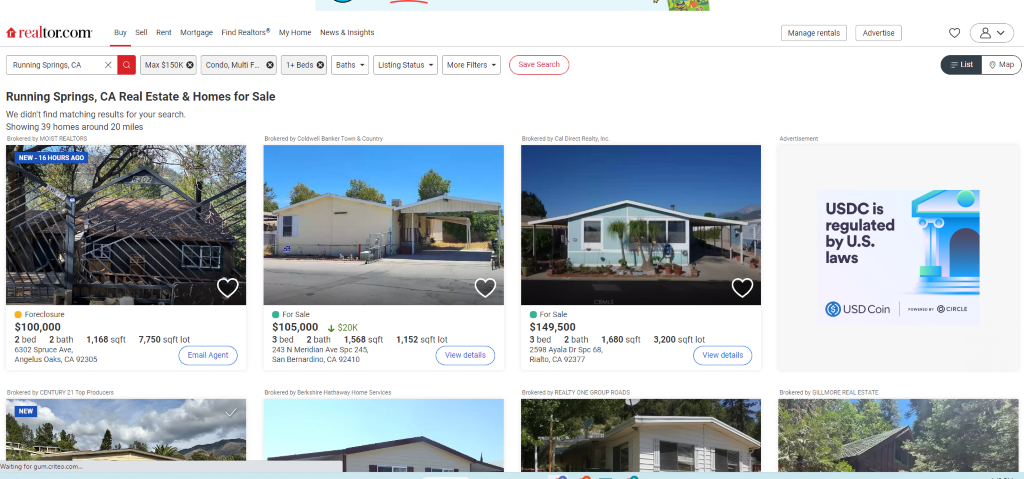 Disclaimer:
The properties featured in this article are indicated as examples and there is a possibility that they have already been sold and removed from the website's listings.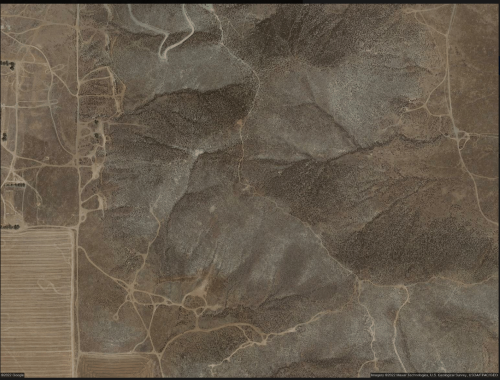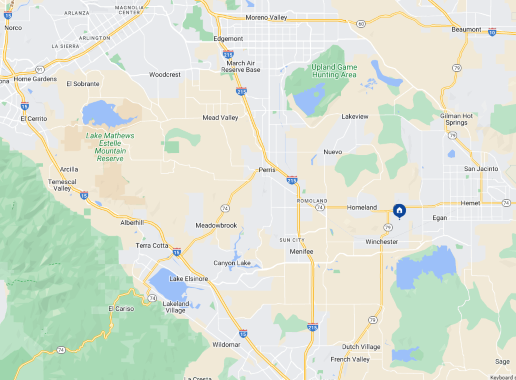 | | |
| --- | --- |
| GROSS RENTAL YIELD | 13.34% |
| ANNUAL REVENUE | $4,670 |
| CASH ON CASH RETURN | 14.26% |
| | |
| --- | --- |
| GROSS RENTAL YIELD | 21.28% |
| ANNUAL REVENUE | $24,471 |
| CASH ON CASH RETURN | 38.07% |
| | |
| --- | --- |
| GROSS RENTAL YIELD | 26.34% |
| ANNUAL REVENUE | $25,020 |
| CASH ON CASH RETURN | 53.24% |
| | |
| --- | --- |
| GROSS RENTAL YIELD | 24.62% |
| ANNUAL REVENUE | $24,620 |
| CASH ON CASH RETURN | 48.09% |
| | |
| --- | --- |
| GROSS RENTAL YIELD | 22.97% |
| ANNUAL REVENUE | $64,081 |
| CASH ON CASH RETURN | 43.14% |
Airbnb investment guide running springs
Conclusion
Investing in a property is certainly a huge step that one needs to not only think about – but also conduct market research for accuracy. With the seasonality of Running Springs, it can generate a nice cash flow for property investors as long as the right neighborhood is targeted and potential revenue is calculated using an Airbnb rental arbitrage calculator. While there are many other cities to invest in California aside from Running Springs, it's definitely worth the time & effort to speak with a short-term rental expert to make the wisest decision for property investment.