Last updated on July 5th, 2023
Finding the most profitable Airbnb market is crucial for maximizing your ROI. Fortunately, with the advent of advanced tools and technologies, the process has become more accessible and efficient.
In this tutorial, we will explore using Airbtics' Discovery Tool to identify a profitable Airbnb market. Following these steps will equip you with the knowledge and resources needed to make informed investment decisions.
Start with Airbtics' Discovery Tool
The Airbtics Discovery tool is the starting point for most property investors and managers seeking reliable advice on where they should invest. We know how risky it is to start investing without prior knowledge of the market's annual revenue and other data. That's why we built a powerful tool where it lets you access helpful information to compare data based on their locations:
• Market name, size & market type
• # of bedrooms
• Gross rental yield
• Annual revenue
• Distance (see how far it is from your search area)
💡What is a Good Gross Rental Yield? An excellent Gross Rental Yield should be at least 25%. This is to make sure that you can turn an undervalued property into a good investment in a short period of time. It's more practical to purchase a cheaper property with a good return – instead of purchasing an expensive property in a high-revenue market.
Fortunately, the Airbtics tool saves you tons of time as you don't need to compute the Gross Rental Yield by yourself for a property.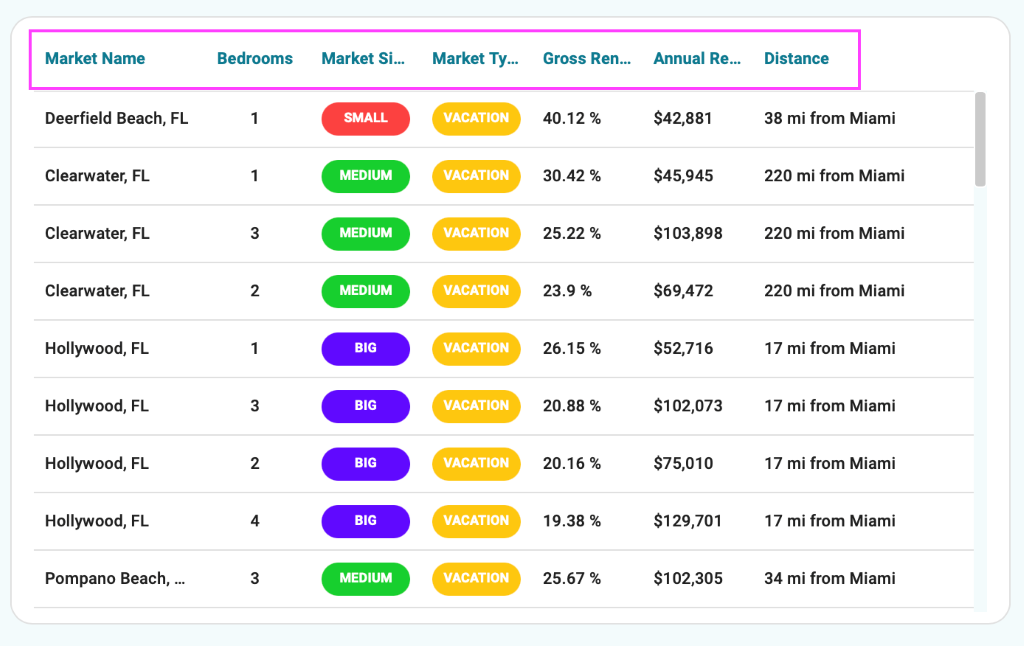 👉 Log in to the Airbtics app so you can access this tool for free. If you don't have an account yet, please sign up!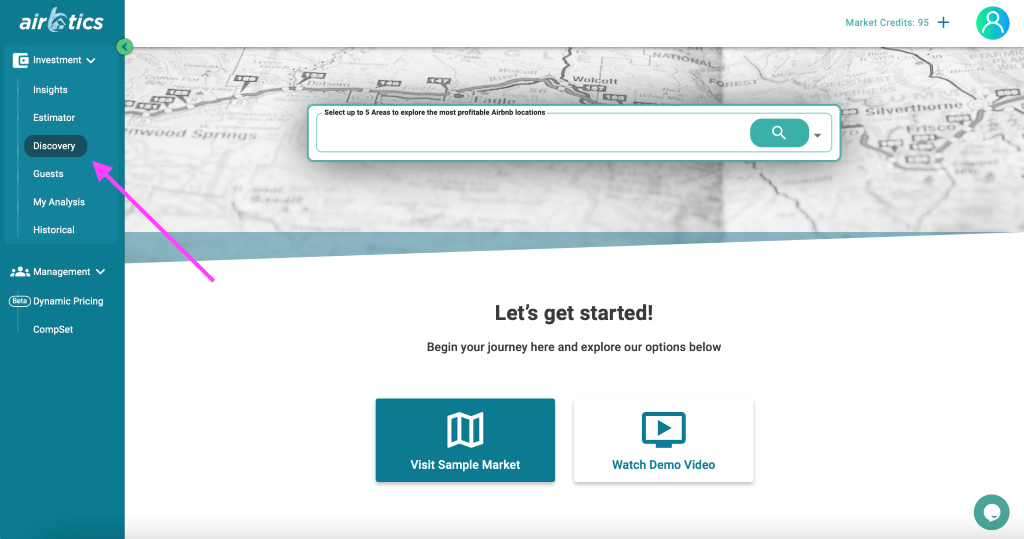 How to find a profitable Airbnb market?
1. Now that you are in the discovery tab, type in up to 5 areas in the search bar. Let's say, you are based in Michigan City but also want to look for a profitable Airbnb market in Philadelphia and Connecticut.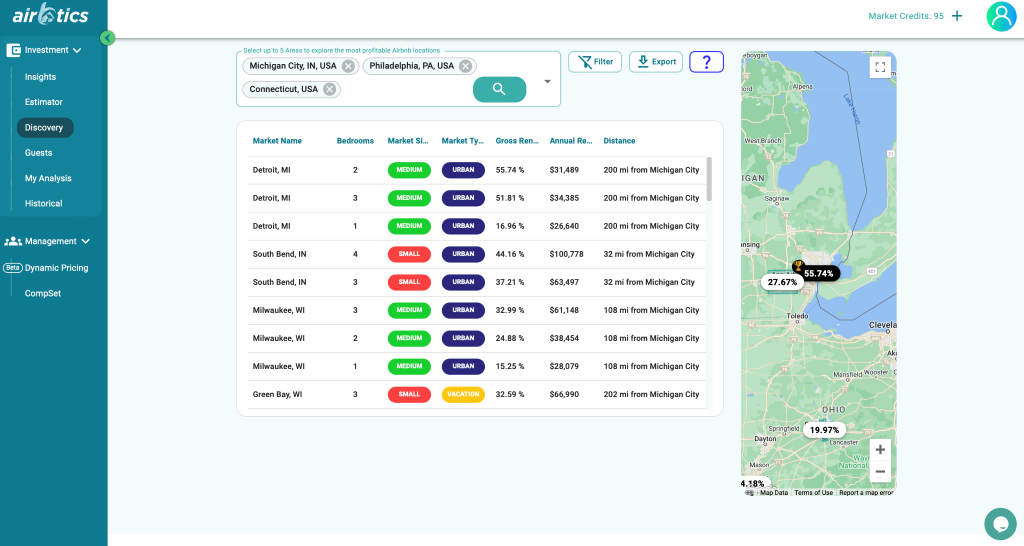 2. With the data generated by our discovery tool, it looks like Detroit, MI which is 200 mi away from the city has the highest GRY (gross rental yield) of 51 – 56% followed by South Bend, IN. Although Detroit has a much higher GRY, the annual revenue of South Bend with 4 bedrooms is 3x more than Detroit, and it's only 32 mi away from the city.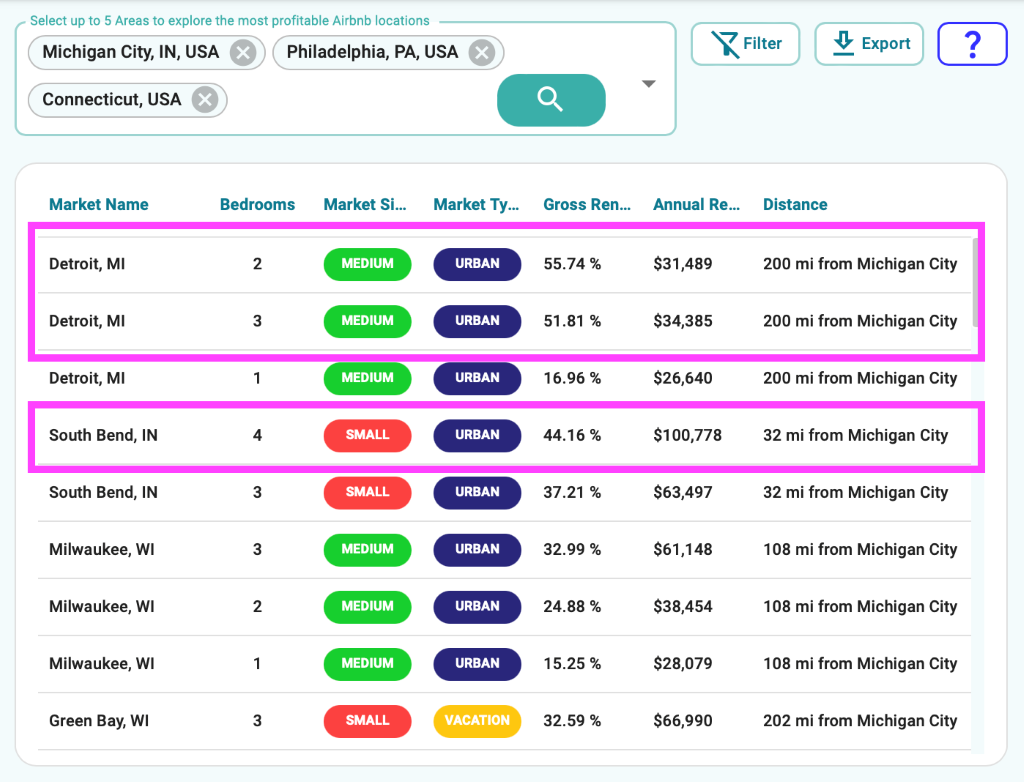 Meanwhile, there's a small-size market, vacation type in Atlantic City, NJ which is 55 mi away from Philadelphia with 26 – 30% GRY. Looks good as you've always been planning to have a vacation house in Philadelphia but you're based in Michigan, so it would be better to set it up as an Airbnb rental vacation property.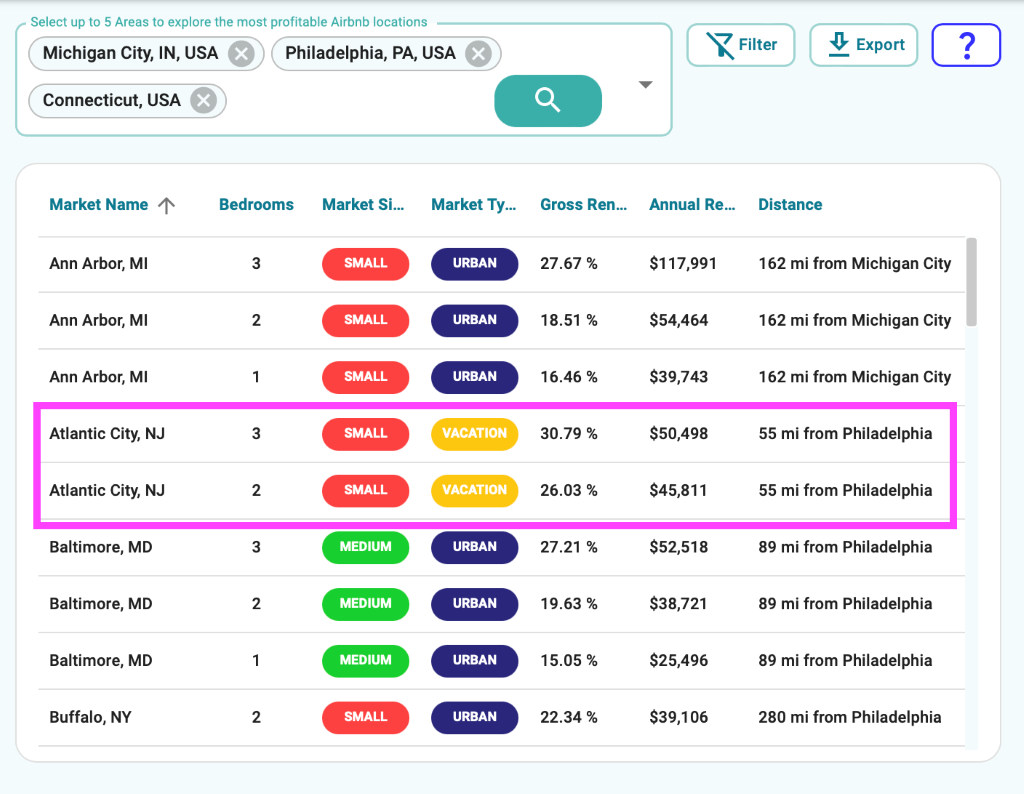 Go Deeper with Insights Tab
Once you have acquired this initial data, you can go deeper into the markets by hovering and clicking the "Go to Market". It will direct you to our insights tab where you will get the privilege to access all the data for this specific market.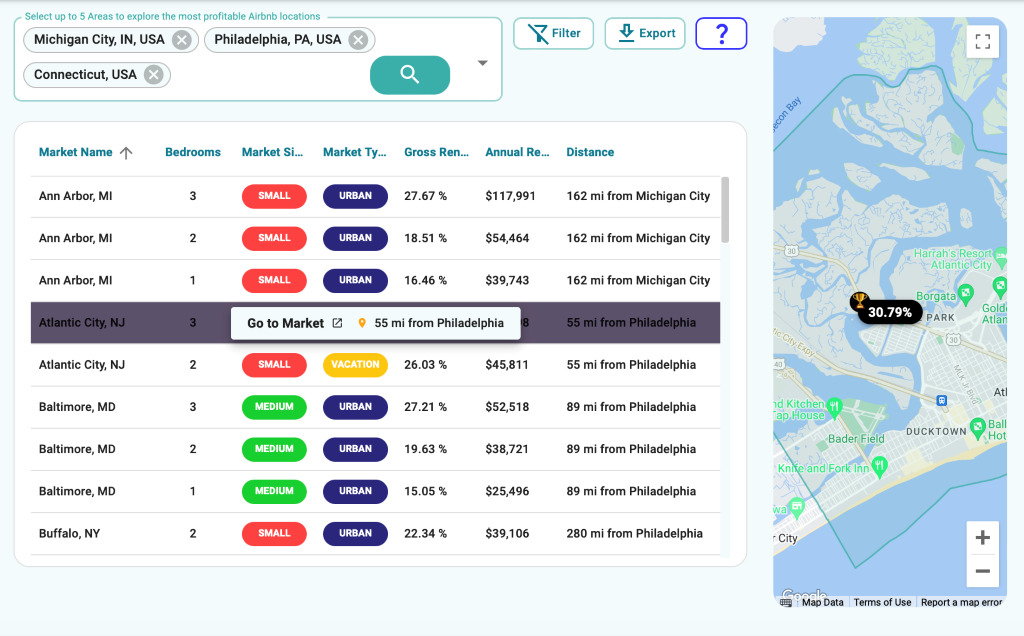 👉 For more information on how to use the Insights Tab, read this guide. To fully access the Insights Tab and the Discovery tool, make sure you are subscribed to our plan.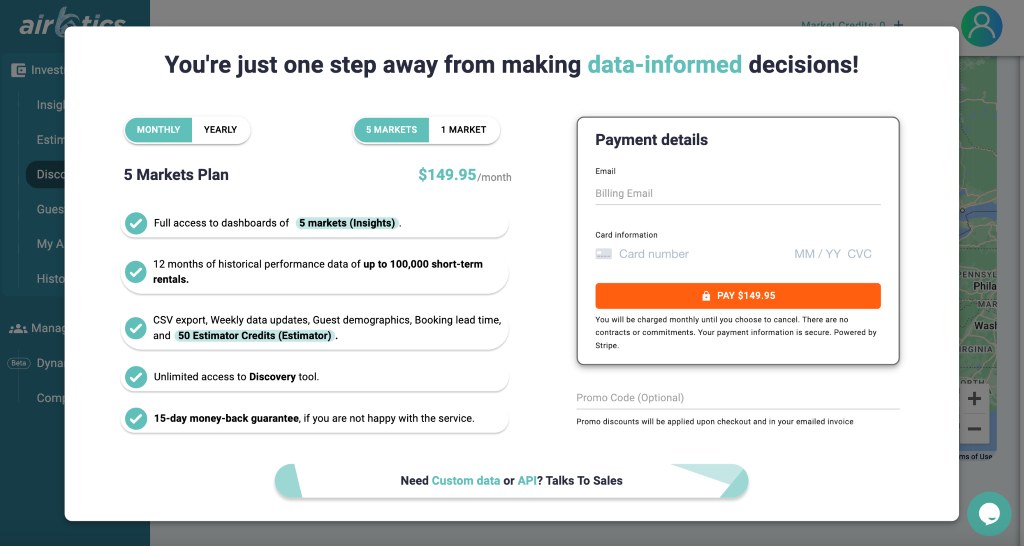 Maximize other features
Maps – Once you hover over the list of markets, the map will move automatically to show you the location of a specific market.
Filter – What if you prefer a small size market with a 2-bedroom property that is <100 mi away from you? Use the filter to play around with the results. 
Export – You can also export the data in a CSV file with just one click!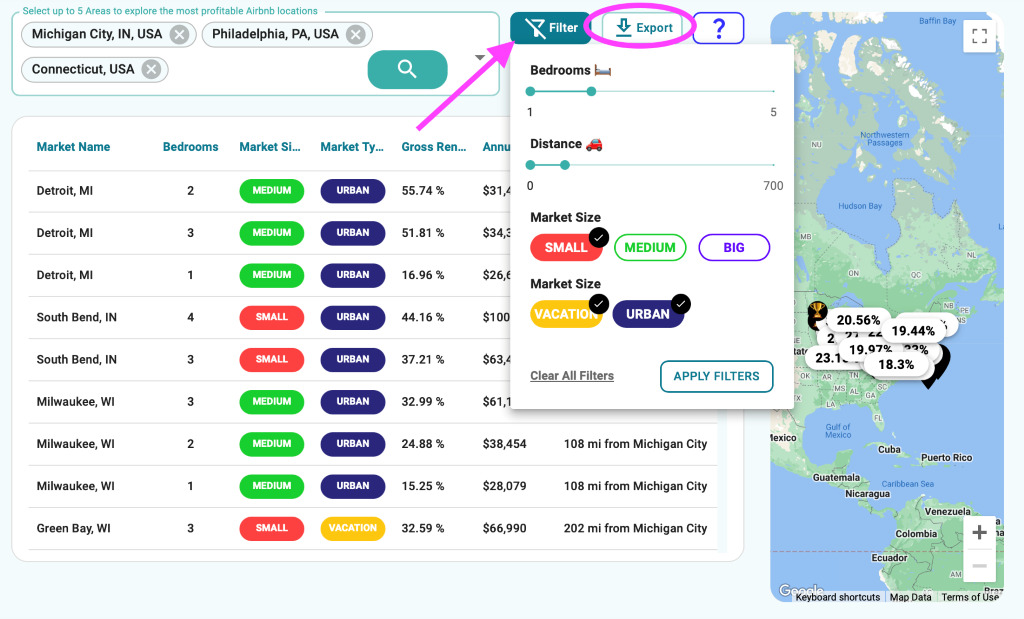 To sum it up, maximize your Airbnb profits with Airbtics' Discovery tool. Identify profitable markets in 3 easy steps: access Airbtics data, compare locations, and analyze insights. Save time, make informed decisions, and unlock the full potential of your property investments with Airbtics. Start discovering today!