airbnb property investment Lake Arrowhead
Located in the "The Alps of Southern California", Lake Arrowhead is a small mountain resort surrounded by nature, wildlife and dazzling sceneries. Annually, Lake Arrowhead Village welcomes around 3M of tourists that visit this natural paradise to enjoy its different outdoor activities like hiking, bicycling, water and snow skiing, fishing, etc. 
Did you know that home values in Lake Arrowhead are consistently increasing? If you are looking to invest in a property where you can maximize profitability in Lake Arrowhead, then now is the right time to do so! Based on Zillow's home value index, the home values in the city have gone up by 11.8% compared to last year and house prices are around 655K.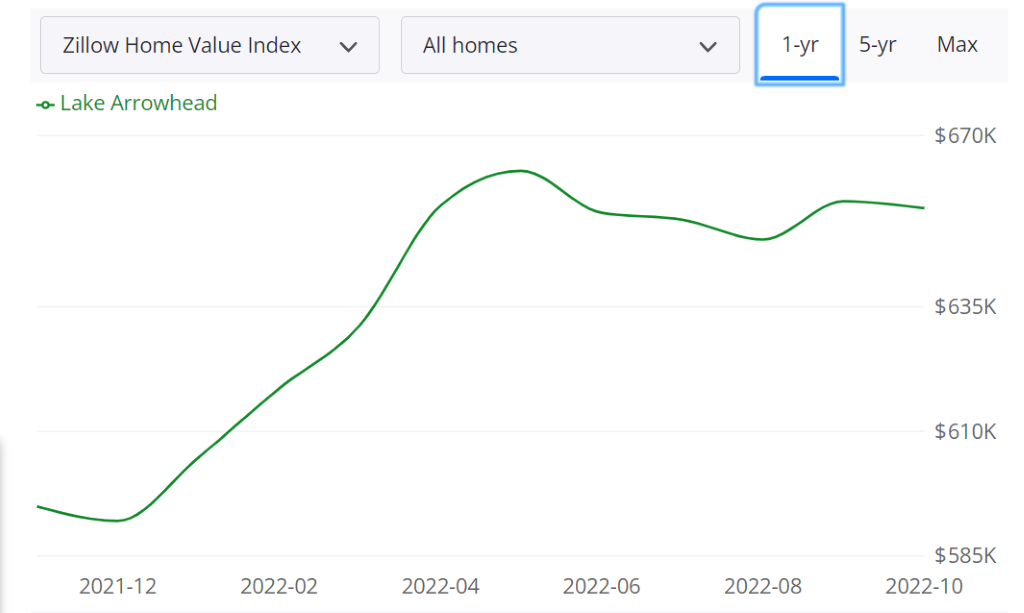 Aside from looking at a property's architectural design, proximity to major tourist areas, and accessibility to the best go-to places, the primary step is to determine profitability. In this article, we'll discuss the metrics in order to gauge the best property investment.
This includes the best website recommendations for property investment in Lake Arrowhead, property gross rental yield, cash-on-cash return, and annual revenue, along with some of the most ideal and profitable properties according to their location. Continue reading to learn more!
airbnb property for sale Scranton
Pros of Buying An Airbnb in Lake Arrowhead 
Leaving behind the fact that Lake Arrowhead is a dazzling city surrounded by mountains and wildlife, there's more to learn as to why we recommend purchasing a property here Here are some of the major reasons why you should consider buying a property for Airbnb in Lake Arrowhead:
1. Relaxing lifestyle surrounded by mountains
If you're looking to earn a passive income while enjoying stunning views and a peaceful atmosphere, then allow me to tell you that Lake Arrowhead is the right place to start an Airbnb business. But if you want to go on a stroll, this city allows you to go on an adventure to the mountains, however, beware of the bears!
2. Diverse leisure activities and high touristic demand
As we mentioned before, Lake Arrowhead offers a variety of outdoor activities for its visitors and locals. Whether people want to visit this city in summer or winter, there will always be an activity that suits their tastes. Thanks to this, Lake arrowhead consolidated itself as a popular touristic destination all year round.
Cons of Buying An Airbnb in Lake Arrowhead 
Now that we know the pros of investing in Lake Arrowhead, let's take a quick look at some of the cons. It's always better to look at the two sides of each coin in order to properly set your expectations!
1. Difficulty in Transportation
Walk Score reveals that Lake Arrowhead is a car-dependent city, which could be a little difficult for guests who are commuting. While there is public transportation readily available, hosting in Airbnb Lake Arrowhead might also require your property to have a proper parking space or recommendations for getting around.
2. High Cost of Living
While Lake Arrowhead's cost of living is lower compared to other cities in California when it comes to comparing it with the national average, it's 25% higher and housing prices are 59% higher according to AreaVibes.
Is Property Investment Profitable in Lake Arrowhead?
Using a short-term rental income estimator, it was discovered that a 3-bedroom apartment in Lake Arrowhead can generate an annual revenue of $75,968 with a steady occupancy rate of 65% and a nightly rate of $274.
airbnb property investment Lake Arrowhead

Properties for Sale in Lake Arrowhead, CA
Buying a beach house property will not only let you have access to a delightful vacation spot, but it can also bring an excellent return on investment and become a reliable income stream. It may be difficult to find the best properties that have the potential to produce high yields and capital growth, and this article will certainly help you through! 
Here are some of the homes and lakefront properties for sale in Lake Arrowhead, CA, along with the calculated gross rental yield, cash-on-cash return, and annual revenue.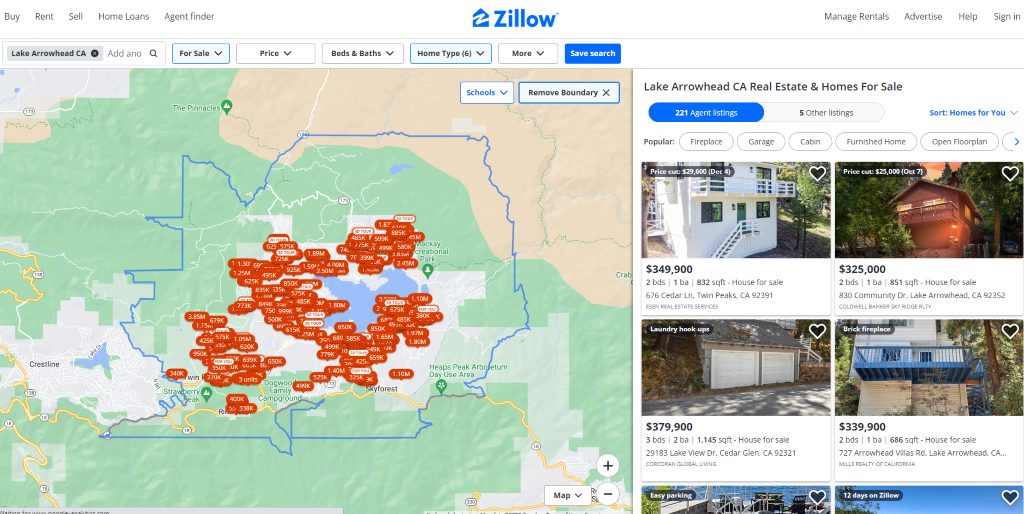 Disclaimer:
The properties featured in this article are indicated as examples and there is a possibility that they have already been sold and removed from the website's listings.
airbnb property investment Lake Arrowhead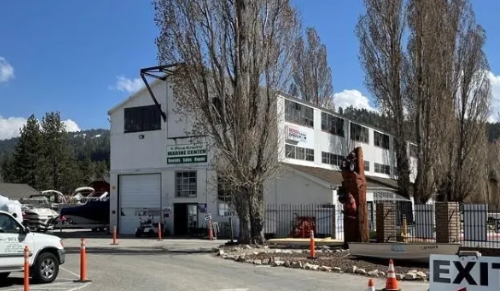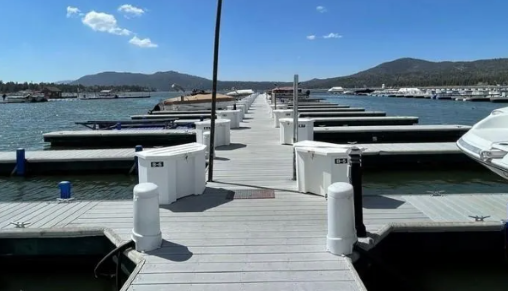 | | |
| --- | --- |
| GROSS RENTAL YIELD | 27.65% |
| ANNUAL REVENUE | $13,797 |
| CASH ON CASH RETURN | 57.18% |
| | |
| --- | --- |
| GROSS RENTAL YIELD | 23.85% |
| ANNUAL REVENUE | $19,083 |
| CASH ON CASH RETURN | 45.79% |
| | |
| --- | --- |
| GROSS RENTAL YIELD | 26.07% |
| ANNUAL REVENUE | $29,985 |
| CASH ON CASH RETURN | 52.45% |
| | |
| --- | --- |
| GROSS RENTAL YIELD | 26.31% |
| ANNUAL REVENUE | $40,759 |
| CASH ON CASH RETURN | 53.17% |
| | |
| --- | --- |
| GROSS RENTAL YIELD | 27.54% |
| ANNUAL REVENUE | $57,799 |
| CASH ON CASH RETURN | 56.84% |
Conclusion
Conducting market research in Lake Arrowhead is helpful for accuracy and knowing the potential profitability. With the number of visitors that it attracts annually with its recreational activities and peaceful atmosphere, Lake Arrowhead can certainly generate a nice cash flow for property investors. However, it's not recommended for property investors with a limited budget as the cost of living is 25% higher than the national average. There are certainly other cities in California that one can discover!
As long as the potential revenue is calculated using an Airbnb profit calculator, it's definitely worth the time & effort to invest and speak with a short-term rental expert to make the wisest decision for property investment that you won't regret.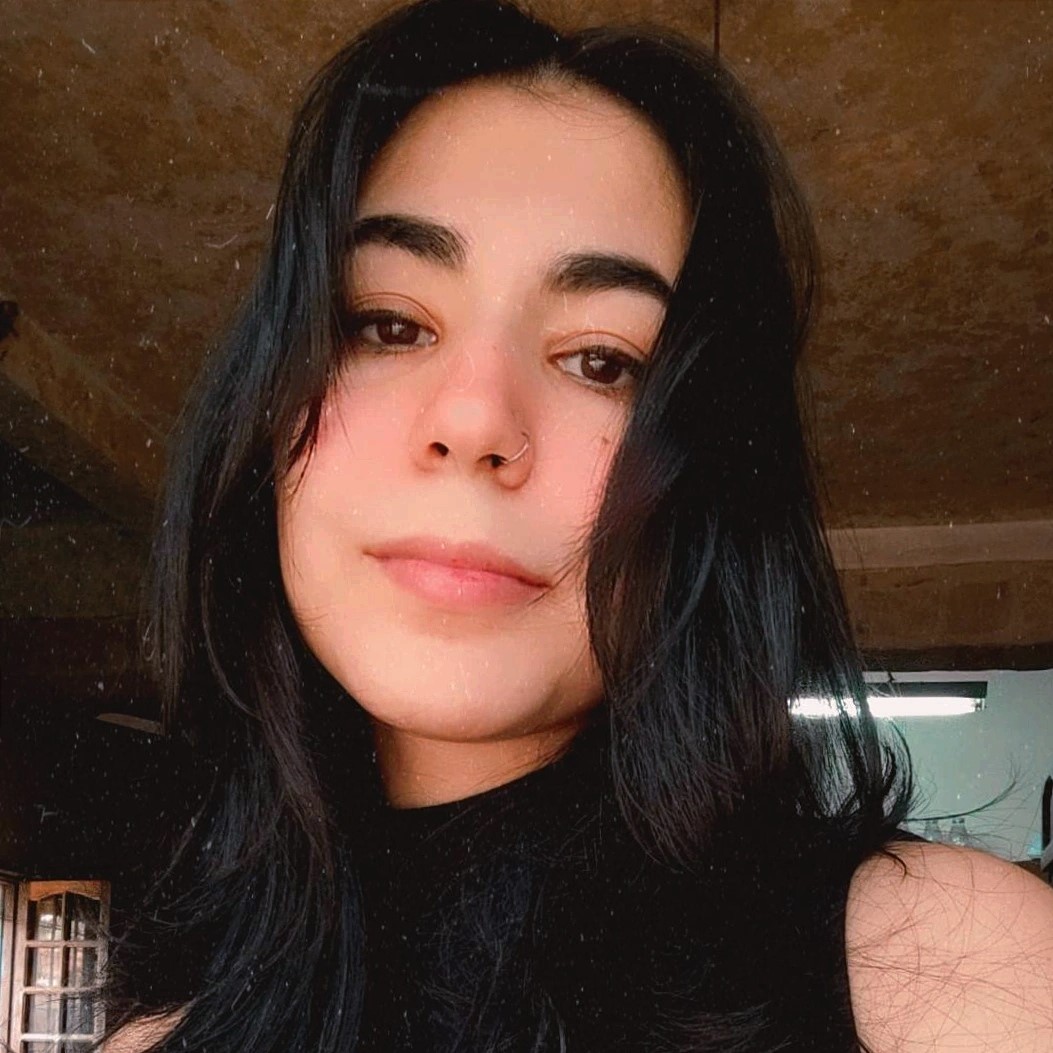 Magdalena is a curious content writer about short-term rentals, mostly focusing on researching the Hispanic market and its regulations. She graduated from Columbia University in 2019 and now, she fully dedicates herself to her language studies, pets and reading books.