Last updated on June 21st, 2023
Airbnb property investment provo utah
Provo's strong economy and consistently growing population certainly contribute to being ranked as the 1st best-performing large city in the USA by the Milken Institute. Because of this city's close proximity to two major universities, BYU (Brigham Young University) and Utah Valley University, Provo is generally popular for its student rental properties. Not only does it have a strong demand for student accommodation, but it also offers several fun things to do and discover! 
To name a few, tourists enjoy visiting some of the most favorite attractions such as the Bridal Veil Falls, Provo Canyon, and Splash Summit Waterpark. Did you also know that Provo features 27 different city parks which consist of 800 acres of parkland – perfect for hiking and other outdoor activities. 
Interesting fact: Norada Real Estate Investments confirms that Provo has the breaking record of having the largest monthly growth rate by up to 5.2%. In comparison to other cities in Utah, this city has certainly achieved the demand for rental properties!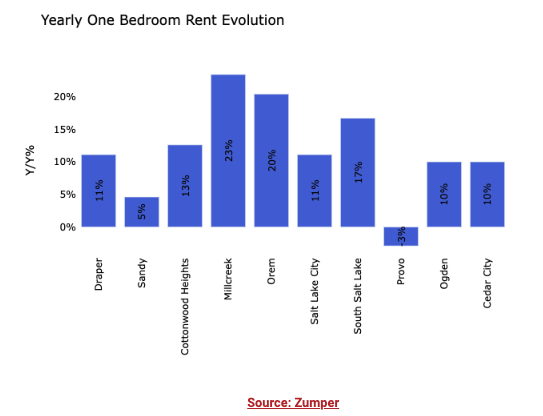 Continue reading as we'll present the best reasons for investing in an Airbnb property in Provo, along with some suggestions in Provo homes for sale (various property types) that will surely generate a great cash flow.
What is Provo best known for?
If you think you've already heard about what Provo has to offer, there is still more to learn in order to finalize your decision of purchasing a property. Here are some of the facts about what Provo is best known for:
1. Massive Student Population
Provo has plenty of great job opportunities as most of the graduates are from nearby universities such as BYU, hence, there's no denying that there is a constant need for rental properties. According to Home Bay, there are more than 75,000 students from BYU and UVU, which reflects the strong demand for rental properties in the area.
2. High Economic Growth
In 2021, the Provo-Orem area has been ranked as the top-performing economy in the USA. Thanks to its low employment rate and high wages for employees, this city will certainly exceed one's expectations when it comes to upward economic growth.
.

" Economic development is one of the four strong pillars of the Provo community according to Mayor Michelle Kaufusi. Highlighting the strengths in employment, wage and high-tech GDP, it established Provo as the standard for municipal economic growth."

– By Genelle Pugmire on Daily Herald News
3. Shopping, Adventure, and Symphony
If you are looking for a city that features adventures, shopping districts, and music performances – Provo is proud to present all of these and more! Since Provo is a family-friendly place, there are plenty of shops at the Riverwoods where you can shop for everything you need. In Downtown Provo, you can also explore adventure zip lines, picnic at Mount Timpanogos, and even go kayaking on the Provo River.
On the other hand, Provo also attracts plenty of tourists and the local community who want to listen to the Utah Valley Symphony, which is a non-profit art organization. These programs usually consist of several state-of-the-art performances at Covey Center for the Arts.
Best Neighborhoods for Airbnb in Provo, Utah
While Provo is undoubtedly one of the best property investment cities in the USA, let's take a closer look at the important Airbnb key metrics. Filtered for a 1-bedroom apartment, here is a brief overview of some of the most recommended and profitable neighborhoods in Provo:
1.

Fort Utah
Annual revenue:

 $24,522

Average daily rate:

$61

Occupancy rate:

87%
2.

Grand View North
Annual revenue:

 $36,655

Average daily rate:

$103

Occupancy rate:

69%
3.

Edgemont
Annual revenue:

 $24,243

Average daily rate:

$103

Occupancy rate:

65%
Profitability of Airbnb in Provo
Using a short-term rental estimator, it was discovered that a 2-bedroom apartment in Provo can generate an annual revenue of $28,105 with a steady occupancy rate of 69% and a nightly rate of $100.
Airbnb property investment provo utah

Houses for Sale in Provo, Utah
Purchasing a property in Provo will not only reassure you to have access to a delightful vacation spot, but it can also bring an excellent return on investment and become a reliable income stream. It may be difficult to find the best properties that have the potential to produce high yields and capital growth, and this article will certainly help you through.
Here are some of the homes for sale in Provo, Utah area, along with the calculated gross rental yield, cash-on-cash return, and annual revenue.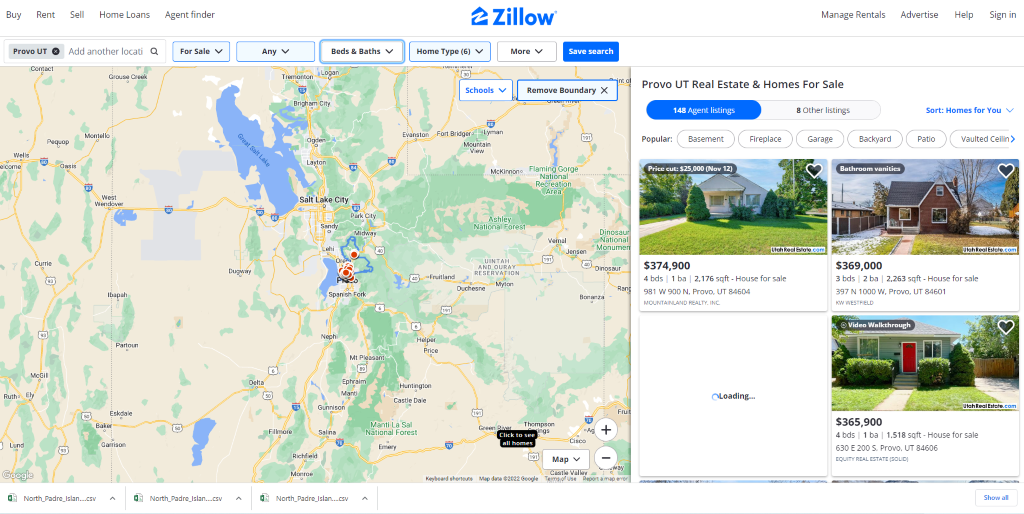 Disclaimer:
The properties featured in this article are indicated as examples and there is a possibility that they have already been sold and removed from the website's listings.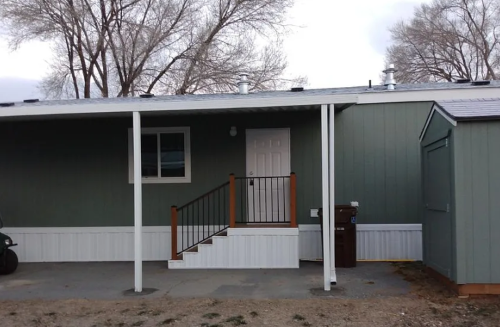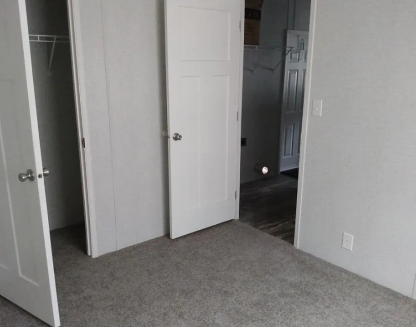 | | |
| --- | --- |
| GROSS RENTAL YIELD | 29.83% |
| ANNUAL REVENUE | $17,004 |
| CASH ON CASH RETURN | 63.73% |
| | |
| --- | --- |
| GROSS RENTAL YIELD | 29.83% |
| ANNUAL REVENUE | $68,016 |
| CASH ON CASH RETURN | 63.73% |
| | |
| --- | --- |
| GROSS RENTAL YIELD | 24.37% |
| ANNUAL REVENUE | $19,254 |
| CASH ON CASH RETURN | 47.35% |
| | |
| --- | --- |
| GROSS RENTAL YIELD | 26.17% |
| ANNUAL REVENUE | $35,323 |
| CASH ON CASH RETURN | 52.73% |
| | |
| --- | --- |
| GROSS RENTAL YIELD | 16.36% |
| ANNUAL REVENUE | $29,278 |
| CASH ON CASH RETURN | 23.30% |
Conclusion
Provo can generate a nice cash flow for property investors as long as the right neighborhood is targeted and potential revenue is calculated using an Airbnb rental arbitrage calculator. While there are many other cities to invest in Utah aside from Provo, it's definitely worth the time & effort to speak with a short-term rental expert to make the wisest decision for property investment.