Last updated on December 13th, 2022
Before you start to invest in a property in Australia, particularly in Byron Bay, let's discuss the primary key metrics that all investors need to know! Profitability should be the first consideration on your checklist and this is related to Airbnb's key metrics. For instance, this includes considering average daily rates, monthly revenue, and occupancy rates in Australia.
In this article, we'll be presenting the Airbnb policies and regulations, how much profit an investor can make, rental demand, and properties for rent in Byron Bay, Australia! Stoked to learn more? Continue reading!
Is Airbnb legal in

Byron Bay?

 
Let's spill the beans: Yes, Airbnb is certainly legal in Byron Bay! With a rough number of 5.42 million visitors annually, it has contributed over $883 million to the local economy of New South Wales. Byron Bay consistently attracts more tourists to book accommodations to visit Cape Byron Marine Park, go eco-cruising, and see other tourist attractions. The majority would want to just surf or enjoy the scenic views of the sea!
Here is a little proof! As of July 2022, there are 8,994 nights available in Byron Bay from Airbnb alone. A Perfect Stay manages 92 listings, while Byron Bay Accom and Destination Byron Bay operate 49 and 30 respectively.
How much can I make by running an Airbnb in Byron Bay?
Currently, there are 495 Airbnb listings in Byron Bay, with 78% of entire houses earning up to A$5,990 a month. The Average Occupancy Rate in Byron Bay is 58% and the average daily rate is A$297. According to short-term rental market data source Airbtics, a 2-bedroom apartment in Byron Bay can make up to A$107,091 each year. Check out our Airbnb Income Calculator!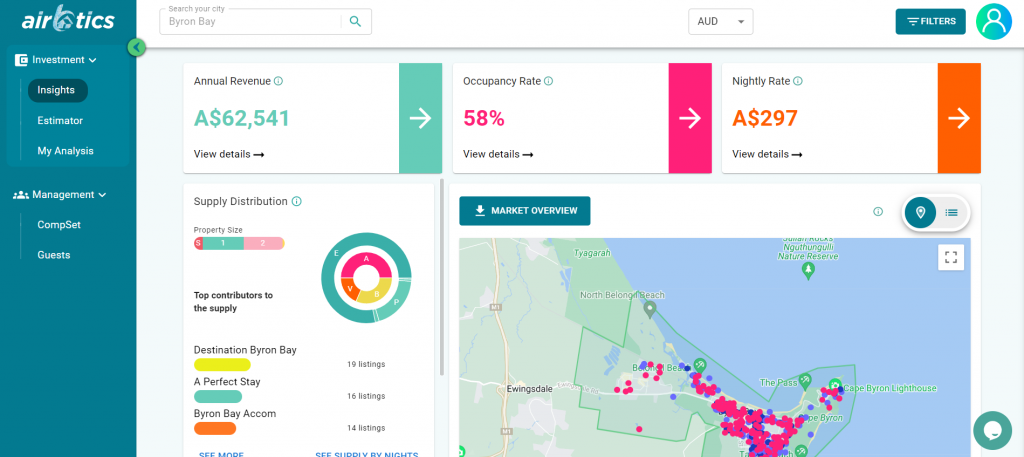 What Are The Short-term Rental Accommodation Policies in Byron Bay?
Your house or unit

CAN NOT be used for non-hosted STRA

(Short-term Rental Accommodation) for

more than 180 days in a 365-day period

. 

All hosts

must register their STRA property

on the

State Government-run STRA Register

. 

All hosts must

comply with the fire and safety requirements

and agree to follow the

NSW Fair Trading Code of Conduct for the STRA Industry.

Hosts are required to

pay a registration fee of $65 for the first 12 months and an annual renewal fee of $25

.

There are

Strata by-laws

that restrict certain types of short-term rentals.

Is Byron Bay A Good Place to Invest?
If you're worried about spending thousands of bucks to purchase a property, the good news is you don't need to! Property investors and hosts prefer to do rental arbitrage in Australia since this does not require owning a property. Based on statistical data for Byron Bay, the rental population in this area is 23.26% with a compound growth rate of 12.5%.
By using an accurate short-term rental calculator, you'll be able to confirm if Byron Bay is a good place for investment! It's important to know your estimated annual revenue and high-return investment opportunities in Byron Bay – and with Airbtics, it shouldn't be a difficult task at all!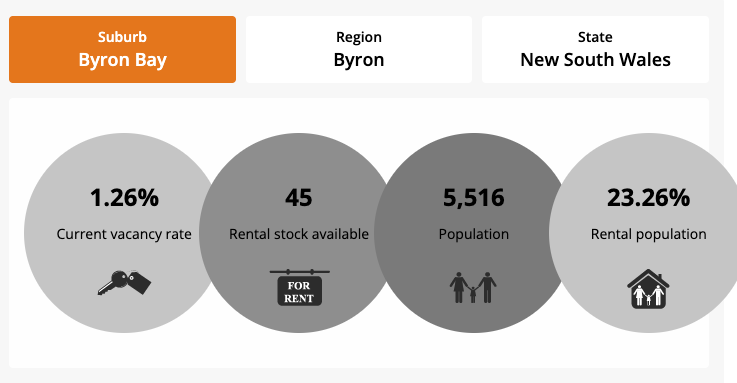 Source: Property Investment in Byron Bay
Byron Bay's Property Market 2022
According to the latest data, Byron Bay's property market is ranked 7th for being the best-performing suburb as of June 2022. Despite the increase in price, investors are still making gains in this area because of its close proximity to the large regional centre!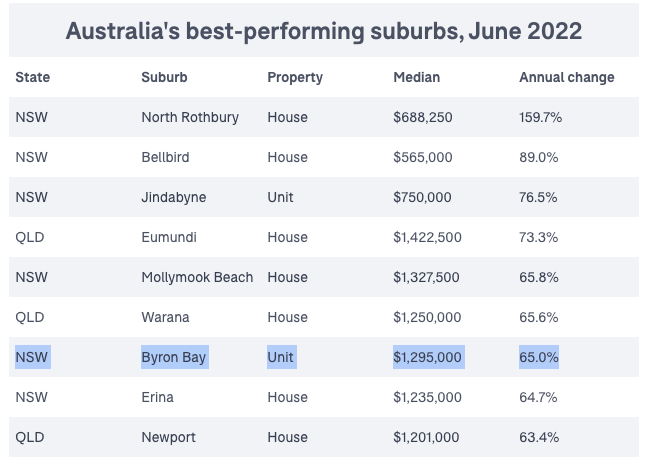 In order to properly target a profitable area, here are some of the most recommended neighborhoods that you can look into & consider purchasing based on Airbtics estimator:
| Suburbs | Price of 2bd Apartments | Average Rent Price | Average Airbnb Revenue |
| --- | --- | --- | --- |
| Byron Beach | A$1.6M (94 sq.m. apartment) | A$3,563 | A$9,828 |
| Tallow Beach | A$1.7M (144 sq.m. apartment) | A$3,389 | A$9,933 |
Conclusion 
In general, considering the Airbnb rules & regulations in Byron Bay will help your Airbnb business to run smoothly! Aside from the fact that this is a passive income for various hosts, starting an Airbnb business is also a way to enjoy life and connect with new people from all over the world. Try Airbtics now and make the wisest investment decisions!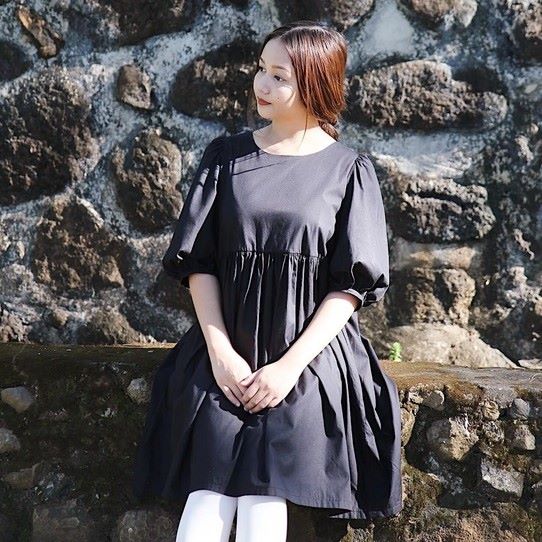 Robyn is a passionate content writer about short-term rentals and is dedicated to research & sharing property investment strategies and analysis worldwide. She is a graduate of Alliance Française de Manille, a songwriter, an animal advocate, and an avid fan of The Beatles since birth.