What is Rental Arbitrage?
Rental Arbitrage is a method similar to house hacking. But unlike house hacking in Rental Arbitrage, you don't own the house. Instead, you convince a landlord to lease you a property which you then furnish and sublease on Airbnb and VRBO.
Rental Arbitrage is a really good method to do in a multifamily house, duplexes, or triplexes. You can easily use the money from your short-term rental to pay off your lease and also profit some more. If done right this can be a full-fledged business in itself. If you own a duplex or triplex then it is pretty straightforward and easy. You can live in one section and rent out the other. This is known as house hacking. People use this after taking a loan on a property and use the rent to pay off the mortgage. The short-term rent helps you pay for the long-term lease that you have on the house. This helps you keep the difference at the month-end after paying for the long-term lease. Let's take an example to help you understand Rental Arbitrage better.
Assume you are renting a duplex in Los Angeles for $1800/month. You are living by yourself on one of the sides and you decide to sublease the other on Airbnb. Let's say you listed it for $100/day and got 80% occupancy. This will bring in approx $2600/month in revenue. Not only will it help you pay off your complete rent, but give you a profit of $800. This in a nutshell is called Rental Arbitrage.
Things to do before getting started?
How to convince the landlord
Let's say you want to get into Rental Arbitrage. Now comes the big question, how to find a good property and how to convince the landlord. Later in the blog, we'll be explaining how to find a good property by doing proper research using Airbtics. In this section, we will be focusing more on how to convince landlords. As you'll begin your Rental Arbitrage journey you'll come to know that this is the hardest part of the whole process.
You need to be prepared, and well researched. Good communication skills really come in handy here. Also, one thing to always keep in mind. Never sublease without informing the landlord. There will be a huge number of people coming in and going out when you're sub renting. It will not be hard for the landlord to figure out that you are subletting and you might end up getting in trouble.
Now for the convincing, rule number one is, always talk about the upsides. If you can rent the property on Airbnb, so can the landlord himself. You need to make a deal with the landlord that is beneficial for them. So they lease the property to you instead of renting it by themselves.
Points to tell an indecisive landlord.
Doing Rental Arbitrage is a full-time business. It doesn't generate passive income like long-term leasing. You should try approaching older people who are looking for some sort of passive income. They are more likely to agree to a fixed long-term lease. You can also reach out to full-time working professionals or business owners. They will also be happy with a source of passive income till their property is well maintained. This brings us to our next point.

You are more likely to take care of the house than a normal renter. As you are using the property to do business you will take good care of it to make sure you get better reviews. Having a beat-up property isn't good for business and you are more likely to monitor it often. Not monitoring it will affect your revenue a lot. You may end up paying a huge sum of money for damages done by someone else. So telling this to the landlord might instill some confidence in them.

You can ensure timely monthly rent. You can tell the landlord that doing Rental Arbitrage is a full-time business with ups and downs. It doesn't guarantee fixed income at all like long-term leasing. But if they lease it to you, you'll make sure to pay the lease no matter what. Either from the money made after rental arbitrage or from your savings. You need to ensure timely monthly lease payments to gain the trust of a landlord.
In Conclusion, you need to take care of the property like your own. Make sure to timely pay monthly lease and keep the situation beneficial for both parties.
Ensure the Property and Gain landlords trust
Being on the safe side is always a good idea. From trouble guests to bothering landlords. You need to make sure you are using the right tools to ensure the property is safe and neighbours are happy. Many landlords will have this concern when renting out their property to you. They will be worried about neighbours raising noise complaints. It is a legitimate concern. To help you with all these problems, here are some suggestions that you can implement and have peace of mind.
You can integrate the majority of these tools with a PMS of your choice.
Pro's and Con's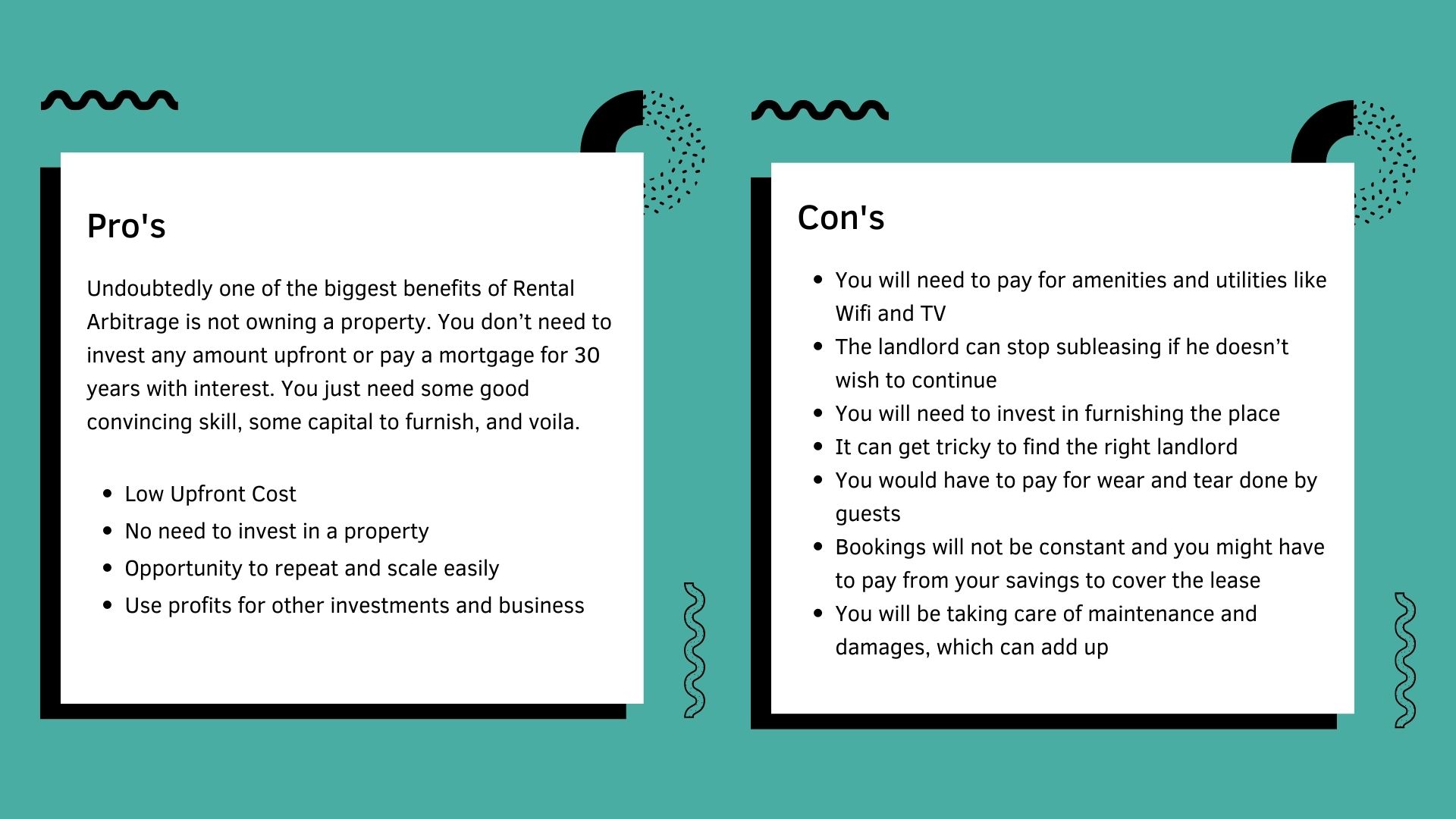 The initial cost of starting rental arbitrage in Australia?
You can expect to spend anywhere between $3,000 to $5,000. This cost consists of everything including Deposit, Furnishing, Amenities, Legal Paperwork, LLC Incorporation.
But doesn't this contradict the Low upfront cost of Rental Arbitrage? Well, these estimates vary from city to city. There is a possibility to do Rental Arbitrage for even less than this depending upon your situation and the type of property you lease.
Still, the amount is much less than investing in a new property and getting a mortgage of thousands of dollars. Plus you won't be on the hook for property maintenance expenses and being stuck for years with debt.
But this doesn't mean Rental Arbitrage can be done with no or very tight budget. There will be some upfront costs that you would have to bear. Having some extra cash is also a good thing to have. It will help pay off the lease in not-so-profitable months in case bookings don't happen right away.
Expense 1: Rental Deposits
A rental Deposit is going to be one of the first and major expenses. You would need money to be able to sign a long-term lease with the landlord. For that, you will need a Security deposit, First and Last month's rent. Sometimes you can negotiate with the landlord and use the first month's rent as a security deposit.
Expense 2: Furnishing
Most of the time you should always aim to lease a place that is semi-furnished. As someone with a fully furnished home might be doing short-term rental themselves. Also furnishing a place from scratch can add anywhere from $3000 to $5,000 to your initial capital. Not choosing the right property can make Rental Arbitrage not so low cost, so choose wisely.
If the place is semi-furnished, then your best bet is to shop cheap for the rest of the stuff. You can go and find cheap supplies from places like Home Depot and IKEA. Sometimes even Walmart can have a hidden gem if you look closely.
Expense 3: Photography
Do it yourself!!! iPhones have good cameras. Will save you some money.
Expense 4: Cleaning Services
This is not a starting cost, but you will end up spending on cleaning eventually. The best way to save money is to do it yourself initially if you have the skills and experience.
If you have no experience or you don't want to invest time in cleaning a place. Then your best bet will be to hire a professional cleaner. This can cost you anywhere from $50 to $250 depending upon the size and location.
Expense 5: Legal Consultation
Maintaining a professional relationship with a Real Estate lawyer can be very helpful in the Airbnb business. Airbnb regulations keep updating and you would need some legal guidance on the way to adjust your business accordingly.
They can also come in handy if you face any legal issues with the landlord or guests. They can help in damage claims and insurance as well in case of any mis-happening.
Legality and Regulations in Australia
Australian government site provides more information about Australia's shared housing rules, including occupancy restrictions, guest record keeping, and minimum stay requirements. Penalties for violating these requirements may result in the suspension or cancellation of your registration number. You may also be fined. 
Visit the Australian website for more information. 
Each state has its own regulations for home rentals through Airbnb. This means that there's a different set of laws for different types of rentals.
Sub-lease or License?
In New South Wales, local councils have the authority to determine if a person can rent out their home as a holiday rental through websites like Airbnb. If they do, they may be taken action against them under local council laws and State laws.
If you are planning on subleasing a property, then you need to get the landlord's consent. This is usually done through a lease agreement. If you do not have the landlord's consent, then you should apply for a license.
      2.

Tax Implications
The Australian Tax Office has warned that the increasing use of Airbnb by Australians could lead to them evading certain taxes.
Depending on how much income you receive from your stay on Airbnb, your assessable income may include some of the expenses that were incurred as a landlord.
These can include:
-commercial cleaning;
-repairs; and
-maintenance.
When you rent a property through Airbnb, it's important that you keep track of all of your income and declare it on your tax return. Generally, if the sale of the property is free from CGT, then you should not be liable for it.
         3.

Regulatory Issues
There are also various regulatory issues that arise in the area of use of websites such as Airbnb 
If you are a landlord using Airbnb, it is important to have public liability insurance. This is because the insurance policy does not cover everything that you need to cover when renting out your property.
If your home is rented through Airbnb, you should consider having the appropriate insurance to protect yourself against third-party claims.
-fire or disability access regulations; and
-food, health, and safety regulations.
Websites such as Airbnb have provided accommodation options to people who are looking for a place to stay. However, the law is still developing.
References: Airbnb | LegalVision
Best areas for Rental Arbitrage Australia
There are some obvious places that come to mind when thinking of Australia like Brisbane, Melbourne. You can consider these areas when buying investment properties in these neighbourhoods of the Australian real estate market. 
 Australia's population and employment growth are accompanied by economic growth elastic, which promotes the growth of the Australian real estate market. Brisbane promotes the city's Airbnb business. As a real estate investor, given the positive financial metrics of Australia's short-term rentals, investing in Airbnb rental properties in Australia is recommended. 
1. Brisbane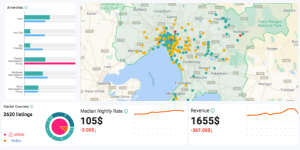 According to our Airbtics Dashboard, Brisbane is the top market to start your Rental Arbitrage business. There are overall more than 2334 Airbnb listings out of which the median rate is $105 in Australia where Airbnb helped in Monthly revenue for most properties being more than $1655/month with occupancy being more than 47%.
2. Melbourne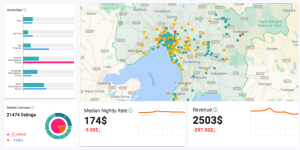 According to our Airbtics Dashboard, Melbourne is the top area to start your Rental Arbitrage business. There are overall more than 21,474 Airbnb listings out of which the median rate is $174 in Southwark where Airbnb helped in Monthly revenue for most properties being more than $2503/month with occupancy being more than 42%.

See Full Stats for Australia – Click Here
FIND STATS FOR YOUR CITY – CLICK HERE
Read More:  Top 10 best Property Management Companies in Florida