Last updated on November 14th, 2022
Rental arbitrage has become a highly lucrative business for short-term rental (STR) investors. It's definitely popular among those who desire financial freedom through passive income. The appeal of rental arbitrage is that investors do not need to own property in order to start this business. 
However, many potential rental property investors are unsure of the true profitability of Airbnb arbitrage. As with every business, there are always risks. More importantly, first-time rental property hosts need to know the ins and outs of rental arbitrage before jumping to the conclusion that it's not profitable.
So when it comes to short-term rental arbitrage, is it actually profitable? How can you get started? Where do you even find the rental arbitrage properties, to begin with? Keep reading — we'll explain everything you need to know.
What is Rental Arbitrage?
Rental arbitrage is the practice of renting out long-term properties and re-renting them out to others on a short-term basis through short-term rental platforms such as Airbnb or HomeAway.
Contrary to popular belief, Airbnb arbitrage is a legal business, as long as you adhere to the specific laws and liability guidelines in your region. It is also known as corporate leasing or subletting if you want to Google around for more information.
Basically, rental arbitrage is a way to operate an STR business without actually owning property and for people to start earning passive income through real estate. Oftentimes, property managers and hosts use a rental arbitrage calculat1or to foresee profitability and avoid losses.
Here are some real-life examples of successful Airbnb hosts who started doing rental arbitrage in their own apartments. Check out the podcast files below!
Rental Arbitrage vs Owning Rental Property
STR property investors can either buy their own property or start rental arbitrage for their business. There are several differences as well as pros and cons to both methods. But rental arbitrage seems to be a more popular method among those who want consistent cash flow. Here's a closer look at the differences between owning property and doing rental arbitrage for an STR business:
Rental arbitrage
You don't need to own the property

Provides a steady stream of passive income

Enables serial renting (renting multiple properties)

No property taxes

No need to insure appliances (landlord's responsibility)

Enables the ability to grow in small increments and reinvest profits monthly

Allows the opportunity to end the lease early- LESS COMMITMENT
Owning Property
Need to put 20% down payment on the property (

non-FHA loan

)

Need to pay for property taxes, HOA fees and utilities

Requires a whole year or more to regenerate the original investment money amount and buy a second property

Requires high commitment to a mortgage. (If the property is in an unpopular area for Airbnb, you're stuck with the mortgage. You need to turn it into a long-term rental property or sell the home)

Appreciation
If you are more interested in buying a second house, check out these
helpful tips
on how to manage one!
How to Start a Rental Arbitrage Business Without Owning A Property 
There are many phases to getting started with your Airbnb business, but here is a general list of action items to help:
Step 1. Find a "Goldmine" area for Airbnb
(Skip this step if you have already decided where to start your Airbnb arbitrage business.)
As a first-time STR business owner, the most realistic option is to start looking at rental properties in the area you live. This option is the most convenient for you to handle guest or property issues in realtime. You will be able to fix issues more quickly if you live close to the property.
On the other hand, it's not ideal to limit your business to the area in which you are currently living. The opportunities are endless when it comes to rental arbitrage. The STR market may be booming in other cities far from where you live. So it's important to keep this in mind when choosing the location. You always have the option to expand your short-term rental arbitrage business to other locations. After you are done experimenting within your current area.
Key Points to Remember
Primarily, it is important to find a location that produces the most profit. The short-term rental price (bid) and the amount of short-term rental revenue (ask) should be high.
1. Start with a neighborhood that is within a 2-hour drive from your base.
2. Identify a market that has at least 2,000 Airbnb listings 
3. Identify a market that has above 50% year round occupancy rate
4. Check if there is above 70% gap between annual average Airbnb revenue and 1-year long-term rental cost.(E.g. annual average Airbnb revenue = $18,000 & 1 year long-term rental lease cost = $10,000, then the gap is 80%, so it's good) 
Let's put this into perspective with a more realistic situation. If you are looking to start a rental arbitrage business and currently live in London, UK, then you might want to choose profitable regions that are within a 2-hour drive from London. 
The first step you should take when looking for an area is to identify the locations where there is sufficient short-term rental demand and a high volume of transactions. This step will ensure that you can keep occupancy rates high for your business. One important metric to consider during this step is the "Average Occupancy Rate".
The Average Occupancy Rate is a great indicator of overall supply and demand in the market. Use this data to determine how many days your property might be booked out of all the days the property is available.
Tips from Airbnb hosts
We spoke to 50+ Airbnb hosts to get an idea of the different ways that hosts found a location. After screening all the answers, we found out that they get their information from various sources.       
Here are some of the different methods used by Airbnb hosts:
Connecting with local property managers in their area.

Participating in Airbnb host communities on social media platforms.

Asking questions in the real estate forum, BiggerPockets.

Manually researching individual listings on Airbnb for various locations.
Whichever method or combination of methods you choose, keep in mind that all hosts are different. One host might run their business differently from another host in the same area. This might be gaining more profit despite the similar location.
We recommend that you use a more methodical approach to set up your business. Using a software to conduct rental arbitrage market research could be a great option to find the best location. Our exclusive Tailored Region Explorer allows you to define your own region to gain more tailored and accurate insights. The advantage of this data is that our software tools account for geographical pricing differences across different regions. So the data is more accurate and reflects the location's pricing trends.
Instead of blindly starting your business based on someone else's experience and knowledge, we recommend starting your own journey by doing your own research.
Make more informed decisions using precise data that is tailored to your specific business needs so you don't have to rely on others.  We built our STR software tools so you can use others' knowledge as a supplement to your rental arbitrage business, not a primary source.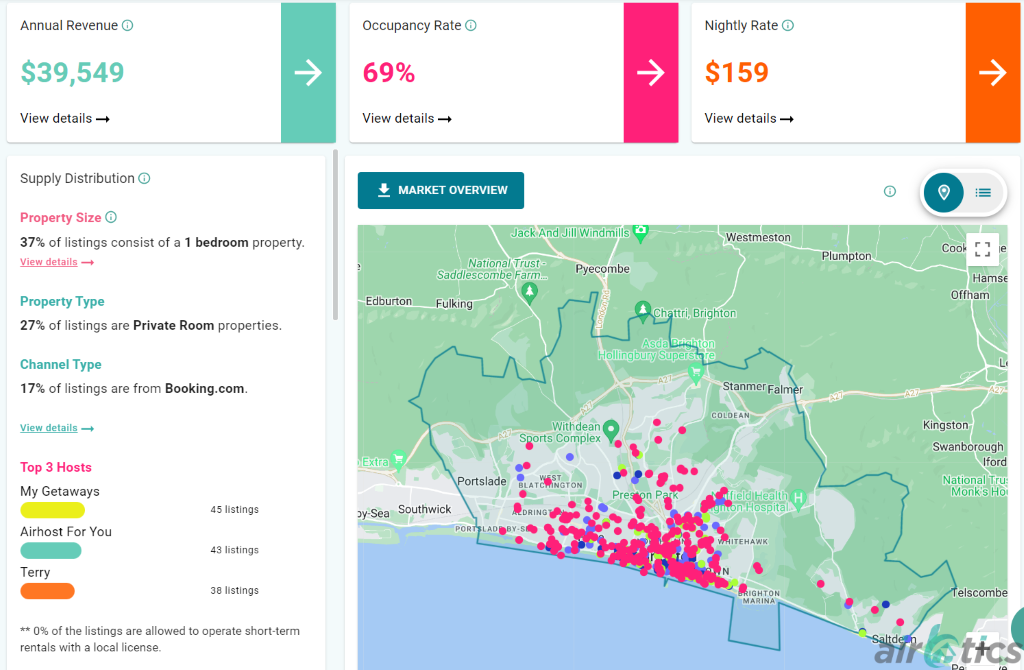 Once you have found a couple of locations that you would like to further investigate, move on to Step #2.
Step 2. Find a unique gap in your market
Unique gap similar to a product's unique selling point. By looking at your competitors' performances within your preferred area to start a rental arbitrage business, you can easily find a unique gap in the market. There are opportunities in every location and you simply need to find the gap in the market where there's a low supply and high demand. Since you are renting instead of buying a property, you have more options to choose from.
Here are a few things you need to think about:
Which niche do you want to focus on? (handicap-friendly homes, business traveler-friendly, anime-themed rooms, etc.)

What type of property do you want? (studio, 5-bedroom house, 3-bedroom apartment, etc.)

How many bedrooms do you want to invest in? What is the number limit of people you want to accommodate for?

What kind of amenities are you looking for? (hot tubs, pools, gyms, recreational rooms, etc.)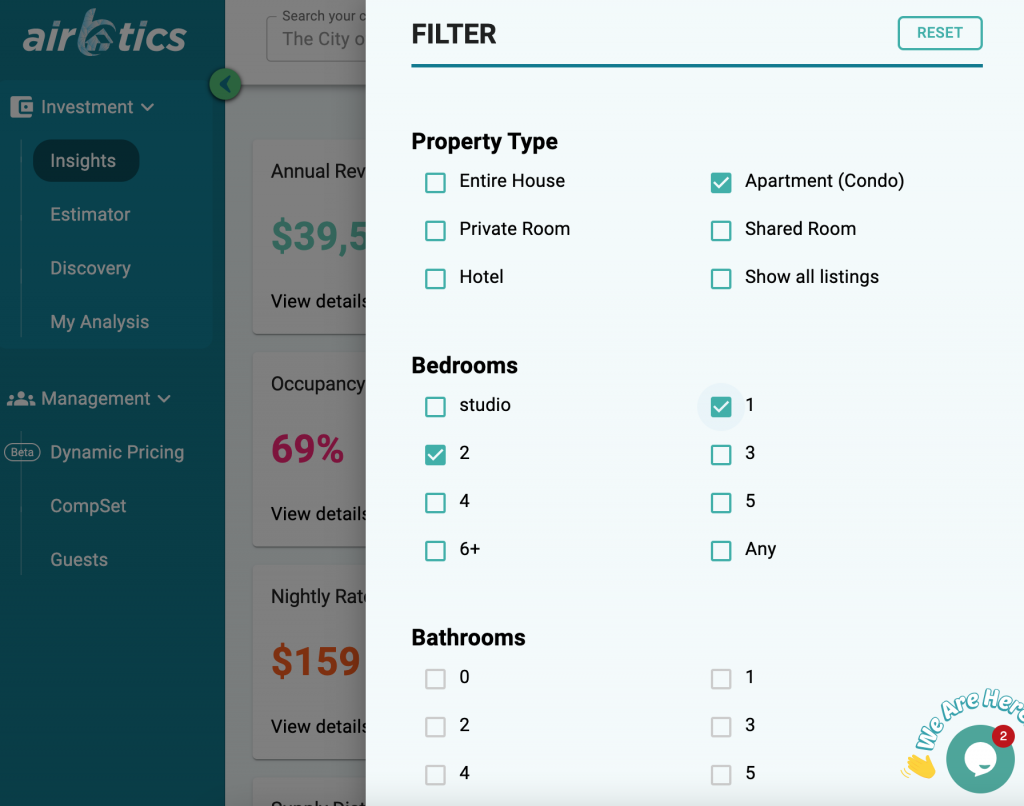 There are so many factors that you must think of before launching your rental arbitrage business. So we did some of the work for you and according to our research, studio units tend to have higher occupancy rates and relatively higher average daily rates (ADR) compared to the monthly, long-term rental fees. It's also usually worth it to buy a few extra beds so that you can accommodate more people. 
We want your business to run smoothly with the help of innovative software. So make sure to check out our dedicated market research to generate detailed reports and insights as a basis for your business decisions. 
Our market research reports include data such as occupancy rate differences by the number of rooms and revenue earnings for a certain property type each month.
There are different regulations and rules for the STR industry in regard to Airbnb arbitrage depending on the location. Make sure to apply for any required permits for rental arbitrage in your target location. For instance, Airbnb rental arbitrage in Brooklyn prohibits hosts from renting out their entire homes as an STR.
For a more detailed location-specific list of legal and regulatory issues to consider before hosting on Airbnb, visit Airbnb's official page.
Step 4. 
Secure your credibility to prepare your pitch to property owners
Before you dive head-first into crafting your pitch to property owners, here are a few things to consider:
Maintain good credit.
Save enough funds (extra money to offer for rent).
Have some references available.
Agree to cover minor maintenance issues up to an agreed value.
Provide your own liability insurance (especially if taking direct bookings).
All of these suggestions will help you alleviate some of the property owner's concerns or issues with your rental arbitrage pitch. Preparation is key to the time you spend getting ready to pitch to property owners, so make sure not to skip this step.
Step 5.
Furnish the property
This step is where most of your expenses should go. Great quality design and make use of an Airbnb furniture checklist that can appeal to different types of guests.
Make sure to budget a few thousand dollars to cover all of the basic Airbnb amenities. A sofa, a high-quality mattress and bedframe, great pillows, kitchen utensils, towels, and more. The details are solely up to you, but try to consider adding some extra special touches here and there to truly make your home stand out to guests.
How to pitch to property owners
There are different kinds of property owners, from single-family property owners to multi-family and even whole apartment buildings. The key to pitching to different property owners is to look closely at that specific property owner's needs.
Try not to focus on your needs as a first-time STR business owner. 
The whole point of pitching to property owners is to focus on what their present or future needs are and how you can help them with your business. 
For example, you can emphasize the fact that they can also expand their real estate investments by using you as a guaranteed tenant if they choose to buy another property. This approach would focus on their future financial desires to expand their real estate portfolio. 
If the property you are looking at is a newly-built apartment building, this means the property needs to pay off a hefty bank loan. 
They have a financial need to increase their occupancy to at least around 70% in order to pay the banks back. You can leverage your understanding of this and ensure a profitable cash flow if they allow you to run Airbnb from that property.
If you're dealing with a landlord who owns a single-family home, make sure to convince them that you can be the one to handle the management of the property. They have a supervisory need to deal with tenants and handle rental property needs.
Who likes to deal with tenants on a daily basis?
Not many people. 
If you offer to be the sole point of contact and property manager for both the tenants and the landlord, you can make the landlord's life easier.
When negotiating for your Airbnb business, keep in mind that some homeowners may be sensitive to the fact that their property was attained through years of hard work and saving money. 
Their property is a huge and significant asset that might not be easily negotiated. 
You need to be sensitive when approaching this topic and show respect for their property.
Additionally, you can start targeting homeowners who don't have as much success renting out their properties. They have more of a financial need and will be more open-minded. 
Here are some key compromises to consider when pitching your rental arbitrage business to homeowners:
Suggest that you will fix anything that needs maintenance

Offer to do a background check on every tenant

Possibly negotiate a profit-share

Offer a slight premium on rent
Is rental arbitrage profitable?
The profitability of rental arbitrage is based on a certain number of factors. Location, type of amenities, the current market, historical or future trends, and occupancy rates to name a few. 
As a first-time rental investor or Airbnb host, we understand that it may be difficult to research all of these factors independently by yourself, especially among the long laundry list of items you need to accomplish. 
We made it easier for you by compiling all the information you need about specific Airbnb locations in our market research dashboard, such as the average daily rate (ADR), occupancy rate, guest origins, and more. Understanding and regular monitoring of this data is essential to know how potentially profitable your rental property can be.

Compared to the equity you earn from owning property, the cash flow you earn from rental arbitrage has the potential to grow exponentially, or at least in small increments. 
Once you start to generate profit from your rental properties, the best practice is to use those profits to reinvest in new properties. 
Why? 
Because people who succeed in business understand how to scale it even further. 
Take Elon Musk, for example. We all know him for his success with Tesla and SpaceX, but what most people don't know is that he has been launching several other companies since 1995. Musk used the profits from his previous companies to fund and create even more successful companies. This method of scaling and funding your business with your previous investments is key to your ROI. 
Reinvesting your money on a monthly basis instead of annually, as you would if you actually owned the properties, will substantially increase your rental arbitrage profitability.
Rental arbitrage can be absolutely profitable as long as you have the correct tools and resources to help you maintain your rental properties. 
We want you to succeed in your investments, so we've created a free Airbnb Income Calculator to help you simulate your potential profit from your rental properties. Using these calculations, you can feel more confident in making decisions with the help of accurate data.
Real-Life Success Stories
Calculating potential rental arbitrage profit is only the tip of the iceberg, so let's take a look at real-life success stories. 
Even throughout the COVID-19 pandemic, some Airbnb hosts have found success with their rental arbitrage properties and we've featured their stories on our podcast: Into the Airbnb. 
An Airbnb host who does Airbnb rental arbitrage in Texas on four listings achieved a 70% occupancy rate even during the pandemic. His story is just one of many among others who have successfully mastered rental arbitrage despite the uncertain economy. 
At Airbtics, we provide the most accurate and relevant data that you may need as a first-time STR investor or even a veteran. We recommend that the best practice to increase rental arbitrage profitability is to understand the data and create a data-based business strategy to scale your investments. 
Best cities for rental arbitrage
Rental arbitrage is a business that continues to evolve, especially as people continue to pivot their travel plans or living situations during the ongoing pandemic. To pinpoint only a handful of places as the "best cities for rental arbitrage" is not a conclusive answer to your search for the best location. 
The factors that determine how great a location is are not always controllable. Some Airbnb hosts may have been successful with their properties in booming tourist areas before the pandemic hit, but now those specific cities may not be doing well anymore.
Location analysis must be one of your top priorities when deciding on a rental location in order to increase profitability during such volatile times, especially while the pandemic continues to impact the rental market.
Let's take a closer look at the progress of some cities during the pandemic (Jan. 2020- June 2020) that reflect COVID-19's impact.
1.

Myrtle Beach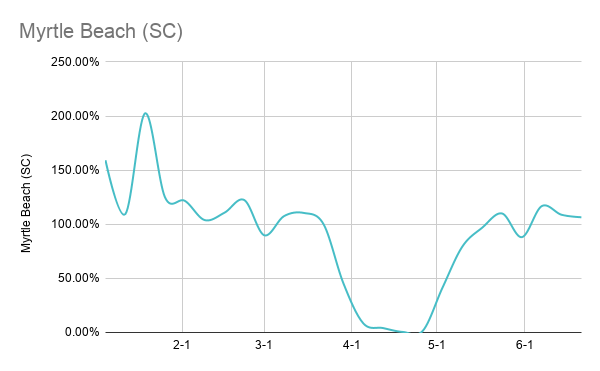 After COVID's sudden impact in late March, Myrtle Beach saw a huge decrease in growth until business started picking up again in early May. It is also considered one of the best places to Airbnb in South Carolina!
2.
Big Bear Lake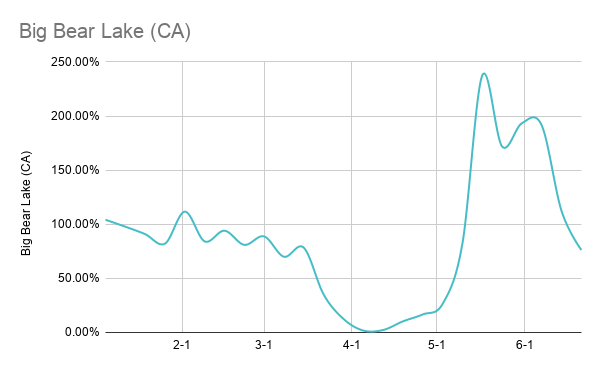 Similarly to Myrtle Beach, Big Bear Lake (CA) experienced a sudden decrease in demand. On the contrary, Big Bear Lake drastically increased far more in demand during mid-May than it had earlier this year. Big Bear Lake is also one of the best neighborhoods in LA for Airbnb, with an average monthly revenue of $2,538.
3.
Honolulu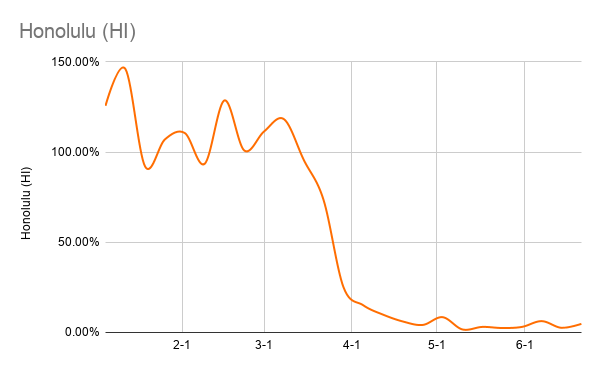 Honolulu (HI) has been a popular destination for people all over the world, but COVID-19's lasting impact on this location has yet to improve.
4.
San Jose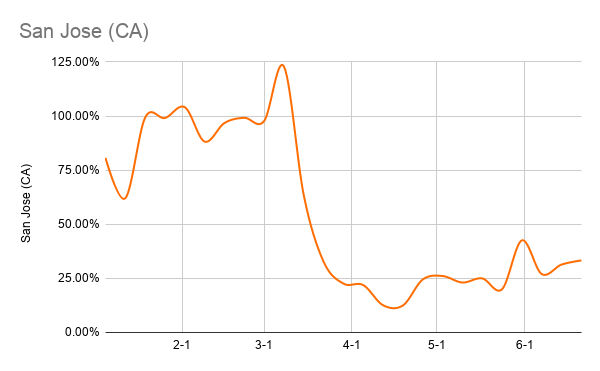 San Jose experienced short periods of increased and decreased demand after the pandemic hit and has yet to show complete signs of recovery.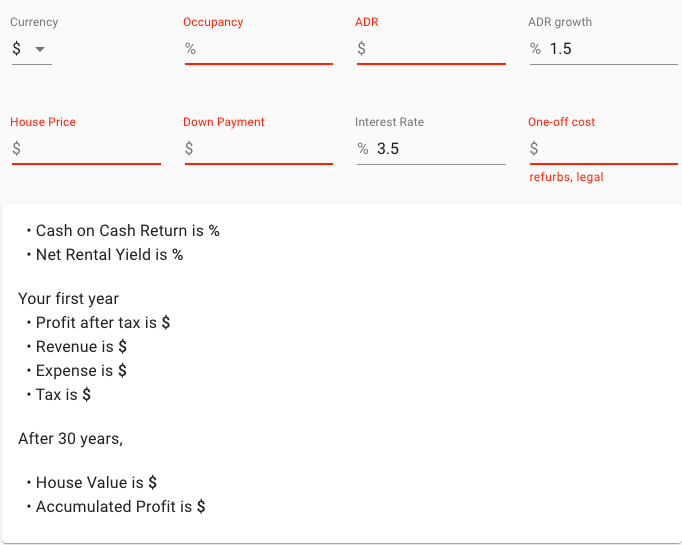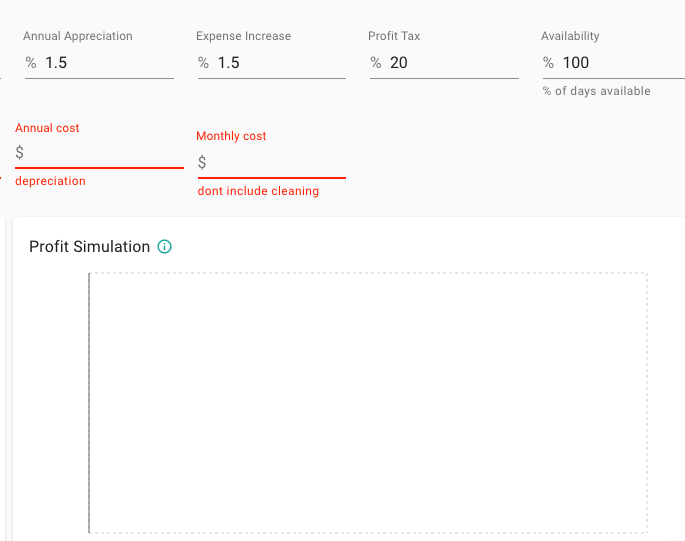 All the data here without explicit references are sourced and processed by our technologies.
To see more snapshots of the US Airbnb market (June 2020), visit our blog post analysis here. 
As we can see from the graphs. One could argue that Honolulu could have been considered one of the best cities to do rental arbitrage before the pandemic hit. Now, Honolulu has yet to show signs of recovery from the pandemic and would not be a prime choice of location for rental arbitrage at the moment.
Looking at Big Bear Lake in California, the amount of growth it experienced during these recent months is a great indicator of the current trends of traveling domestically and enjoying "staycations" rather than international travel. 
These unprecedented times have changed the factors of success for STR properties. As we continue to navigate the post-COVID landscape in the rental arbitrage industry. It's important to regularly monitor the progress and data of each specific location.
Gain Insider Access
Start making data-based decisions for your Airbnb business and increase your profitability
Despite the future's uncertainty, using data to your advantage will help you determine the best location for your rental arbitrage business. We have included the most useful metrics in our vacation rental insights dashboard. So now you have the flexibility to decide which locations are best for you.
As mentioned before, if your current rental arbitrage properties are not doing well. Then you always have the choice to cut the leases and move your business to another location. This kind of low commitment is the appeal of rental arbitrage. Until you figure out which cities are the best for you.
Why is market research important and how can you use it?
Market research is highly valuable for your rental arbitrage business. As it has the potential to earn a substantial profit because data = knowledge.
You can use data to identify the cause of problems and predict future trends. This will help you to make informed decisions and implement evidence-based strategies for your rental arbitrage business.
Other than having the determination to succeed in rental arbitrage. Making sure you understand data is one of your strongest assets to strategize in your business. 
We've seen from the pandemic this year that crises throw out several unexpected problems and obstacles for business owners. But, there is strong potential to bounce back as long as you know how to utilize the data to your advantage.
Here's a closer look at our case study of the STR market during COVID-19 in the US: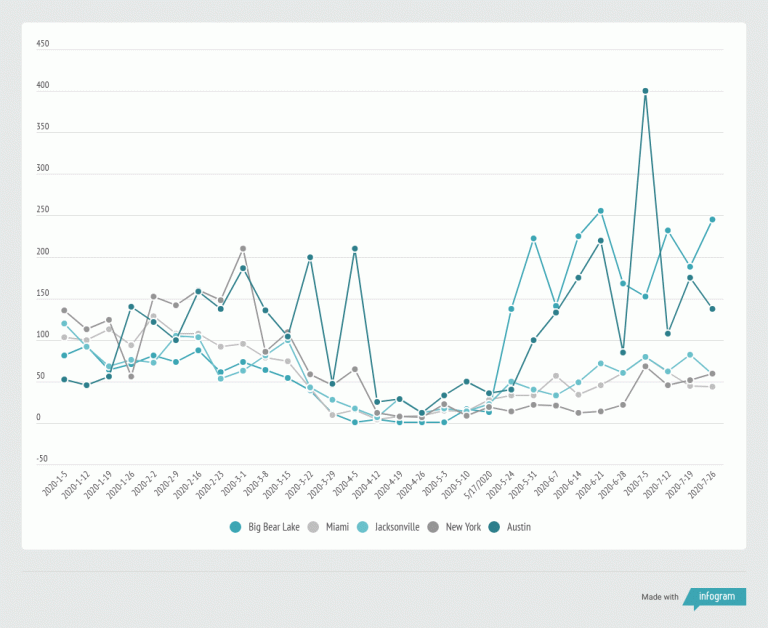 To see YoY growth for cities in Europe and China and what we found from this data. Visit our detailed blog post here. 
Market research is always important in knowing how to take the next step in your business. In our analytics dashboard, we include specific metrics to help you make better decisions.
Here's a snapshot of current occupancy rates and ADR of specific cities that reflect their current performance:
1.
Honolulu, United States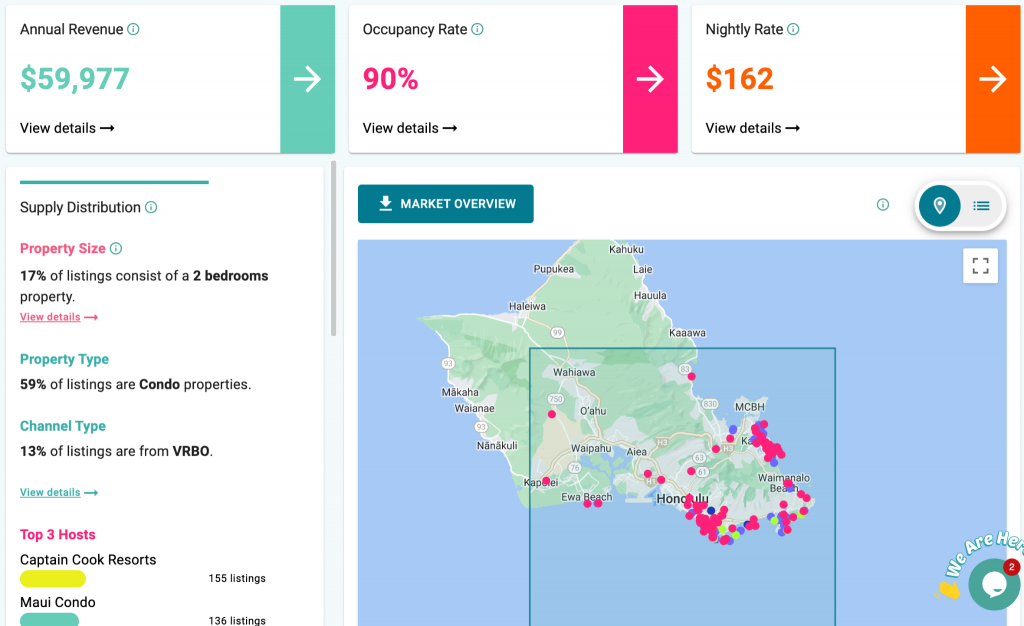 The occupancy rate is still experiencing a decrease, so this location may not be ideal for your business in terms of occupancy. On the other hand, their average daily rates have increased by $9, so you need to take this metric into consideration as well.
2.
Cancun, Mexico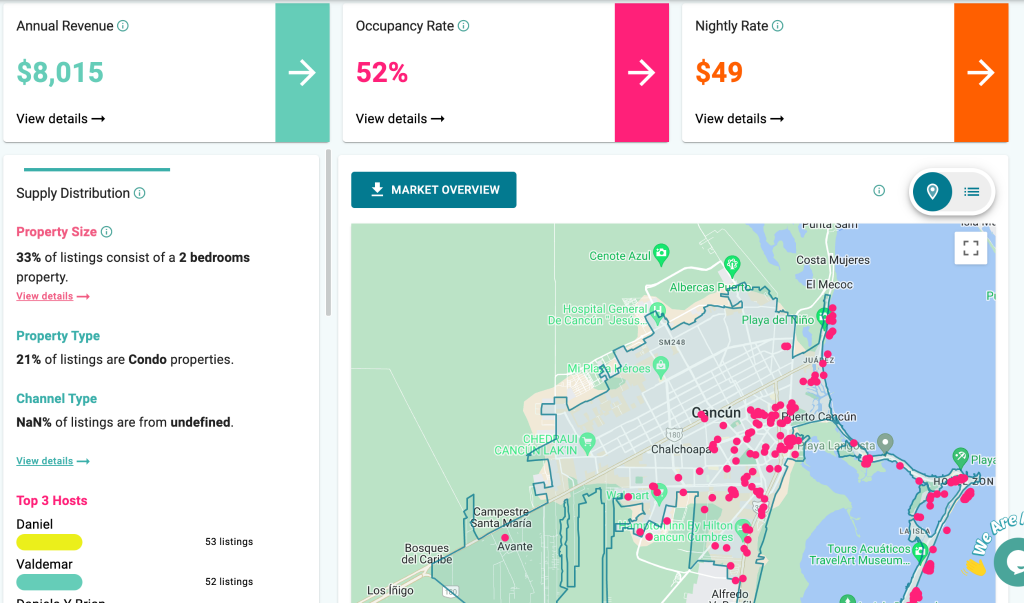 Cancún has always been a popular destination and the data continues to reflect specific trends. Although there is not a huge increase or decrease in occupancy rates and ADR, you can compare these numbers to another year's numbers to make a judgment on this location.
2.
Greater London, United Kingdom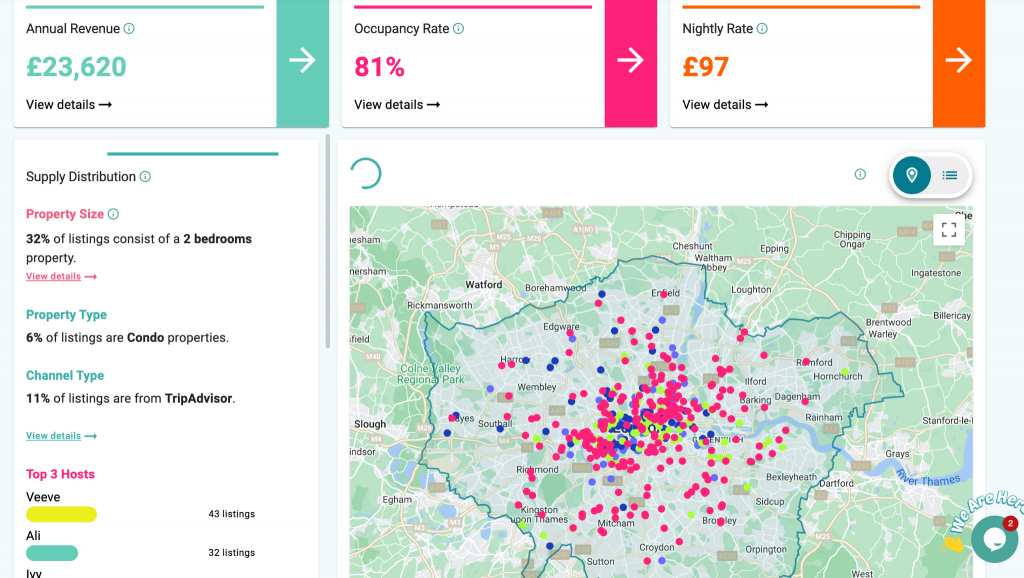 This location is also experiencing a slight decrease in occupancy rates as the pandemic continues to impact Greater London, but we can see from the data that the ADR has remained the same. This may prompt some investors to continue their rental arbitrage in this area or to find somewhere more profitable.
We strongly recommend that you create actionable strategies for your business according to the data. 
For example, if the data shows that despite COVID-19's impact on the economy, specific cities still see a significant number of bookings, it's time to pivot your business strategy. 
You can see which cities are doing well or doing poorly and decide to move locations accordingly. This is the charm of rental arbitrage because you are not tied down to a mortgage. Instead of a lease, which is a lot less commitment than a 15 or 30-year fixed mortgage loan.
If you would like to gain access to this kind of helpful data, contact us here.
When identifying an underperforming factor that causes your profitability or booking numbers to decrease, you can use data to find any concrete evidence that points to the specific problem. 
Our Mission
At Airbtics, our mission is to help you manifest success with your rental arbitrage or any STR business endeavors. We invite you to interact with our resources and start making data-based decisions. This will boost the profitability of your rental arbitrage properties, and help create the passive income stream you've always dreamed of!