Last updated on December 13th, 2022
If you are looking to invest in an Airbnb property in Australia, particularly in Canberra, this article is for you! By considering the primary key metrics for a successful investment including average daily rates, monthly revenue, and occupancy rates in Australia, this beautiful city will definitely be a great source of passive income. 
Continue reading to learn more about Airbnb rules in Canberra and check out the profitability in this city!
Is

Airbnb

legal in Canberra

?

 
Let's spill the beans: Yes, Airbnb is certainly legal in Canberra! With a rough number of 2.9 million international visitors annually, this mesmerizing city has a thriving tourism industry with an economy worth over $1.6 billion every year.
Canberra is mostly visited because of its many fun attractions including Quizzic Alley, Australian National Botanic Gardens, Vertikal Indoor Snow Sports, and other tourist attractions. 
Here is a little proof! As of July 2022, there are 14,376 nights available in Canberra from Airbnb alone. Daniel manages 84 listings, while MadeComfy and Dana operate 21 and 15 respectively. 
How much can I make by running an Airbnb in Canberra?
Currently, there are 713 Airbnb listings in Canberra, with 67% of entire houses earning up to A$3,890 a month. The Average Occupancy Rate in Canberra is 68% and the average daily rate is A$155. According to vacation rental market data source Airbtics, a 2-bedroom apartment in Canberra can make up to A$51,823 each year. Check out our Short-Term Rental Profit Calculator to discover how much you can make on Airbnb!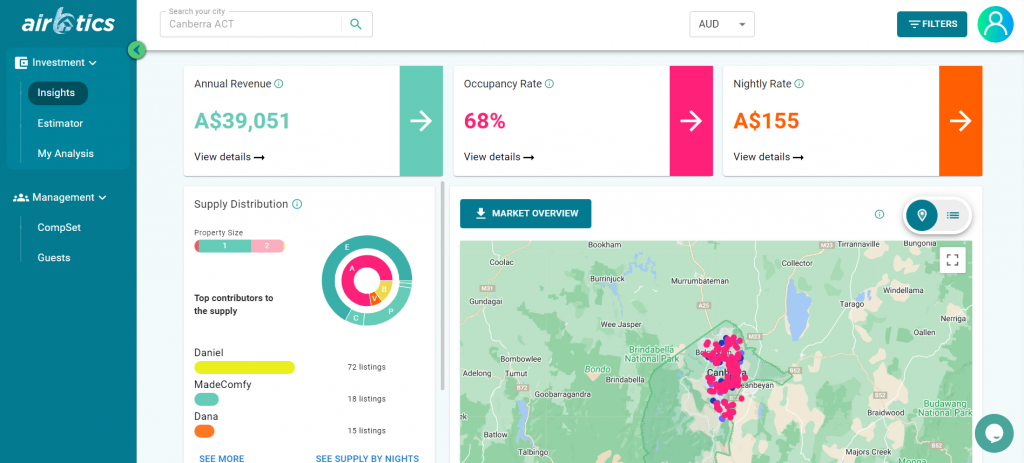 What Are The Short-term Rental

Accommodation

Policies in Canberra?
Currently, the Australian Capital Territory Government has no particular regulations in short-term rentals.

For those who want to sublet the property,

a landlord's written consent is required

as stated on the Standard Residential Tenancy Terms and the Residential Tenancies Act 1997 ('the Act').

Is Canberra A Profitable

Area

to Invest In?
If you're worried about spending thousands of bucks to purchase a property, the good news is you don't need to! Property investors and hosts prefer to do rental arbitrage in Australia since this does not require owning a property. 
Based on statistical data for Canberra, it remains to have one of the most remarkable property markets in Australia. The weekly asking prices for houses are currently above $1 million and there's still a shortage for both sales and rental markets.
By using an accurate short-term rental calculator, you'll be able to confirm if Canberra is a good place for investment! It's important to know your estimated annual revenue and high-return investment opportunities in Canberra – and with Airbtics, it shouldn't be a difficult task at all!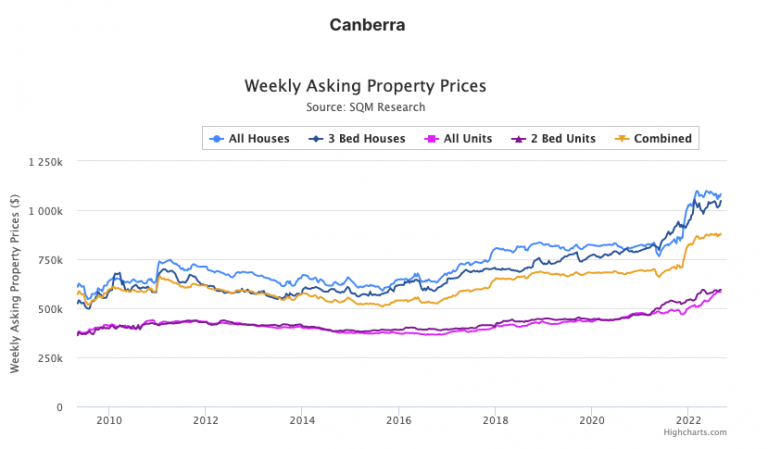 Source: Property Investment in Canberra
Canberra's Property Market 2022
According to Canberra's property market in 2022, it has the most expensive capital city. Despite the increased prices, the house rents in Canberra still increases in double numbers!
In addition to this, due to the tightening rental market in Canberra, landlords usually pass other taxes on to their tenants.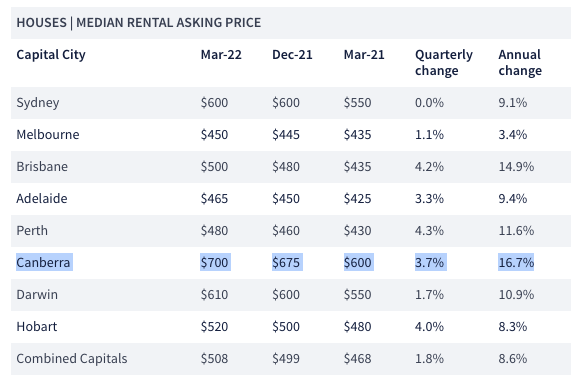 | Suburbs | Price of 2bd Apartments | Average Rent Price | Average Airbnb Revenue |
| --- | --- | --- | --- |
| Braddon | A$635,000 | A$2,737 | A$4,600 |
| Canberra City Centre | A$709,000 | A$2,933 | A$5,703 |
| Kingston | A$682,000 | A$2,650 | A$4,285 |
Source for Property Price:  Properties in Canberra
Conclusion 
In general, considering the Airbnb rules & regulations in Canberra will help your Airbnb business to run smoothly! Aside from the fact that this is a passive income for various hosts, starting an Airbnb business is also a way to enjoy life and connect with new people from all over the world. Try Airbtics now and make the wisest investment decisions!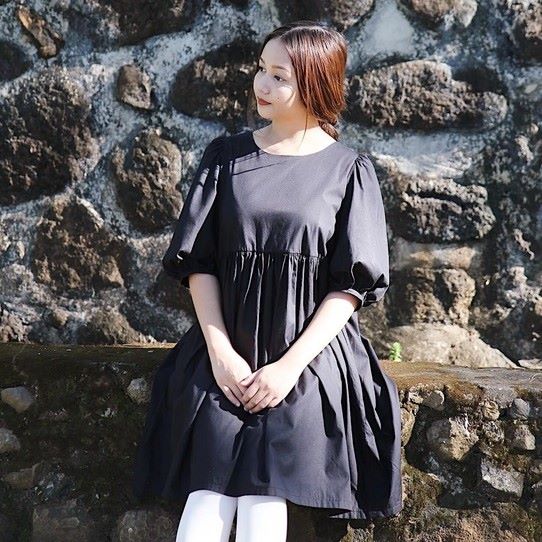 Robyn is a passionate content writer about short-term rentals and is dedicated to research & sharing property investment strategies and analysis worldwide. She is a graduate of Alliance Française de Manille, a songwriter, an animal advocate, and an avid fan of The Beatles since birth.