Last updated on June 22nd, 2023
Are you looking to invest in an Airbnb property in Georgia? If you have chosen Savannah in particular, then you're on the right track.
There's no doubt that the cities in Georgia including Batumi, Tbilisi, and Atlanta are recognized to generate thousands of dollars and have promising occupancy rates by city. An interesting fact is that Savannah also offers various investment opportunities that one should not miss out on.
Continue reading to learn more about Airbnb rules in Savannah and check out the profitability in this city.
Is

Airbnb

legal in Savannah

?

 
Let's cut the story short: Yes, Airbnb is certainly legal in Savannah. With more than 14.8 million visitors annually, this city is famous for attractions including Forsyth Park, Savannah Historic District, The Old Pink House, and a lot more. 
Here is a little proof! As of July 2022, there are 29,717 nights available in Savannah from Airbnb alone. Lucky Savannah manages 207 listings, while Southern Belle and Mary operate 152 and 60 respectively.
How much can I make by running an Airbnb in Savannah?
Currently, there are 1,387 Airbnb listings in Savannah, with 81% of entire houses earning up to $5,332 a month. The Average Occupancy Rate in Savannah is 77% and the average daily rate is $188. According to short-term rentals analytics source Airbtics, a 2-bedroom apartment in Savannah can make up to $84,877 each year. Check out our Short-Term Rental Estimator!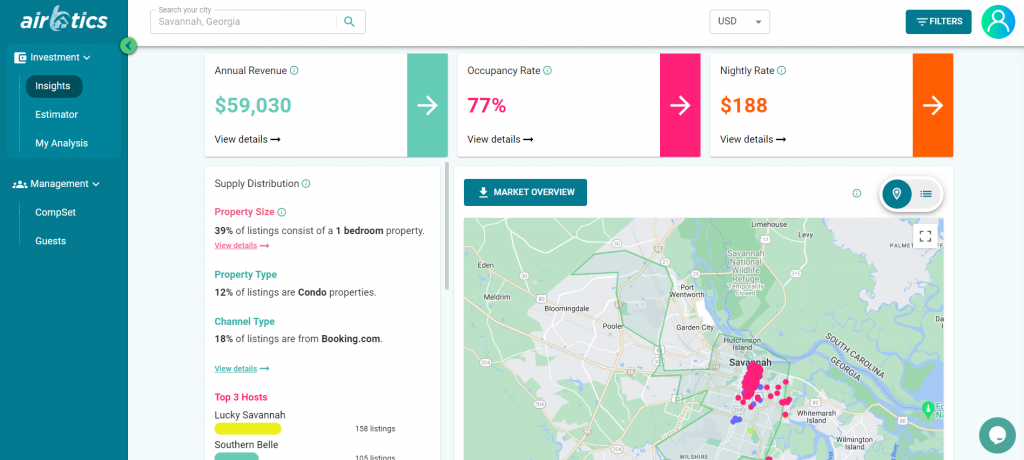 What Are The Short-term Rental

Accommodation

Policies in

Savannah?
It is required to secure an STVR certificate in the city 
STVRs are permitted within the short-term vacation rental overlay district,

which includes the Downtown, Victorian and Streetcar local historic districts. Outside of this overlay, they are only permitted in certain Business and Agriculture zoning classifications (B-C, B-N, B-L and A-1).

A separate application must be obtained for each property used as a STVR.

The zoning conditions for short-term rentals in Savannah are:
1.  No more than 2 adults per bedroom plus 2 adults for each rental unit  
2. No change to the outside appearance of the dwelling unit or premises 
3. Parking – Studio-up to 3 bedrooms: The requirement for the type of dwelling unit, 4+ bedrooms: The requirement for the type of dwelling unit, plus 1 space for every 2 additional bedrooms.

For properties rented for 90-days or less, hotel/motel taxes must be remitted on the first 30 days of the rental.

Is

Savannah

A Profitable

Area to

Invest In?
If you're worried about spending thousands of bucks to purchase a property, the good news is you have the option of not owning one. This is because there are many property investors who enjoy doing rental arbitrage in Savannah as a passive income!
Airbnb metrics are important in order to expect potential revenue and avoid losing hard-earned money. Before starting an Airbnb business, getting to know your preferred area's occupancy rates, average daily rates, and annual revenue is important to achieve success.
By using an accurate short-term rental calculator, you'll be able to confirm if Savannah is a good place for investment! In the digital era, it's easy to discover your estimated annual revenue and high-return investment opportunities in Savannah.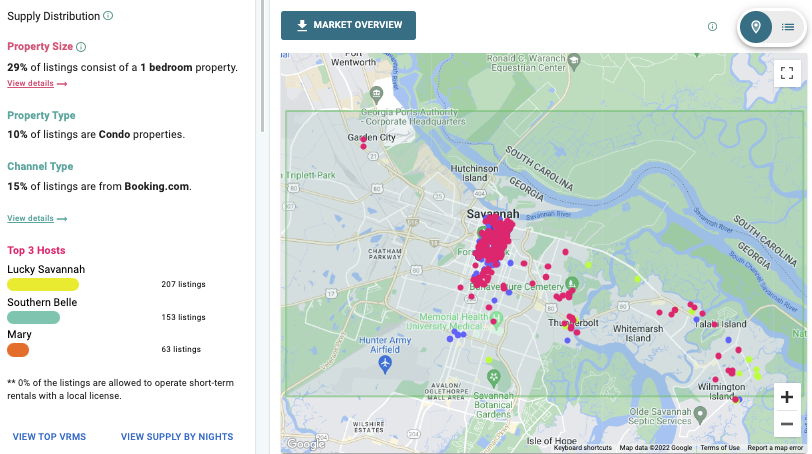 Source: Airbtics Dashboard
Savannah's

Rental Market 2022
Based on a recent report of Savannah's rental market trend in 2022, apartment occupancy & rental growth in this city have continuously increased despite the pandemic.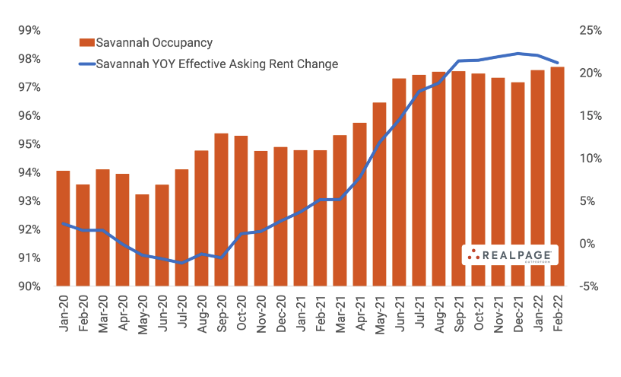 | Suburbs | Average House Price (3bd apartments) | Average Rent Price | Average Airbnb Revenue |
| --- | --- | --- | --- |
| Metropolitan | $599,900 (1,879 sqft) | $2,400 | $5,492 |
| North Historic District | $1,599,000 (5,223 sqft) | $4,300 | $12,585 |
| Victorian District - East | $400,000 (620 sqft) | $3,057 | $8,976 |
Source for Property Price: Properties in Savannah
Conclusion 
In general, considering the Airbnb rules & regulations in Savannah will help your Airbnb business to run smoothly! Aside from the fact that this is a passive income for various hosts, starting an Airbnb business is also a way to enjoy life and connect with new people from all over the world. Try Airbtics now and make the wisest investment decisions!