Last updated on June 23rd, 2023
If you've always wanted to start investing in Aribnb but don't know how – this article is for you! Learn about the process of Airbnb investment, the necessary steps you need to take, legal considerations, key metrics for successful Airbnb hosting, and so much more. 
Frequently Asked Questions about Airbnb Investment:
1.  How do you start an Airbnb investment?
If you already own the property, the first step is to take note of your overall costs and learn how much money you're expecting to make using a precise Airbnb calculator. Since the property is yours, you only need to consider a few expenses & can even learn how to start Airbnb with no money!
On the other hand, if you are planning to purchase a property – you have to select the best location to attract the right target market and avoid bankruptcy in the rental business industry. You also have to create an Airbnb Investment Analysis to consider how much a property can make in a certain neighborhood or city, get acquainted with the Airbnb regulations, add the best Airbnb amenities, review the area's tourism data, and anticipate other extra costs in the long run. 
2. What are the requirements, taxes, and other legal considerations?
Once you have selected a target location for your Airbnb investment, it's important to be aware of the laws in your target area in order to be on the right track. 
Some of the legal considerations include business licenses, special permits, taxes, landlord-tenant laws, and other agreements. 
Learn more about the Airbnb regulations by city here.
3. Where is Airbnb most profitable?
We conducted an in-depth research to identify the Airbnb occupancy rates by city and the data revealed that Miami Beach is the most profitable city, with the highest annual revenue of $63,072.
4. What are the Airbnb investment key metrics?
The key metrics of Airbnb are essential for hosts & managers to keep track of their overall finances and anticipate future expenses. These include the following:
– Occupancy Rate – the total number of days that a property is booked by guests. This is calculated by dividing the number of booked nights over the number of available nights. 
– Net Operating Income – refers to the total revenue earned by a property after subtracting the operating expenses. This can be calculated by deducting the gross income with operating expenses.
– Average Daily Rate (ADR) – this represents the daily revenue that a rented property can make. It can be calculated by dividing the total bookings revenue over the total number of nights booked.
– Revenue per Available Room (RevPAR) – refers to the total amount of revenue a single room can make in your property. RevPAR is an essential metric that allows you to have an overview of your property's performance and anticipate revenue increase.
You can calculate RevPAR by multiplying your average daily rate with occupancy rate.
– Average Length of Stay (ALOS) – this metric refers to the average number of nights that have been booked by an individual guest. This can be calculated by diving the number of nights booked with the total number of individual guest bookings.
– Relatively, if you have more than 1 property to manage, you can also calculate how much profit you can make in the next years by adding all the total costs that your guests paid for each of your rental properties.
5. How much money does it take to invest in an Airbnb?
If you already own the property, some of the financial considerations include:
1. Furnishing costs ($4,000 / two-bedroom) 
 If you are furnishing the property from scratch and are on a limited budget, you can look for second-hand furniture (dining table, 2-seater sofa, wooden bedframe, and lamps) online which may cost around $3,000 per unit. 
You can also invest in multiple linens, high-quality mattress, and other bedroom essentials for as low as $1,000 per unit. Learn more about Airbnb startup costs in order to anticipate other basic expenses.
2. Cleaning services (Average fee: $65-105)
Cleaning costs may vary according to the type of listing that you offer & the size of your property. DIY cleaning is also an option if you have the time! You can also consider pricing correctly by looking at the average Airbnb cleaning prices:
– One room in a shared home: $25
– One bedroom: $40
– Two bedroom: $75
– Three bedroom: $110
– Four bedroom: $140
Relatively, if you don't know how to find the Airbnb cleaning service that's suitable for your property,here are some of the trusted sites that you can look into:
AIRTASKER |  HOMEADVISOR | THUMBTACK | TURNOVERBNB
3. Legal consultation fees ($199 – $400)
It's also important to have a real estate lawyer who can readily provide legal guidance to your Airbnb business in case you will face legal issues with the landlord or guests and help in damage claims & insurance. Here are some of the recommended Airbnb consulation services:
6. What are the pros and cons of long term rental vs short term rental?
If you're still deciding whether you can invest in a long-term or short-term rental, here are some of the pros and cons for each to help you make an informative decision:
– Long-term rentals (occupied by a tenant for a 12-month period)
PROS: Highly predictable rental income, lower tenant turnover, and ease of financing.
CONS: Difficulty in routine maintenance and limitations to raise the rent price.
– Short-term rentals (rented on a daily, weekly, or monthly basis)
PROS: Higher potential gross rental income, better maintenance & flexibility.
CONS: Limited by local laws, lack of consistent rental income & higher operating costs.
7. How do you price an Airbnb rental?
If you are worried about pricing either too high or low, you have the option to select an Airbnb Dynamic Pricing to help you set the right price or spy on your competitor's current pricing strategies.
8. How much do Airbnb hosts earn annually?
Based on our conducted research about average occupancy rates in various cities across the globe, here are the list of cities and their annual revenue: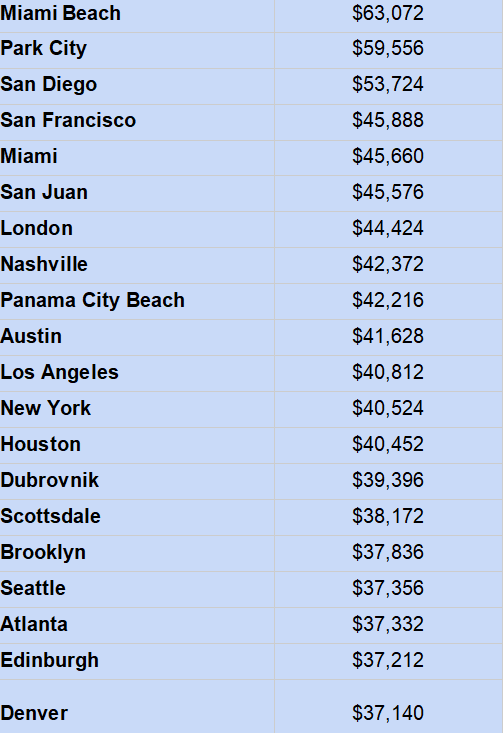 9. How do I discover new emerging markets?
You can discover and compare new emerging markets in the Airbnb industry with the help of an accurate data analytics tool to provide sound investment data & ranks.
Here are the different types of short-term rental analytics to guide you through!
10. How do I identify high-return homes?
You can easily identify high-return homes in the Airbnb industry by conducting either of the following techniques:
– Research for positive economic & demographic trends – by looking at the local economy's GDP and employment growth rate, you can determine the highest return on real estate investments.
– Look out for the average performance of rental properties – checking the average performance on rentals can give you a concrete way to determine a high-return market.
– Use an Airbnb analytics heatmap – with the help of an Airbnb analytics tool, you can just sit back and relax while looking at accurate properties that are performing excellently! 
The heatmap will allow you to filter results in your chosen location and display essential numbers such as cash on cash return, net rental yield, and profit before tax.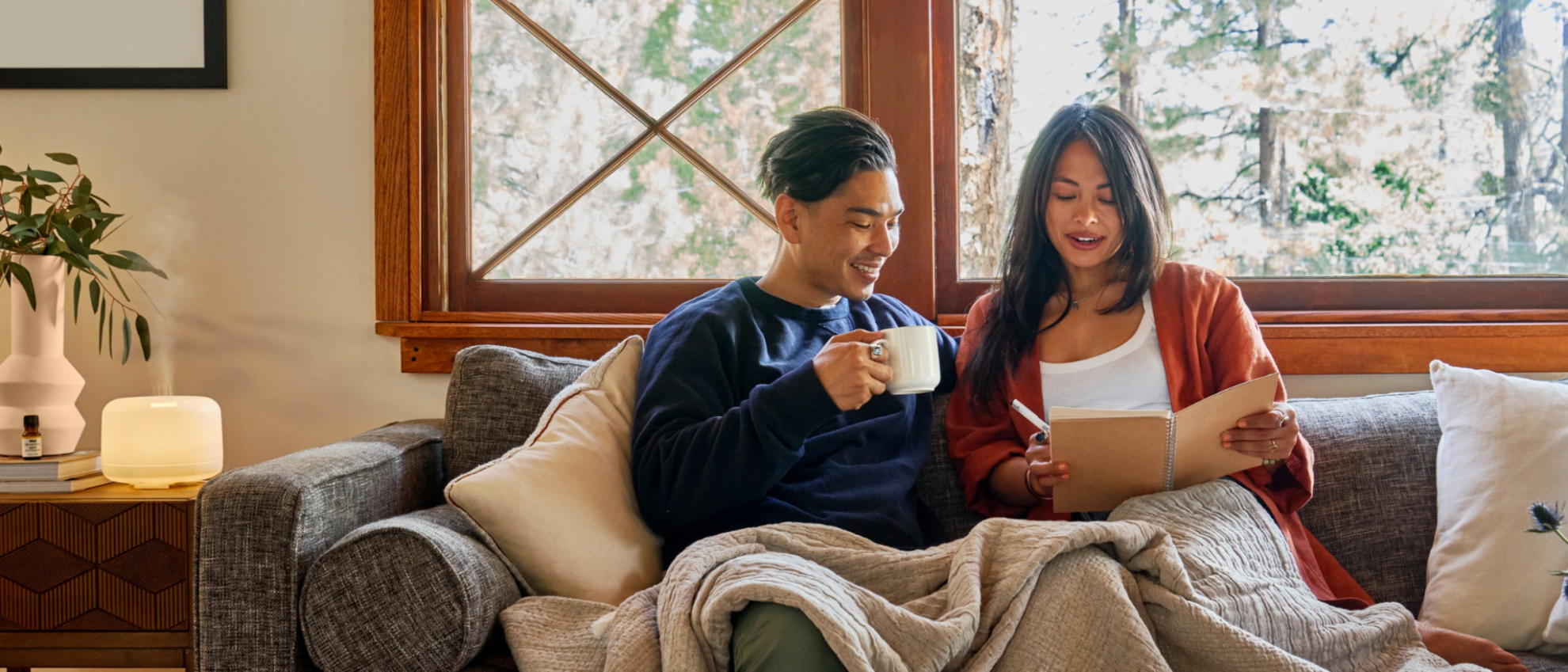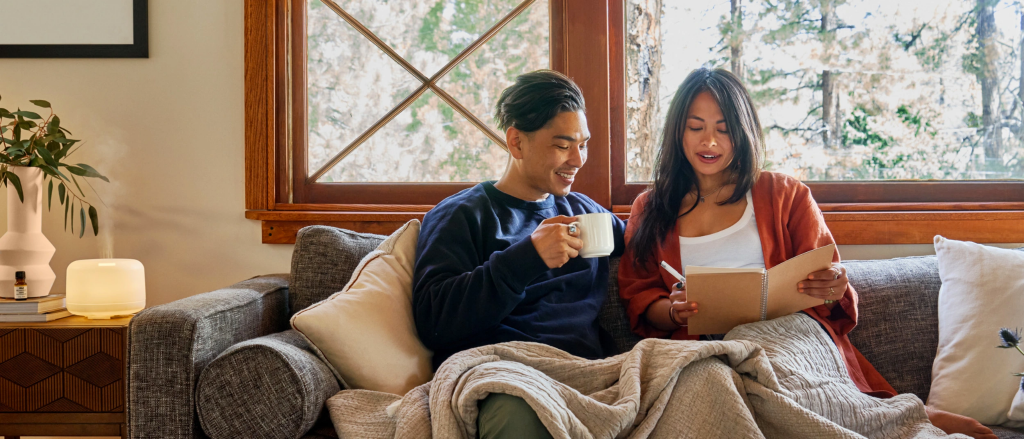 Best Tips & Guidelines for Airbnb Investment
Step-by-step Guide for Airbnb Beginners
If you have decided to start investing on Airbnb, there are a few major considerations that you have to think of. This includes the following: 
Choose the right location

– identifying the right location will allow you to foresee if your target market will have a high demand for your Airbnb property. 

Local regulations & laws

– no matter how you try to strive in the Airbnb business industry, you will only end up closing if you ignore the local laws. Make sure to do a thorough research before investing in your preferred area.

Make an informed decision based on numbers

– once you have chosen the right location & considered the local regulations and laws, the next step is to create an informed decision by basing your analysis on numbers:
How much $ will you spend & how much $ will you profit?
Fortunately, the advanced technology in the digital era has enabled hosts like you to save some precious time and help increase profitability with the help of Airbnb analytics tools! Here are your options for the best Airbnb dynamic pricing tool to help you figure out how you can price accordingly.
5 Tips for a Successful Airbnb Business
1. Run The Numbers
– The biggest investment question: Is it worth the money? 
By anticipating the costs and calculating your potential revenue, you can expect that your Airbnb business is on the road to success.
For instance, if you can already forecast your annual expenses, you can easily determine how much your annual revenue is. Here's an example of Airbnb ROI simulation from Airbtics: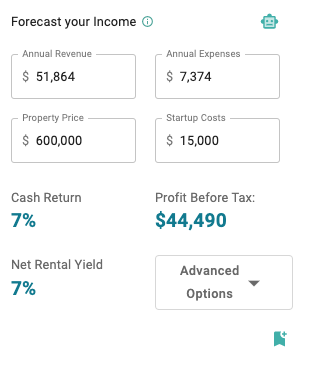 2. Furnish with Affordable yet High-quality Amenities
–  The majority of guests that are deciding to book on Airbnb are usually looking at a property's amenities, so make sure to give your best shot!
By investing in the best Airbnb amenities, you can exceed your guest's expectations without losing so much money!
3. Promote your Listings Consistently
– You can ask any successful Airbnb hosts that you know and they'd tell you that promoting Airbnb listings  is truly essential. 
To do this, you can consider taking aesthetic photos of your property and highlight your edge among the competitors, coordinate with your local tourism council, and prioritize booking channels to become more responsive to inquiries!
4. Maintain Cleanliness
– Now more than ever, guests are definitely looking for more than just fancy stuff that they can find on your property. Amidst the pandemic, maintaining cleanliness on your property is truly one of the things that a successful host consistently checks on.
5. 5-star Reviews
– If you have just recently started with Airbnb, don't worry! As soon as your property gets bookings, make the effort to send the best Airbnb message template to your guests & remind them to leave feedback about their experience. 
Here's the challenge: Aim for a 5-star review!
How to Invest in Airbnb without Owning Property
Do you have to own a property in order to start investing in Airbnb? Absolutely not! 
Here are some of the finest options if you want to invest in Airbnb without owning a property:
1. Airbnb Rental Arbitrage
– How to get started with Airbnb Rental Arbitrage?
Airbnb rental arbitrage is a technique that some hosts are trying out because they can keep the money for themselves without much commitment. 
You can get started by looking for your preferred property and put it up for rent with the main purpose of subletting it on vacation rental sites to generate revenue. 
PROS:  An expensive capital is not necessary when purchasing your own property. Plus, you can definitely have all the total income for yourself!
CONS: There are only a few selected landlords who will allow you to sublet their property on Airbnb. This is because of the local laws & regulations against subletting.
– How much can you earn on Airbnb rental arbitrage?
Depending on the location and size of your property, you can determine accurate revenue numbers by looking at the Airbnb rental arbitrage guide. 
For instance, you can calculate your revenue by multiplying the year-round occupancy rate and average daily rate. If you charge $150 per night and achieve a 70% occupancy rate, you will make around $38,325 excluding other expenses and taxes.
2. Become a certified STR property manager

(courses available online)
– Since there is a rapid demand in the vacation rental industry, becoming an STR property manager might also be the path for you! 
Some of the key responsibilities include managing the needs of property owners, marketing tasks, confirming bookings, supervising the check-in process, and the like.
While some cities do not require licensing to be an STR manager, the best technique is to become a certified STR property manager by enrolling in  property management courses online and receiving a specialized certification. 
Some of the most recommended STR courses include:
VACATION RENTAL UNIVERSITY   |  CALIFORNIA ASSOCIATION OF REALTORS  |      ALTERSCHOOL
3. Co-hosting to an Airbnb host (10-20% per booking)
If you want to learn more about the Airbnb process, co-hosting might be the best recommendation for you! 
Similar to a short-term rental manager's duties, being a co-host will include tasks such as confirming bookings, property inspections, communicating with guests, and the like.
– Airbnb Investment Analysis 
Before you decide to invest your hard-earned money in Airbnb, it's important to create an Airbnb investment analysis. Here are your two options to do this:
1. You can either conduct an Airbnb investment analysis manually which takes a lot of time and effort;
2. Or utilize an accurate Airbnb analytics tool like Airbtics.