Last updated on November 10th, 2022
Add a header to begin generating the table of contents
Are you interested to start an Airbnb but are financially limited or have zero funds? Worry not! This article will discuss the process of Airbnb and provide a step-by-step guide of how you can start an Airbnb with no money. Continue reading and learn more about the process of Airbnb.
What is Airbnb?
Airbnb has established itself as a stronghold in the real estate industry as it connects property owners with individuals who want to learn about different cultures,activities, and make money! Airbnb is a prominent short-term home rental service that offers both homeowners and visitors new options. With the right strategies, Airbnb hosting will help you earn money. If you have a spare room at your home, Airbnb might be a great way to supplement your income or perhaps convert your hobby into a full-time job.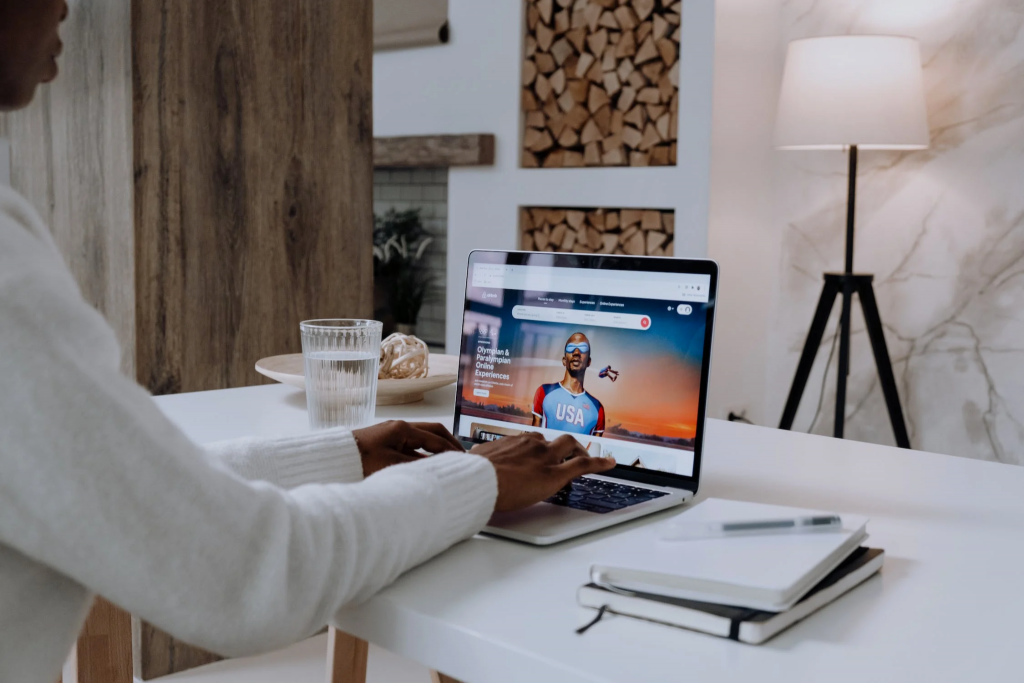 How to start Airbnb with no money?
1.
Rental Arbitrage
Rental Arbitrage is a method similar to house hacking, however, the only difference is that you don't own the house. Instead, you convince a landlord to lease you a property that will be furnished and subleased on platforms such as Airbnb and VRBO.
Rental Arbitrage is a smart technique to earn money in any type of property including multifamily houses, duplexes, or triplexes. You can easily use the money from your short-term rental to pay off your lease and profit some more. If you own a duplex or triplex then it is pretty straightforward and easy. You can live in one section and rent out the other – which is also known as house hacking. People use this after taking a loan on a property and use the rent to pay off the mortgage. The short-term rental income helps you pay for the long-term lease that you have on the house and keep the difference at the month-end after paying for the long-term lease.
According to Airbnb marketplace, property managers are among the highest-paid employees. Although many property managers own their own property, it is not essential. Property managers frequently have a website that draws property owners hoping to save time on time-consuming duties.
Locally-based Airbnb property management firms such as Whome in Portugal are excellent examples of this type of service. These firms take care of all the tiresome responsibilities including maintenance, assistance in setting income objectives, cleaning services, concierge, key service, and so on.
2.

Using Your Own Vacant Property
Do you have a spare room you'd like to rent out on Airbnb? Then you've already gotten a leg up on the competition! All you have to do with vacant property is create a profile and start marketing it. Of course, using Airbnb's capabilities, this is a lot easier than it appears. If you're wondering how to start Airbnb with no money, this is the ideal technique for you:
Rent out your vacant property without investing any money
Simply clean up the room and take the best Airbnb photos
lay out the Airbnb host checklist
and get your listing up on Airbnb!
3.

Property Manager
Consider it a business opportunity the next time you're travelling around your area. If youcome across open rental signs,  these can also help you generate a little money.
Simply approach the property owner and inquire about the possibility of putting their property on Airbnb.
It is feasible to launch an Airbnb with no money and earn some additional revenue in this manner.
4.

Join the Affiliate Program
Airbnb features an affiliate program in which customers can earn money by referring others to the platform. Refer your friends and relatives to Airbnb and assist them in creating an account and booking their first stay. You get a large commission if they spread the word that you were the one who brought them to the site.
Many affiliates who profit from this scheme will send a customized affiliate link to a broad audience. Having your own following, for example, can let you do this safely and lawfully. Just don't be the person that constantly shares your link on social media.
5.

Make Airbnb experiences available.
Airbnb experiences is possibly the simplest way to open an Airbnb account without spending any money and quickly make a profit. Airbnb offers local premium tours and experiences in locations all around the world.
They can include things like excursions to unusual places and one-of-a-kind experiences. If you know of any activities in your region that visitors would be eager to book on arrival, you can create a free Airbnb Experience and start marketing them right away.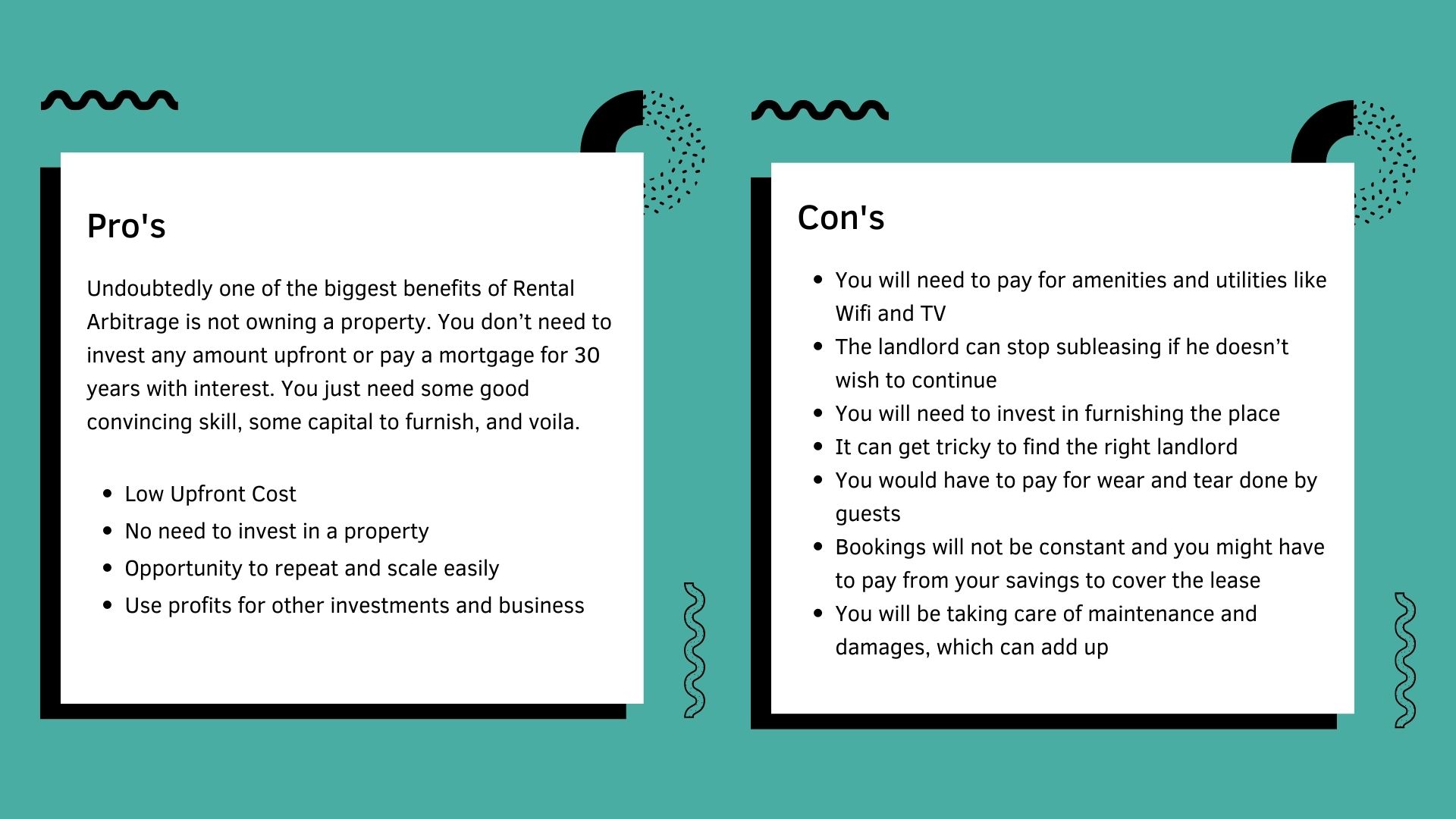 What is the initial cost of starting rental arbitrage?
You can expect to spend anywhere between $3,000 to $5,000 depending on your preferred property type and other expenses. This cost includes Deposit, Furnishing, Amenities, Legal Paperwork, and LLC Incorporation.
But doesn't this contradict the low upfront cost of rental arbitrage? Well, these estimates vary from city to city. There is a possibility to do Rental Arbitrage for even less than this depending upon your situation and the type of property you lease.
Still, the amount is lesser than investing in a new property and getting a mortgage of thousands of dollars. In addition to this, you won't be on the hook for property maintenance expenses and being stuck for years with debt.
But this doesn't mean that rental arbitrage can be done with zero or a very tight budget. There will be some upfront costs that you have to expect so it's ideal to own some extra cash.This will help pay off the lease during the off-season in case bookings don't happen right away.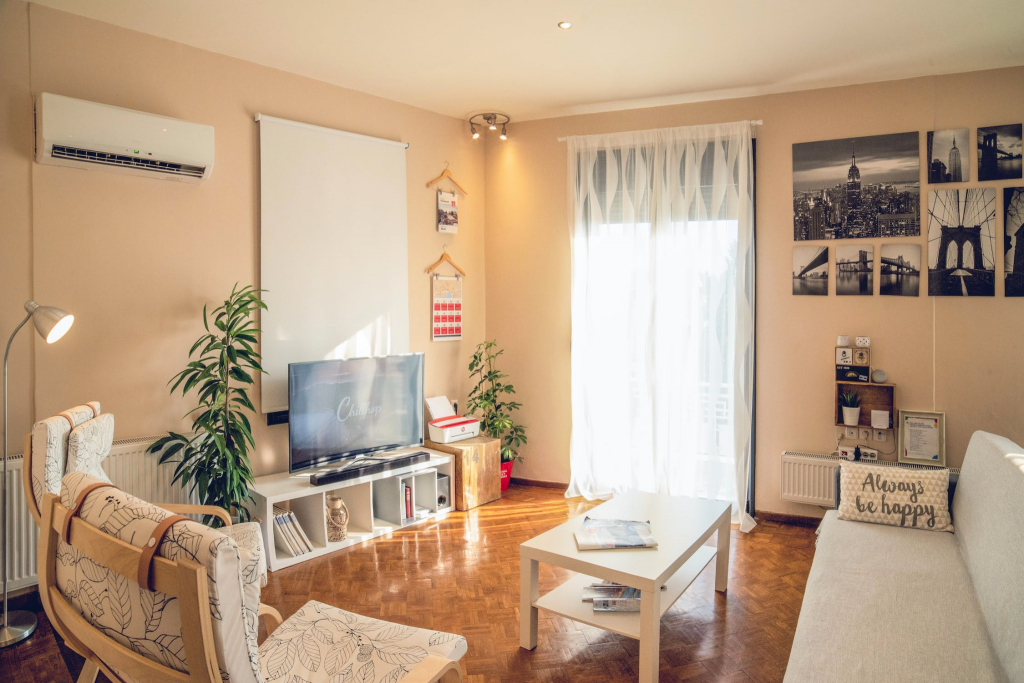 Expense 1: Rental Deposits
A rental deposit is going to be one of the first major expenses. You would need money to be able to sign a long-term lease with the landlord. Therefore, you will need a security deposit, along with your payment for the first and last month's rent. Sometimes you can negotiate with the landlord and use the first month's rent as a security deposit.
Expense 2: Furnishing
Most of the time you should always aim to lease a place that is semi-furnished. As someone with a fully furnished home might be doing short-term rentals themselves. Also furnishing a place from scratch can add anywhere from $3,000 to $5,000 to your initial capital.
If the place is semi-furnished, then your best bet is to shop for cheap stuff by going through an Airbnb furniture checklist. You can go and find cheap supplies from places like Home Depot and IKEA. Sometimes even Walmart can have a hidden gem if you look closely.
Expense 3: Photography
Do it yourself! iPhones have good cameras. DIY photography will save you some money.
Expense 4: Cleaning Services
This is included in the starting costs, but you will eventually end up spending on cleaning services. The best way to save money is to do it yourself initially if you have the skills and experience.
If you have no experience or you don't want to invest time in cleaning a place, then it's highly recommended  to hire a professional cleaner. This can cost you anywhere from $50 to $250 depending upon the size and location.
Expense 5: Legal Consultation
Maintaining a professional relationship with a Real Estate lawyer can be very helpful in the Airbnb business. Airbnb regulations are constantly changing and you would need some legal guidance on the way to adjust your business accordingly.
They can also come in handy if you face any legal issues with the landlord or guests. They can help in damage claims and insurance as well in case of any mishappening.

Legality and Regulations of Airbnb
If you want to know how to start Airbnb with no money, you must first become familiar with the Airbnb rules and regulations. While running an Airbnb company can be lucrative, it's critical to ensure that your home listing complies with the law and Airbnb's laws and regulations. Before you list your vacation rental on a website, here are a few things you should consider:
1.

Check Your Airbnb Rules for Short-Term Rentals
Finding out exactly what the rules and Airbnb regulations are in your location is the first step in establishing whether or not your listing will be authorized under Airbnb standards. Some places prohibit Airbnb or home-sharing, while others regulate the practice through business licensing, zoning regulations, and hotel codes.
Airbnb has prepared some local help pages to help you get started. For instance, you can find out about responsible hosting in the United States.
If you can't find this information on the internet, try contacting your local government agencies. When you do this, you may discover that the restrictions vary based on the city or municipality where you live. You might even learn that your city has only a few (or no) limitations on holiday rentals.
2. Obtain All Required Permits and Licenses
Before you can start operating an Airbnb business in many places across North America, you'll need to get permission from the local city hall and a business license. While the specific regulations may change depending on your city, there is typically no difference between renting out a room in your home and listing numerous properties on Airbnb.
You will be deemed as a real estate business owner by your local government. These documents may be referred to as a 'business license,' a 'lodgers tax license,' a 'land use permission,' or a 'TOT certificate,' depending on where you live.
If you own many properties, even if they are all in the same state, you may need to obtain separate licenses or permits for each one before listing them on Airbnb.
3.
Examine the Taxation Regulations
Airbnb is required to collect the local occupancy tax on your behalf in various tax areas. In other places, however, Airbnb hosts are exclusively responsible for ensuring that the required taxes are deducted from their Airbnb revenues.
In order to pay these taxes on time, you may need to register for a tax identification number. It's crucial to remember that taxation requirements aren't usually clearly covered by Airbnb guidelines, but you'll still have to pay for them.
4.
Ensure that you follow all safety and insurance regulations
You'll also need to bring your property into conformity once you've identified what documentation you'll need to launch an Airbnb business. In order to protect Airbnb visitors in the event of an emergency, each location has its own set of safety standards for tenants, such as ensuring that smoke detectors are installed and that the home has a fire exit. Make sure your property has undergone the appropriate repairs and has the right insurance to ensure the safety of your visitors.
5.
Be a Respectful Neighbour
Aside from safety standards, Airbnb rules state that you must be considerate of your neighbors. That means you'll need to make sure your community's or apartment building's policies don't clash with letting Airbnb guests stay at your place. If your building has noise, smoking, parking, or pet regulations, be sure to include them in your Airbnb listing profile's House Rules.
6.
Don't Make the Mistake of Trying to Oversell Your Rental
When writing descriptions and names for your ads, be cautious. Airbnb values truthfulness and accuracy. As a result, don't try to show off your home too much.
Airbnb's Content Policy is simple: if a listing is misleading or contains any false information, it will be removed from the marketplace. In other words, the photographs, description, and title of your property should all exceed guests' expectations.
Conclusion
You'll be ready to create your Airbnb listing and start earning once you've completed all of these crucial procedures to verify if your listing is permitted. Keep in mind that new standards and laws issued by Airbnb or your local authorities may change in the future.
Reference | Airbnb-rules
Top Cities Where Airbnb Is Legal or Illegal
Among the issues that local governments and state authorities anticipate with Airbnb is the potential to disrupt landlord-tenant relationships. Regulators are also concerned about a potential flood of tourists who would turn peaceful residential zones into rotating hotel districts. There are also worries about the existing lack of supervision and responsibility for Airbnb-related tax collection and zoning bylaw conformity.
As a result, those contemplating utilizing Airbnb should do their homework to ensure that the city in question creates a welcoming atmosphere for Airbnb. Furthermore, the listing must adhere to the city's current municipal codes. Here are some of the top cities where Airbnb is legal and illegal:
Paris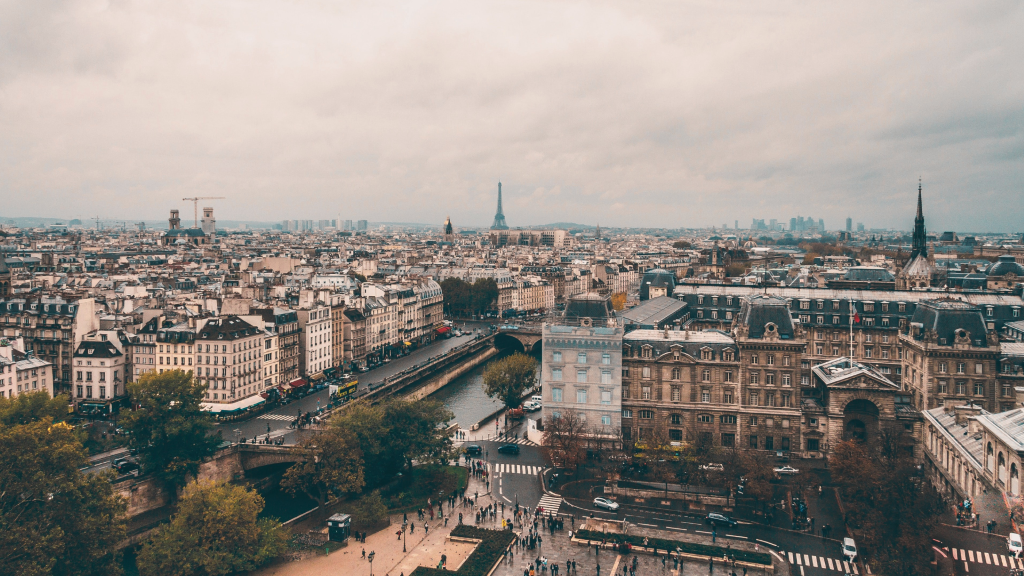 Ian Brossat, a Paris official, attacked home rental businesses in 2018 because he believes they evict locals from the city.
With over 60,000 apartments available, Paris is the world's largest Airbnb market. Brossart's opinions are shared by other cities such as Spain, New York, and Santa Monica. Government crackdowns on secondary residences put up, particularly as short-term rental units in Paris occurred in 2015, with officials fining violators up to €25,000.
Amsterdam and London
Other European destinations have been significantly more open to Airbnb than these two cities. Amsterdam established a partnership with Airbnb in February 2015, in which the city would collect a tourist tax on rentals and Airbnb would educate potential hosts on all rules and regulations. Short-term rentals in Amsterdam were limited to 30 days per year in 2018, reducing the prior restriction.
Outside of the Greater London area, residents may rent their primary or secondary homes for up to 140 days per year. In London, Airbnb is flourishing.
Barcelona
Barcelona's strict stance against Airbnb and other similar services was maintained in May 2018. The city warned the site that if it didn't remove 2,577 listings that it found running without a municipal-approved licence, it would face steep fines. Then, on June 1, Airbnb and the city announced a partnership that would provide Barcelona officials access to listing data.
New York 
Airbnb is no stranger to America's most visited tourist attraction. According to Recode, Airbnb filed a lawsuit against the city in August 2018 over a new rule requiring Airbnb and other home-sharing companies to submit the city's enforcement department with the hosts' names and addresses once a month.
The law, according to Airbnb, infringed on the private and fundamental rights of its customers. Although New York Mayor is Airbnb's most popular market, the city claims that up to two-thirds of the company's listings are illegal.