Last updated on September 21st, 2023
If you have read articles on how you can be the best hospitable host in town, then you'd definitely know that creating an Airbnb welcome letter is the primary step towards that! As we discussed the importance of investing in high-end Airbnb amenities, we also mentioned how crucial it is to put yourself in the traveler's shoes in order to think of their needs & desires – in this case, creating a welcome letter.
Now if you were the guest, what kind of message are you looking forward to reading?
In this article, we'll give you some of the finest tips and aesthetic sample templates so you can spark the hospitable excitement for your guests to have a memorable experience in your business! After all, isn't it always about exchanging positive energy in return for money and excellent reviews? Continue reading to learn more and stand out like a pro against your competitors!
Free Printable Airbnb Welcome Templates
We understand how frustrating it could get for hosts to do all the work in such a short time, which is why we've added 3 different Airbnb welcome templates where the texts can be easily edited and personalized!
Check out these awesome Airbnb welcome templates: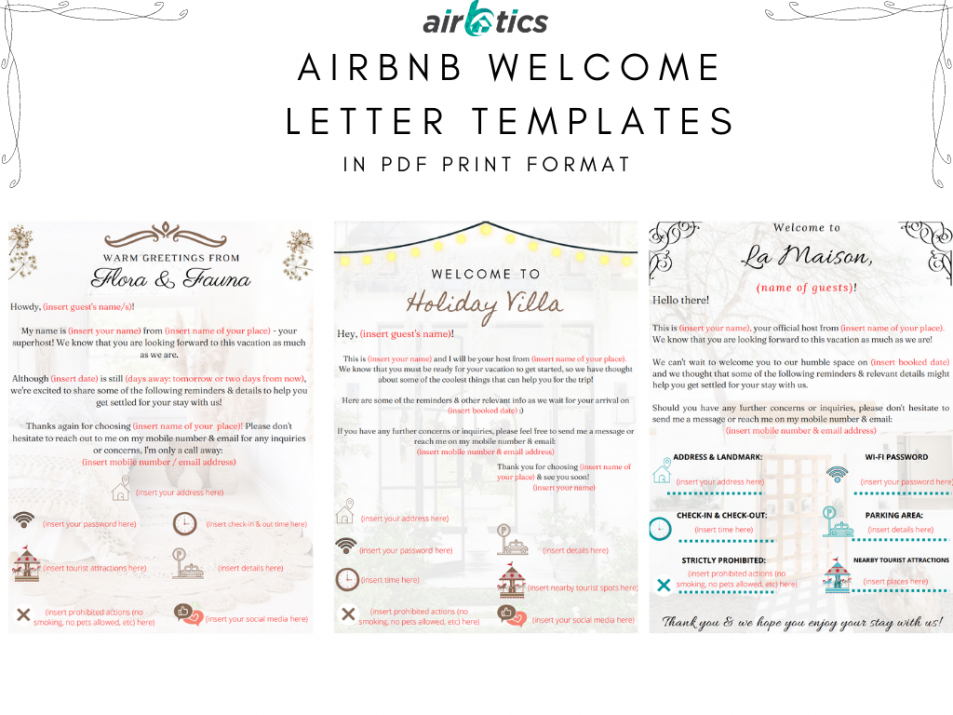 Airbnb Welcome Letter Basic FAQs
WHAT is an Airbnb Welcome Letter?
An Airbnb welcome letter is one of the essential parts of Airbnb message flow wherein a host directly communicates to the guests. By creating and sending one, it will instantly give them the comfort and impression of how thoughtful a host is! As long as you have the right words and provide all the necessary details, it will truly be appreciated by the majority of your guests.
WHEN do you send out an Airbnb Welcome Letter?
Primarily, you would want to send out an Airbnb welcome letter 1-2 days prior to your guest's arrival. Sending a personalized welcome letter will give them the reassurance that their travel is near and that you're stoked to welcome them in your place  — a little boost of excitement, please! (+10 points for the hospitality).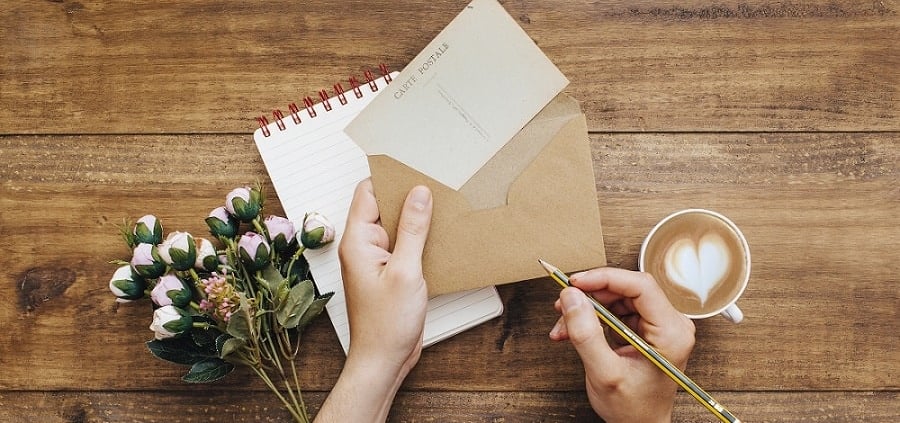 Steps in Creating an Airbnb Welcome Letter
One of the main goals of having a personalized welcome letter prepared beforehand is for your guest to feel that their host is expecting their arrival. We'll leave it here: You don't have to be a writer to know the right words to say! As long as you have the devotion for providing them the best experience, you're already on a good start. We also prepared a free downloadable sample letter that you can use as a guide. By simply following these steps, you will meet your guest's overall expectations — or maybe even exceed them!
1. START THE TONE RIGHT

To begin with, we want to make sure that your guests know why we're writing in the first place. You can start by introducing yourself as the host from the Airbnb where they booked (using your official business email address to avoid looking spammy) and express your excitement of hosting them in your place. Remember, you can also avoid using formal or robotic terms such as 'Dear sir / maam' or 'View booking details here' — sounds like a chat bot! Feel free to start the email as if you're writing to a friend. For instance:
"Hey, Anna! I hope you're doing well. My name is Robyn from Airbtics – your personal host! Since we're so excited to see you tomorrow, we prepared a checklist with a few reminders of our check-in details and other relevant info that you might find useful."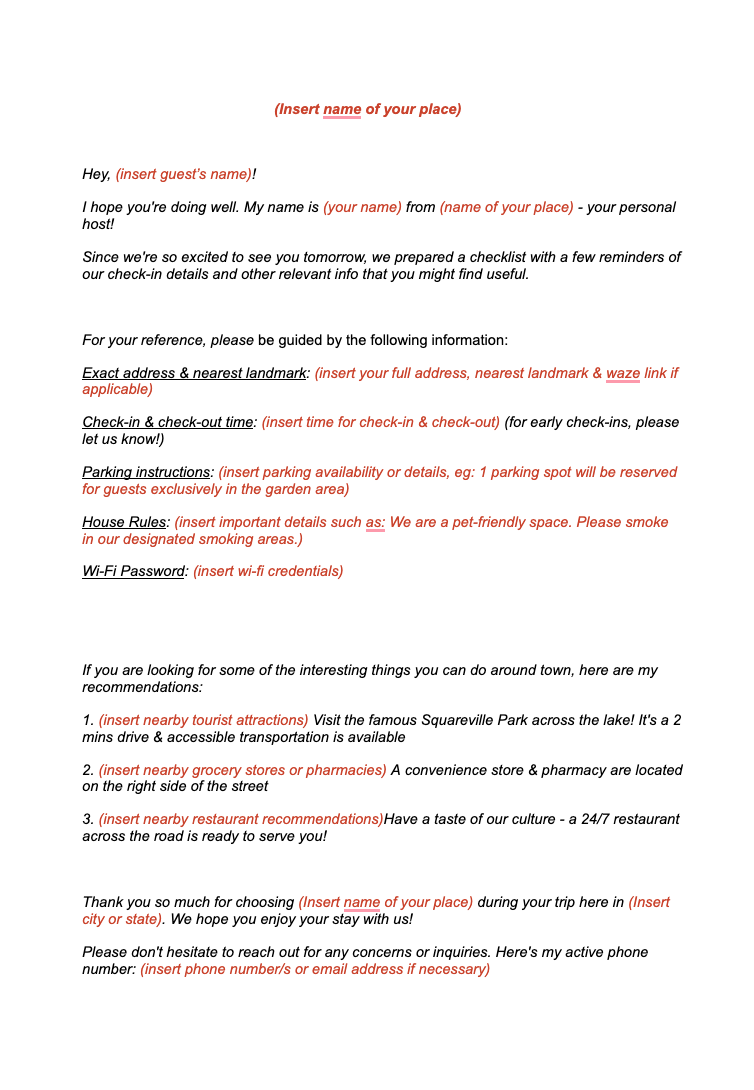 2. KEEP IT BRIEF & MAKE SURE TO DIRECTLY INDICATE ALL THE NECESSARY INFORMATION 
Let's face it – yes, we're trying to create a personalized letter, but nobody would want to read a long message that seems to be sugar-coated just for the sake of sending one. Keeping your email short and direct to the point will provide your guests with exactly what they need. Take the following example as your guide:
"Here are some of the important things to keep in mind: 
Exact address & nearest landmark: 024 West Avenue, San Juan City (in front of 711) + Waze link if applicable
Check-in & check-out time: 12NN check-in & 2PM check-out (for early check-ins, please let us know!)
Parking instructions: 1 parking spot will be reserved for guests exclusively in the garden area
House Rules: We are a pet-friendly space. Please smoke in our designated smoking areas.
Wi-Fi Password: ABC123″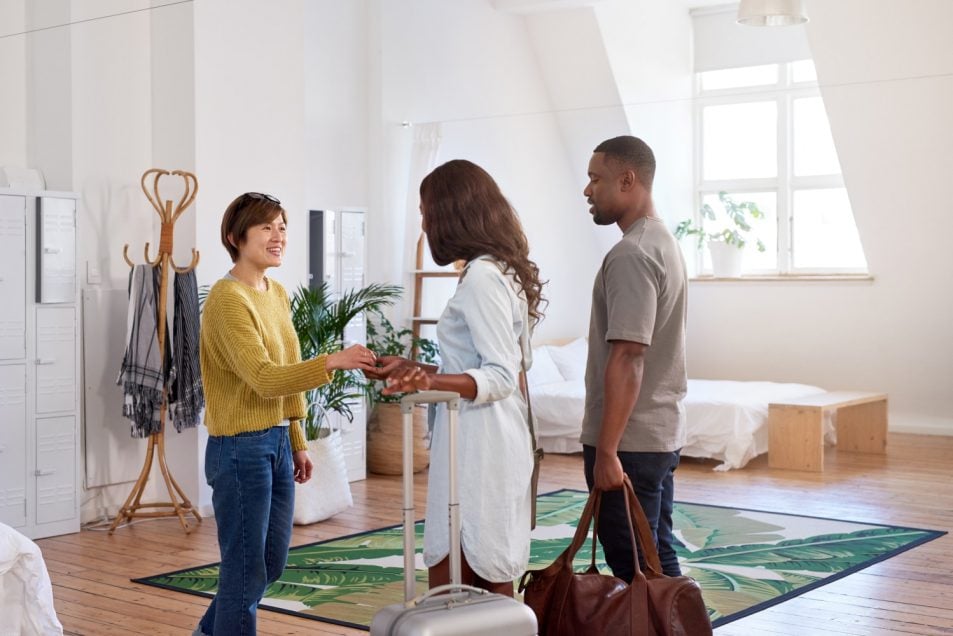 3. STAY IN TOUCH WITH YOUR GUESTS
By providing your contact details as their host, you're making it easier for your guests to reach out regarding various inquiries such as restaurant recommendations or anything that would make their trip remarkable. It's also a great takeaway to keep in mind that as a host, you're building connections with people so make sure it's an experience that they'll never forget — hello, repeat customers!
Something as simple as this sentence is a perfect example: 
"Please don't hesitate to reach out for any concerns or inquiries! Here's my active phone number: 4137583"
4. BASIC INFO FOR GETTING AROUND 
Going back to our previous discussion of putting yourself in your guest's shoes, wouldn't it be sweet to receive at least 3-5 tips of getting around the place for a tourist like you? Provide a short list of the nearest grocery store or pharmacy, along with some of the top tourist destinations in the area to make your guests feel extra welcome!
"Oh and by the way, here are some of the interesting things you can do around town:
1. Visit the famous Squareville Park across the lake! It's a 2 mins drive & accessible transportation is available
2. A convenience store & pharmacy are located on the right side of the street
3. Have a taste of our culture – a 24/7 restaurant across the road is ready to serve you!"
5. DONT FORGET TO THANK YOUR GUESTS
Ending your welcome letter with sincerity and gratitude is such an instant happy booster to the majority of guests. Through this, they would instantly feel that they can recommend the same experience of bliss to their relatives and friends. A simple line such as:
"Thank you so much for choosing Airbtics during your trip here in London. We hope you enjoy your stay with us!"
General Conclusion
Now that you have a perfect vision of your preferred Airbnb welcome letter template, it's also best to know how you can further improve your STR business by looking at how your competitors perform in your area. Specifically speaking, if you are a remote host or are planning to be one — you don't have to worry about being left out of the current trends (amenities & services offered in similar listings) with the help of an accurate Airbnb Data Analytics Tool. 
Not only does this help you optimize your listing, but it can also provide VERY useful data for simulating cash returns using the Airbnb Calculator. Choose to stand out among your competitors & try Airbtics!
Find a profitable
investment property
Use powerful analytics to discover lucrative & traditional Airbnb properties within minutes.
Find a profitable
investment property
Use powerful analytics to discover lucrative & traditional Airbnb properties within minutes.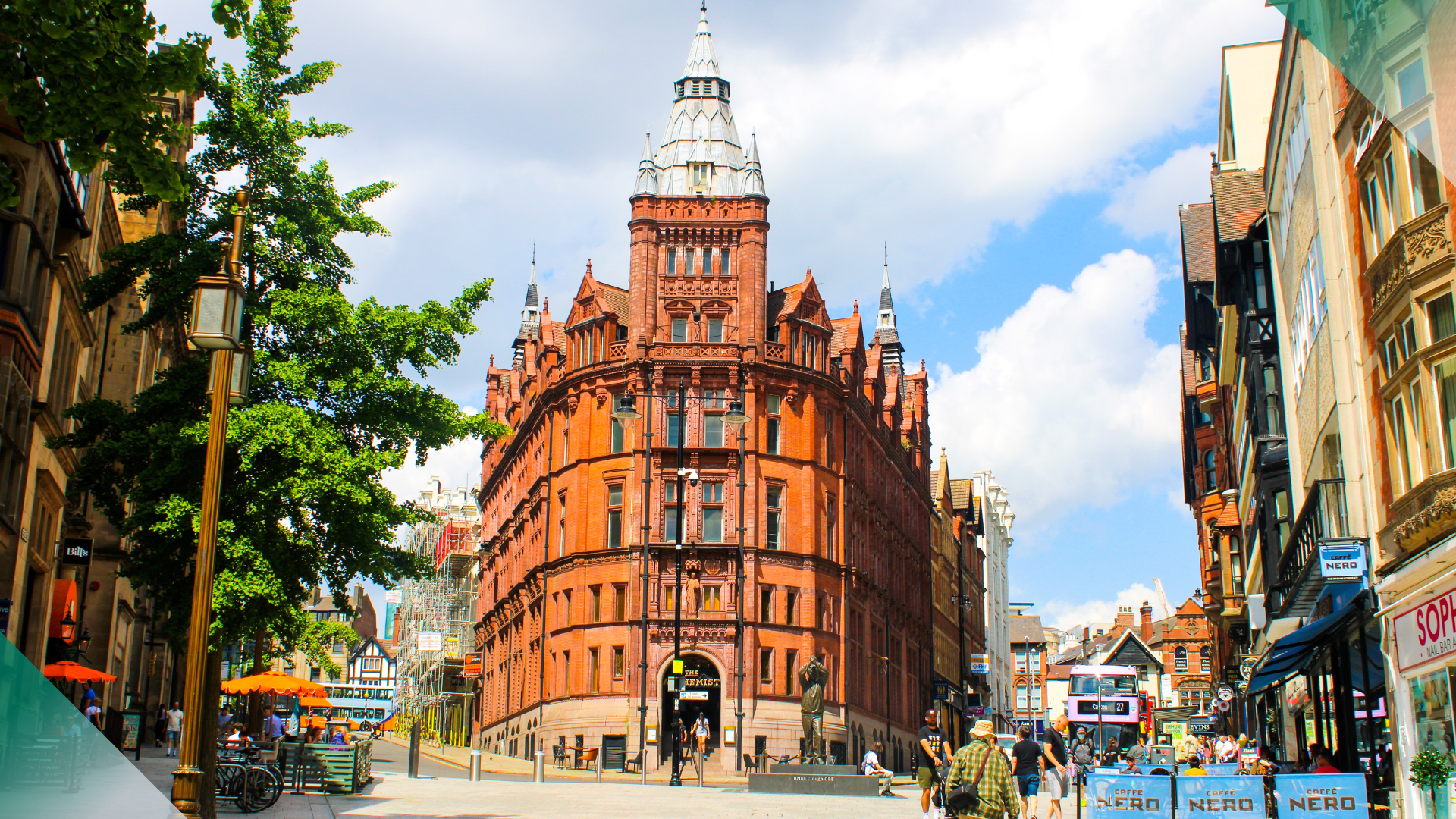 The best areas in Nottingham for buy to let investments can help investors to embark on a worthwhile investment journey. Find out more in this …