Add a header to begin generating the table of contents
Since its start in 2008, Airbnb has created a new business of short-term vacation rentals. Platforms like Airbnb and Vrbo are opening up the holiday industry to everyday homeowners and creating a sharing economy. This has given them the power to acquire vacation rentals as a full-time occupation. As a result of the modernization of the vacation rental industry, more people are offering their homes for this low-risk investment. People like to do their due diligence before investing, and AirDNA and AllTheRooms are two names that come to mind. so to help you decide, here is a comparison of AirDNA vs AllTheRooms and what is best for you? Let's dive into it.
If you want to buy a house just to rent it out on Airbnb, you'll need accurate and reliable data to study and make the best choices. You can estimate the return on your investment and how much to invest in a property if you know the occupancies rates and revenue of an area. If utilized correctly, having the right tool will save you not only time but also money. Let's have a look at our first candidate from AllTheRooms vs AirDNA.
What is AllTheRooms ?
AllTheRooms is the top provider of short-term rental hosts' tools and services. Their short-term rental data and analytics packages are their major offers. Vacation rental owners, investors, property managers, tourism boards, hotels, and other businesses benefit from such knowledge.
Their mission is simple: "to gather and catalog every room on Earth and to use those data to provide in-depth insights into the growing vacation rental market."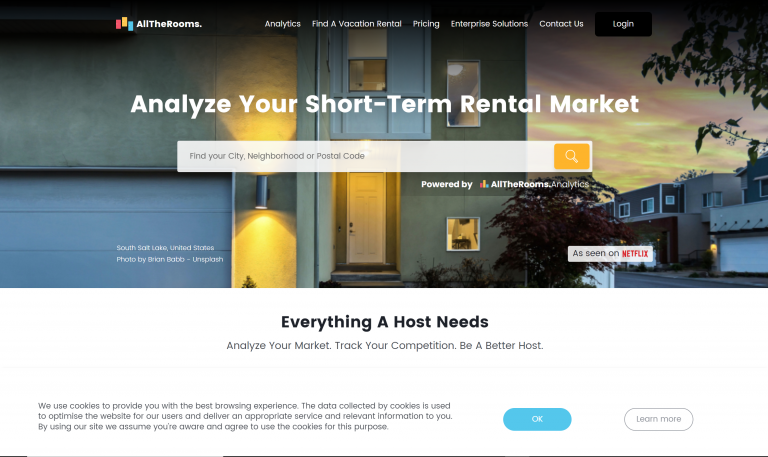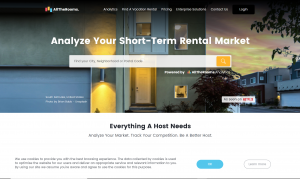 Overview
As a software primarily focused on Real Estate Investors, AllTheRooms has help users to
Improve their rental plan and determine how much money the property will bring in.

Examine whether a standard or short-term rental is more fit for your property and neighbourhood.

Keep track of individual markets and their progress over time.
In future or established locations, look for undervalued properties and investment prospects.
AllTheRooms provides all of the normal historical and future analytics. Some of their innovative dashboard insights are where they set themselves apart.
Every month, AllTheRooms calculates a Vacation Rental Score. This score compares revenue, ADR, and occupancy from a company's listing and the market to give a single grade to performance. It's the ideal solution for exhausted property managers who need a third-party metric to communicate with owners or investors.
Let's go through some of the features of AllTheRooms.
Market Intelligence
Competitive Intelligence
Vacation Rental Score
Market Intelligence
You'll learn everything you need to know about the short-term renting industry. You will find the ADRs, Occupancy Rates, and Revenues for each property type and location.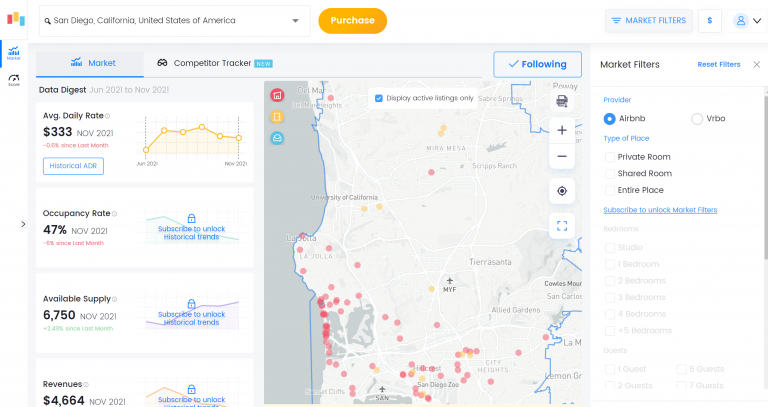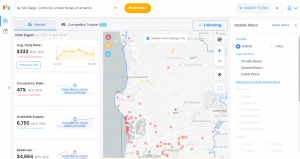 Market Insight
When you 
initially
 open a view for a specific market, you'll get to see a screen shown below.
If you click the Learn More button below, you'll get a more detailed trend over the last two years. This can be quite useful in determining the market's direction. You can observe if the 
overall
 number of listings is increasing or decreasing beneath it.
Market Revenue:

Knowing the whole available supply and its trend, as well as the 
overall
 market size, is quite beneficial
. To determine the size of the total addressable market, someone considering starting a business often performs this exercise.
 To put it another way, you want to make sure the market is big enough for you to grow and expand in. 
This is especially important if you're thinking about smaller cities and want to know what the 
overall
 short-term rental demand is like
.
Occupancy Rate:

The Occupancy Rate is the next piece of information we like to look at. The first thing it shows you are the total occupancy rate for that market for that month. When you click Learn More, you'll receive a more detailed view of the previous 1-2 years.
Comparison Tools: One of the best things about AllTheRooms is how simple it is to compare different factors
.
Imagine comparing the Occupancy Rate with the available supply to see if it drops as the whole supply grows
.
In addition
 to daily rates, occupancy rates, supply, revenues, market prices, booking lead times, and average daily rates, there are several other factors to consider
.

Competitive Intelligence
Track your property's performance, compare it to the competitors in your area, and spot opportunities for improvement and competitive gaps.

Vacation Rental Score
By analysing bookings, earnings, and reviews for every vacation rental in your city, they provide a personalised property score.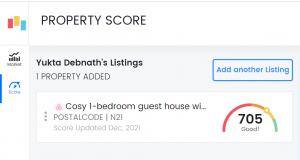 Once you've received your property score from AllTheRooms, there are a few things you may do to maximise your score:
Examine your competitors' rates and scores, as well as the amenities they provide – you may need to change yours

.

Consider your listing's booking lead time; if it is lower than the industry average, you may need to fill your calendar earlier

.

Check to see if any fresh supply has arrived, and stay on top of new competitors!

What is AirDNA?
A leading source of vacation rental data, AirDNA offers a wide range of tools to help its users find profitable investment properties. It offers competitive insights, custom reporting, and interactive dashboards covering more than 10 million rentals across 120,000 markets worldwide. Vacation rental investors can leverage historical and future-looking data to maximize revenue potential with this tool.
MarketMinder: Product overview and key features
Investors can use MarketMinder to understand how their vacation rentals compare to others and to set their prices based on real-time demand predictions.9999
MarketMinder can help investors to:
Locate investment opportunities; 

Compare future demand with nearby comps;

Price smartly and accurately;

Grow portfolio with profitable listings 
Market Comparison
The Market Comparison tool in MarketMinder allows Airbnb investors to compare cities, neighborhoods, and zip codes with the number of bedrooms and guests it can accommodate. Investors and second-home buyers can analyze annual revenue, ADR, and occupancy trends over the past years to find the most profitable properties. 
Calculate Revenue Potential & Cap Rate
Rentalizer, the Airbnb Financial Calculator, allows you to enter any address in the world and immediately receive projections on revenue, occupancy, ADR, and nearby comps. By customizing your bedroom count, purchase price, and major expenses, you can also receive operating income figures and cap rates to guide your investment decision. 
These are MarketMinder's most important features:
Short-Term Rental Research feature with interactive maps

Data-Driven Dynamic Pricing 

Customized Comp Sets

Forward-Looking Airbnb Data

Market Comparison

Calculate Revenue Potential & Cap Rate 
Short-Term Rental Research 
This feature is handy for gaining competitive insights on Airbnb and Vrbo rental properties. You can use interactive maps to examine how some neighborhoods and vacation rental properties perform. The feature includes over 25 crucial performance metrics: average daily rate, occupancy, rental revenue, booking lead times, active listing, etc.  
Data-Driven Dynamic Pricing 
With this feature, one might compare market rates to recommended rates based on property performance to have the most personalized dynamic pricing recommendations. Among the questions that could be answered are:
At what particular hours guests are willing to pay a premium?

How probable is it to be booked last minute?

What type of events are increasing rates in your area?
Customized Comp Sets
MarketMinder also allows you to upload your property and connect your listings. One can leverage the dataset to curate an accurate list of nearby akin listings. You can sort and filter the competitive set according to ARD, occupancy rate, amenities, revenue, distance, experience, and quality.
Forward-Looking Airbnb Data
By using Vrbo and Airbnb data, you are able to see what exact dates over the next six months are getting booked now. By doing so, one can adapt their strategy and gain a competitive advantage. This feature also makes it possible to understand how the market advertises prices and how much they are booked for.
Comparison Chart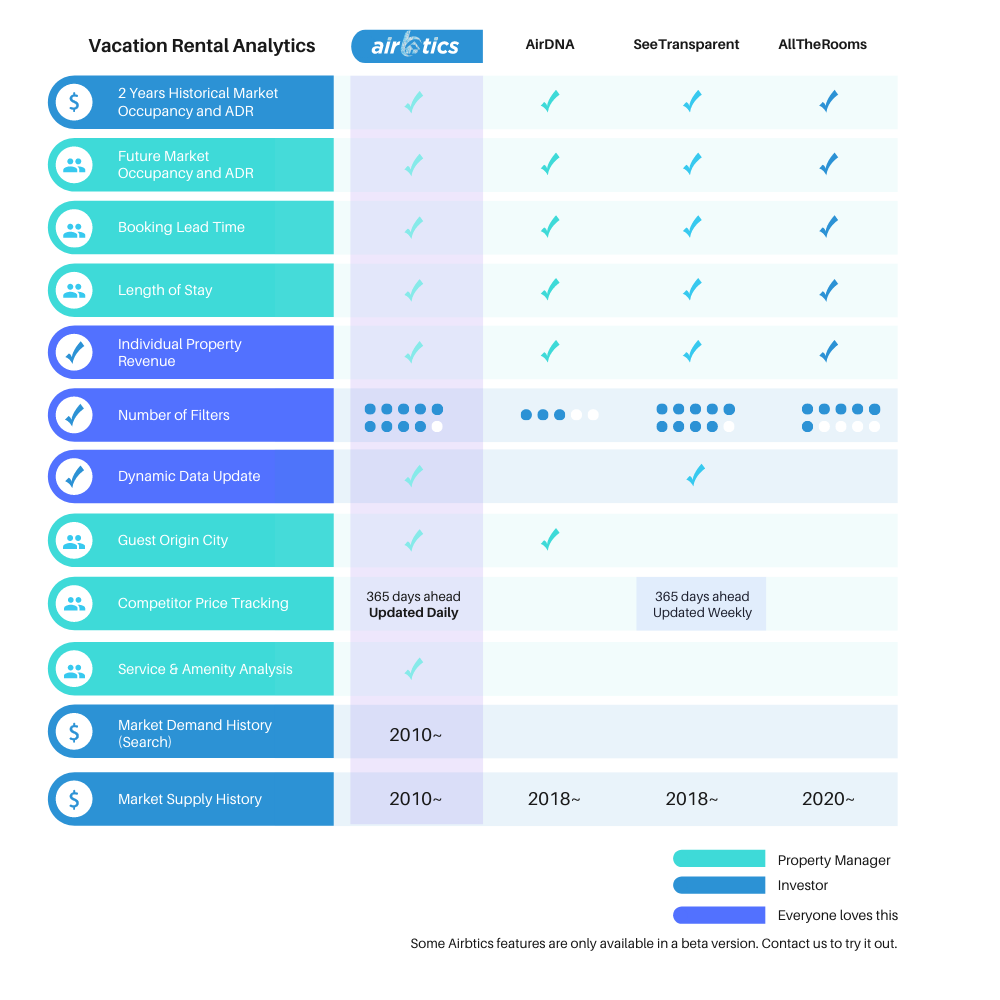 Putting It All Together
I would prefer AllTheRooms over AirDNA. If you're
just
getting started or are a moderate user, AirDNA is a fantastic tool."
When considering investing in a rental property, AirDNA data might be
extremely
beneficial
. When managing a property, AirDNA's post-purchase features fail to provide correct data. When making decisions on a daily or short-term basis, the facts may not be
totally
correct.
In comparison, AllTheRooms offers a reliable and easy-to-use service that shows the performance of short-term rentals in a given market to present it to you in an understandable manner
. You can check to see if the market is performing well
overall
.
Read More: AirDNA vs Mashvisor( Whats best for you) | AllTheRooms Analytics Review