Last updated on September 22nd, 2023
Airbnb calculator clash: AirDNA Rentalizer vs Airbtics Profit Calculator in a showdown of prominence vs credibility!
AirDNA Rentalizer vs Airbtics Profit Calculator
Analyzing Airbnb Calculators
In the ever-growing short-term rental industry, Airbnb has become a game-changer for guests and property owners alike. And no matter how long or short the time you have been in the hospitality sector, the constant pursuit of profitability remains strong. After all, who doesn't want to make the most out of their investment?
At this point, you might have heard how data analytics has been revolutionizing the short-term rental industry. And one tool that can make a whole new world of difference, which opens doors to a huge convenience, is the Airbnb Calculator. But not all Airbnb Calculators are created equal.
With multiple options available online, Airdna Rentalizer seems to be the most popular choice, claiming that it is the world's number one calculator of this sort. This is where we come in. In this article, we will learn about both Airdna Rentalizer and Airbtics Profit Calculator. 
AirDNA Rentalizer
This is the Airbnb Calculator of AirDNA, a data analytics company. This tool allows Airbnb investors to estimate the earning potential of the property they're eyeing. The Rentalizer offers projections for annual revenue, average daily rate, occupancy rate, and the impact of seasonality on profits.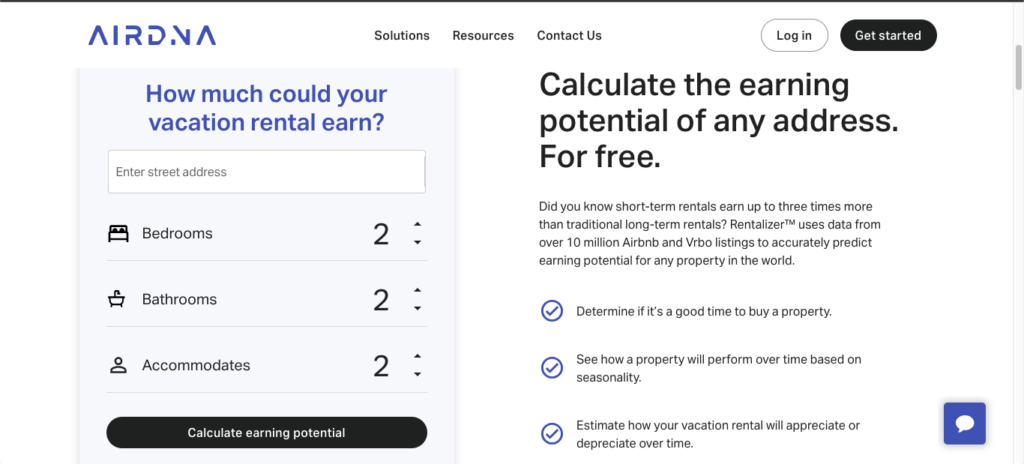 Benefits and Drawbacks of AirDNA Rentalizer
AirDNA Rentalizer has been known among many Airbnb hosts, investors, and vacation rental managers due to the following claims:
Leveraging data from over 10 million Airbnb and VRBO listings

Factoring in multi-market data points such as seasonality, rental demand, and revenue growth with its Market Score
While AirDNA Rentalizer is a powerful tool and the most popular one, it still has some cons of using it:
Lack of Comps Transparency – Just like any other Airbnb calculator, Rentalizer generates its results by analyzing data from nearby properties with similar attributes. However, skeptical investors may want to verify if the properties used for comparison are truly similar in terms of location, size, amenities, and conditions.

Rightfully so, users may question the reliability of data used in Rentalizer if they cannot see the sources. Transparency in this regard can help users assess the Rentalizer's credibility

Limited scope of customers – Rentalizer can be a useful tool for property owners. These can be hosts with properties of their own and Airbnb investors looking for another short-term rental unit. However, this excludes a significant portion of users, specifically those interested in trying Airbnb via rental arbitrage. 

Rental arbitrage hosts may have different criteria and financial considerations compared to property owners. They may be more interested in rental costs, monthly expenses, and potential income via arbitrage, which Rentalizer may not address adequately. 

No mortgage section – It is a reality for a lot of investors to finance their short-term rental venture by taking a loan. This is another limitation that means that Rentalizer does not provide specific insights or calculations related to mortgage expenses and their impact on the overall financial performance of the investment. This is a major consideration for a huge portion of investors relying on other means to enter the Airbnb scene. 
👉🏻 Are you an AirDNA user? Explore other AirDNA Alternatives.
Airbtics Calculator: Host Profit Estimator
Airbtics Calculator is a short-term rental profit simulator that allows you to see the revenue of any rental unit worldwide. With more features, Airbtics Calculator allows you to go for the best short-term rental locations that can meet your investment goals. 
Benefits and Drawbacks of Airbtics Calculator
The Airbtics Calculator is a game-changing tool for short-term rental hosts and investors. Every month, there are nearly 9,000 active users who use the Airbtics Calculator, ranging from Airbnb hosts, investors, and vacation rental managers. Here are some of the key features that make it stand out:
Comps Transparency – The Airbtics Calculator goes beyond just providing the search radius. It takes transparency a step further by disclosing comparable or similar properties close to your rental unit.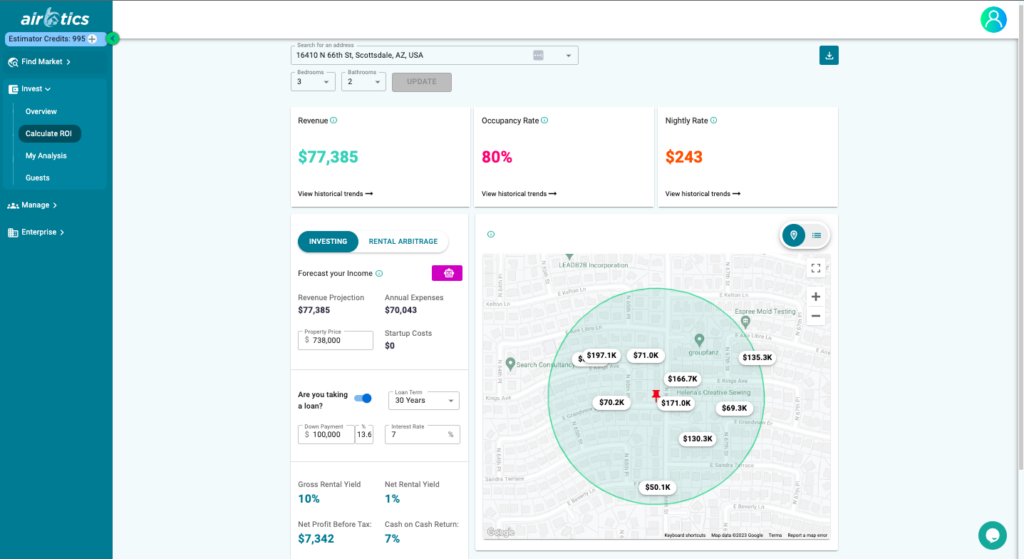 This transparency builds trust with users, as they can see the actual properties that serve as a reference for the calculations. No matter how one chooses to see the references (either on the map or in a table format), even the most skeptical investors can validate the relevance of the chosen comps. They can assess whether the selected properties are indeed similar.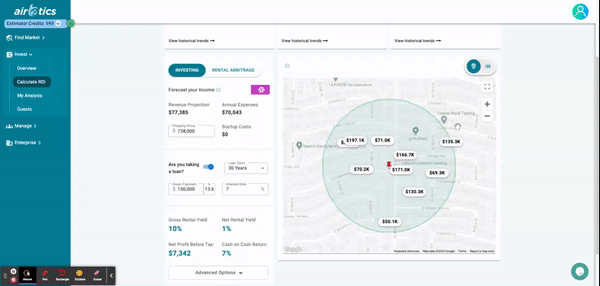 Special Section for Rental Arbitrage

– The Airbtics Calculator considers incorporating additional metrics and factors relevant to rental arbitrage. These include monthly rent paid to property owners, one-time costs, and monthly expenses.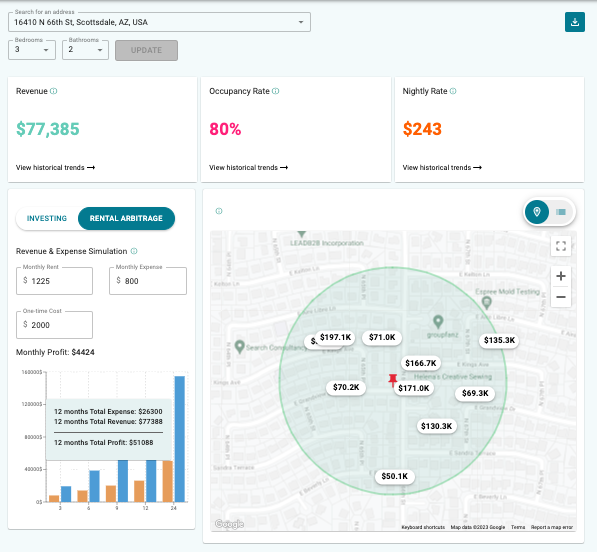 This level of customization and consideration makes the Airbtics Calculator a more valuable tool for people engaged in the unique segment called rental arbitrage.
Mortgage Calculation – On the Airbtics Calculator, users can put specific mortgage details such as interest rate, downpayment, and loan terms to tailor the analysis to their specific financial situation.
This helps them assess the property's realistic financial projections and sustainability in the long run. This feature also helps them make data-backed decisions, especially in the discussion of real estate financing.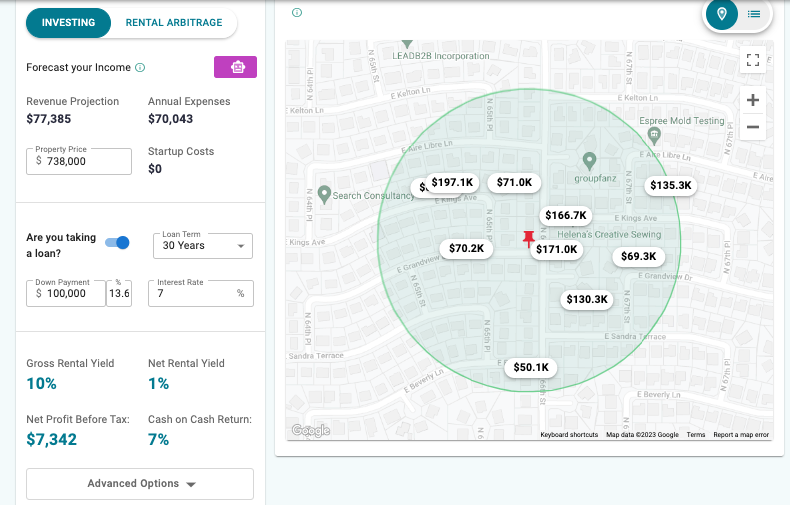 Compare and Contrast Multiple Prospective Properties

– The ability to compare and contrast multiple properties using the Airbtics Calculator is another added feature for real estate investors. It allows them to evaluate real estate opportunities side by side and make the best investment decision. Depending on your choice of return on investment, you can sort the properties according to their gross rental or net rental yields.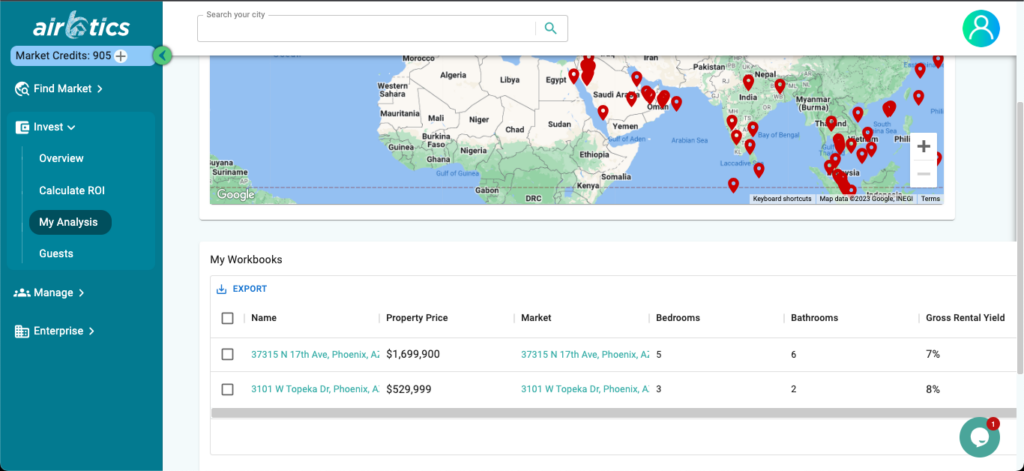 While Airbtics has a comparably better tool, it is still far from perfect. Below is the limitation of the Airbtics Calculator:
The Absence of VRBO data – The Airbtics Calculator does not cover VRBO listings, unlike AirDNA Rentalizer. This distinction only becomes relevant for investors who wish to operate in the short-term rental market and wish to maximize their exposure across multiple platforms.
The Best STR Calculator for Hosts, Investors, and Rental Managers!
The ever-evolving landscape of the short-term rental industry has brought out the most innovative tools such as Airbnb calculators to help property owners, Airbnb investors, and vacation rental managers maximize their profitability.

While the AirDNA Rentalizer boasts popularity and powerful data analytics capabilities, it still has its limitations. These include comps transparency, excluding rental arbitrage hosts, and missing out on mortgage-related considerations. 
This is what makes the Airbtics Calculator game-changing, as this powerful tool sets a new standard for Airbnb hosts and investors. Its standout features, including unmatched comps transparency, dedicated sections for rental arbitrage and mortgage calculations, and the ability to compare multiple properties make it an invaluable resource for a wider range of audiences with varying needs in the short-term rental sectors.
With Airbtics Calculator's transparent and data-driven approach, users can customize their financial projections based on their unique characteristics. This only allows them to make better-informed decisions and build trust in their investment decisions. 
In an industry where not leaving money on the table is crucial, the Airbtics Calculator truly shines as a reliable and versatile investment tool – helping Airbnb investors unlock the full potential of their short-term rental investments!
AirDNA Rentalizer vs Airbtics Calculator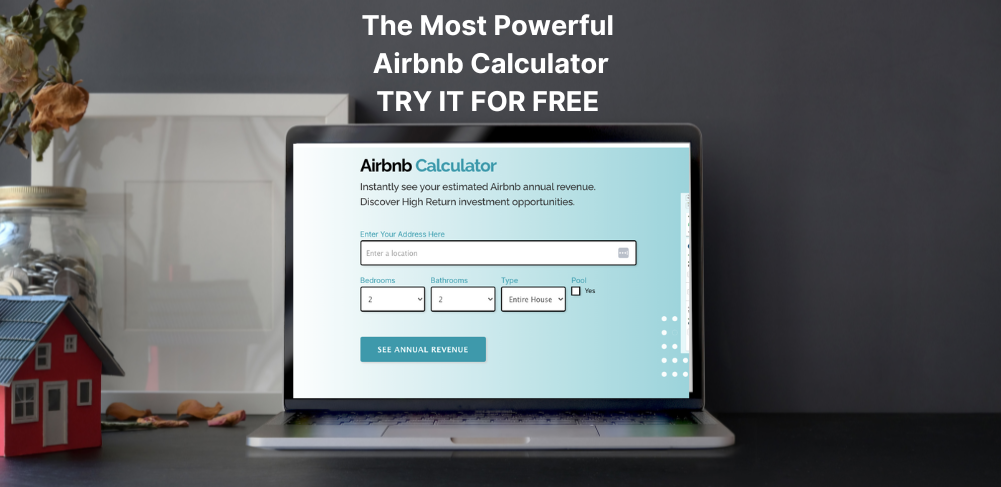 Find a profitable
investment property
Use powerful analytics to discover lucrative & traditional Airbnb properties within minutes.
Find a profitable
investment property
Use powerful analytics to discover lucrative & traditional Airbnb properties within minutes.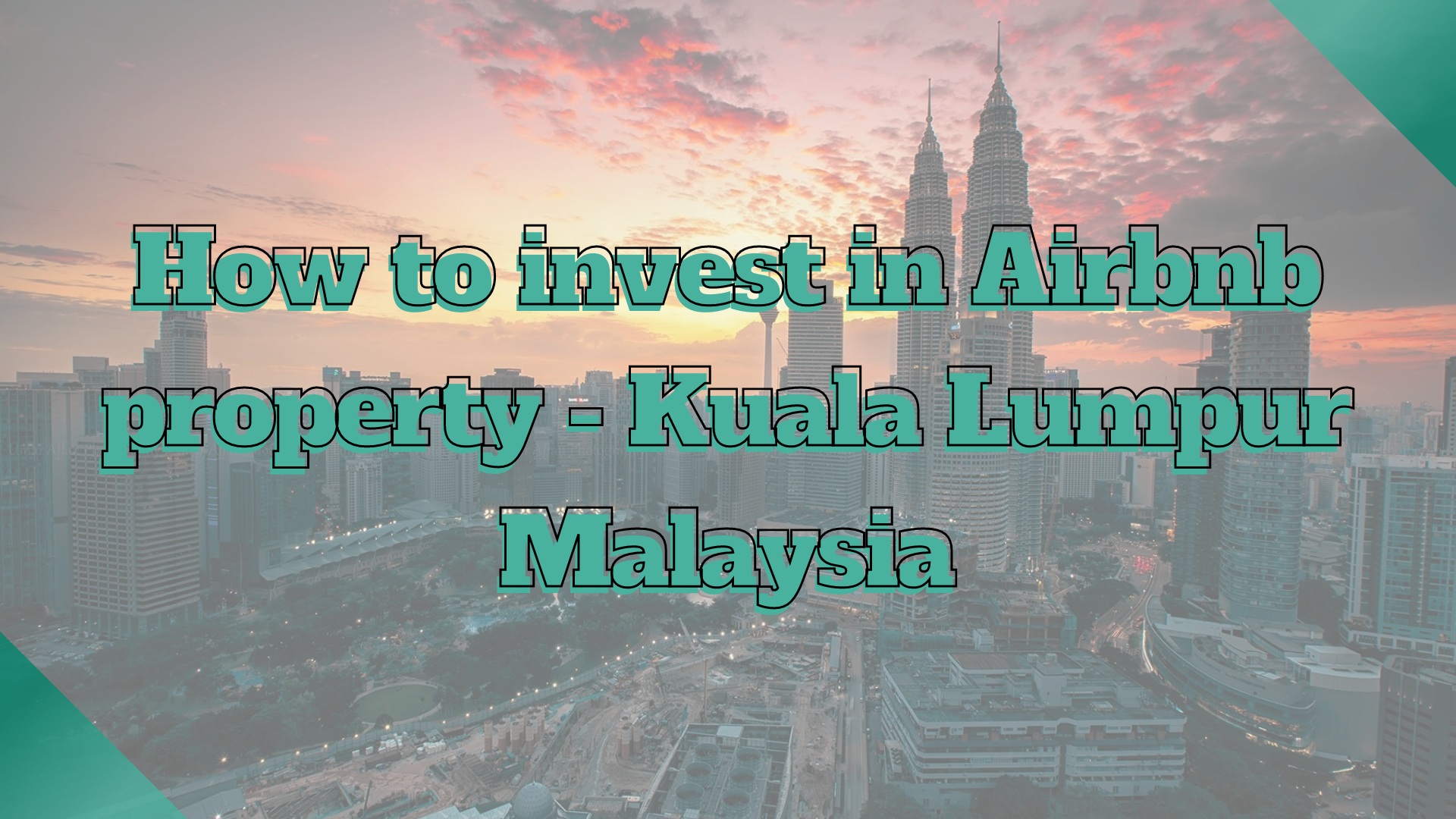 Last updated on June 26th, 2023 This post was written by Wei Hong Low.  Airbnb has grown 21% compared to August 2019 earning gross revenue $4,308,726,681. …