Last updated on August 9th, 2023
Purchasing a property in one of the best places to Airbnb in Algarve, Portugal can help you secure a good rental income. Discover more here!
Best Places to Airbnb in Algarve, Portugal: Top Rental Markets
The solid tourist market, great quality of life, and lucrative rental markets of the Algarve have helped hosts to generate a good rental income by owning Airbnb properties.
Get to know the advantages real estate investors can enjoy when buying a property investment around the Algarvel.
Discover the top 10 most profitable cities in Algarve along with their recommended property types and Airbnb data. 
Introduction
In the southernmost region of mainland Portugal, we can find the country's most visited province, the Algarve. The Algarve possesses a unique and charming environment conformed by picturesque beaches, high cliffs with glorious sunsets, plenty of natural reserves, and beautiful cities.
Aside from being an important tourist destination in Europe, the Algarve is also one of the most developed provinces in Portugal. Additionally, real estate investors can also expect to earn a good passive income since most cities in the Algarve province offer a high potential for strong returns on investments!
In this article, we'll reveal the best places to Airbnb in Algarve, Portugal, and some of the expectations when investing in real estate in this city. Eager to learn more? Continue reading!
Why

should

you consider buying rental property in Algarve, Portugal?
Investing in real estate in specific cities of the Algarve is an excellent way of earning a rental income since they offer a strong return on investment to property investors. But what advantages can Algarve's cities offer to real estate investors? 
Check out some of the reasons why buying Airbnb investment properties in the Algarve Province is an excellent idea:
Stable real estate market
The Algarve is a popular region for investment properties because aside from its good rental markets, it also has great climate conditions and high-quality. When it comes to the housing market prices, it can be considered fairly affordable as the average value goes from €2,200 – €3,300/m2. The market hasn't experienced a price boom either and values have continued to rise, but in a healthy way.
Furthermore, there's a strong demand for rental properties since the Algarve has a solid tourist market. There's a high tourist flow in the cities located in this province, so this can be an attractive market for investors aiming to cater to tourist accommodations. 
Enjoy the great living conditions
The cities of the Algarve province offer a laid-back lifestyle with a high standard of living. Living in this region means that you will have access to good educational options for both public and private schools, high-quality amenities, and plenty of recreational facilities. 
We must also highlight that Portugal is among the safest cities in the world. Thus, you can also enjoy some peace of mind if you move or invest in Algarve. On top of that, English is widely spoken in cities located in this region!
It's a given fact that the Algarve Province is a unique place that can be mistaken as a natural paradise! This region is home to pristine beaches and cliffs with the best romantic sea views. The Algarve Province also has another character with its variety of interesting urban areas full of museums, restaurants, galleries, and much more.
The Algarve perfectly blends majestic natural landscapes with its rich cultural heritage, so it's understandable why it is a top tourist destination. Moreover, the region has splendid weather conditions all year round. Hence, it doesn't matter whether you visit this region during summer or winter because you will always find something to do here.
Is Airbnb Profitable in Algarve?
Don't worry – Airbtics assures you that investing in real estate in Algarve is profitable. That being said, we must point out that the level of profitability highly depends on the property type and location.
An Airbnb host can expect an average annual revenue of €24,185 and a median occupancy rate of 76% for operating a 1-bedroom property in the city of Lagos as confirmed by Airbtics' data. 
Moreover, Lagos is also one of the top short-term rental markets in Europe as confirmed by our previous blog!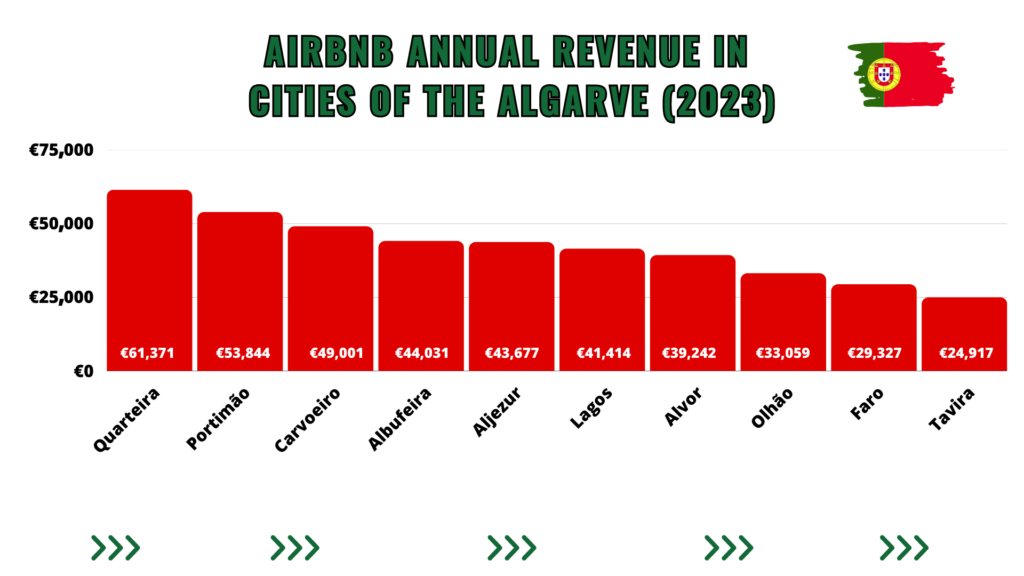 Source: Airbtics Dashboard
Top 10 Most Profitable

Markets

for Investment Properties in Algarve, Portugal
The Algarve is divided into 16 picturesque municipalities, making the profitability in each district vary. Thus, it can be a challenge to choose the best place to set up your Airbnb property in Algarve Province.
Check out the best cities in Algarve that are recommended for purchasing rental properties:
Location

Number of Airbnb Listings

Best Number of Bedrooms

Median Property Price

Airbnb Annual Revenue

GRY

Quarteira

1,849

4 Bedrooms

€900,000 (4 BD)

€61,371

6.81%

Portimão

2,132

4 Bedrooms

€449,000 (4 BD)

€53,844

12%

Carvoeiro

805

3 Bedrooms

€560,000 (3 BD)

€49,001

8.75%

Albufeira

2,828

3 Bedrooms

€550,000 (3 BD)

€44,031

8%

Aljezur

513

3 Bedrooms

€595,000 (3 BD)

€43,677

7.34%

Lagos

2,083

3 Bedrooms

€575,000 (3 BD)

€41,414

8.50%

Alvor

576

3 Bedrooms

€450,000 (3 BD)

€39,242

8.72%

Olhão

745

3 Bedrooms

€330,000 (3 BD)

€33,059

10.01%

Faro

708

2 Bedrooms

€345,000 (2 BD)

€29,327

6.58%

Tavira

880

2 Bedrooms

€295,000 (2 BD)

€24,917

8.45%

Total Number of Airbnb Listings:

1,849

Best bedroom size:

4 bedrooms

Median property price (4 bedrooms):

€900,000

Airbnb Annual revenue:

€61,371

Gross rental yield:

6.81%
Total Number of Airbnb Listings:

2,132

Best bedroom size:

4 bedrooms

Median property price (4 bedrooms):

€449,000

Airbnb Annual revenue:

€53,844

Gross rental yield:

12%
Total Number of Airbnb Listings:

805

Best bedroom size:

3 bedrooms

Median property price (3 bedrooms):

€560,000

Airbnb Annual revenue:

€49,001

Gross rental yield:

8.75%
Total Number of Airbnb Listings:

2,828

Best bedroom size:

3 bedrooms

Median property price (3 bedrooms):

€550,000

Airbnb Annual revenue:

€44,031

Gross rental yield:

8%
Total Number of Airbnb Listings:

513

Best bedroom size:

3 bedrooms

Median property price (3 bedrooms):

€595,000

Airbnb Annual revenue:

€43,677

Gross rental yield:

7.34%
Total Number of Airbnb Listings:

2,083

Best bedroom size:

3 bedrooms

Median property price (3 bedrooms):

€575,000

Airbnb Annual revenue:

€41,414

Gross rental yield:

8.50%