It's important to use accurate data analytics tools in the short-term rental industry.  
Regardless if you are a beginner or a pro in the industry, your decisions should be according to a reliable and comprehensive software tool.
There are several options available in the market known as the best short-term rental analytics tools. Yet, it's important to gauge and compare each software's features and pricing to make sure that it's the best one for you. And that's what we'll cover in this article!
Here's an example. Property investors and managers who used AirDNA in the past have negative reviews.
Some of the reviews state that their data is inaccurate and misleading.
The good news is that there are free and paid AirDNA alternatives that can help you make wiser investment decisions.
In this article, we'll review Data Rabbu's Airbnb analytics and describe its features. We'll also present its data accuracy, pricing, alternatives, and public reviews.
What is Data Rabbu?
Data Rabbu is a property management platform that offers end-to-end property management services. If you are a real estate investor who needs assistance in purchasing profitable properties, Data Rabbu is highly recommended.  Some of its features include estimating the return on investment, managing rental operations, and the like.
Since Data Rabbu only offers Airbnb data for listings in the USA, it is not recommended for those who want to discover Airbnb data in other countries.
Data Rabbu Short-Term Rental Deal Alerts
Data Rabbu has a paid subscription service called 'Rabbu Short-Term Deal Alerts' which aims to help property investors discover specific markets for investment in one click. Once subscribed, you will receive notifications via email or phone when there are new properties within your area that match your preference. 
Rabbu's Marketplace tool is also helpful for those who have no properties yet or would like to create a new investment portfolio. This tool specifically assists investors to have an overview of on and off markets. Using filters such as location, purchase price, cap rate, property types, and the like – you'll discover STR analysis and metrics and be able to make a proper decision.
Rabbu's marketplace also offers an Airbnb calculator which presents sales prices, cash-on-cash return, gross yield, and potential revenue. It can also be adjusted according to your financial projections including loans, recurring expenses, and initial costs.
Data Rabbu Pricing: How Much Does it Cost?
According to their website, Data Rabbu pricing for property acquisition software is priced at $99 per month or $990 per year when paid annually.
On the other hand, for a full-service of short-term rental property management, Data Rabbu's fees may vary according to your market & portfolio. It's also possible to get custom pricing from Data Rabbu by reaching out to their customer support team. 
Here's a brief comparison of Data Rabbu's alternatives and their pricing:
*market can be a zip code, neighborhood, or city.
Overall, Rabbu and Mashvisor's data depth are both lower compared to Airbtics. Since Rabbu offers property management services and Mashvisor offers basic data services, it makes sense why they can provide these services at such a low cost. 
Let's face the fact that it is difficult to gauge one city's profitability by looking at a single market alone. So if you are looking to invest in a market – it's highly recommended to look at the top 5 markets, make a comparison for each, run the numbers, and make a wise investment decision.
The good news is that Airbtics is designed to help you with that! As a specialized data company, it provides the most accurate results and is ideal for those who want to base their decisions on high-quality data.
To sum it up, choosing 2-5 good markets is more than enough. Once you have a preferred area to start an investment, you should consider the major factors including where you reside and work. Compared to other STR Analytics providers in the market, Airbtics provides the most affordable costs to explore 5 markets.
Is Data Rabbu Accurate?
Since Data Rabbu focuses on engaging with real estate investors who are looking forward to purchasing STR properties like hotels & condos for Airbnb purposes, its data accuracy cannot be guaranteed. Although it presents a property's daily rates & occupancy rates, one can certainly not guarantee its accuracy. Let's take a look at some reviews left by Airbnb hosts from Reddit and BiggerPockets forums: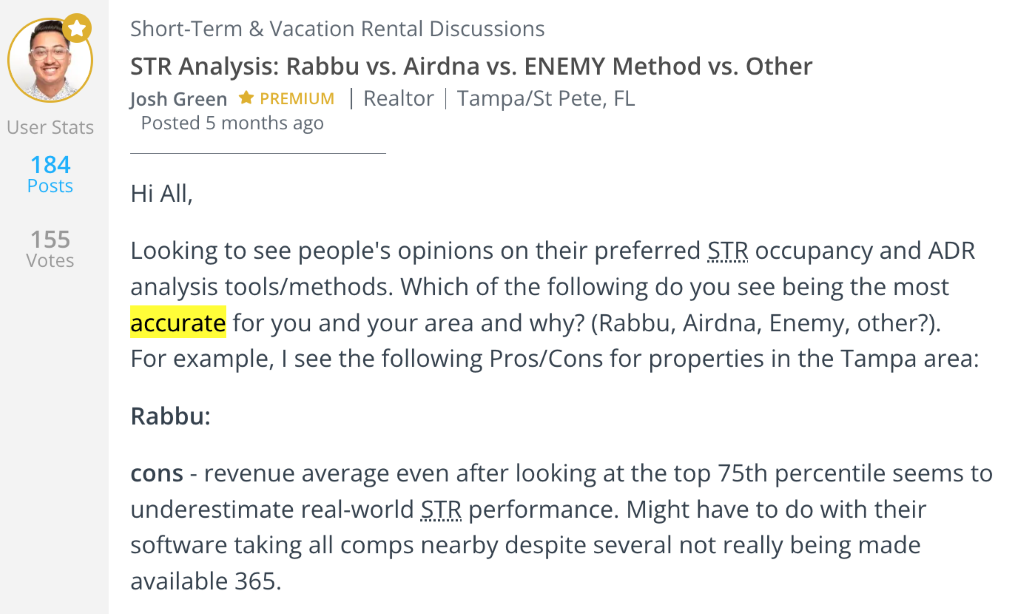 Data Rabbu Calculator: Airbnb Analytics Free
In order for a property investor to have an overview of a property's potential profitability, using a reliable Airbnb income calculator is an important tool that should be used. Simply put, looking at a property's revenue projection will highly affect a property investor's decision-making process – and it boils down to whether it will be profitable or not.
According to Data Rabbu's Airbnb Calculator, some of the features of their revenue estimates include the following:
Annual Seasonalized Revenue

Average Daily Rate

Occupancy Rate

Seasonality Chart

RevPAN (Revenue per Available Night)

Comparables
Upon checking Data Rabbu's calculator, we came up with the impression that since it focuses on property management services, the data software can be too complicated to use for first-timers. In comparison to other STR analytics companies like Airbtics that focus on analyzing short-term rental markets, it presents a more comprehensive dashboard that's easy to use. 
Data Rabbu Reviews: Airbnb Analytics for Hosts
While short-term rental analytics are built to make an Airbnb host & property investor's business on point, it could be a difficult task to find a reliable tool. Fortunately, reviews speak a lot louder! 
If you want to try using Data Rabbu's services, here are some of the reviews that you should know about according to a forum on Bigger Pockets & Reddit. 
.

"Rabbu Pros & Cons:
Cons – revenue average even after looking at the top 75th percentile seems to underestimate real-world STR performance. Might have to do with their software taking all comps nearby despite several not really being made available 365.
Pros – quickly pull nearby comps to get a visual idea of the top performing properties and what numbers to expect (by ignoring outliers in the mix)."

– Posted by Josh Green on STR Analysis: Rabbu vs AirDNA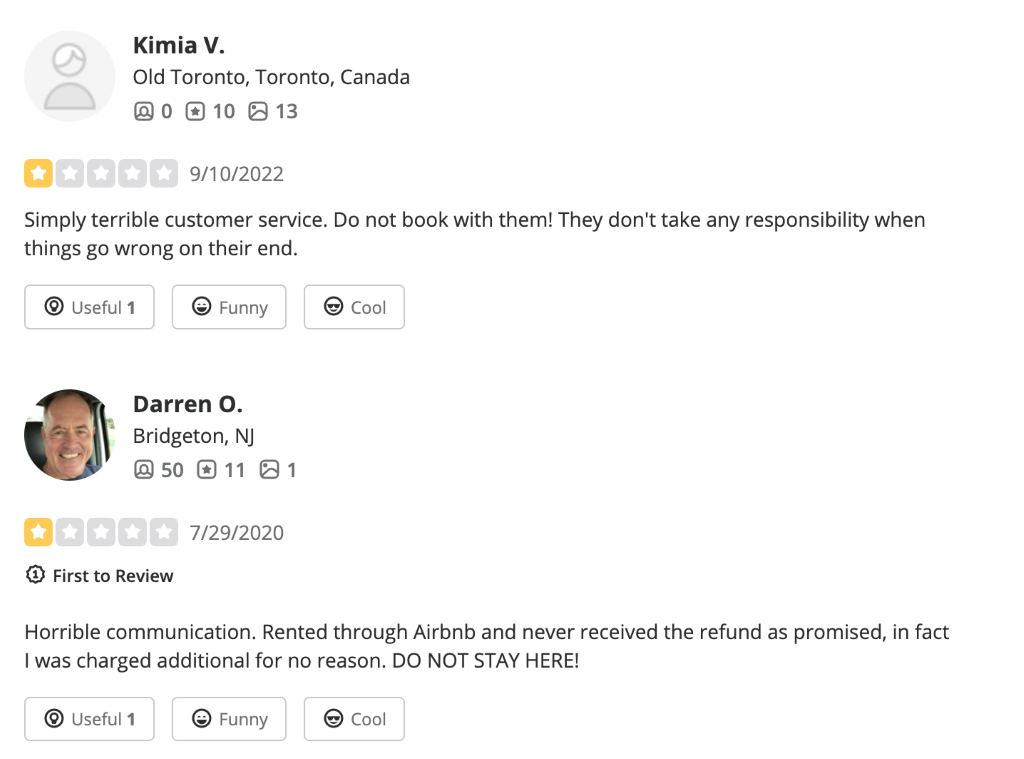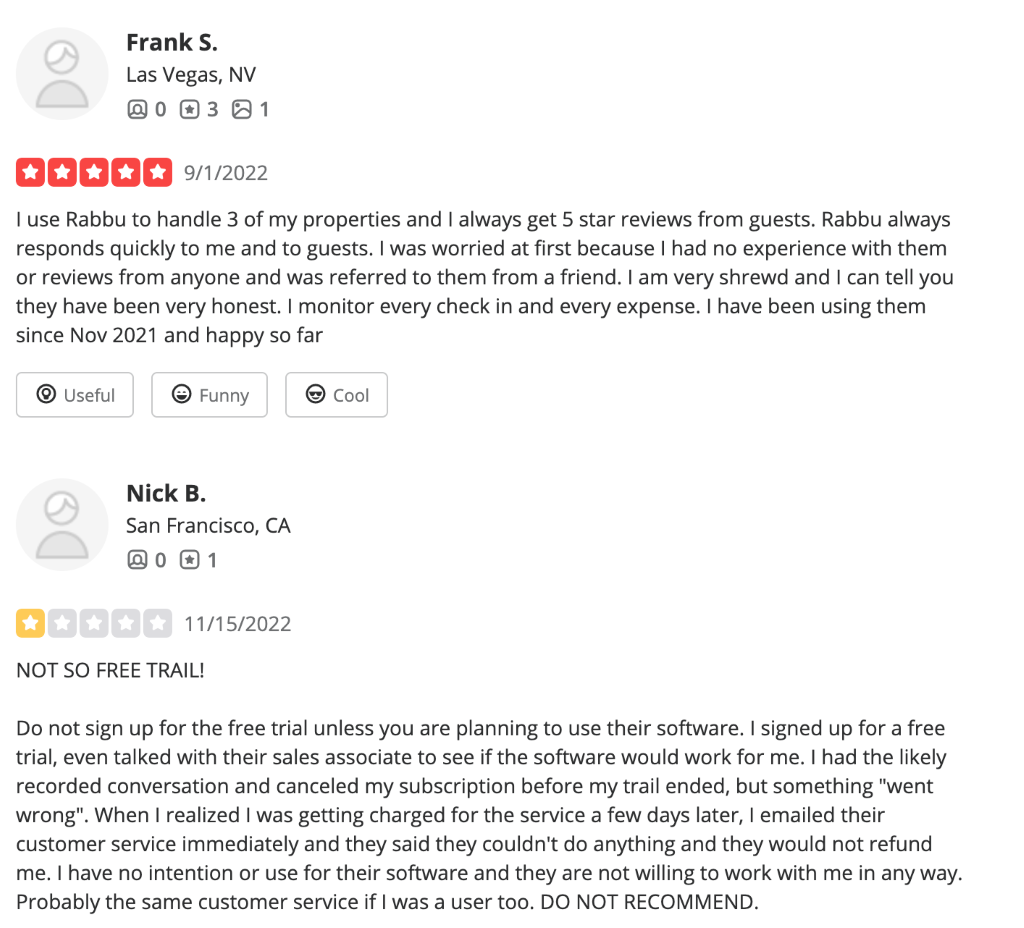 Conclusion
In summary, Data Rabbu can be a useful tool for real estate investors who want to discover and analyze short-term rental properties in the USA market. In order to ensure that it's the best investment decision, it's highly recommended to try a reliable Airbnb analytics platform like Airbtics and get a thorough analysis.
Airbtics vacation rental data includes various different measurements, such as average daily rate (ADR), historical occupancy rate, the number of listings in a particular area, guest demographics, revenue reports, and more. 
The Airbnb analytics (free) included in our dashboard can be used for different purposes, depending on your personal business needs. Whether you are a rental property investor, a host management software company, or a member of a tourism board, our rental data analytics dashboard has everything you need for success!
Find out how much profit you can earn TODAY:
BOOK a

FREE DEMO

with us!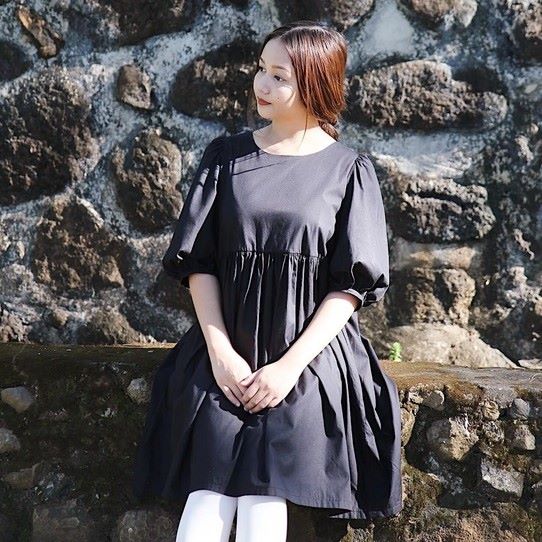 Robyn is a passionate content writer about short-term rentals and is dedicated to research & sharing property investment strategies and analysis worldwide. She is a graduate of Alliance Française de Manille, a songwriter, an animal advocate, and an avid fan of The Beatles since birth.