Welcome back to another episode of Into The Airbnb, where we talk with Airbnb hosts about their short-term rental experience.
Our guests for today are Dale and Debbie Wheeldon based in Penticton, British Columbia, Canada. These amazing hosts have achieved success by renting in different rental platforms by treating and pampering their way to the heart of every guest they have. In this episode, they'll tell us about their journey and experience as short-term rental hosts and share great insights of their area.
This episode is sponsored by Airbtics, it's the only one analytics dashboard for short-term rental investors managers, where you can find precise Airbnb data such as occupancy rate, revenue, average sale rate and so on. So, without further ado, let's get into it!
Into The Airbnb Podcast S2 EP 33:
Guests are the key to Successful Rental Business – Learn from Outstanding Airbnb hosts from Penticton, B.C., Canada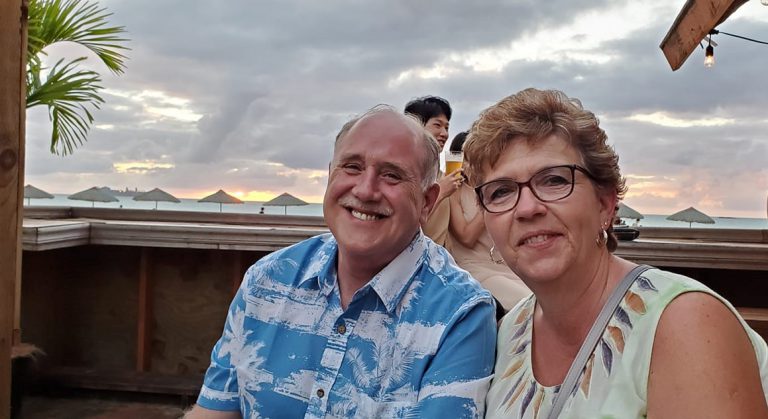 Delia:
So can you tell me how did you get started with Airbnb?
Dale Wheeldon:
Sure, yep. We decided that we wanted a little bit of a change in our life and just start planning for the future and we had come up to the Okanagan and we were living elsewhere at the time and we decided to buy a place and decided that we would rent it out as a short-term rental, but still live in the other community. But we did hire a property manager and then, we ended up spending so much time at the condo that we decided that we should maybe try to sell our house in the other community and then move to the Okanagan and we found a place in the same building that were rented downstairs. Our property manager had to quit due to illness, so it was perfect timing in that sense and then now we're running it herself. We've been running it on our own since November of, oh sorry, since October of 2021.
Delia:
That's great. But how do you see the fact that you hired a property management for your specific scenario? I think it was kind of helpful, right? But do you think it's better to manage yourself?
Dale Wheeldon:
Honestly, it was I think, useful and correct me if I'm wrong, but I think it was useful to start with to give us a bit of a better understanding of the industry. But we have specific wants that we want to provide our guests, things that we want to provide our guests that our property manager, rightfully so we're not condemning her at all, I never will, wasn't providing because that's not what she did. And whereas now we're actually doing the things that really wanted to be innovative and to provide sort of a world class experience, if you will, for our guests.
Delia:
Can you comment a little bit about these experiences you like to bring your guests that you can do it only for yourself?
Dale Wheeldon:
Well, I traveled the world on business, doing work in other communities and spend a lot of time in hotel rooms, in resorts or in other, you know, in Airbnbs or short-term rentals. And over the years, you know, fortunately, my wife's been able to come with me on occasion and we've experienced the things that we do like and the things that we don't like. So what we tried to do in our condo is to do away with those things that we just never liked, and made sure that they were not in our place, but adopted some of the things that we did like, you know, for an example, special occasions, we celebrate people special occasions, you know, whether it's birthday cakes or you know anniversaries and we kind of go that extra mile we probably put more than what we should, but we're doing it for the passion of making other people have great experiences, sort of how we've lived. So we do things like that we actually put extra special treats in our property when guests arrive. I won't necessarily say what those are, but it's special things for kids that we do when kids are coming, whether it's coloring books, art, we've got summary equipment, towels, a variety of different things to take to the beach, waggons for them to take to the beach. What else?
Debbie Wheeldon:
Beach toys.
Yeah, beach toys. We just provide a lot of extra things that you wouldn't typically see in a lot of short-term rentals.
Delia:
That's great. And how do your guests take that?
Dale Wheeldon:
Well, so far our goal has been and I don't want to ever get too comfortable with it, but so far every single review that we have had on booking.com, it's 10 out of 10, on Airbnb, it's 5 out of 5, on VRBO, it's 5 out of 5 and people comment that if they could give us higher scores, they would and these are people that have stayed in a lot of properties and they rank it as the best they've ever been in, in their comments that they post, in their reviews. Then we also have our own property booking site, which does also, you know, we've had perfect reviews on those as well. That's what we strive for, do we think we'll always maintain that? Probably not. But it's definitely our goal to achieve that 5 out of 5 or 10 out of 10. But mainly, it is our goal to give our guests a great experience.
Delia:
What do you do it's really great. I've heard other hosts that do similar things like you and they always get like the best guests and get guests who stay with them more than once that always choose them. So it's great that you do that.
Dale Wheeldon:
We are getting a lot of repeat guests and honestly, we have not had one bad guest. They've just all been amazing. And we get to know our guests because we actually do live in the same complex and we ended up meeting our guests and I mean, it's been just great experiences and we can't, you know, thank our guests enough, it's our guests that are going to make us successful, not just what we do.
Delia:
That's right. I agree! And do you have any screening you do for guests before accepting their booking, for example, just so you ensure you you have good guests?
Dale Wheeldon:
We do typically. I will review as much of social media, LinkedIn, I like to find my guests on LinkedIn, if I can, I'll do social media. I do find it difficult sometimes in doing other, you know, searching, basically on what, you know, Airbnb only provides first name, now which makes it hard. But again, I do what we can to screen them. But I really, you know, one of the things, you know, we do ask them to tell us why they're visiting the area and if I feel like there's a problem, I would probably turn it down. But honestly, we haven't had a guest that we felt uncomfortable with. We live here and we're pretty confident that if we had any problems, we'd be able to deal with it anyways.
Delia:
That's great! And I was about to ask you, what's your typical demographic of guests?
Dale Wheeldon:
Ah, that's interesting because our guests have ranged from, you know, young rock climbers from Quebec to hockey players, younger, you know, hockey players, generally with parents because we have a hockey school right by our facility and we got a lot of seniors who are coming here to visit family or I would say seniors, I would say our age, my wife and I age, we're not seniors, well, maybe getting close to that. But you know, people that have family in the area and come in and want to stay so and we typically we encourage them to host family events at our house, you know, not advance as an a party, but a dinner or something like that. You know, we're very open for people doing this and we don't charge extra for it.
Delia:
And so far, how has been your experience with allowing those type of reunions in your house? Everything good with that?
Dale Wheeldon:
Yeah, everything is fantastic. One of the things that our guests like to do and if they have family over our condo it's called, you know, Grandma's Elephant Hideaway and it has a significant number of elephants throughout the building or throughout the condo and they play games and they count them and we know how many are there and they have little competitions and it's fun. So every single one has been great. We've never had a problem. Yeah.
Delia:
That's great. Now like to ask you about the area you're hosting in. Can you tell me the city again, please?
Dale Wheeldon:
The city is Penticton, British Columbia, located in the Central Okanagan of the province.
Delia:
Okay, so how is the market in there?
Dale Wheeldon:
We have a fantastic tourism organization that allows us to be part of the tourism Penticton. They do a lot of marketing. Penticton is, we host an Ironman annually, it's received some great recognition as a place to visit. We have close to 50 wineries right in the community, right in the area. A lot of breweries that are literally a 10 minute walk away from the front door of our condo. The lake, we have two lakes, one on the south and one on the north end of the community, Okanagan Lake and Skaha Lake plus numerous lakes in the area. The Okanagan Lake is literally a five minute walk from our front door. beautiful sandy beaches, warm water in the summer, temperatures are very good getting into the area of 35 degrees to 40 degrees Celsius. So you know, very, very warm and then we have the ski hill. In the wintertime there's a apex, which is right, which is about a 35 minute drive up on the hills, a lot of trails and hiking and rock climbing in the area. So it's in biking, mountain biking, a lot of different things to do in the area.
Delia:
Wow, that's great! It's a very touristic area and does it make the short-term rental market very competitive there?
Dale Wheeldon:
There is a lot of short-term rentals in the Penticton area and in the Okanagan, there's a lot of short term rentals. Some communities are starting to regulate them a little bit more, but I pay an annual license fee, we get inspected annually from the city, we'd find them very, very good to work with and the community has been very supportive of the short term-rental industry.
Delia:
That's great to hear. And you told me that you were renting out in many platforms like Airbnb, VRBO, booking? Which of them have you found bring the more traffic to your listing?
Dale Wheeldon:
So far, it's been VRBO that has brought the most bookings. For us, it's funny because we have friends with another Airbnb in the area or with a short-term rental in the area and primarily their bookings come from Airbnb. So, you know, I don't really know why, but we've been very happy with VRBO. Although we are seeing an increase, I'd say a dramatic increase actually, in the number of Airbnb bookings we're getting now. Yeah.
Delia:
That's good and what about the seasonality in the area you're hosting?
Dale Wheeldon:
Well, the summer months are definitely the best for us, so from May to September, we're typically running around 100% occupancy, we can't take any more in the summer months, the odd little gap year in there. Then in the winter months, it's a little bit slower, but our primary goal every month is to have enough guests to cover our costs and our monthly costs and we've been able to achieve that. So we've had guests every single month, it's never been that we've never had guests, it's always been more you know, maybe there's fewer, more empty days than there is full days. But we've been very happy with what we've been able to get.

Delia:
That's great. How much would be the average occupancy rate in the slower months for example?
Dale Wheeldon:
In the slower, I'm gonna say about 50%.
Delia:
It's still a good number! And do you change like your strategy when it comes to available days? How many days they can book the listing in those months?
Dale Wheeldon:
Yeah, we typically don't allow bookings less than three days. But actually in the summer months, we'll be changing next year. We didn't do it for this year, however, our bookings worked out good enough that we didn't need to worry about that. But we will be changing it from May to October to minimum five nights in those months and then we'll go back to the three nights from October 1st to to April 31st.
Delia:
And how did you came that the five nights are more convenient for those months?
Dale Wheeldon:
Well, the the summer months, of course, our rates are higher and we don't want gaps necessarily to be able to build, so you know what, two nights or a three nights rental makes it hard for us to be able to sometimes fill the other, you know, if people are looking for, you know, most of our bookings in the summer are a minimum of a week and some are two weeks in the summer months, but we've had instances where, you know, somebody would book for three nights, and then it kind of ends up leaving a gap with the rest of the week because people want a weekly booking.
Delia:
Yeah, I understand that makes a lot of sense. And what about your pricing strategy for your property throughout the year?
Dale Wheeldon:
Well, naturally, summer months are going to be our highest months, but where we, you know, our rates, we kind of more or less copied, we increased them slightly from what our property manager had been charging and she had been successful in that first year. Then when we took it over, we increased the prices about 10% for the summer months and we were able to get it. In the winter months, typically what I've been doing is sort of just going by what the market is doing. I don't really, again, my main goal is to cover my costs and to give our, you know, give our guests a good time, tried to build a bit of a return clientele and well, you know, ideally, we'd like to see a lot of our guests be returned visitors over time. So our goal has been, you know, in the winter wants, we will be a little bit lower than what we are in the summer months, obviously, but again, just enough to cover what it is we need to cover costs.
Delia:
And since you told me, there are many short-term rentals in your area, do you usually check the market to price competitively against them?
Dale Wheeldon:
Yes, I do. I haven't had to for the summer months just because you know, we're there. But I do check even now, to see what my competitors are charging for the summer months that haven't been fully booked and I'm finding my prices, I think we're right online as to what they should be for the summer. But I do yeah, I do check, you know, probably weekly, actually, I will run different seasons dates because we allow bookings a year ahead and so I'm constantly, except now I've changed it to 10 months because I want to see it. I want to have a little bit of an overlap to be able to adjust my prices accordingly.
Delia:
I see and how has been your experience with opening your calendars so much time ahead? Because I know about some hosts that, I don't know maybe don't like that, maybe they open it three months ahead, just four months, ten months is a lot of time.
Dale Wheeldon:
I think for us because, you know, we're kind of reaching that stage in our lives and I'm you know, I do travel a lot for, I still do work and I still will be starting to know that COVID zone been starting to travel quite a bit and for health reasons, you know, we're trying, I'm trying to slow down and which is one of the reasons why we ended up buying the condo. But by having it open a year time it allows me to plan, it allows us to plan for it and I just like that, I like to know that sort of longer-term, where we're going to be and honestly it's worked well for us. So I don't think I'll change that.
Delia:
That's very good. So in this past time being on Airbnb host and hosting in the other platforms as well, what have been your biggest challenges?
Dale Wheeldon:
Cleaners. We are hoping that we've got a good company now and it seems like that we have. We, you know, for the first at the very beginning, my wife Debbie was doing it and honestly with having to do that it kind of takes away from us being able to do things ourselves and to take the time that we want to spend together. So we have we have hired cleaners and Debbie is very particular about how things are set up for our guests, how our bedrooms are set up, how the welcome baskets and everything else that goes along our set up. And we just found that the care, that the cleaners take, that she was spending just as much time there, she was as if she was doing it herself making sure that it was done the way that she wanted it done. Tthen our cleaners, you know, they laughed for other reasons. But we found a company now that really understands and accepts that and is working well with us so far and we're really quite happy with them. But that is the biggest challenge, I think for us.
Delia:
Yeah, I've heard that many times from other hosts as well. And what would be like, the criteria you used to screen these cleaning persons or companies you receive before?
Dale Wheeldon:
Honestly, we go by the kind of reviews on them, just like people go by reviews on us to whether they're going to book. Then we meet with them, we interview them and this last one, she was just fantastic. She seems like a very nice lady, she's got a good team and I think that was the other thing that we look for is where there's a team of cleaners, not just one because we find with one of the concerns that we have with just one cleaner, if we need the same day turnover that sometimes can be a challenge, especially if they're trying to clean multiple properties. Our condo typically can take, you know, our guests will leave our place really spotless, but because of the standards that we want to keep, it takes typically a minimum of four hours to clean our condo. So we need to be able to have a cleaner team that can take the time to be able to do that.
Delia:
Yeah, that's right. I understand because cleaning is one of the most important things on short-term rentals, right?
Dale Wheeldon:
Yes, yeah.
Delia:
Okay! So lastly, is there any tips that you'd like to share for other Airbnb hosts?
Dale Wheeldon:
Well, you know, I think quit complaining about the stupid things. We hear constantly, you know, short property owners complaining about, you know, early check in or late check out. If somebody asked for a late check out or asks for early check in, don't get offended by that. I asked for that everywhere as I travel if I need it and I don't get charged for it. I've never been charged for it in my 30 years of doing what I do. I think things like that and going that extra mile, sometimes you can't accommodate, we get that we get that ourselves and we have people that sometimes want to check in early, but because we want to provide that clean environment, if we've had a guest that leaves that same day, we know we can't accommodate it and we tell our guests that right up front and they're fine. We've never had a guest mad because they couldn't get in early. But to me it's just be more flexible with your guests, give them an experience. To have them respect your property, respect them. And like I say we go that extra mile for our guests, not every property owner can do that, we understand that. But I think, you know, have a little compassion for your guests. I think you'll enjoy the business, I mean we really are enjoying it. We've enjoyed it for the two years, we're enjoying a lot more now managing ourselves over the last seven months.
Debbie Wheeldon:
Sheets and stuff get ruined that's always when doing business.
Dale Wheeldon:
Yes. The other thing is recognize the cost of doing business and the other thing is go away from the cameras, you know I understand why we do it, a ring doorbell is one thing, but when you've got cameras inside a home that's it's wrong. And you know, we want guests, we want to be seen as, exactly, we don't want our guests to feel like they're being spied on. And you know if we want to be in the accommodation industry, recognize we're in the accommodation industry. If we're going to be, our competitors, we can easily say that our competitors are not hotels, but our competitors are hotels and we need to be better than them. We provide more space typically we provide more things, but we need to be better than them and don't be afraid of going that extra step.
Delia:
Yeah, I agree, totally agree with everything you say! So that'd be it for today. Thank you both for your time and tips. It has been really nice talking to you!
Dale & Debbie:
Thank you!
Do you want to maximize your profit?
As a professional in the short-term rental industry, you'd definitely know that there are intense competitors who are probably obsessed with maximizing profit & exert efforts to promote Airbnb listings. What are their unique tools, you ask? We say:
A super-accurate & reliable data analytics tool.
Make the best decision for Airbnb investment and start checking out some of the best cities for Airbnb investment in Europe instead!
Designed to showcase accurate short-term rental analytics data, not only does our app help you optimize your listing, but it can also provide VERY useful data for simulating cash returns using the Airbnb Calculator. try looking at real-time data from Airbtics & stand out among your competitors!