Last updated on September 19th, 2023
 Don't know yet if buying a beach rental property could be worth your investment? Here's an in-depth analysis of the Best Places to Buy a Beach House with Free Airbnb Data
Is Buying A Beach Rental Property Worth the Investment? (with 20 Best Airbnb Markets)
A beach house is a worthy investment in Airbnb. But you do not have to spend so much to ensure the highest return. In fact, topping this list is the least expensive market for a beach house but with the highest gross rental yield! 
The Beachfront Living
The sound of waves, the salty sea breeze, and the sun painting the sky with hues of orange and gold as it sinks into the horizon all come with beachfront living! But the idea of buying a beach rental property is more than just a dreamy escape. In fact, it can be a wise investment strategy that savvy investors are increasingly exploring. 
In this article, we'll take you on a journey beneath the sun-soaked surface to explain the benefits and offer a few heads-ups about buying a beach house for rental income. We'll show you how data-backed insights can be your compass in navigating the shimmering waters of this exciting investment. Let's embark on this coastal journey to financial prosperity by covering the following:
The cost of a beach property

Why investing in a beach house is profitable

What to consider when buying a beach rental property

20 Best places to buy a beach house

Buying a beach house or a beach condo

What is the best number of bedrooms for a beach property

Enjoying the beachfront bliss with rental analytics
How Much Does a Beach House Cost?
Just like any other property type, the price of a beach house can vary depending on its attributes. Factors that contribute to the final price are the location and size of the property.
We relied on Redfin for the average prices of beach houses on this list. They range from $300,000 to over $3 million. Remember that these are just average prices. Meaning, you can definitely find a property that costs lower than the average property price. 
Why Buying A Beach Rental is a Good Idea?
Investing in a beach house can be a profitable endeavor for the following reasons:
1. Higher Rental Income – Beachfront properties stand as the investors's dream, offering an irresistible allure to beach-going guests. Your target customers are willing to pay a premium for the unique experience of a beach vacation. This means a continuous flow of rental income that can surge during peak holiday seasons.
2. Appreciation and Portfolio Diversification – Diversity is key when it comes to real estate investments. These coastal gems not only strengthen your financial security but also promise long-term benefits. Aside from generating income, beach rentals also appreciate over time.  Buying a beach rental property can make an irresistible addition to your strategic investment portfolio.
3. Natural Beauty and Healthy Lifestyle – This may be the reason why investors and guests opt for a beach location. A beach property is not just an investment, it is a gateway to an exceptional lifestyle. The unparalleled natural beauty and a wide range of recreational activities just a few steps from the ocean are major crowd-pleasers. Dive into a world where every day feels like a vacation, a world that is coveted by both guests and investors.
4. Personal Use and Enjoyment – Owning a beach rental is not just about running a business. This can also mean that you can enjoy the property for your own and your loved ones' pleasure. You can have a paradise where investment potential meets personal relaxation. This only makes beach rentals a legacy of joy and prosperity for you and your family.
5. Retirement Planning – A beach house can also be a strategic step toward securing your dream retirement. By acquiring a slice of coastal paradise today, you're not just locking in your future retirement home. You are also taking advantage of its income-generating potential in the meantime. Imagine the peace of mind knowing that your retirement is secure as you collect rental income.
What to Consider When Buying A Beach Rental Property
To ensure the profitability of a beach rental, here are some things to consider:
1. Set Your Budget 
Buying a beach rental property demands setting a budget. As this type of property may come with a hefty price, your budget can dictate the feasibility of this investment endeavor.
Through budgeting, you will know how much capital you can comfortably channel into buying a beach rental property without putting your financial stability at risk. You can use your savings or take out a loan, but use your budget as a compass for a sustainable investment in the long run.
2. In-Demand Location
Now that you have set your budget, let's invest this in the most profitable location. But how can you find them? In Airbnb, location can be your guiding light for the best investment areas. In this case, invest where the beachgoers go! This means don't just invest in any property close to a body of water. But go for a market that has a high rental demand for beach property.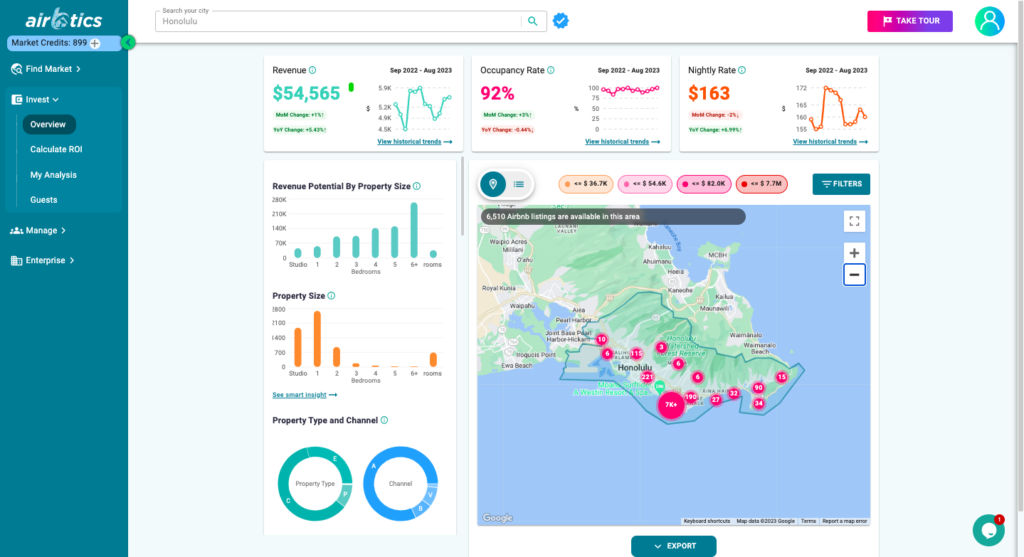 You can use the Airbtics Dashboard to check the market's booking capacity via its occupancy rate. Simply type in the name of the city in the search bar, and you will instantly see its key investment metrics such as: