Last updated on September 4th, 2023
What is the Best Type of Property for Airbnb? (with 3 Sample Markets): Learn the tools that you can use to find the best type of property for Airbnb and maximize your investment opportunities!
What is the Best Type of Property for Airbnb? (with 3 Sample Markets)
Airbnb investors are usually torn between buying a condo and a house for their next investment property.
Know the importance of calculating gross rental yield to guide you to the best property type of Airbnb in your market.
Get 3 sample Airbnb markets of how to analyze properties by computing gross rental yield.
Introduction
If you plan to invest in Airbnb properties, choosing the right property type can significantly impact your financial success. While there is no definitive answer to the "best" property type, certain options tend to offer exceptional potential for returns and long-term growth.
Whether you're a newbie or a veteran in real estate investing, understanding the key characteristics and earning potential of the best property types can help you make informed decisions and maximize your investment opportunities. 
What are the different types of properties on Airbnb?
Here's a breakdown of the different Airbnb property types that investors can choose from: 
1.
Entire House
This refers to a standalone property or a separate unit within a building that is rented out in its entirety. You can provide guests exclusive access to all the rooms, amenities, and facilities within this type of property. 
This exclusivity allows guests to keep the space to themselves, without encountering the host or other guests, during their stay. An entire house on Airbnb provides complete privacy and is ideal for families or groups who prefer their own space.
Buying a house for Airbnb rental is also a wise investment since houses can build more equity compared to other property types. However, they have higher maintenance costs due to their size.
2.
Apartment and Condo
An apartment is self-contained living space within a larger building or complex. It typically includes a bedroom, living area, bathroom, and a kitchen or kitchenette. While guests have exclusive access to the apartment, there may be shared common areas such as the building entrance, hallways, or laundry facilities. Buying an apartment for Airbnb is not only relatively cheaper but also easier to maintain.
A condo typically works the same way as an apartment with its shared common areas. However, condos usually have individual owners and can offer a higher level of privacy to guests. Buying a condo for Airbnb can allow you to offer guests additional amenities such as swimming pools, parking spaces, and fitness centers. These amenities are, of course, shared with residents or other guests in the building.
3.
Private Room
A private room refers to a bedroom within a host's primary residence that is available for rent on Airbnb. Guests can enjoy privacy in their rented room, but they share common areas such as the living room, kitchen, dining area, and bathroom with the hosts and other guests. While still providing personal space, a private room allows guests to interact with and experience local hospitality from the hosts.
4.
Shared Room
A shared room is a single bedroom shared by multiple guests at the same time.
This type has typically dormitory-style arrangements with multiple beds or bunk beds. Guests in a shared room may have access to shared bathrooms, kitchens, and other common areas. Shared rooms are the most affordable option, appealing most to budget and even solo travelers. 
What type of property is best for Airbnb?
There really isn't one. Most people would point you to the property type that has the highest occupancy rate and gives the most income. While there is nothing wrong with this advice, investors seem to forget to consider gross rental yield when buying an Airbnb property. 
What does gross rental yield tell you?
Gross rental yield helps you assess the potential profitability of an Airbnb investment property. It is calculated by dividing the annual rental income (before expenses) by the property's purchase price or market value. By comparing the yield to other investment opportunities or market averages, you can determine whether the property type you have in mind has the potential to generate a good return on investment.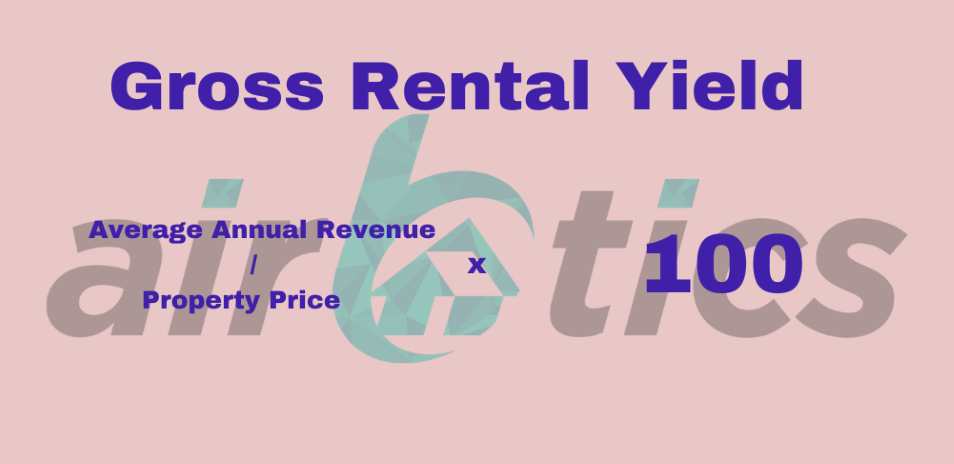 An entire house may give you the most income and a consistently high occupancy rate. However, the costs of operating this property type can also be significant. This is why gross rental yield should also be considered when buying an Airbnb rental.
A higher rental yield suggests better cash flow potential, which is crucial for ensuring a positive return on investment and covering ongoing expenses.  A low gross rental yield relative to the property's purchase price may indicate potential challenges in generating sufficient income to cover expenses and generate a desirable return. 
Airbtics' Discovery Tool can instantly show you the average gross rental yield of any Airbnb market. With its easy-to-use navigation, this saves Airbnb investors a lot of time to zero in on their prospective short-term market.
How to Look for the Best Type of Property for Airbnb in Your Market? 
Looking for new or additional investment properties requires research that covers location and the best number of bedrooms. And when Airbnb investors are in the buying stage of a property, it is usually a toss between an entire house or a condo. 
Most people choose an entire house over an apartment or condo since houses can build equity. But remember that you are an Airbnb investor who wants to earn a steady passive income and maximize your investment. 
Using the right tool, investors can easily answer which of the two property types is better. We'll show you how short-term rental data analytics can help you make an informed decision before purchasing an Airbnb. For the purpose of this exercise, we'll use one of the USA's most profitable cities, Chicago!
Airbtics' Insights Tool provides data on the annual average revenue, occupancy rate, and nightly rate. As you can see, the Chicago Airbnb market has really promising figures.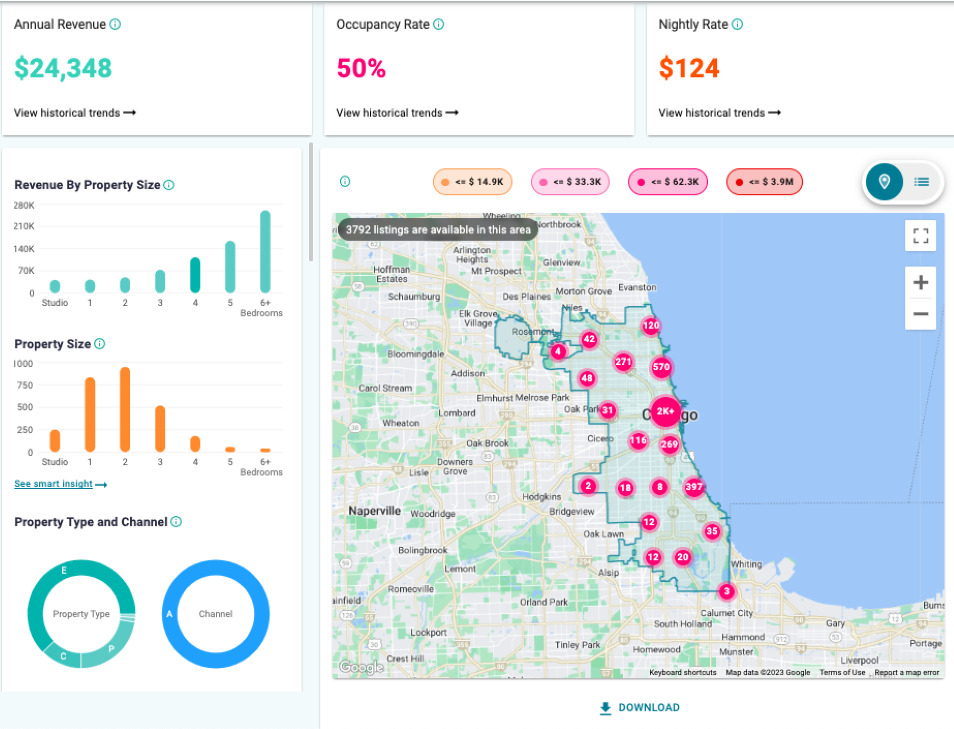 Segment Your Market to Know the Best Property Type
With a total of 3,792 total listings, Chicago is indeed a huge Airbnb Market. Using Airbtics Advanced Filters, we can see that the city has 2,389 house listings and 474 condo listings.
According to Airbtics Dashboard, Airbnb apartments in Chicago can generate an average annual revenue of $35,457 with a 50% occupancy rate. Their average nightly rate is $169. On the other hand, Airbnb houses can earn $33,105 in annual revenue. The said property type has a 52% occupancy rate and can charge an average nightly rate of $143.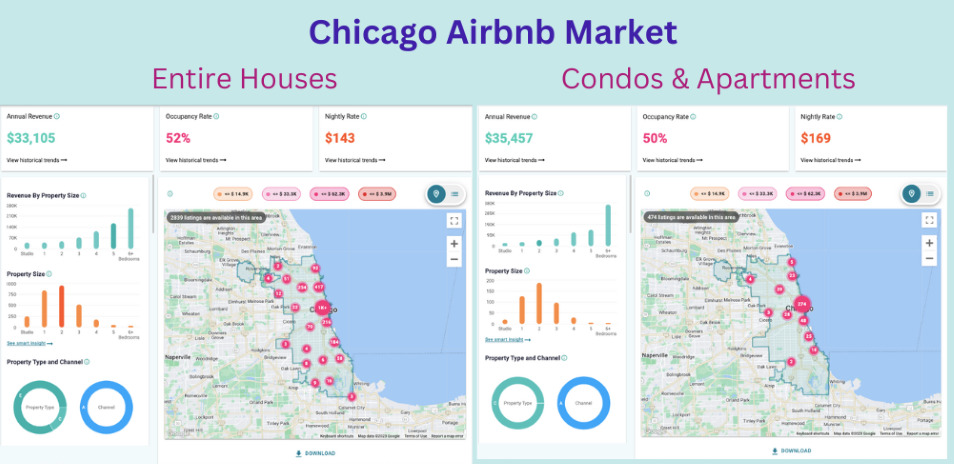 No matter how specific these figures are,  they may not be as close to your target neighborhood. Another advantage of using the Insight Tool is allowing you to create your market for you to isolate and dive deeper into its data. Let us now segment Chicago into different neighborhoods and see their respective short-term rental data. 
1.
Lincoln Park
Let us say that you're planning to buy one investment property in Lincoln Park. You're eyeing this 3-bedroom house worth $1,340,000 and this 3-bedroom condo unit worth $515,000. You somehow have this notion that a house may be more expensive, but can give you higher income. So, you still keep that on your list.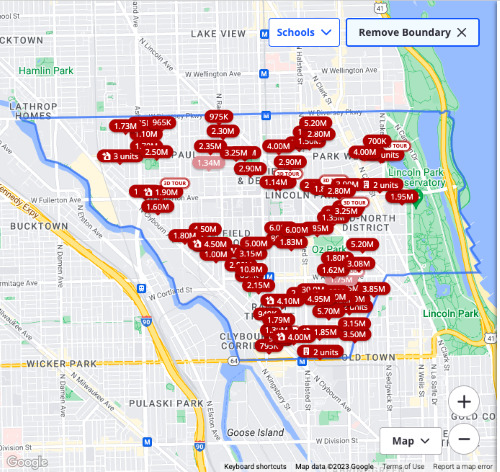 Now, you create a custom market and see that the neighborhood has 211 listings for houses and 36 listings for condos on Airbnb. You glean from the data that this neighborhood is more of an Airbnb house market, instead of condo/apartment. 
Upon seeing the data, you confirm your hunch that houses in this neighborhood have a higher average annual revenue. You are somehow surprised that they have 1% less than the average occupancy rate of condos. While $2,068 may be a significant difference to you, let me tell you that other investors may not be satisfied with it.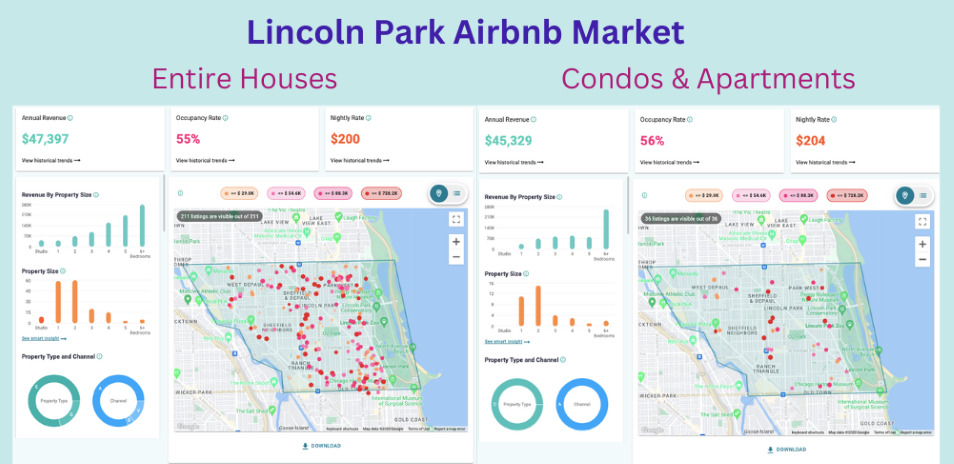 Both property types are profitable, but this is how gross rental yield comes in. You can gauge the profitability of an investment property relative to its purchasing cost. Let's now use one of the industry-standard methods of getting the gross renting yields.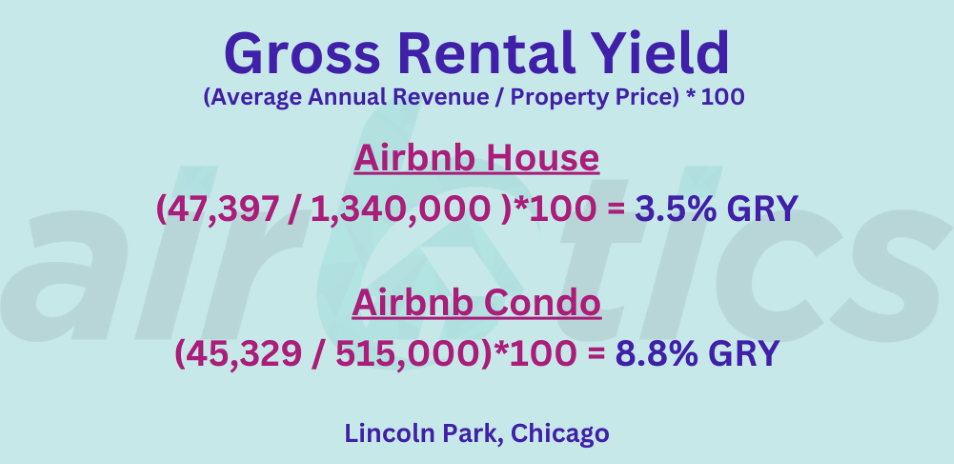 Although both of them are profitable, we have learned that a condo in Lincoln Park is a more worthwhile investment. While it has an average revenue of $45,329 ($2,068 less than that of a house), this property type has a 5.3% higher gross rental yield, which is another performance indicator of property investment. So, the condo/apartment property type in Lincoln Square has a sharper edge in terms of investment.
2.
Logan Square
You might be thinking, "Of course! A condo has a higher gross rental yield because its purchasing price is much lower than that of a house." Then, let's check this assumption in the Logan Square Airbnb market.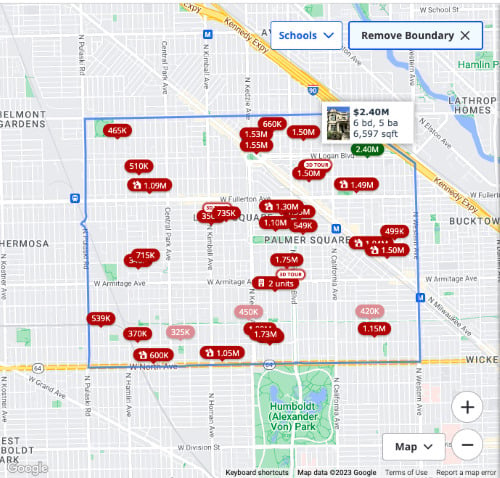 Just like Lincoln Park, Logan Square is also an Airbnb "house" market with 220 active listings. It has an average annual revenue of $36,783 and a 53% average occupancy rate. These figures are higher compared to those of condos. On the other hand, condos charge a much higher average nightly rate of $157.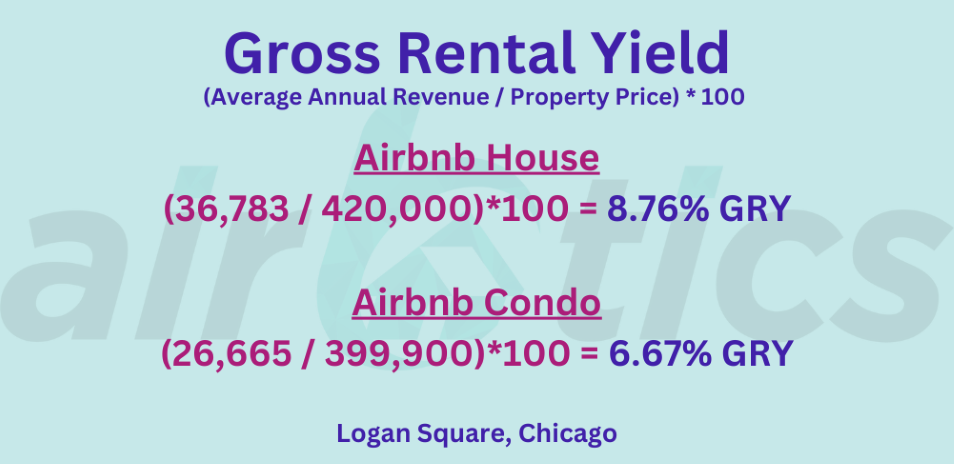 As you can see, it does not always mean that a cheaper property type gives a higher gross rental yield. Because in order to get the gross rental yield of any property, Airbnb investors also have to look at its income aside from its purchasing price.
3.
River North
Chicago is known as one of the most coveted real estate areas in the world. And if you want to buy a property in a prime location, River North definitely comes to mind. 
River North is a vibrant neighborhood in Chicago known for its lively nightlife, upscale dining, thriving art scene, and proximity to downtown, offering a perfect blend of entertainment, cultural attractions, and urban living. 
Because of these reasons, you want to enter the local Airbnb market. In fact, you're now seriously considering buying either this 4-bedroom townhouse worth $1,099,995 or this 4-bedroom apartment worth $880,000 just to jumpstart your Airbnb business in the neighborhood.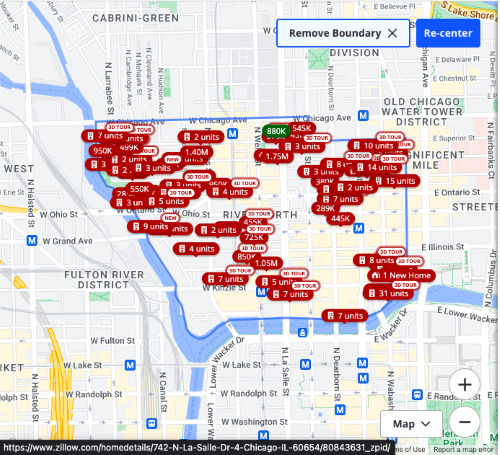 Let's now see the profitability of the two property types in River North, Chicago: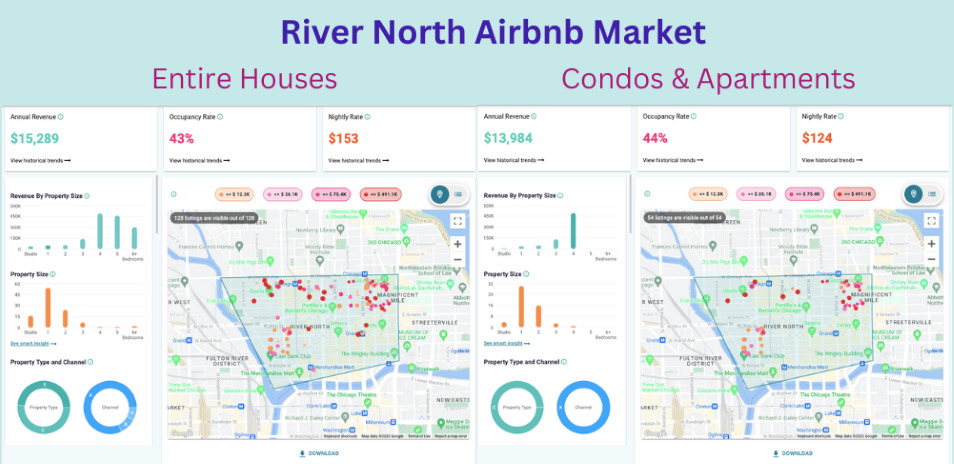 The average annual revenues of these two property types do not look promising. You really like this neighborhood, so you do not want to give up on entering its Airbnb market. So, let's check the gross rental yields of your prospective properties in River North.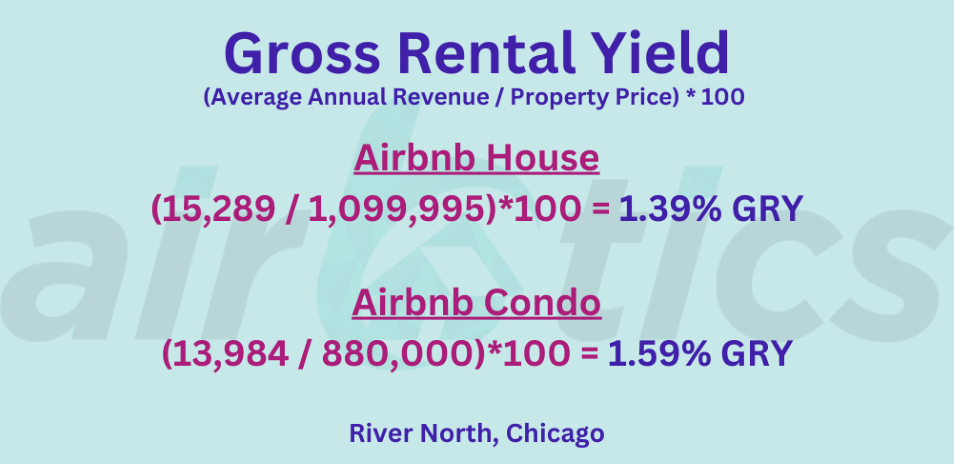 The average revenue of Airbnb houses in River North is $1,305 more than the Airbnb Condos'. However, Airbnb Condos in the neighborhood have a higher gross rental yield. So, you should buy this  4-bedroom townhouse worth $1,099,995 or this 4-bedroom apartment worth $880,000?
In my opinion, you should buy neither. While both properties will definitely appreciate in value due to their prime location, you are looking for an investment property that will give you passive income – and you want to maximize it. However, running an Airbnb in the River North might not be a good idea because the numbers are simply not favorable from an STR investment perspective.  
LOOKING FOR OTHER PROFITABLE AIRBNB LOCATIONS?
If you're considering buying property outside the US, make sure to analyze other profitable Airbnb markets!
Conclusion
In this article, we have learned that the best Airbnb property type is the one that gives you the highest gross rental yield. Gross rental yield is an effective, two-sided factor to consider since it covers both the cost and the earning potential of an investment property. However, it varies depending on the market. There are markets whose Airbnb houses have the highest gross rental yields, and there are those wherein apartments/condos are more worth considering. 
It really takes time to find the best type of property for Airbnb. But with the right analytics tool and research approach, any newbie and veteran in short-term rental investment can easily find the best income-generating property.
Already have an investment property to buy? Check its profitability first from the most accurate Airbnb Calculator available online.
Find the Most Profitable Property Type in Your Airbnb Market
Using Airbtics' Advanced Filters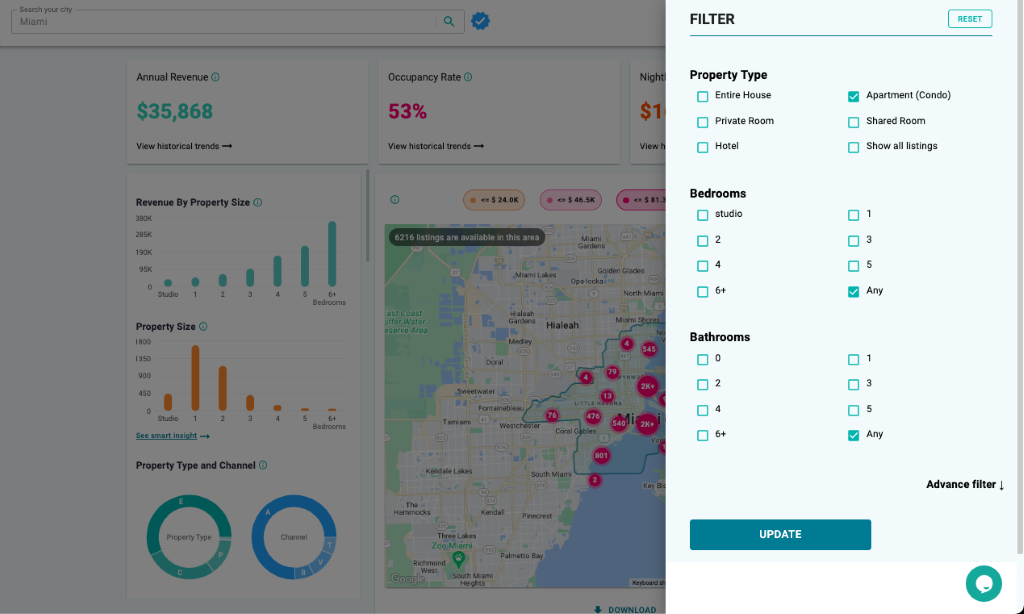 Find a profitable
investment property
Use powerful analytics to discover lucrative & traditional Airbnb properties within minutes.
Find a profitable
investment property
Use powerful analytics to discover lucrative & traditional Airbnb properties within minutes.