How to find a good Airbnb property
Airbnb property investment is a huge step toward achieving financial independence and building wealth. If you have ever spoken to an Airbnb host or met one during your travel, it will inspire you to become one. 
Aside from the fun you get from hosting and meeting various people, you also earn a steady income. In fact, Airbnb recently revealed that since hosts earned more than $1.5 billion last year, most of them are working harder to achieve the Superhost status. 
Although Airbnb investments can be rewarding and lucrative, it can also be risky to invest in the wrong location and suffer significant losses.
Worried about investing in the wrong areas? Or are you finding it difficult to filter the best ones? Perhaps you want to know where is Airbnb most profitable, or find the best Airbnb investment locations?
This article is the ultimate guide to show you how to find a good Airbnb property. We'll feature three easy steps to find excellent properties for Airbnb using Airbtics' discovery tool. Bonus: We also revealed the best places for investments. Continue reading to learn more!
How to Identify a Good Airbnb Investment?
Here are some of the major tips to look out for to identify whether a property is an excellent investment in the long run: 
To get the best returns out of your Airbnb real estate investment, it's necessary to look at various options and compare. It's ideal to choose high rental yield properties as they generate a steadier cash flow. This also gives you the opportunity to save and start your second investment in no time!
Upward Market trends History
Reviewing your preferred market's historical performance data can help you understand the market's trend. If it drastically changes in an upward trend, you can easily decide what to do next.
When starting an Airbnb business, it's best to target cities where the inventory isn't as good. Competitors will always exist in each market, but investing in an oversaturated one will require more strategic techniques for your listing to stand out. At the same time, an oversaturated market will also force you to lower your prices to get more bookings.
Great demand in the market
Let's face it – a market with consistently great demand will maintain high occupancy rates in your Airbnb. You can see how other listings are performing to understand whether the demand meets the supply and strategize your rental accordingly.
How much money do you need to buy an Airbnb property?
The approximate amount that you'll need to buy an Airbnb property ranges from $3,000-$4,000. This includes the average mortgage payment (in the US), HOA fees, and insurance. However, this may vary according to the property type, location, and other amenities that you prefer for your listing. 
If you're wondering how to find Airbnb properties to buy, you can take a look at prices from local real estate websites such as Zillow & Realtor. Although it's highly recommended to visit the area yourself to get a complete idea of the market.
Airbnb host expenses include upfront and recurring costs for maintenance, electricity, water, heating, and cleaning supplies among others. This is where a budget sheet comes in handy for preparation.
But if you ask, how to buy Airbnb property with no money? Can I start Airbnb with no money? As impossible as it sounds, the answer is yes – you definitely can! Here are some of the interesting ways to start Airbnb with no money:
House hacking is a creative way to generate income from your primary residence by living in one unit and renting out the others. It's an ideal technique to start Airbnb without spending any money.
Rental arbitrage is the process of renting out long-term properties and subleasing them on short-term rental platforms such as Airbnb. Unlike house hacking, rental arbitrage will not require you to own the property. Instead, you will sublease it with the landlord's approval.
Three Easy Steps: How to Find The Best Airbnb Investment Locations?
Here's how you can find a good Airbnb property in 3 easy steps using Airbtics' Discovery Tool:
1.
Go to the Discovery Tool Section
This tool answers every investor's question, "where should I invest in?". It presents accurate data points featuring properties for sale & Airbnb revenue within the selected area.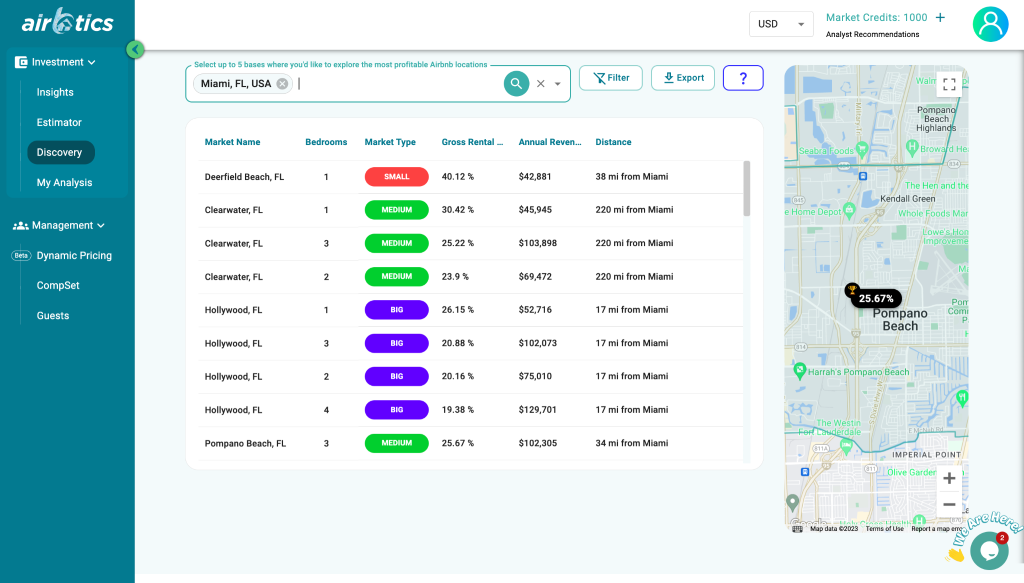 2.
Select up to 5 Areas to explore the most profitable locations
Are you looking to explore more than 2 areas? You can conveniently do so! Using the filter for each bedroom, distance, and market type, you'll find the exact market that you're looking for.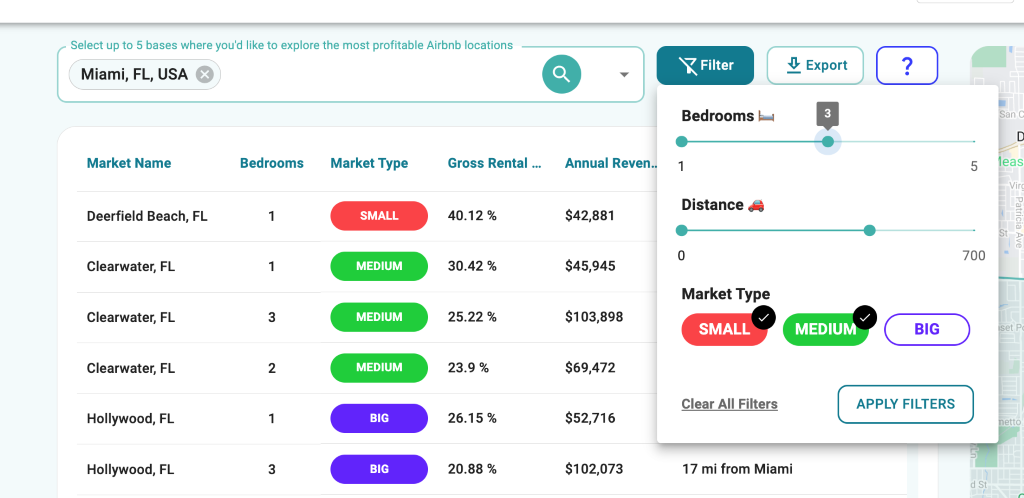 3.
Compare the markets & make the best investment decision
Comparing markets has never been this easier. Once you selected 5 different areas, you can even export the data in an Excel sheet for your reference.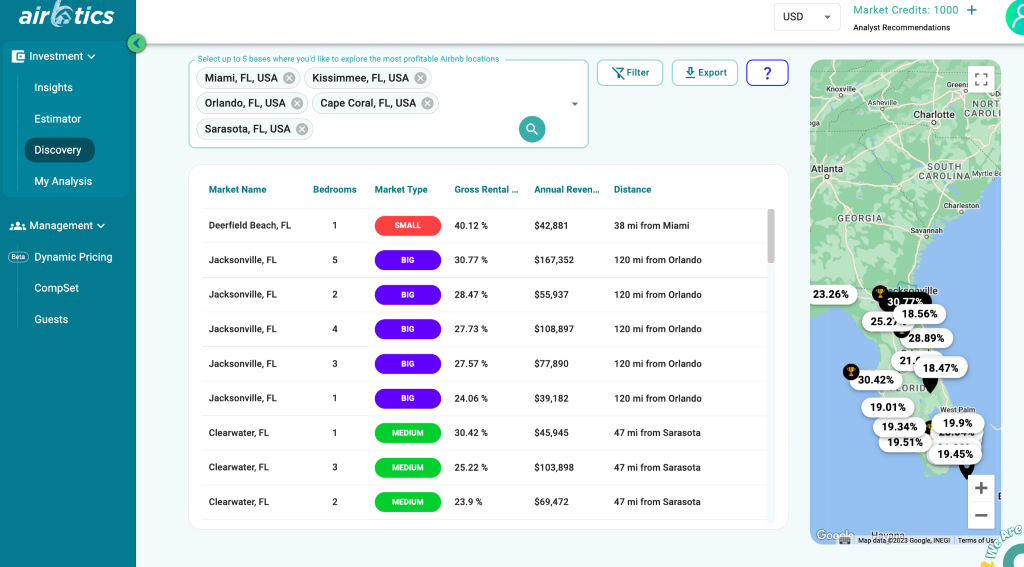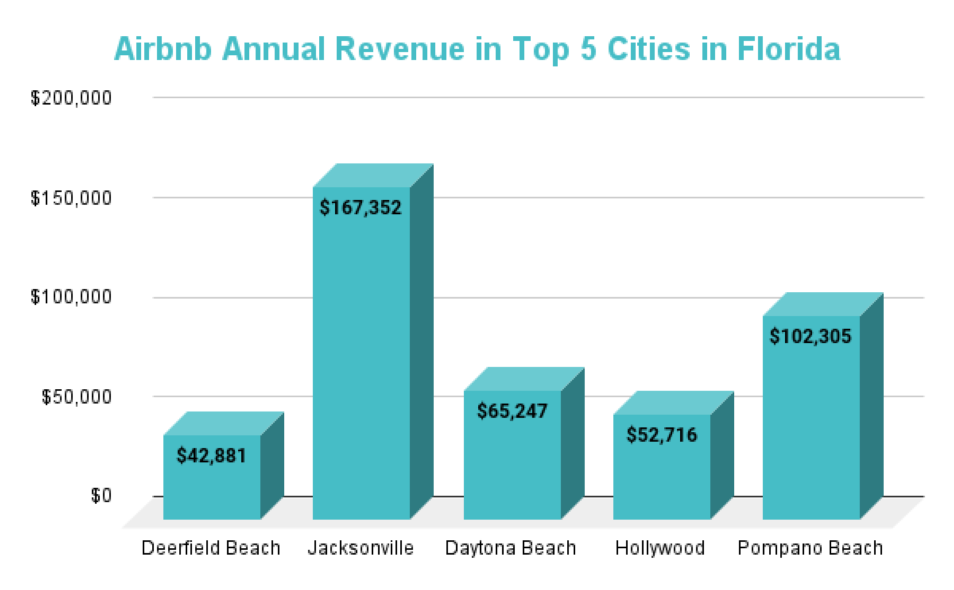 Top 5 Best Airbnb Investment Locations in Florida
We recently discovered the following ideal Airbnb areas perfect for investment in Florida:
1.
Deerfield Beach
Recommended number of bedrooms:

1 bedroom
 Gross rental yield: 40.12%

Airbnb Annual Revenue:

$42,881

Distance from Florida:

127 miles
2.
Jacksonville
Recommended number of bedrooms:

5 bedrooms

Gross rental yield:

30.77%

Airbnb Annual Revenue:

$167,352

Distance from Florida:

178 miles
3.
Daytona Beach
Recommended number of bedrooms:

2 bedrooms

Gross rental yield:

28.89%

Airbnb Annual Revenue:

$65,247

Distance from Florida:

109 miles
4.
Hollywood
Recommended number of bedrooms:

1 bedroom

Gross rental yield:

26.15%

Airbnb Annual Revenue:

$52,716

Distance from Florida:

142 miles
5.
Pompano Beach
Recommended number of bedrooms:

3 bedrooms

Gross rental yield:

25.67%

Airbnb Annual Revenue:

$102,305

Distance from Florida:

130 miles
Conclusion
If you're looking for the best locations for Airbnb investment, you have the option to conduct manual research. You will need to go through each market that you're considering for investment and take note of their performance, pricing, and revenue among others. 
Manual research can certainly be time-consuming and inaccurate, but you also have the option to use an Airbnb analytics tool like Airbtics. Built to help you find the best places for Airbnb investments, it will not disappoint when it comes to accurate data!
Now that you know how to find a good property for Airbnb, it's time to try using an Airbnb profit calculator and stand out among the rest.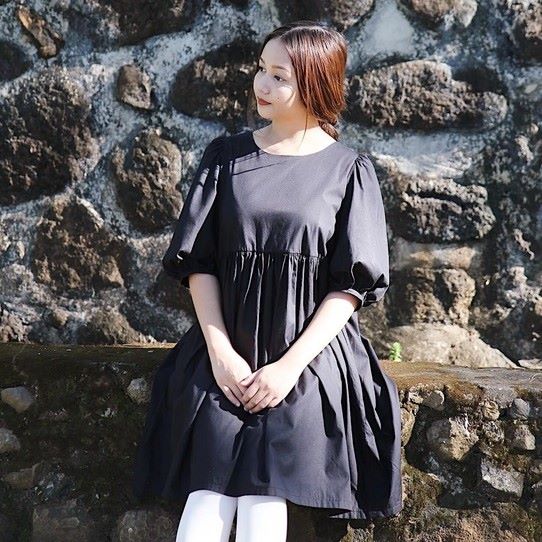 Robyn is a passionate content writer about short-term rentals and is dedicated to research & sharing property investment strategies and analysis worldwide. She is a graduate of Alliance Française de Manille, a songwriter, an animal advocate, and an avid fan of The Beatles since birth.