Last updated on October 20th, 2023
What Does Airbnb Mean? Affordable Accommodation for Travellers
Airbnb is a pioneering online service platform that allows property owners to share their spaces with travelers seeking cheaper accommodations. From a cozy room to an entire property like a house or an apartment, Airbnb offers a vast variety of options to travelers worldwide.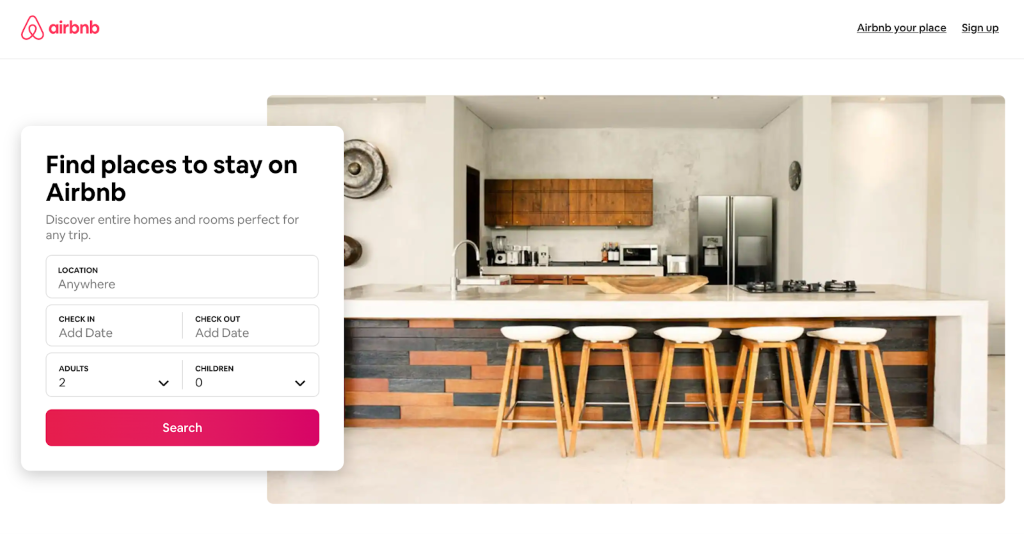 Airbnb stands for "Air Bed and Breakfast." And how the company got its name is just as interesting. 
The origin of the term Airbnb dates back to 2007 when its founders (Joseph Gebbia and Brian Chesky) decided to rent out a lounge room in their San Francisco apartment to the artists attending a design conference. 
All these two visionary minds could offer were 3 air mattresses for a good night's sleep and breakfasts in the morning. They called it "Air and Breakfast," a name that would be shortened to a catchier "Airbnb." Little did they know that this small and quirky endeavor would revolutionize the travel and hospitality industry.
From Air Mattresses to a Global Empire
Brian and Joseph had an idea that would forever change the way the world thought about travel and accommodation. And yet, the initial days of Airbnb were not without challenges. Brian and Joseph had to entice the interest of their target market with a clever tactic.
Setting and Expanding the Online Market
The 2 founders reached out to the attendees of the design conference. They offered them a place to stay with a promise of a homey experience. They even took professional photos to make their apartment look appealing. 
This simple yet innovative approach set the foundation for the company's future success. In fact, this business model that they had in 2007 is pretty much what most Airbnb hosts have been doing since.
In 2008, Nathan Blecharczyk joined the team and brought computer programming expertise to this promising company. The trio launched their website in 2009 and expanded beyond 3 humble air beds. They introduced hosts to the idea of renting out their entire homes or spare rooms, providing a diverse range of accommodations to travelers.
$112 Million Investment
The turning point came in 2011 when Airbnb secured a $112 million investment from Andreessen Horowitz, a venture capital firm. This infusion of capital allowed the company to scale its operations and take its platform worldwide. Airbnb launched a dedicated mobile app, making booking accommodations easier than ever before. 
Airbnb Now
In September 2021, Airbnb became a publicly traded company. Its market capitalization 2 years after was $87.07 billion. With a whopping more than 5 million active listings in 220 countries, Airbnb has truly become a global platform for unique travel experiences. 
How Does Airbnb Make Money?
Many hosts find the Airbnb platform appealing because they only have to cover a fixed 3% service fee based on the booking subtotal. This subtotal includes their nightly rate, as well as additional charges they may apply to guests like cleaning fees, However, the subtotal does not include Airbnb fees and applicable taxes. 
On the flip side, guests shoulder a service fee of approximately 14% of the booking subtotal. 
What Does Airbnb Mean? Lucrative Opportunities for Real Estate Investors
If you're a skeptical real estate investor, it's perfectly understandable to approach new opportunities with caution. After all, your investments are not just financial endeavors. They can make or break your financial security. But we'll address the concerns that might be holding you back from considering Airbnb as a lucrative addition to your real estate investments.
1. Diversify Your Real Estate Portfolio with Airbnb
Diversification is an important factor in smart investing. Airbnb allows you to widen your real estate portfolio beyond traditional long-term rentals. By doing Airbnb, you tap into a market that has a consistent demand from travelers such as tourists and business professionals. This diversification can help mitigate risks and increase your income potential.
2. Higher Profit Margins and Cash Flow
This is why some investors have shifted to Airbnb. It has the potential for higher profit and consistent locations. Unlike traditional rentals, Airbnb units can price premium rates, especially in desirable locations such as tourist spots and business centers. With careful pricing and effective management, you can maximize your returns and maintain a steady stream of income.
3. Tax Benefits and Deductions
Investing in Airbnb properties can offer substation tax advantages that you won't see in other real estate investments. Expenses related to your Airbnb business such as maintenance and utilities can be tax-deductible. See the other items that can be written off and how to file them from "A Guide to Writing Off Airbnb Expenses."
4. Flexibility and Control
If you are skeptical about property management, rest assured that Airbnb provides an unparalleled level of flexibility and control. You decide when to host guests and set your rental rate as you see fit.
What Does Airbnb Mean? Potential Risks
While Airbnb may offer enticing opportunities to real estate investors, it's crucial to approach this type of investment with a degree of caution. This time, a little bit of skepticism can become handy when it comes to protecting your investments. 
1. Regulatory Uncertainty
One of the most significant concerns surrounding Airbnb investment is the ever-changing regulations. Local governments are still adapting to the Airbnb landscape. This means that rules regulating Airbnb properties can vary widely from one city to another. This is why it's essential to research and comply with local regulations to avoid potential legal issues.
2. Active Management
While Airbnb offers flexibility and control over your property, it also requires active management. Hosting guests, coordinating check-ins and check-outs, cleaning, and maintenance demand time and effort. Investors should consider whether they have the resources and willingness to manage the daily operations of running an Airbnb. If not, they'll have to hire property managers, which can diminish their profits.
3. Income Variability
The income that an Airbnb makes can fluctuate based on seasonal demands or economic conditions. So, be prepared by building financial reserves for periods of low occupancy and reduced income. They can affect cash flow.  
4. Property Security and Liability
Hosting strangers on your property carries inherent security risks. While Airbnb provides host damage protection, it is still better to ensure your property to minimize potential security issues. Hosts are also responsible for any liability in case of accidents or injuries on their properties.
What Does Airbnb Mean? Providing Excellent Service
Airbnb hosting is the business of renting out your property to guests on a short-term basis through the Airbnb platform. Individual property owners as well as full-fledged companies can use Airbnb hosting as a way to earn income by offering accommodation from a wide range of options. These include a cozy spare room or an entire property. 
What are Airbnb Hosting Requirements?
Before starting as an Airbnb host and opening your doors to your short-term rental business, it's essential to understand the hosting requirements. In this section, we'll discuss the key prerequisites and standards set by Airbnb to ensure that guests will have an enjoyable stay.
1. Hosts are responsible for confirmed bookings and a reliable check-in process.
2. Hosts are expected to be readily available to attend to any guest's questions and unforeseen issues before or during their stay.
3. The listing page should reflect an accurate description of the place at the time of the reservation. Make sure that guests will be able to enjoy the listed features and amenities from their check-in to check-out.
4. Before check-in, the place should be thoroughly cleaned and free from any health and safety hazards.
While Airbnb is strict about these rules, they will still reach out to hosts to clarify if such violations occur. 
How Do You List Your Property on Airbnb?
Here is a step-by-step guide on how to list your property on Airbnb:
1. Create an Airbnb Account.
2. Complete your profile with a picture and verify your identity.
3. Click "Become a Host" to start listing your property.
4. Describe the details of your space. Specify the property type, number of bedrooms and bathrooms, and the number of guests it can accommodate. 
5. Set your house rules, pricing, and the availability of your property.
6. Upload clear and well-lit photos that showcase your property's best features
7. Create a catchy yet accurate property description
8. Choose your booking settings, whether you want to accept instant bookings or prefer to review guests beforehand
9. If you have any, add amenities and features such as wifi, kitchen, or hot tubs.
How Do Hosts Get Paid on Airbnb?
Hosts have various payout options such as PayPal, Fast Pay, Payoneer debit cards, Western Union, and bank transfers. The availability of the said options will depend on the host's location. Hosts can select their preferred method in the "Payment & Payouts" section of their Airbnb accounts.
Airbnb will release the payment minus their fees within 24 hours following the guest's check-in date.
What Does Airbnb Mean? Endless Possibilities
The rise of Airbnb has undeniably reshaped the landscape of real estate investment. What airbnb stands for is the contradiction between promising opportunities and potential pitfalls to investors. It will depend on what you're willing to give it. The journey from a modest San Francisco apartment with only air mattresses to a global empire valued at over $91 billion is a testament to Airbnb's disruptive power and appeal.
For skeptical real estate investors, it's crucial to weigh the advantages and challenges of investing in Airbnb rentals. On the positive side, diversifying your real estate portfolio via AIrbnb can provide consistent income streams, higher profit margins in desirable locations, and attractive tax benefits. The flexibility and control investors can enjoy should not go unnoticed. This allows them to tailor their hosting experience to their preferences.
Airbnb can be a lucrative addition to your real estate investments. But unlike any other investment, it requires careful consideration, proactive management, and a willingness to adapt to changing circumstances. With the right strategy and discipline, Airbnb can indeed be a golden opportunity in this modern world of real estate.
Want to start an Airbnb business? Start with an Airbnb analyzer tool!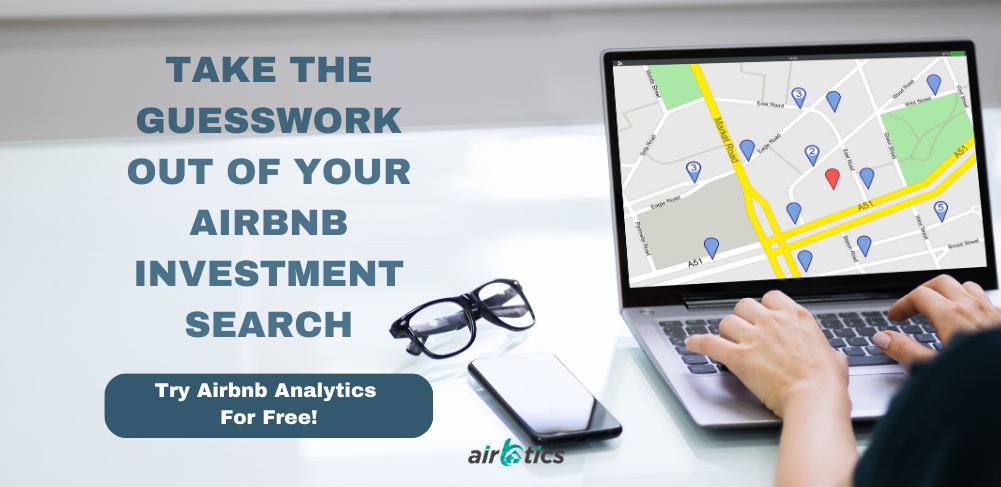 Find a profitable
investment property
Use powerful analytics to discover lucrative & traditional Airbnb properties within minutes.
Find a profitable
investment property
Use powerful analytics to discover lucrative & traditional Airbnb properties within minutes.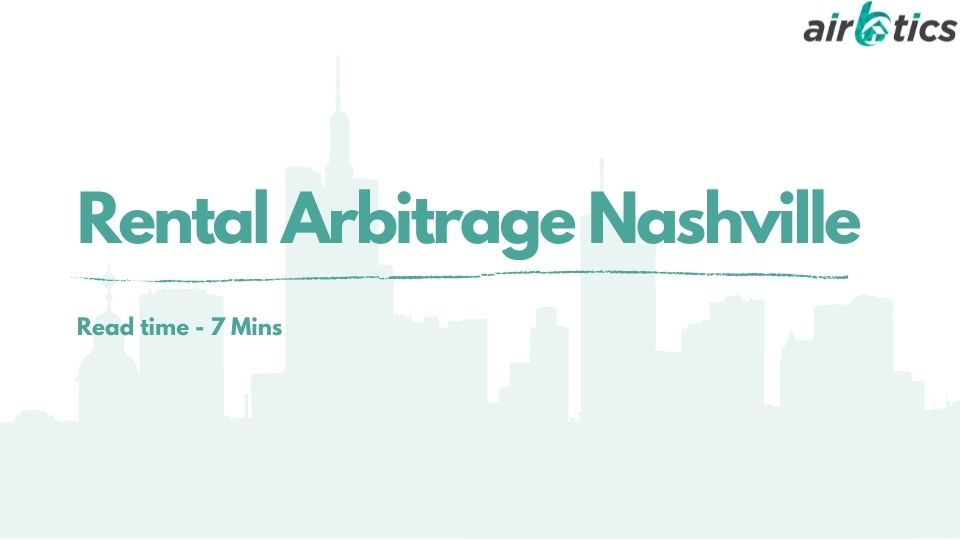 Last updated on June 26th, 2023 Table of Contents Add a header to begin generating the table of contents What is Rental Arbitrage? Rental Arbitrage …