Last updated on September 30th, 2022
Wheelhouse and why am I eligible to give a review
Wheelhouse Pricing was founded in 2014 by Andrew Kitchell, a co-founder of Beyond Pricing, which is another similar Airbnb dynamic pricing tool. As a tech-savvy Airbnb host, I have tried out all the dynamic pricing solutions available in the market.
This short blog will show you some customer reviews of Wheelhouse and my technical review on this pricing tool as well. A list of good alternatives will be at the bottom as well. 
A side note: I tried it out for a couple of months for my rentals in London and Sokcho (Korea). Even though Wheelhouse was built by an ex-CEO of Beyond Pricing, I prefer Wheelhouse slightly more, and I will explain this in the blog.



Product Features
Dynamic Price:
Ease of use?
To get started, you need to set Base Price, and you are given three pre-defined choices, which are powered by the Wheelhouse Pricing algorithm. 
Once you select the pricing strategy choice, you can start pushing the pricing suggestions to your listings.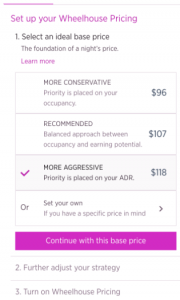 Custom Price Settings
It's a critical feature and usually, it is the deciding factor of choosing the right short-term rental dynamic pricing tool, since every markets and listing have unique demands and customers patterns. 
You can further improve Wheelhouse's pre-defined pricing strategy within the following parameters 
Minimum and maximum prices based on day of the week and specific range of dates  

Weekend pricing 

Seasonal pricing

Long-term discount 

Last-minute discount 

Far Future premium 
Wheelhouse gives plenty of options for you to customize pricing strategies based on their template. Being able to give a further premium for weekend pricing is a handy feature because many vacation rentals are only filled during the weekend but not during the weekday. You may set your base price relatively low for the weekdays and set more competitive rates for weekends to optimize your pricing.  This exact feature is why I prefer Wheelhouse over Beyond Pricing.
Market Insights
One interesting market data they are showing is their market pricing recommendations. They have three different models 1) Recommended 2) Reactive and 3) Predictive. However, as a non-professional Airbnb host, I barely understand them and know what models will give me more bookings. I don't want to test out their three different models as I simply want to increase revenue and get more bookings today!
Competitive Sets
It's an analytics dashboard showing the stats of your competitors. 
The following data is available 
Key Metrics, such as average occupancy rate, nightly rate, and booking lead time

Competitor's daily rates over next 365 days  
Booking lead time is a useful data point to know, as well as the ability to edit the pre-made CompSet. However, unlike Bright Pricing, it doesn't show the breakdown of key metrics. For example, Bright Pricing shows a breakdown of key metrics in more granular form, such as next 7 days, 14 days, 21 days, or in percentile.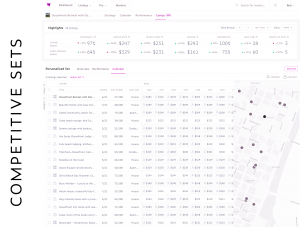 Pricing
The cost of using Wheelhouse Pricing is 1% of revenue or $20/mo per listing. 
How does it compare with others?
PriceLabs: $20 or $10 / month 
Bright Pricing: 0.5% of revenue
DPGO: 0.5% of revenue 
Beyond Pricing: 1% of revenue

Existing Customer's Wheelhouse Review
1. Trustpilot

One Embarcadero Center, Unit 26859
San Francisco, CA, USA 94126
Email Address: [email protected]
Conclusion
As someone who managed up to 10 listings at a time as an individual part-time Airbnb host, I liked Wheelhoue's customized rule options. Their Competitive Sets dashboard stood out amongst their competitors. There market future pricing graphs are interesting but not sure whether a non-professional Airbnb host can leverage it correctly. 
In 2022, there are more new dynamic pricing tools out there. I'd like to introduce you to Bright Pricing – it's built by software engineers and the pricing engine is based on Airbtics' 2 billion short-term rental nightly rates data. Bright Pricing has some advantages over Wheelhouse. 1) it's four times cheaper 2) you can adjust your competitors 3) the market dashboard is fantastic 4) and it supports all locations in the world.
Read More: 
Beyond Pricing In-depth review: Still useful in 2022?
PriceLabs in-depth technical reviews – (From software developer & Airbnb host perspective)