Last updated on July 11th, 2023
Why am I eligible to give a PriceLabs Review? 
When PriceLabs was launched back in 2014, it took the market by storm. It is one of the three mainstream dynamic pricing tools.
I also tried out PriceLabs for a couple of months for my rentals in London and Sokcho (Korea). The best thing about PriceLabs is that it was the only solution that supports listings in Korea. Both Wheelhouse and Beyond Pricing still don't support listings in Korea, but, in 2022, the new pricing solutions, DPGO and BrightPricing, cover my location. 
I'll try my best to show as many reviews of existing customers and their overall thoughts on PriceLabs. Also, I'll list down all the features to help you get started. A list of good alternatives will be at the bottom as well that have recently been providing more accurate data and great service. 


What Is PriceLabs?
PriceLabs is a dynamic pricing tool with a market insight dashboard feature. They use their proprietary AI algorithm to determine the right pricing for your short-term rentals and update your pricing automatically. Just like Uber's surge pricing, if your market demand changes rapidly, this tool will adjust the pricing accordingly. It can be useful for both professional and casual Airbnb hosts. 
For casual Airbnb hosts,  you are not likely to have in-depth market knowledge, so this specialized tool will set better pricing for your rental so that you make more money. The best thing is it only takes a few minutes to set up, so compared to your time-invested, it has a good ROI. (E.g. You only need to spend 25 minutes to set dynamic pricing and it can give you 1 additional booking/mo)
For professional hosts, you will have to override their pricing rules frequently since you have your own data and system, but it can sometimes catch events that your company didn't know. It will be a good addition to further optimize your pricing.
Product Features
Base Price

Help
One distinguishing feature is PriceLabs' base price help. I like how it uses bar charts to visualize the number of other listings in the same pricing bucket. It shows "recommended" and "median market" rates. If you think your listing is more attractive than other listings, you can increase your base price accordingly.
The major limitation is that it doesn't really show who are your competitors and example of listings consisting of the bars. So, we wouldn't know which listings are included in their competitor list. From the looks of it, it only distinguishes properties by their number of rooms. If it's the case, I'll be quite disappointed because there are a lot of other factors to consider other than just the number of rooms and location. (Bright Pricing on the other hand shows the entire list of competitors that are used to calculate your base price). 
By the way, do I agree with their base price? Personally, it did not recommend me the right rate for my listing in Sokcho, but I would say their rate isn't too far off. My listing is quite unique in a way that it's a studio but with a loft, so up to 4 people can comfortably stay.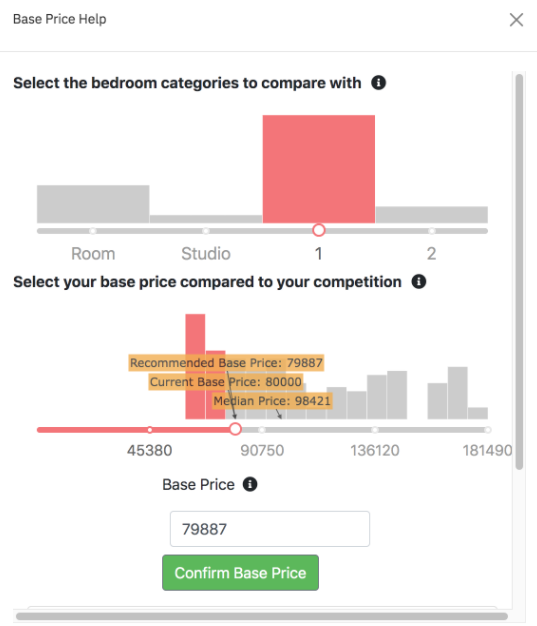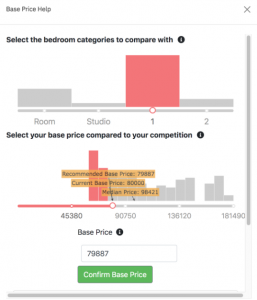 Dynamic Price:
Ease of use?

It's easy to use. You set your base price, min-max prices, and a few other customization options, then it'll set your pricing dynamically. The min-max price-setting comes in handy. It ensures my prices don't go below certain rates, and it's very useful because some of my clients specifically ask me to not receive guests below certain rates due to their own rules. Some other dynamic pricing tools, specifically DPGO in my case, continually dropped prices too low which caused me to reject a couple of bookings in a row.
Custom Rule Settings
You can set four different types of custom pricing rules. 
Last-minute 

Orphan day

Day of the week (Mon, Tues, Fri, etc) 

Occupancy based (I think this is cool)  
I agree on the importance of last-minute and day of the week pricing, but I'm not really sure how orphan day pricing can be leveraged. Adjusting pricing based on occupancy rate seems interesting, but I don't understand how to set this setting correctly to earn more. I wasn't able to find any tutorials around this.
Core Algorithm
At the core of their pricing algorithm, they define my listing's competitors on their own to figure out what prices to recommend. They have a feature where I can see my competitor list, yet, I can only see up to 10 listings' calendars only. I went through their competitor list but a lot of them are not accurate, and not really my competitors. Foremost, they seem to get my location wrong. My listing is located at Daepo-dong, but they've pulled competitors from a center that's a KM away.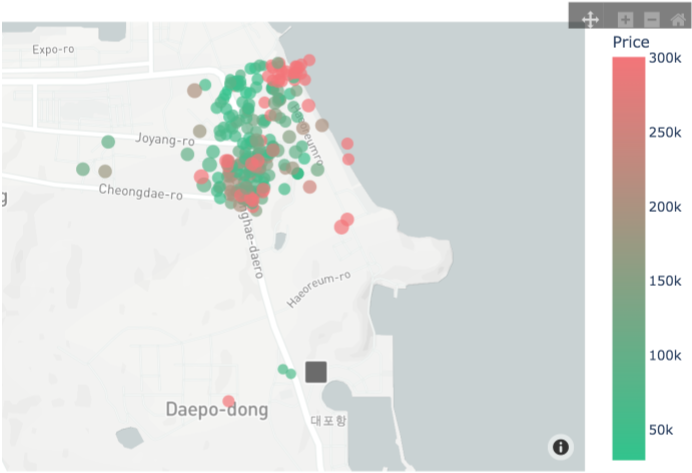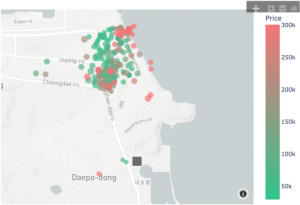 It would be nice if they transparently show how they came up with the competitor list and potentially allow me to adjust the competitor list. If my prices are based on wrong competitors, the supply, demand, median nightly rates, I at least want to know that.
Insight Dashboard
Their insights dashboard shows three main things: 
Competitor's future prices over next 365 days 

Competitor's future occupancy rates over next 365 days 

Which competitors they use for the above two data 
I'd say the insights they are showing are quite basic. If they show booking leads to time, individual listing's booking statuses, or real-time (or past) bookings in the market, it would be a lot helpful for me to understand the market.
Pricing
Dynamic Pricing: $20/mo / Prices are slightly lower for listings that are not in the USA, Canada, or Europe. 
Market Dashboard: $10/mo / Prices are slightly lower for listings that are not in the USA, Canada, or Europe.

Existing Customer's PriceLabs Review
1. Trustpilot

73 W Monroe St Chicago, IL, 60603-4955 United States
Ph: (918) 826-3941)
Email Address: [email protected]
Conclusion
If I have to choose from the three dynamic pricing tools (Pricelabs, Wheelhouse, Beyond) that have been around the market for a long period of time, I will choose PriceLabs. It's because 1) it supports less known cities like Sokcho 2) good onboarding experience and 3) easy to use. 
However, it's 2022, and there are more new dynamic pricing tools out there. I'd like to introduce you to Bright Pricing – it's built by software engineers and the pricing engine is based on Airbtics' 2 billion short-term rental nightly rates data. Bright Pricing has some advantages over PriceLabs. 1) it's four times cheaper 2) you can adjust your competitors 3) the market dashboard is fantastic 4) and it supports all locations in the world.
Read More: 
AirDNA Alternatives
Airdna vs Mashvisor (What's Best for you?)