Welcome back to another episode of Into The Airbnb, where we chat with Airbnb hosts about their short-term rental experience.
Today's guest is Wendy Anne, an Airbnb super host manages nice and cozy guest room in her private residence, charging about $150 per night. Wendy loves and enjoys hosting as a hobby that brings money to her pockets, and even helps her over her entire multi mortgage fee with around $3,000 monthly revenue. Keep listening to hear about her story, journey and major challenges as an Airbnb host.
This episode is sponsored by Airbtics, short-term rental analytics for high return investments, comprehensive data for insights, ideas, and inspiration. Go to app.airbtics.com to find precise Airbnb data such as occupancy rate, revenue, average daily rate, and so on. So, without further ado, let's get into it!
Into The Airbnb Podcast S2 EP 54: Airbnb pays her mortgage making $3K/month – Doing Airbnb as a hobby in Nashville, Tennessee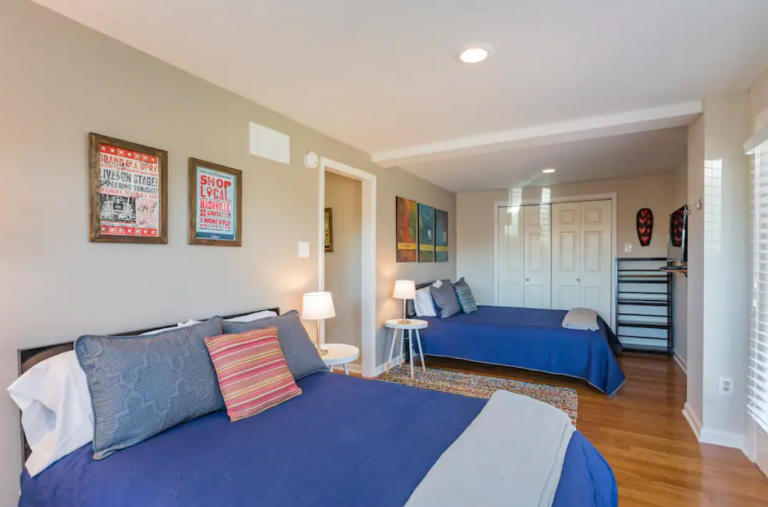 Delia:
So can you tell us how did you get started on Airbnb and short-term rentals?
Wendy Anne:
Actually, it's a long story but I relocated to Nashville and I originally when I was looking at houses the whole reason I decided to move to Nashville is the house that I was looking at to rent as an Airbnb to come for vacation just made me decide that if and when and where I ever moved, I would find a house that had the availability to be able to also have an Airbnb in it. And so I bought my house here in Nashville, specifically because it had space available to be part of my house but separate. So it has a separate entrance, separate patio, separate bath, and it's blocked off from the rest of the house.
Delia:
Is it a big area or it's just like the guest room?
Wendy Anne:
It's like a hotel room. It's got a queen size bed, a full size bed, mini fridge, microwave, coffee pot, tea kettle, bathroom and then I have a screened in patio with a table and four chairs out there, off street parking right on a park.
Delia:
I see and since the very beginning you told me that you bought your property and you were already thinking of doing Airbnb. Did you launch it immediately?
Wendy Anne:
No, I bought the house in November and it was garbage, the whole entire house top to bottom. The whole house was an Airbnb before I purchased it but so they rented out the whole thing and so now I live in three quarters of it and the other quarter is the Airbnb. So I bought the house in November, I spent six months working on the whole house, getting the Airbnb ready, also getting furniture, painting, updating door handles, air vents, you name it changing out the window treatments. So about six months after I bought the house, November to maybe late April. So I had my first guest late April the following year.
Delia:
Late April 2016 or 2015?
Wendy Anne:
That would be 2018.
Delia: 
2018, I see now. And how has been your experience so far? I know, it's like a separate place, but it's still really near you like, the place you live in? How has been your experience with that?
Wendy Anne:
I would say overall, it's been awesome. I think like I'm on this page, Airbnb super host and people who are distant owners who just kind of do it solely for the money and are not involved in the house. They seem to have a lot more issues with guest then when people are coming directly into your home. So overall it's been really good. I mean, I've had a couple of people puke on my sheets and things like that, but I live in Nashville, so it's kind of to be expected. But I mean, my last guest, I absolutely loved like I was sad when they left because they were just so wonderful. So it's been a good experience.
Delia:
Oh, that's great! And what's the typical demographic of guests you get?
Wendy Anne:
Oh gosh, I get a big mix because it's Nashville. So my last guest was a mother, father daughter trio and she had just graduated her four years of college. So they came here for, it's called CMA fest, which is Big Country Music Festival here, so I get lots of kind of like that. I get a lot of people come here for events like weddings, so they like that I have the patio that their guests and family and friends can come and hang out. I'm also pretty lenient about that. a lot of Airbnb host don't allow, like non-registered guest on to the property and I just figure if people are coming to visit people, I want them to feel comfortable enough here to bring their friends and family here as well. So and then I get you know, like this weekend, I have three young guys coming, who I'm sure just gonna drink all weekend because that's another thing that you do in Nashville is drink all weekend.
Delia:
And how do you find that works so far? The fact that you allow other people in the rental, like visits and all this stuff?
Wendy Anne:
When they want to bring people here to me, it says that they like where they are, and that they feel comfortable here enough to have guests come and visit them here, so that doesn't bother me one bit, like I kind of find it a little flattering. So I live in, my house is a big box, a two story box, same exact, you know, on the top as it is on the bottom, the bottom is cut in half and they have half at the bottom, so they have a quarter. And you know, they're like, "Oh, but we won't make a lot of noise" and I tell them "Make as much noise as you want, I don't care. You're on vacation, you don't need to worry about me, I bring you into my home and I just want you all to be comfortable. The only thing I ask is if you're going to make a lot of noise that you do it inside if it's late, because I don't want you to bother my neighbors". Where I live in Nashville if you get four complaints from your neighbors, you lose your permit. It's very heavily regulated here. So but I love to hear people having fun, I like to hear them laughing, I have a Bluetooth speaker down there so they can stream their own music and when they're doing all those things, and I also have a barn door that I can lock them out of the rest of my house. But I have two dogs and if they want to hang out with my dogs, I leave the barn door open so my dogs can go down and visit with them. I've never really had a guest where I felt like I had to lock it because I didn't trust them to not come into my house, you know, are not keen on the dogs or anything like that, I always lock it. But I feel like if they're going to trust me with their stuff then I need to trust them with mine and I keep it pretty flexible, pretty cozy like I do it because I like it, you know, the money is good, but I don't particularly need the money to survive. So, you know, the day that it becomes not great for me as a host personally I'll stop doing it.
Delia:
I understand and how do you screen your guests so they are like good quality guests?
Wendy Anne:
I don't. I've got the way that I do it is that I have, I don't have the instant book or you can't instant book with me unless you have government issue ID, reviews, verified identity, email and phone number, so you have to have all those things, plus have reviews you can instant book with me. If you don't, you have to send me a request. If somebody like doesn't have their identity verified, I tell them I need you to go back through Airbnb to verify your identity with the government issued ID and then I can accept your reservation. You know, that's the only way that I screen them. I've had one person, I don't allow local guest, I had one person message me who I saw was local. So I messaged her back and I just said "Hey, I see your local, I typically don't allow locals. Can you tell me more about the reason of your stay?" and she said "You don't allow locals? That's really mean. You don't even know people circumstances" and I messaged her back and I was like "Well, you're exactly right which is exactly why I'm asking you what is the nature of your stay?". And I was just like you know, I'm not sure we're going to be a good fit. Best of luck finding a place while you get your floors redone whatever because like I just felt like if you're coming at me and telling me that I mean before I ever even get out of the gate when all I'm doing is asking because it says right on my listing "No locals. Love y'all, no locals". So I was given her the benefit of the doubt, even just by asking her, you know, why do you want to stay here? And she said, I was mean and I was like, "Okay, I'll just follow through with that and tell you, I'm not going to accept your reservation request". But so, you know, that's only happened maybe two times, I've only gotten two bad reviews, you know. So like, my guest before last was mad because I came out and greeted her. She said, it made her feel like it wasn't private and I'm like, "You're in my house lady. Like, I've greet all my guests. For four years, I've greeted all my guests. You're the first one to complain". She complained a lot more than that, but some people you just can't make happy, but it upset me because I was like, gosh, I try so hard, you know, to make this a good experience for my guest and she just was like, "And this was wrong and that was wrong" and I was like, Oh, my God, you know. Two reviews out of a bunch, I'm not gonna sweat it too terribly bad.
Delia:
Yeah, but also no big complaints. Like just greeting? I don't know what's wrong with that maybe the people who visit your page are going to read that and say, "What? It doesn't make sense", right? So.
Wendy Anne:
Yeah, I'm like, if you want privacy, don't stay in somebody else's home. Like if it's going to upset you that the owner of the home and your host comes out and greet you and welcomes you and tells you, "Hey, do you all have plans?" and you don't know what you're doing, and I make suggestions and that's upsetting to you, then really just go stay at a hotel, you know. Like, and also staying here in Nashville, is one of the most expensive hotel markets in the country and so if you get a hotel room downtown, it is $500 night for the Holiday Inn. If you stay at my house, it's $155 a night. I'm eight minutes from downtown, you have off street parking, you have your own patio, set up just like a hotel room. It's better because, you know, you can jump in an Uber and get there and save a lot of money in a really comfortable space. So.
Delia:
Yeah, the price difference is really big, 500 versus just 150. And now that you talked about the price, are there other Airbnbs near your location with similar pricing?
Wendy Anne:
Yes.
Delia:
Okay, so all the Airbnb market is way lower than the hotel market there.
Wendy Anne:
Yeah, there are a lot of Airbnbs in Nashville. But yeah, I try to stay pretty competitive. I stay higher than like the suggested price through Airbnb. I don't want the bargain shoppers. I want people that, you know, are willing to pay a little bit more, but I have all 100% cotton linens, cotton sheets, cotton quilts, 100%, quiet towels, you know, I supply everything for them. And I just don't want the bargain shoppers.
Delia:
Yeah, I understand about that. And can you tell me a little bit more about the financing story of your house? I understand that you bought it for yourself. But were you planning to cover any costs? For example, the mortgage with your Airbnb business?
Wendy Anne:
Yeah, the Airbnb pays my mortgage. When I bought the house, I put quite a bit of money down because my house in South Carolina was almost paid off. And yeah, it pays my mortgage every month, nine months a year. I pretty much shut it down in the winter because it's pretty slow and frankly, I'd rather have no body than somebody just one weekend in November, one weekend in December, like I'd rather just not be that concerned about it. But nine months out of the year, it pays my mortgage. So I have a three night minimum, so I'm guaranteed a certain amount of money every time I get a booking and then I also book off the days kind of in between. So if somebody is checking out on Sunday, I block off Monday, Tuesday, Wednesday, just to give me, we share the washer and dryer, so it gives me time to get my laundry done without being in their space, you know, that I don't have to tiptoe around upstairs. Like it just gives me a little bit of a mental break from having somebody in my house every single weekend.
Delia:
Oh, so you mostly do weekend stays?
Wendy Anne:
Yeah, unless people book for longer. But like I said, if it's booked for the weekend, I'll block off a couple of days after just to give me a break, and then, you know, so yeah. So mostly weekends unless like my last guest stay for a week.
Delia:
Okay, so is that the longer you accept, the week? Or do you accept longer stays?
Wendy Anne:
Oh no, I've had two guests stay in May. And I'll take whatever, except for short stays. It's just not worth it for me. So, you know, some people, their main thing is, "what is my occupancy rate?", like, it's super important for them to have, you know, 90% occupancy because they run it as a business. For me, it's like, I run it as a business/hobby, that makes me money and I don't want it to fully compromise my quality of life too, which is why I block off that time in between.

Delia:
Okay, I understand. I was going to ask you, why don't you switch to longer stays on winter, but that kind of answers my questions, that you do it as a hobby.
Wendy Anne:
Yeah and in the winter, nobody wants to come here and stay for a long time, you know. Like during COVID, I rented it out long-term. I actually own another business and I work with people that work in the construction industry, so I rented it out to a job superintendent that was on a job that I was also working with. So he rented from me for like four months.
Delia:
And how was your experience with the longer stays? Would you do it again?
Yeah, if I had to, you know, but the thing is, I make as much, actually, I make more renting it out for weekends than I do for renting it out a whole month. So no, like, I would rather Airbnb it than longer stay it because it's still shared washer and dryer. I mean, it's I gotta tiptoe every day, though if I had to do it, I would. But no, because it doesn't have a stove, you know, and a kitchen per se. It's really not designed for a longer stay. Like the construction supervisor that stayed here, I mean, we were friends, so I was like, "You can come upstairs and use my kitchen anytime". So it basically gave him run up the entire downstairs and I took the upstairs. But yeah, no, it's an Airbnb. But I would never at this point in my life, I'm 57, I would never buy another house that didn't have some way that I could Airbnb some part of it. And I'm always looking, and every house I look at, you know, there has to be a way that it can be like retrofitted that they're not in my space, I'm not in theirs, but that I can set up some type of Airbnb because I love it and it makes you money.
Delia:
Yeah, it's good that you really like your Airbnb, though it's just a hobby. Can you tell me, if you're okay sharing this, how much is your revenue per month?
Wendy Anne:
Can I just give you kind of a range?
Delia:
Yeah, that'd be fine!
Wendy Anne:
It's between 2K and 3k.
Delia:
2K-3k a month? Every single month you rent like, every nine month?
Wendy Anne:
It's like in nine months a year, yes.
Delia:
Okay, that's a really a really good number, 2K to 3k for only renting this like kinda just weekends, it's really good. And you told me that this helps you pay your mortgage, right?
Wendy Anne:
Yes.
Delia:
Okay, that's really fine. And what about your pricing? How do you price out your listing? Do you price it competitively against the competition there in your area? Or do you just stablish a standard price?
Wendy Anne:
Pretty much a standard price, but based on what's going on around me, what the Airbnb suggested prices, both but higher.
Delia:
Higher because of the area, of the amenities?
Wendy Anne:
No, higher because I don't want the people that are looking for the bargains, you know, if people are just going to book the cheapest because they want the cheapest, like I get it. But even me, like if I were shopping for an Airbnb, I wouldn't choose the cheapest because I'm like, there's a reason it's the cheapest. So, you know, I think there's perceived value also in having a little bit higher price. Again, you know, if you're not willing to pay it, you make a choice somewhere else.
Delia:
Yeah, that's right. And also with the lower prices, I've heard this from other Airbnb hosts, that it tends to attract bad guests.
Wendy Anne:
Yes.
Delia:
I understand! And what about your market? You told me that in winter is low season, right?
Wendy Anne:
Nashville, yes. In winter yes.
Delia:
Slow season. So basically, no Airbnb activity at that time?
Wendy Anne:
No, it's pretty slow. I mean, we also have a pro-football team. So if there are home games, I may get bookings during that time when there's home games with our football team, and that's American football, not soccer. But other than that, no, it's pretty slow over the holidays. New Year's Eve maybe after Thanksgiving, November, December, January, are usually really quiet.
Delia:
I see now and what about the other nine months? Do you stay fully booked as much as you want?
Wendy Anne:
As much as I want, which is not fully booked. But I stay as booked as I want to be.
Delia:
Okay, yeah, that makes a lot of sense. Can you tell me a little bit, do you by any chance if there's like a slower season in any of these nine months, do you lower your prices usually there? Or do you keep it?
Wendy Anne:
I keep it.
Delia:
Okay, that's great. Would you like to tell me about the biggest challenges that you found so far as an Airbnb host? Can be with Airbnb platform, with your guests, any kind of challenges.
Wendy Anne:
I would say Airbnb is the biggest challenge as an Airbnb host. Yeah, you know, pretty much anytime a guest has tried to cancel outside of my cancellation policy, and I'm like, "Sorry, you know, too bad. So sad. I have a strict cancellation policy". You know, when I tell them I'm not the person that issues the refund, you need to contact Airbnb, I have not received a penny of your money, contact Airbnb. And you know, then Airbnb always comes back to you, and ask you to allow them to refund the guest and I always tell them, "No" and you know, it's just super frustrating. I feel like, like my neighborhood was decimated by a tornado in March of 2020 like, literally took out houses all the way down my street. Took out our entire power structure. Trees were down, I couldn't even get out of my neighborhood for three days just because of the trees blocking the road like, I was literally trapped in my neighborhood. And we didn't have power for two weeks, I didn't have cable for three, cable or internet for three. And I'm calling, I have a generator running because I have no power, I'm calling Airbnb saying, "Oh my God, my neighborhood has been destroyed by a tornado. I need to cancel my upcoming reservations". And you know, it's all over the news. It was a terrible tornado, it went for 50 miles, it was on the national news, you know, blah, blah, blah. And they're telling me, "Well, you need to prove it" and I'm like, "Can you just Google? Like, I'm like, the only reason I want to cancel these reservations is guests can't drive down my street, literally, I can't leave my house. I don't have power". And they're like, "Well, you have to prove you don't have power" and I'm like, "Okay", so again, I'm on generator, running my phone, I have my phone tethered to my computer. I'm online with the electrical service companies. So I can provide Airbnb screenshots of power outages to prove that I'm wasting my generator power to prove to them that the reason why I need to cancel my reservations is because literally I'm living in a warzone with no power and so they were just terrible. They were just absolutely terrible about something that really truly happened. And then, but on the flip side of that people can call them without, you know, an excuse, "Oh, gas prices are too high" or whatever and they call you and ask you to refund the money and I'm just like, "What is wrong with you, Airbnb? Like, what is wrong with you?". So I don't know ever since that tornado happened, I've had a really bad taste in my mouth about the way that they treat their host versus the way that they treat their guests and they need to figure it out because I know a lot of hosts are moving to other platforms. I haven't done it mostly because I'm lazy. You know, I feel like they're probably losing a lot of revenue because people are moving over to VRBO and, you know, marketing their property on their own and things like that. So yeah, I think Airbnb is the biggest challenge to Airbnb.
Delia:
Yeah! And it's really sad because this business is not, you're not working for them, they're not working for you. It's like everyone working as a team, so it's really sad that they play on their hosts like that because it's basically the heart of the business, right? And have you had any other problems with Airbnb? Like big problems like this one?
Wendy Anne:
No, I've never had to make a claim or anything like that. Again, I just think when people are coming into your house, they're just a lot, they know, basically, what they're coming into and they're just a lot more respectful in general.
Delia:
Okay, that's good that you have a good experience with the guests at least! And do you not plan to move to other platforms, despite this thing that you had with Airbnb?
Wendy Anne:
I contacted VRBO about moving my listing over. They have like a quick, it's called like a quick listing and they said, "Somebody will get back to you within two business days" and I haven't heard back from them. And I've been so busy at work with my own business, that I just haven't had time to follow up on it. So I'll probably follow up with them at some point in the next couple of weeks.
Delia:
I see. So you're planning to do it maybe, right?
Wendy Anne:
Yeah.
Delia:
And lastly, can you give any tips for other Airbnb hosts?
Wendy Anne:
You know, I think like the Airbnb super host page on Facebook is a really good resource. I think before you ask questions about how do you start an Airbnb and things like that, it's a great page to go search that exact question without asking it again, like it makes me insane because there's such it is such a great resource. So when people to me are so lazy that they come on, and they go, "How do you start an Airbnb?" like, I'm like, Oh, my God, there's so much information on this page, like use the little search thing, find it and then, like, don't be so broad in your questions in that because that to me says you're not even motivated enough to start an Airbnb, you know, to just ask that big broad question. So I would say that, I would say, treat your guest the way that you would want to be treated when you go somewhere. Have great linens like, I think that's so important. I traveled for 14 years in corporate America and like, it drives me crazy to go somewhere and like, there's only one huge fat comforter, so there's no way to like, have a halfway between, I'm cold, and I'm hot. So like give people layers that they can kind of mix and match as needed and I hate polyester anything. So like, have great linens, that's it, you know. Enjoy it and be involved. Like you have to be involved, you can't just be a distant owner. I see that all the time, people are like, "Oh, we live six hours away and the guest is complaining that it's too hot" and I'm like "You don't have somebody right there to take care of your issues?" then that's not the way you do it. Like I would be so pissed if I went somewhere and the AC wasn't working and the host was six hours away and couldn't, you know, get anything done. So I feel like I'm doing what Airbnb started as and was supposed to be like, that's what I'm doing. And then now these people who, you know, own 100 properties or manage 100 properties, like more power to them, you know, to seize that opportunity, but I also feel like it loses a lot of what Airbnb was supposed to be in the first place. I'm not knocking them, I'm just saying it kind of shifts the focus away from what the original idea was in that. And quantity, I think you lose quality.
Delia:
Yeah, yeah, I understand about your point as well. Thank you for the tips, those have been really amazing tips. And that would be it for today. Thank you, ally for being with us today. Thank you for your time!
Wendy Anne:
My pleasure!
Do you want to maximize your profit?
As a professional in the short-term rental industry, you'd definitely know that there are intense competitors who are probably obsessed with maximizing profit & exert efforts to promote Airbnb listings. What are their unique tools, you ask? We say:
A super-accurate & reliable data analytics tool.
If you're having second thoughts about investing your hard-earned money without knowing how much you'll profit, learn more about how much money you can earn on Airbnb! 
Designed to showcase accurate short-term rental analytics data, not only does our app help you optimize your listing, but it can also provide VERY useful data for simulating cash returns using the Airbnb Calculator. try looking at real-time data from Airbtics & stand out among your competitors!